The county of Cornwall draws plenty of visitors every year and it isn't hard to see why with beautiful landscapes and stunning beaches along with plenty of other attractions for the whole family. If you are lucky enough to live near the county or are planning a holiday, there are plenty of family days out in Cornwall. From castles to zoos and aquariums and places of natural beauty there really is so much for families to enjoy.
Days out in Cornwall
Here are some of our favourite places.
The Eden Project
Bodelva, Par, PL24 2SG
Two decades ago, a group of people transformed a china clay pit into an amazing space for the natural world. The world-famous Eden Project was born. There are huge covered biomes to explore including the rainforest with a humid atmosphere and tropical plants as well as the Mediterranean biome. The outdoor gardens are home to many species of plants and the main building contains exhibitions, artworks and a space to enjoy performance and storytelling. There are places to rest, play and eat and it really is a must-see stop if you are visiting Cornwall. We often go when specific events are on during the school holidays. And the grotto at Christmas is always AWESOME. They also have an ice rink in the winter too.
Under 5's go free; children (5-16 years) £10; adults £32.50
Flambards
Clodgey Lane, Helston TR13 0QA
Flambards Theme Park is an amusement park with loads of rides for all ages to enjoy such as the Hornet Rollercoaster and the SkyRaker. For families with younger children there are traditional rides in Ferdi's Funland including the Teacups, Space Shuttles and Pirate Ship. There's a Jurassic Journey with dinosaurs where you can uncover fossils in the Dino Dig. Indoors you can take a stroll through the cobbled streets of the Victorian Village and the Blitz attraction. It was fab when I went on a school trip in primary school – and it's even more fab now!
Adults £19.95; child (95cm – 15 years) £14.95; infant (under 95cm) free
The Lost Gardens of Heligan
B3273, Pentewan, Saint Austell PL26 6EN
The Lost Gardens of Heligan provide families with an amazing natural playground. Enjoy working your way through a network of magical gardens, woodland and farmland. There's over 200 acres to explore and with seasonal events throughout the year, there is something to captivate all ages. Adventure across raised boardwalks, through plants, pools, wildlife and one of the longest Burmese Rope Bridges in Britain. Visit rare livestock including pigs, sheep and cows, along with a variety of rare poultry.
Adult £17.50; child (5-17 years) £8.50; under 5s free
Camel Creek Family Adventure Park
Tredinnick, Wadebridge, PL27 7RA
If you're in Cornwall, your kids will LOVE Camel Creek. It's absolutely one of the best family days out in Cornwall you can have. It is one of the county's biggest adventure parks and offers so many rollercoasters, water slides, and rides for all ages, animals, reptiles and an indoor play area, there is literally something to keep everyone in the family happy, whatever their age. There's so much to do there, we didn't get round it all the first time we went. Which obviously means we'll have to go back! Read my review of Camel Creek here.
Adults and children over 105cm £19.95; Infants (92cm to 105cm) £16.95, under 92cms free
Blue Reef Aquarium Newquay
Towan Promenade, Newquay TR7 1DU
Blue Reef aquarium in Newquay is home to naturally-themed habitats – taking you on a journey from the Cornish coasts to the exotic seas. You will get to come face-to-face with some freshwater turtles and caiman crocodiles, as well as walking through an underwater tunnel through the ocean tank at the heart of the aquarium, beneath loggerhead sea turtles, reef sharks, and shoals of colourful fish.
Standard ticket (over 13s) £12.50; Junior (3-12 years) £9.50; family of four £42
Lappa Valley
Lappa Valley, St Newlyn East, Newquay, TR8 5LX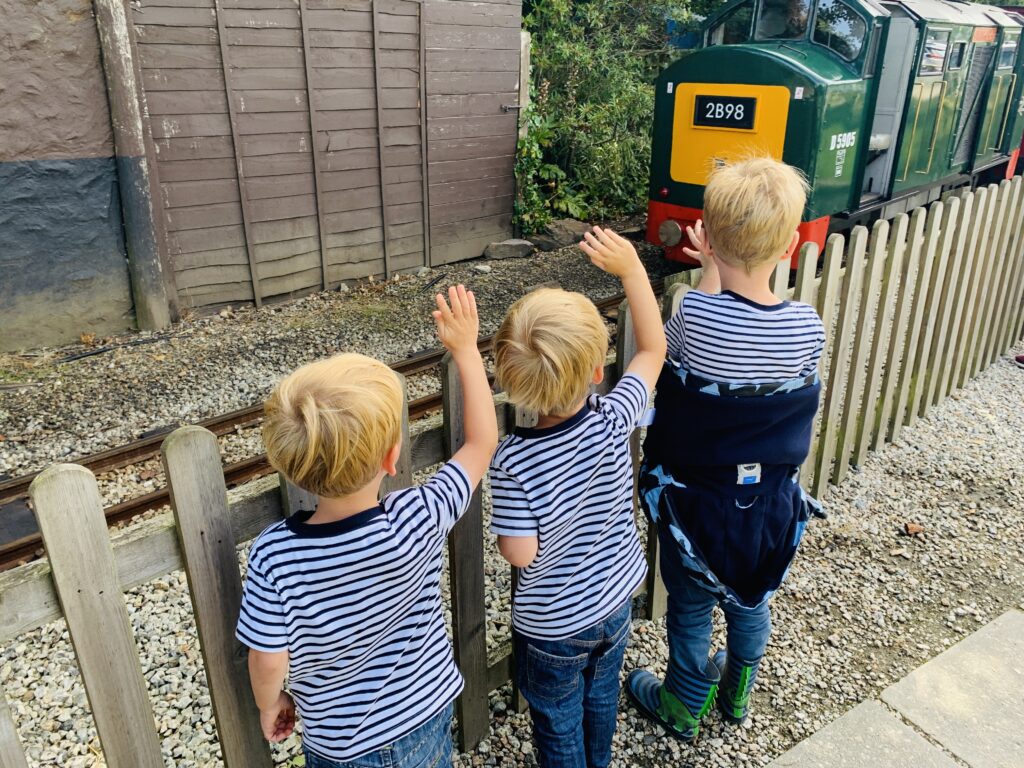 If your children love trains, then head to Lappa Valley for one of the best family days out in Cornwall you could have. You even have to get a steam train from the car park deep into the woods to the 'secret world of trains and play' before your day out starts. There are three trains to ride on plus an adventure playground, trampolines, pedal car track, sandpit diggers, maze and tube slide. There's also crazy golf, pedalos and a train carriage filled with indoor fun for a rainy day. And now they have a new multi-level indoor soft play too. We've been twice and the boys have had a great time. Read my review here.
Adult £14.95; child (3-16 years) £12.95; under 3s free
More great family days out in Cornwall
Tintagel Castle
Castle Road, Tintagel PL34 0HE
Tintagel Castle is a mediaeval fortification located on the peninsula of Tintagel Island in North Cornwall. Take in the stunning scenery and enjoy the views, set high on rugged cliffs. Tintagel is linked with the legend of King Arthur, for centuries this dramatic castle and coastline has fired the imaginations of writers and artists. Tintagel also has a lovely village full of quaint shops to visit.
Adult £18.70; children (5-17 years) £11.20; family (2 adults 3 children) £48.60
Wild Futures The Monkey Sanctuary
Martins, Murrayton House Street, Looe PL13 1NZ
The Monkey Sanctuary was founded in the 1960s as a cooperative to care for rescued woolly monkeys. It's home to 40 monkeys; each one with their distinct characters and personalities. This is an active rescue centre dealing with monkeys that have not had a very happy start to life. Let the kids loose in the wild play area, they can climb, jump, slide and run, like the monkeys. There are also children's workshops running throughout most of the day.
Adult £9.50; child (4-15 years) £5.00
Springfields Fun Park
St Columb Major, Newquay, TR9 6HU
If you're staying near Newquay a visit to Springfields Fun Park is a one of the most fun family days out in Cornwall you can have. We've been twice and the boys love it. There's so much freedom for them to run around safely not to mention the pony rides, tractor and trailer rides, fairground rides, indoor soft play, animal feeding, and play parks. There are even rowing boats, dodgems, trampolines and go karts. And if you don't want to go home, then don't – you can camp there! Read my review of Springfields Fun Park here.
£9.95 per person, under 80cms free
Pendennis Castle
Castle Drive, Falmouth TR11 4LP
Explore Pendennis Castle, an artillery fort constructed by Henry VIII between 1540 and 1542 to protect the country from invasion. Set on a headland with views out to sea, this picturesque castle also played a vital role during both World Wars. Head to Pendennis for an awesome day of exciting family activities, during the summer you'll get to see the speed and skill of the knights in the Grand Medieval Joust.
Adults £14.50; child (5-17 years) £8.70
Seal Island Boat Trip
Park next to the leisure centre at Trenwith, St Ives, TR26 1DD
One of the most popular things to do whilst in St Ives is the sea safari boat trip to Seal Island. The trip is approximately 3.5 miles following the rugged Cornish cliffs and coves onward to Seal Island. Along the way lookout for the local wildlife. Dolphin sightings have become more frequent as both common and bottlenose dolphins pass the bay. A wide array of sea birds are seen and sometimes even the odd shark!
Prices: Adults £25; under 12s £15
Newquay Zoo
Trenance Gardens, Newquay TR7 2NL
Who doesn't love a trip to the zoo? With lots of animals across a 13-acre park – families of all ages will love Newquay Zoo. The zoo is a registered charity and part of a network of zoos which cares for and breeds rare species. There are food outlets located across site to grab some lunch and a drink. The kids can run wild and let off some steam in their outdoor play areas as well as a gift shop with souvenirs to purchase, as a memento of your visit. My boys loved Newquay Zoo the first time they went, and are forever asking when they can go back!
Adults £16,35; child (3-15 years) £12.30; unders 3s free
Polperro Model Village
Mill Hill, Polperro, Looe PL13 2RP
Polperro is a lovely little village with narrow, winding streets and cottages perched on steep slopes. No visit to Cornwall would be complete without a visit to the famous Polperro Model Village. More than 60 years in existence, having survived fire and floods, this famous attraction continues to be a popular attraction for families of all ages. Explore the village of Polperro in miniature, and learn about Cornish myths and legends. Whilst youre there take a wander around Polperro itself. It's a beauty of a village.
Prices: Adult £3.00; children £2.00
These are just a handful of fun family-friendly days out in Cornwall. Of course there are lots of beaches to go and visit, some of the best in Britain, and there are National Trust properties as well as cycling the Camel Trail or taking a walk across Bodmin Moor.
How did I do?
Did you enjoy this post? If you're mad about Cornwall, then why not check out a few of my travel reviews from the county. I have reviews on:
If you still want more ideas read 10 Things To Do In Cornwall In The Summer Holidays With Kids, or head to my Travel Section, where you'll find more days out, packing tips, how to keep kids entertained on car journeys and travel essentials for twins. And if you fancy reading more of my usual kind of stuff, head over to my Mum Life section. You'll find all things parenting with a tongue-in-cheek twist. In fact, on the subject of travel, you'll like this one Five Ways A Holiday Is Never The Same After Kids.
If you like a bit of social media madness, pop over to my Facebook page where you'll be able to have a laugh at what ridiculousness goes on in my house with three very small boys on a daily basis. Warning – there is often sarcasm, and usually swearing. There are also great travel reviews and some AWESOME giveaways. Feel free to join my Twins, Tantrums and Cold Coffee – Shits and Giggles Parenting Group too, where everyone shares their hilarious stories.
If you like what you see, how about you check me out on Pinterest, Instagram and Twitter too.
And if you want to work with me, feel free to give me a shout here or at helen@twinstantrumsandcoldcoffee.com and I'll get back to you.