If you are planning a family trip to the capital and looking for the best places to stay with kids in London, this post is for you. Central London with kids might seem pretty overwhelming – especially if you don't know your way around. Let's face it London is a very big city and seeing it all in one day is just impossible.
That being said, you may be looking for a place to stay with your family that is close to underground stations and all of the main attractions. Whether you want to do Buckingham Palace, the Science Museum, Piccadilly Circus, Notting Hill, Madame Tussauds or London Zoo there are some brilliant London hotels and apartments which are in a great location.
There will be a number of things you'll want to think about first when finding the best places to stay with kids in London. Number one will be the price tag. London is not cheap and you might not necessarily want a luxury hotel with a welcome gift or indoor pool. You won't have time to use it with everything you'll want to see in London, anyway!
But there are options for everybody on a family staycation in London from youth hostels to budget hotels and apartments to bigger hotels with spacious rooms in a central location. You will also want to find out whether you are within walking distance to places or whether it is worth investing in a travel card to use on the public transport buses, trains and the tube. A good choice for family friendly hotels is to be close to a tube station so you can get to the popular attractions easily with young children in tow. As we all know there's nothing worse than trying to make whiny kids walk!
You will also want to look at the space. For larger families, you might need separate or interconnecting rooms and also would you prefer bed and breakfast or will you plan on eating out? Do you want it to be in a residential area or bang on top of Regent Street or Oxford Circus. With all of this in mind here are some options.
Some of the best places to stay with kids in London
The Resident Covent Garden
51 Bedford St, London WC2R 0PZ
The Resident Covent Garden overlooks the Strand, in the heart of London's Covent Garden. You are just a 5 minute walk from both Covent Garden and Charing Cross stations. The Italianate Piazza is pretty much on the doorstep so you are also within walking distance of London's west end including Leicester Square. ChinaTown and all of the theatres so it is an excellent choice for a good location. Your in-room mini kitchen includes a fridge and preparation space so that you can store and prepare food. Their Superior and Junior Suite rooms have the option to include an extra bed in the room at no additional cost and you can also request a cot if you need one.
Park Plaza County Hall
1 Addington St, London SE1 7RY
Park Plaza County Hall London is located just south of Westminster Bridge overlooking the River Thames with views across London. You are within walking distance of the London Eye, Big Ben, Westminster Abbey, the Houses of Parliament, London Aquarium, National Theatre and the South Bank Centre so it's the perfect place to cover those attractions easily. Kids' goody bags at check-in are among the many features that make Park Plaza County Hall one of the best places to stay in London with kids. The family rooms are designed to include a sofa bed and can sleep up to 2 adults and 2 children. There is a kitchenette as well as a specially designed children's menu in the restaurant which older kids will love.
NOX Hotels Waterloo
25 Lower Marsh, London SE1 7RJ
NOX HOTELS in Waterloo is their newest and largest NOX hotel in London. It is just a short walk away from the South Bank Centre and the London Eye, you'll be able to find everything from culture to adventure to even a few foodie favourites on your doorstep so it's a great choice for a family stay. Accommodation is fitted with air conditioning, a fully equipped kitchenette, a flat-screen TV and a private bathroom with shower, a hairdryer and free toiletries. A microwave, a fridge and toaster are also provided, as well as a kettle and a coffee machine. You can stay in a double or triple studio which can sleep a family of 5.
The Grand Trafalgar Square
8 Northumberland Ave, London WC2N 5BY
The Grand at Trafalgar Square is a boutique hotel nestled inside historic Northumberland House just steps away from Nelson's column, the National Gallery and Big Ben. After exploring London the family can relax in comfortable rooms, within this historic hotel with high-tech entertainment and some of the fastest free wifi London has to offer. A family can stay in a superior queen room or you could choose a one-bedroom suite with a kitchenette.
The Ampersand Kensington
10 Harrington Rd, South Kensington, London SW7 3ER
The Ampersand is right at the centre of London's cultural scene, with museums and galleries on the doorstep. The Ampersand is surrounded by some of London's most famous districts, from Knightsbridge and Mayfair to Hyde Park and Chelsea — all within walking distance. All Deluxe Rooms, Deluxe Studios and Suites can accommodate an additional cot or fold-away bed at no extra cost, and many rooms can interconnect. Their suites are complete with small kitchenettes, fitted with microwaves, kettles, toasters and fridges. All rooms can come with (on request) child-size bathrobes and slippers, children's toiletries and activity packs. All of the rooms also come with complimentary soft drinks, tea & coffee and free wifi so it is great value.
More of the best places in London to stay with kids
Royal Garden Hotel
2-24 Kensington High St, London W8 4PT
The Royal Garden Hotel is situated in the fashionable neighbourhood of Kensington, with panoramic views of Kensington Palace and Gardens, Hyde Park and London's skyline and right by the museums and the Princess Diana Memorial Park. Their family-friendly promise includes many added extras such as backpacks full of goodies for your little explorers and micro-scooters to enjoy around Kensington Gardens and Hyde Park. They even offer a special room service menu and early dining in Park Terrace Restaurant, for families from 5.30pm. So this is a great option if you have little ones who need feeding early!
YHA Youth Hostel, Earls Court
38 Bolton Gardens, London SW5 0AQ
Just a short walk from Earl's Court Underground station, YHA London Earl's Court is a convenient base for a cheap London break. The hostel is housed in a Victorian building and boasts a courtyard garden. You are close to Olympia, Kensington Gardens, Hyde Park, the Natural History Museum and the Royal Albert Hall. There are self-catering facilities for guests to use and the café serves a continental breakfast and a range of snacks throughout the day. There are also board games available at reception and the majority of the rooms have bunk beds.
Premier Inn Southwark
31 The Cut, London SE1 8LE
You're just a 15-minute walk from the London Eye and the South Bank at the Premier Inn London Southwark hotel. You could visit the London Dungeons or go on a trip to Tower Bridge. Take a short walk to the Southbank Centre where there is always plenty going on. The hotel is next to Southwark Underground station and the Jubilee Line, and close to overground trains from Waterloo and London Bridge. There is an in-house Bar and Block restaurant and the rooms have super-comfy Hypnos beds. If you're looking for a cheaper deal the Premier Inn could be your best option.
Citadines Trafalgar Square
18-21 Northumberland Ave, London WC2N 5EA
Situated near bars and restaurants about 800 metres away from Southbank Centre, the Citadines Trafalgar Square Aparthotel London has 187 rooms. The London Eye is a few steps away, while Charing Cross train station is within a 5 minutes' walk from the venue. They have compact rooms with direct dial phone, satellite TV and Wi-Fi. Citadines apartments have compact kitchenettes with a microwave, refrigerator and tea/coffee facilities. For families you can stay in a one or two bedroom apartment which are good value.
Primestay Fitzrovia
Maple St, London W1T 6HQ
Primestay Fitzrovia is situated in Westminster, just 5 minutes' walk from Warren Street underground station, this accommodation has 2 bedrooms, 2 bathrooms and a full kitchen. Kitchen facilities include a microwave, a dishwasher and refrigerator. Families can stay in a two bedroom superior apartment. It's well positioned to reach lots of the popular attractions, but there's also a great place with plenty of room if you're hiding away on rainy days.
Mama Shelter, Shoreditch
437 Hackney Rd, London E2 8PP
Mama Shelter London is a modern hotel with stylish and comfortable rooms, a large restaurant and a lively bar in the veranda. There is a gym and even a karaoke room! Mama Shelter is a dynamic urban refuge offering comfortable rooms and home cooked food. Nearby you'll find the V&A Museum of Childhood, Hackney City Farm, Victoria Park Kids Fountain Playground, Brick Lane and Dalston Eastern Curve Garden. Mama Shelter is on a main road lined with cafes, pubs and shops, this vibrant, casual hotel is a 4-minute walk from Cambridge Heath train station and 2 miles from the Tower of London.
So there you have it. Whether you want to go to the O2 Arena, Victoria and Albert Museum, Harry Potter Studio Tour or see Rudyard Kipling's Jungle Book in the West End, there are hotel rooms and apartments to suit everyone. There are countless others, but these give you a great head start on the best places to stay with kids in London.
Have a great time!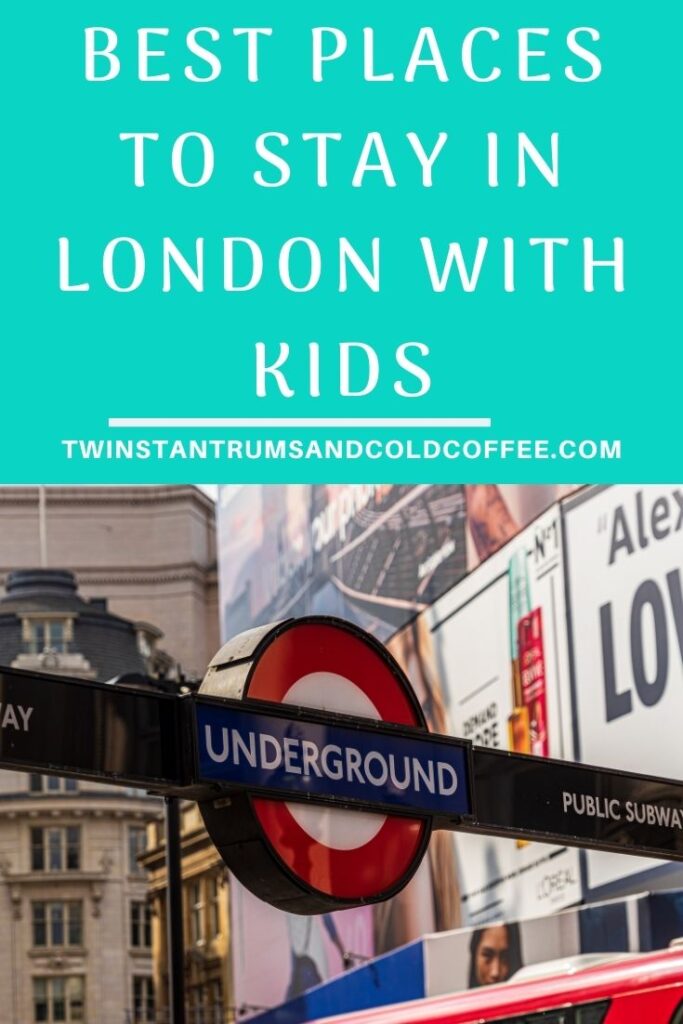 How did I do?
Did you enjoy this post? Why not have a look at some others whilst you're here, particularly Christmas in London: Where To Stay For Your Festive Trip To The UK's Capital or 11 Of The Best Things To Do At Christmas In London With Kids. Or you'll discover lots of other UK holiday inspiration and family days out in my Travel Section. Such as best family holidays in Devon, best places to stay near Paulton's Park and Peppa Pig World, family friendly holidays in the Cotswolds, and best campsites for kids in the UK.
And if you want to read some more of my usual kind of stuff, head over to my Mum Life section. You'll find all things parenting with a tongue-in-cheek twist.
If you like a bit of social media madness, pop over to my Facebook page where you'll be able to have a laugh at what ridiculousness goes on in my house with three very small boys on a daily basis. Warning – there is often sarcasm, and usually swearing. There are also great travel reviews and some AWESOME giveaways. Feel free to join my Twins, Tantrums and Cold Coffee – Shits and Giggles Parenting Group too, where everyone shares their hilarious stories.
If you like what you see, how about you check me out on Pinterest, Instagram and Twitter too.
And if you want to work with me, feel free to give me a shout here or at helen@twinstantrumsandcoldcoffee.com and I'll get back to you.