Shiver me timbers, Plymouth Pirates Weekend is back and set to be an even bigger and better swashbuckling corker of an event than before!
AD: This is a collaborative post
One of the city's favourite annual events, Plymouth Pirates Weekend, will entertain both you and your children with a treasure trove of free activities across the Barbican, Sutton Harbour, the Waterfront, West Hoe and the Royal William Yard this weekend.
Get your Jolly Rogers, eye patches and treasure maps at the ready (or in my twins' cases, full on pirate costumes) and head down to the popular event on Saturday May 20 and Sunday May 21, 2023, from 10am to 4pm.
You never know, you might even spot lovable rogue Captain Jack Sparrow himself! He's definitely been known to put in an appearance in the past… 
Kids will love exciting Plymouth Pirates Weekend line-up
The event is run by Plymouth Waterfront Partnership Business Improvement District (PWP BID), and offers an exciting line-up the kids will love including pirate storytelling, tall ships, demonstrations of canon and musket firing and mermaid encounters.
There will also be a Buccaneer Bingo trail, sea shanties, stilt walkers, puppet shows, arts and crafts activities, face painting and live music.
Two tall ships, the Pilot Cutter Olga, and the 19th century Pilgrim of Brixham will be docked alongside Quay Square. Visitors are welcome to hop aboard and explore the ships for free. I remember this being a real highlight for my eldest one year!
There will also be a seafood BBQ and family shows at Commercial Wharf, whilst an evening fancy dress party at the Boathouse Cafe will take place on the Saturday with live music from The Busketeers.
New locations for Plymouth Pirates Weekend 2023
New for 2023, Plymouth Pirates Weekend has been expanded across the high seas to West Hoe Park and the Royal William Yard, so there really is no end to all the fun on offer. 
There will be pirate shows at West Hoe Park at 11.30am and 2.30pm both days, and a whole host of pirate fun at the Royal William Yard from 10am to 3pm.
Children can get involved in crafts at the historic Yard, as well as face painting, watch stilt walkers, and have the chance to make sea biscuits. There will also be a treasure hunt with bounty to be won, sea shanty bands Cousin Jack, and Seaweed In The Fruit Locker will perform by the water's edge, and there will also be live music from Anything but Francis. 
Brave buccaneers can even hop on board Plymouth Boat Trips' special 'Pirate Ferry', setting sail from the Barbican to drop anchor in the Royal William Yard Marina. So you don't just have to limit your pirate adventures to the Barbican.
The RNLI Inshore Rescue Boat will be on display at the RWY Marina so find your sea legs and sail between the two locations for an even more exciting day out. Just don't go walking the plank!
Thousands expected to attend swashbuckling event
Jon Walton, CEO of Plymouth Waterfront Partnership said: "We're absolutely delighted to be expanding the hugely popular Pirates Weekend this year to West Hoe Park and Royal William Yard. The event encourages thousands of visitors to enjoy our beautiful waterfront and experience all the thrills that the high seas have to offer.
"Waterfront businesses love to get involved too, with amazing window displays and lots of fancy dress, which is actively encouraged. Bring the whole family for a great day out and I'd urge you to please show your support for our local shops, cafes, pubs and restaurants, without whom this event would not be possible."
This year, 14 talented local shanty bands will be performing in the waterfront throughout the weekend to entertain the crowds. A number of them will also be performing in nearby pubs after the main event has finished for the day, between 4pm and 7pm, on Saturday May 20 at various locations in the waterfront.
There will be a chill-out zone in the garden area at the entrance to Basket Ope and a green space picnic area at Commercial Place, which will provide accessible calmer spaces for visitors to retreat to if they need it.
And if you have older children, the Mount Batten Centre and Plymouth Youth Sailing Pirates will be offering both sailing and rafting experiences during the weekend. 
Plymouth Pirates Weekend is supported by Plymouth Active as Official Entertainment sponsor, Barbican Botanics as Tall Ship sponsor, Sutton Harbour Group and Great Western Railway (GWR) as Official Travel Partner of Pirates Weekend.
For all the latest information about Pirates Weekend, head to Visit Plymouth or the Plymouth Waterfront Partnership Facebook page.
See you there!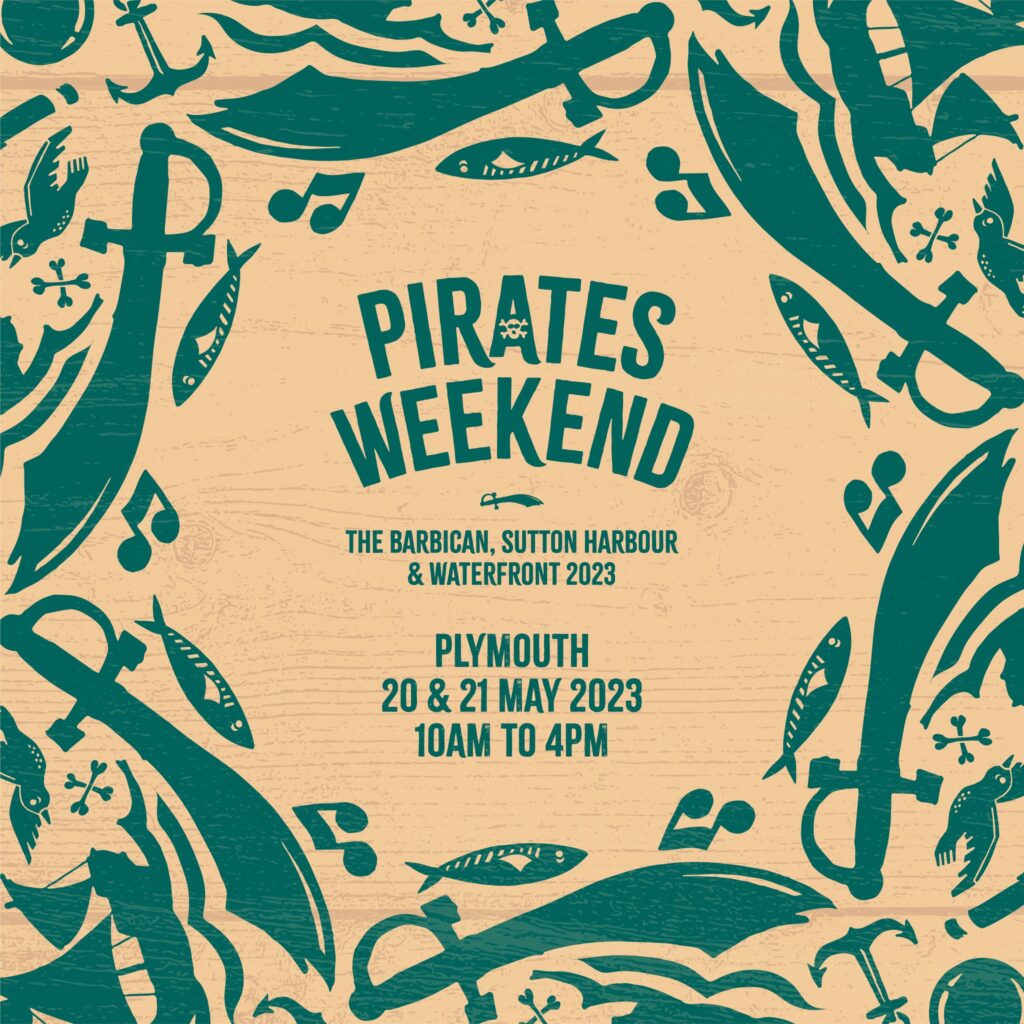 Images by One Plymouth
How did I do?
Did you enjoy this post? Keep an eye out for the latest Local Stuff here. And why not check out some of these:
If you want to have a giggle at my parent ramblings, and tongue-in-cheek (possibly a bit sweary) posts, head to the Mum Life section. Or if you want to read about UK holidays with three young kids have a read of my Travel and Days Out section.
If you like a bit of social media madness, pop over to my Facebook page where you'll be able to have a laugh at what ridiculousness goes on in my house with three very small boys on a daily basis. Warning – there is often sarcasm, and usually swearing. There are also great travel reviews and some AWESOME giveaways. Feel free to join my Twins, Tantrums and Cold Coffee – Shits and Giggles Parenting Group too, where everyone shares their hilarious stories.
And if you want to work with me, feel free to give me a shout here or at helen@twinstantrumsandcoldcoffee.com and I'll get back to you.
​​