If you have train-obsessed children like I do, and want a great day out, head to Lappa Valley in Cornwall.
AD | We were given free entry into Lappa Valley for the purpose of this review, but all opinions and pictures are my own.
There's so much to do, and if your kids aren't excited enough as it is, they'll hit fever pitch when they realise you have to get a steam train from the station at the car park to a 'secret world of trains and play'. It was like going off into the unknown.
After the 10 minute journey through Cornish countryside you arrive in the secret valley to a whole day's worth of fun. The last time I was here I was 7 months pregnant with the twins so it was great to bring them this time.
Whatever their age, they're sure to enjoy themselves. My boys (aged 5, 3 and 3) were obsessed with the trains – so luckily there are two more to try out once you get there, and of course you have to journey back to reality by rail too at the end of the day.
Kids love the train rides at Lappa Valley
Our favourite was the Woodland Railway which took us around woods and the lake where we had to spot animals including bears, squirrels, frogs, geese, an octopus and even a scary shark in the water.
The Lappa Valley railway still runs live steam on one of the oldest railway track beds in Cornwall. It's also home to one of the largest remaining Cornish engine houses in the country.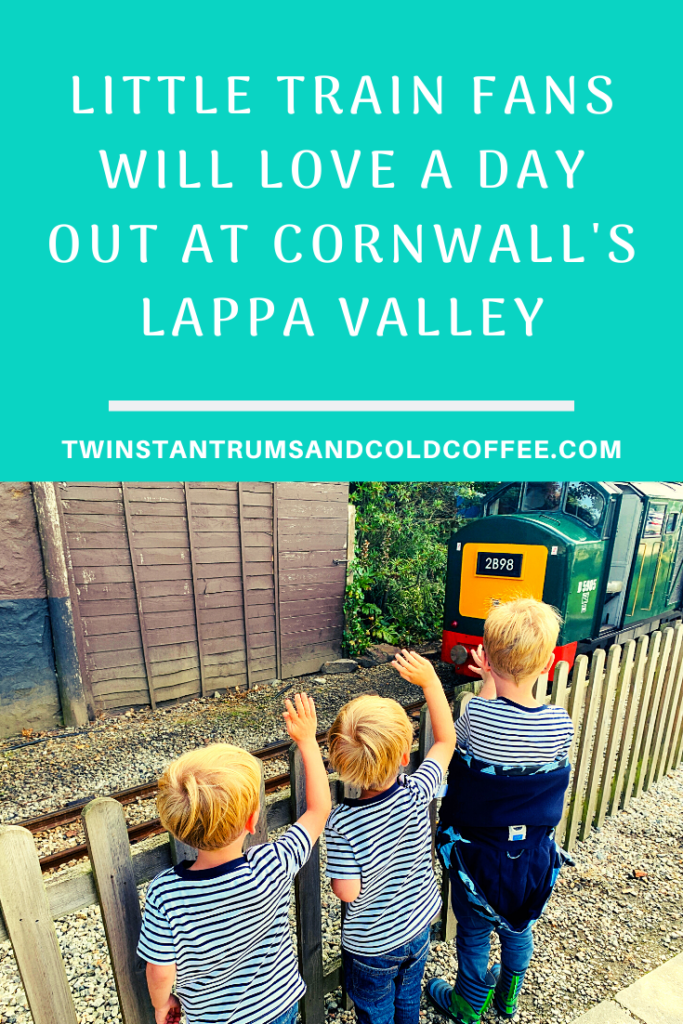 As well as a spot of history, there's loads to keep the whole family entertained.
After a bite to eat at the cafe, my three were straight onto more fun. Heading to the pedal car track and off to the adventure playground. Stopping for a go on the swing roundabout on the way.
Loads of fun to be had in the Lappa Valley play areas
The twins always gravitate to a play pirate ship and this visit to Lappa Valley was no different. They also lapped up the sandpit diggers, and roundabout before discovering the huge fort at the top of the hill, and awesome tube slide. We could have probably stayed there for the afternoon, they went on it so many times. Especially once the five year old realised he went super-fast if he sat on his coat!
They then headed across to the toddler maze (basically stones laid out on the ground as opposed to hedges so TOTALLY safe) where you're supposed to get to the middle before ringing the bell. Not entirely sure that idea was adhered to in our case..
We all had a great time on the swan pedalo boats too. Well at least the boys and I did. The Other Half was doing all the work whilst I sat in the back (obviously using the excuse of keeping the twins safe). And the five year old sat in the front trying to 'help'. You can imagine how much help he was!
There's also a crazy golf course that was really popular. Although we tend to avoid them for the time being, just so nobody gets whacked around the head with a golf club by an over-enthusiastic three year old.
Indoor fun
Lappa Valley also has a great indoor play carriage and set of tunnels for little ones to crawl through. Although this, along with the trampolines was closed due to Covid restrictions. I remember from last time though, my then two year old, spent AGES in here.
And just when you think they've exhausted all the fun in the 'secret valley'. You remember there's a play park back at the station/car park for them to carry on. If they've got any energy left!
Lappa Valley is about 6 miles outside of Newquay, and is easily reachable from wherever you're staying in Cornwall.
Covid restrictions are in place, and there are signs and hand sanitisers everywhere. And the trains and pedal boats were cleaned after each use. It was also only one household group in each train carriage with dividers between carriages put in place. So I felt totally safe.
It rained a bit when we were there, but it certainly didn't put a dampener on our fun. The boys loved it!
To find out more about Lappa Valley click here.
How did I do?
Did you enjoy this post? If you're looking for some more days out reviews, then you can find ones on here. Try Camel Creek Adventure Park, Springfields Fun Park, Paulton's Park and Farmer Palmer's Farm Park. And if you want to know more read Cornwall With Kids. If you want some ideas for UK family holidays, check out my Travel Section. And if you want to read some of my funny parenting rants, which is really what this blog is all about, go to Mum Life.
If you like a bit of social media madness, pop over to my Facebook page where you'll be able to have a laugh at what ridiculousness goes on in my house with three very small boys on a daily basis. Warning – there is often sarcasm, and usually swearing. There are also great travel reviews and some AWESOME giveaways. Feel free to join my Twins, Tantrums and Cold Coffee – Shits and Giggles Parenting Group too, where everyone shares their hilarious stories.
And if you want to work with me, feel free to give me a shout here or at helen@twinstantrumsandcoldcoffee.com and I'll get back to you.