AD | We were given free entry into Camel Creek for the purpose of this review, but all opinions and pictures are my own.
It's not often I take my boys to a theme park for the first time and don't manage to cover everything there is to offer – but that's what happened at Camel Creek Adventure Park.
There's so much to do, we didn't manage to get round it all, despite us being there for a full day.
It *might have been because one of my three year old twins insisted on taking Grandad on the bumpy Mini Mega Slide approximately 3,697 times, but well, he was having fun. The three year old was enjoying it too…
Something for everyone at Camel Creek
Camel Creek is one Cornwall's biggest adventure parks and offers so many rollercoasters, water slides, and rides for all ages, there is literally something to keep everyone in the family happy, whatever their age.
And here's your proof…
We totally intended to get round to everything but my boys seemed to get kind of stuck in one area called Swampy and Dina Land – named after Camel Creek mascots. They couldn't quite believe their eyes or luck at what rides they could go on. I think they thought it was their birthday all over again!
First up, they all went on the Clown Coaster, a bumpy roller coaster that speeds you around and around – much to their delight. And it's quicker than it looks when you're actually on it! We went on it so many times, we were practically on first name terms with the member of staff.
Opposite that was Creeky's Water Rush, another firm favourite. It's Camel Creek's mini log flume perfect for little ones. They sit in a boat on their own and sail around a bumpy stream before splashing into a pool of water at the end. It's tame but cute, and my three (especially my less adventurous twin loved it). Adults can go on it too – but only if they can fit in the boat. I didn't embarrass myself by attempting it, but I did see a burly bloke on it, so I might have been okay. Or mortified if not.
Whilst the twins alternated between Clown Coaster and Creeky's Water Rush, my five year old and Daddy went on Swampy's Sky Ride – a mini ferris wheel. They all then discovered Swampy's Drop. This was a junior drop tower where you climb to the top of a tree then bounce back down. Nothing too scary, but it still made your stomach flip a little. Mine loved it so much it we went on it five times…
Too much for the twins to choose from
They then spent the next half an hour taking it in turns between Dina's Dancing Flowers – like a typical tea cup ride (where all three argued over who was in charge of the spinner), and Dizzy Dina, another spinning type ride, that also bounced you up and down too.
Then it was time to at least pretend to be brave, not to be outdone by my thrillseeker five year old – and ride Morgawr. Apparently known for its speed and a favourite among visitors to Camel Creek, I can attest that both facts are indeed true. You know it's going to be fast when the member of staff tells you to take the kids' hats off in case they get lost whilst on the ride. (Would it be REALLY embarrassing to ask to get off before it's started?)
It was fast. It was even kind of furious (for something a three year old is allowed on), and I may have even have let out a few yelps. My adventurous twin? Grinned the entire time, didn't scream and LOVED IT! The five year old was in his element and wanted to go on it again straight away.
Rides were ideal for thrill seeking five year old
Adrenaline clearly still rushing through him, he and Daddy opted for some more thrill seeking on Vertigo – the ride we've all seen (and decided against?) where you soar into the sky, then leave your heart and stomach up there as you drop 50ft in a matter of seconds. This is always his favourite ride whenever we see one. I'm so glad my Other Half is happy to take him on.
Then after another 2,645 goes on the bumpy Mini Mega Slide, we did actually manage to prise the boys away to Thunder Canyon, where the excitement level of the rides went up a gear. Apart from for Twin Two, who is pretty cautious and spent most of the time waiting and watching with Granny.
First up for the five year old were the two water slides of Raging Rivers, standing more than 20 metres above the ground. Choose between the long bumpy one, or the one with almost a vertical drop. Or do both like my five year old – either one will get you wet!
And if you're already wet then you might as well head along to traditional log flume ride Thunder Falls. If you weren't wet enough from Raging Rivers – you'll be SOAKED after this one. Although considering we went on one of the hottest days of the year, it was pretty refreshing. Both the three and five year olds thought it was hilarious!
Air Bender is biggest roller coaster at Camel Creek
Although my eldest wasn't impressed when he realised he wasn't quite at the 130cm height needed for the Air Bender. This is the biggest roller coaster at Camel Creek. He'd spotted it as soon as we got there, and because he'd been on bigger roller coasters elsewhere he (and I) had assumed he'd be fine. Oops.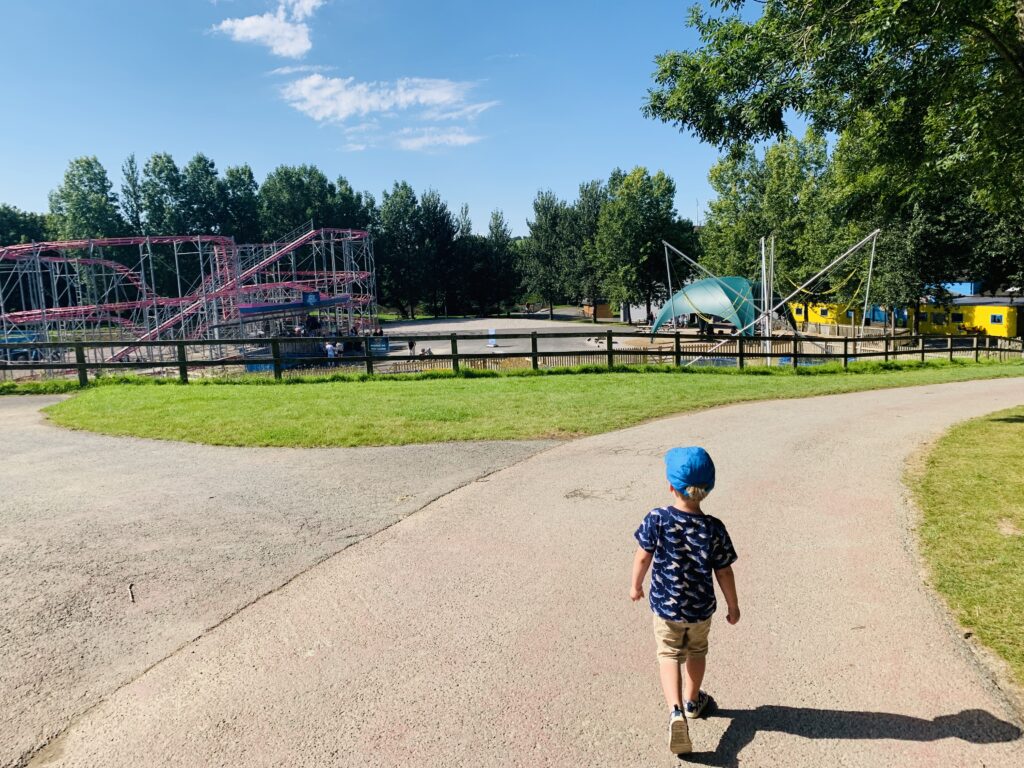 So he had to make do with watching the Other Half and I go on it – and us tell him it was rubbish afterwards. Apart from it wasn't – it was high, fast and I may have screamed once again. This one wasn't for the faint-hearted, let me tell you.
With time slipping away from us, we raced around to Creature Creek. As the name suggests it's where the animals live at Camel Creek. We saw meerkats, as well as rabbits, guinea pigs and bugs in Pets Corner. Then huge lizards, baby crocodiles and everything in between in the Reptile House.
Covid measures at Camel Creek made us feel totally safe
We went just a few weeks after Covid restrictions allowed Camel Creek to reopen. We felt the rules and safety measures put in place were brilliant. There were fewer people there, as well as hand sanitiser and signage everywhere. Staff cleaned the rides after each use, and only let same household groups sit together on rides. This often meant half the carriages were empty, but nobody minded.
There are some indoor play areas that were still closed, which was a shame but we felt totally safe. They even took our temperature on the way in. And were handing out disposable face masks to go through the gift shop and exit.
All the staff were so friendly, chatting to both us and the children whilst we waited or got on rides. And apologising for the wait whilst they cleaned – with absolutely no need as we all understood.
So much to do, we didn't get to everything
We didn't get to everything. So we missed the Viking Warrior pirate ship ride, and a lot of the rides in Kiddies Kingdom. Had Grandad (!) not insisted on all those bumpy slide rides, we may have got round to the Wave Rider. It has 32 chairs suspended in the air on a carousel. We also missed the Pony Express ride and Kiddies Carousel. And our boys didn't play in the Creek Construction sandpit play area.
We also never made it into Mission Simpossible – Cornwall's only 5D simulator theatre. Children under 120cm can watch the film in full 3D from a safe and secure viewing gallery. Or those over 120cm can have the full 5D experience – whatever that involves!
Camel Creek also has a show arena where they hold events such as character days. Hits such as Hey Duggee, Peppa Pig, Sonic the Hedgehog and Monster Minions are all appearing this year.
We had such a brilliant day at Camel Creek. The twins couldn't go on everything because of their height, but there was still more than enough to keep them happy and entertained. All three haven't stopped going on about it since. And the fact we didn't quite manage to do it all just means we'll have to go back again!
Find out more information about Camel Creek here.
How did I do?
Did you enjoy this post? If you're looking for some more days out reviews, then you can find ones on here. Try Springfields Fun Park, Lappa Valley, Paulton's Park and Farmer Palmer's Farm Park. If you want some ideas for UK family holidays, check out my Travel Section. And if you want to read some of my funny parenting rants, which is really what this blog is all about, go to Mum Life.
If you like a bit of social media madness, pop over to my Facebook page where you'll be able to have a laugh at what ridiculousness goes on in my house with three very small boys on a daily basis. Warning – there is often sarcasm, and usually swearing. There are also great travel reviews and some AWESOME giveaways. Feel free to join my Twins, Tantrums and Cold Coffee – Shits and Giggles Parenting Group too, where everyone shares their hilarious stories.
And if you want to work with me, feel free to give me a shout here or at helen@twinstantrumsandcoldcoffee.com and I'll get back to you.