If you're looking for a family-friendly holiday in North Cornwall and you want your own space but with plenty of places to explore on the doorstep, I've got the perfect solution for you.
Disclaimer – We were given this trip for free in return for a review, but all opinions are my own.
Luxury holiday home Gwelmor in Widemouth Bay is ideal for families with young children, and is just a five minute walk from one of the most stunning beaches the South West can offer.
I took my family when my eldest was two and my twins were nine months, and we had a fabulous time. We also took my parents along, because with the best will in the world, three boys under three is absolutely NO holiday…
Award-winning home for perfect holiday in North Cornwall
Award-winning Gwelmor is a three bed property in Widemouth Bay, just a 10 minute drive from Bude, so as far as a holiday in North Cornwall is concerned, it couldn't be better situated.
Not only do you have the huge beach on your doorstep, but you're within easy reach of some great family days out. We went for a long weekend and managed to pack in three attractions whilst we were there.
And if you have a dog, then Gwelmor is DEFINITELY the place to go. Not only is it family-friendly and ideal for three generations – it has won Bronze for the second year running in the Dog Friendly Business of the Year category in the Cornwall Tourism Awards 2020/21. Owners Jayne and Bill are huge dog-lovers, and have provided everything you need to take your pooch on holiday with you. Supplies include poo bags, food and water bowls, towels for rubbing down sandy paws and extra bedding.
Though we don't have any furry friends ourselves, we could see that this place wasn't only dog friendly, but dog WELCOMING!
Gwelmor is ideal for families with young children
But considering this is a parent blog, I should probably mention the kids too? The best thing about Gwelmor for families with young children is that it is all on one level. So absolutely no panic about stairs or stair gates. If they wander off, you know they can't have gone far.
Although having said that, the three bedroom cottage is so SPACIOUS. It has two king-size rooms, one with an ensuite, a further twin room, family bathroom and a third toilet. The ensuite room was obviously the one I nabbed. There was loads of room for a travel cot to go in there. In fact there was room for us to put two up. So if you're taking a baby, it is easy to have them in your room.
My two year old was more than happy to sleep in the twin, and loved having the choice of which bed he wanted.
The king-size en-suite has a Smart TV and DVD player, and the second king-size room has a TV and DVD. Oh, and the beds are SUPER comfortable. It's a shame 9 month old twins ruin your sleep or I think I'd have slept for days in them.
Open plan living space is great for socialising
There's a huge open plan lounge, dining, and kitchen area which was absolutely perfect for us. Meant my Other Half could chat to us from the kitchen cooking. Whilst my mum and I cracked open the fizz in the lounge.
It also meant that the boys could play in the lounge area with two adults, and the other two could be packing up lunches or loading the dishwasher and we all felt like we were still being sociable. Maybe I should have mentioned the kids bit before the fizz? Ah well, priorities and all that.
The modern kitchen has everything you could wish for. There's also a washing machine in the utility room AND a tumble dryer in the garage . Essentials when holidaying with children!
We went in March so we didn't use the garden much. But it would be absolutely perfect for the boys in the summer. Patio doors open out from the main living area onto the flat, wraparound garden with lawn, barbecue and sun loungers. It would be fabulous in warmer weather. And totally enclosed and safe for little ones. No worries of anyone escaping!
Everything you need for kids is already there
A travel cot and highchair is available on request, and there is plastic crockery, cutlery and a baby sippy cup. Which I always love when on holiday to save me taking my own, or risk breaking someone else's! There's also a box of baby toys which my boys adored! Anything different to their own stuff always goes down a treat, doesn't it? To be fair my boys would play with the dog toys and still be over the moon.
Owner Jayne leaves guests a welcome hamper of Cornish apple juice, Cornish biscuits and handmade Cornish dog treats for the pooches. A perfect introduction to a holiday in North Cornwall if it's your first visit to the county.
And all the kids get an age-related gift with hand-stamped name tags. This woman knows how to please! I've been to a lot of holiday cottages, and not once have I seen presents for the children. Just so thoughtful and sums up how much love and effort goes into making guests happy.
Five minute stroll from one of North Cornwall's best beaches
Gwelmor is situated at the top of a quiet cul-de-sac and is literally five minutes walk to Widemouth Bay beach. My eldest rode his balance bike down to it (we don't normally put a bike helmet on him just for a trip to the beach, honest!). The beach itself is two miles long and with plenty of rockpools to explore kids will love it. If you're into surfing or fancy yourself as a budding surfer then there's a surf school here for you to try it out. There's also a cafe and toilets – always handy with children!
There is so much to do from Gwelmor both in North Cornwall or across the nearby border to North Devon, you'll literally be wishing you'd booked longer to fit it all in. We certainly thought that.
The South West Coastal Path is right on your doorstep and absolutely stunning. If you can put babies or toddlers in carriers, it's a winner. You're also obviously in one of the best places in the country if you're looking for beautiful beaches.
Gwelmor is surrounded by fun family days out
But if you want some fun family days out whilst on holiday in North Cornwall, then there's loads to choose from. Within an easy drive there is Camel Creek (you can read my review here), The Big Sheep, The Milky Way Adventure Park, and Combe Martin Wildlife and Dinosaur Park.
If you have young children I'd say a visit to The Milky Way is an absolute must. My two year old had a ball there on roller coasters, the dodgems, a little railway and an indoor soft play area. There is also a Bird of Prey Centre which has amazing displays, mini golf, a maze and bouncing pillows. But it was the slightly random room filled with giant balloons and a big fan that captured my two-year-old's imagination. We couldn't get him out! It definitely needs to be on your list during a holiday in North Cornwall.
A trip to The Big Sheep was also a great day out. My brother, sister in law and nephews drove up from Plymouth to join us on that day, and the boys loved it.
Children can enjoy rollercoasters, pony rides, pedaloes, meet animals, ride a train, and a Piggy-Pull-Along tractor ride. A huge highlight for the two year old to be allowed on by himself with his cousins.
If the weather isn't so great they have a giant indoor soft play called EWEtopia. This ended up being an ideal place for a coffee, and feed for the twins whilst the older boys played. There may have even been ice cream.
The third day out we had was at Combe Martin Wildlife and Dinosaur Park. It was a longer drive than the other trips, but with a dinosaur-mad toddler it was too good an opportunity to miss. And he still talks about it now and asks when he can go back.
They boys all loved the animals and funnily enough yet another indoor soft play. Can you see a theme here? But it was obviously the dinosaurs that stole the show. They really are pretty special, and a sure-fire way to delight any dino fan.
Obviously it's wise to check what rides etc at each of these attractions are currently open during Covid restrictions.
A trip to Bude is a must when staying at Gwelmor
If you wanted to stay closer to home, as it were, Bude is only a five minute drive from Gwelmor. And it was a lovely day out in the sunshine. We headed straight to a park before a play on the beach, and then lunch in the sun outside a cafe on the quay. We had a mooch around the shops and more stops for coffee and cake, which made it a great day out.
If you're staying at Gwelmor for a week (totally recommended, by the way), other places you could try are the Tamar Otter and Wildlife Centre, Eden Project or the Camel Trail cycle path. And if you have a rainy day then head to Blue Reef Aquarium in Newquay.
With so much to do in and around the area, and with Gwelmor being such a truly fabulous place, the only thing I have left to add is – er, why haven't you booked yet?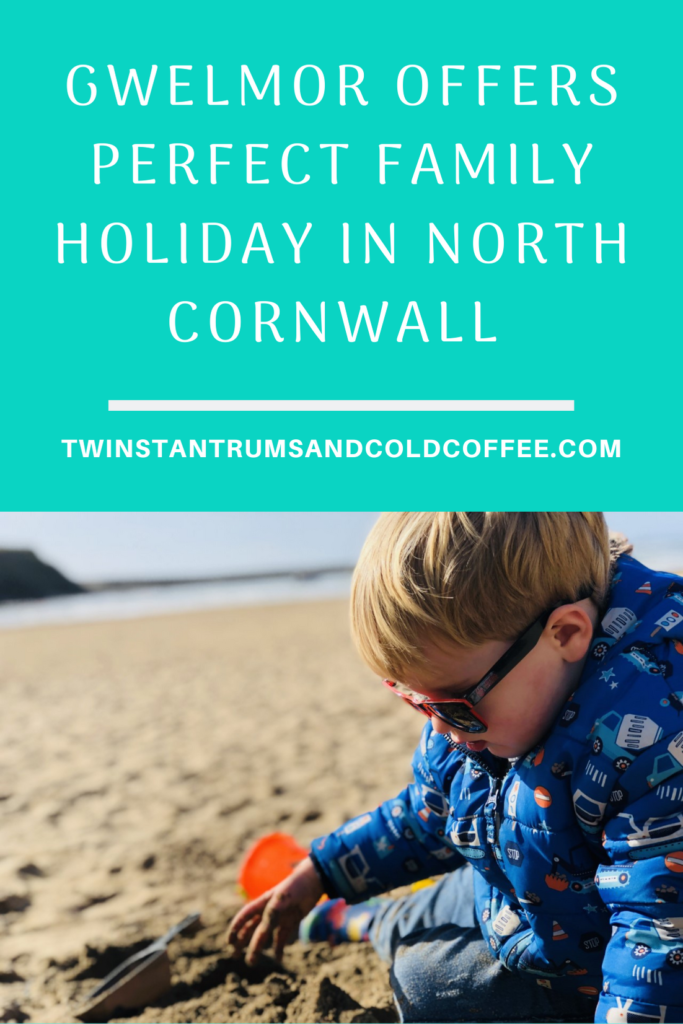 How did I do?
Did you enjoy this post? Why not check out a few of my other travel reviews. If you can't get enough of Cornwall, I have reviews on Tredethick, Glynn Barton or The Park. And days out reviews of Camel Creek, Springfields and Lappa Valley. If you still want more, head to my Travel Section. If you want to read some more of my usual kind of stuff, head over to my Mum Life section. You'll find all things parenting with a tongue-in-cheek twist. In fact, on the subject of travel, you'll like this one Five Ways A Holiday Is Never The Same After Kids.
If you like a bit of social media madness, pop over to my Facebook page where you'll be able to have a laugh at what ridiculousness goes on in my house with three very small boys on a daily basis. Warning – there is often sarcasm, and usually swearing. There are also great travel reviews and some AWESOME giveaways. Feel free to join my Twins, Tantrums and Cold Coffee – Shits and Giggles Parenting Group too, where everyone shares their hilarious stories.
And if you want to work with me, feel free to give me a shout here or at helen@twinstantrumsandcoldcoffee.com and I'll get back to you.