Thinking of a family holiday in France? Well you're not alone – the country is the most visited on Earth, and it's easy to see why. With 13 regions all offering something different, you're spoiled for choice in this wonderful place. But if you don't know where to begin, here are some of the best places for families to stay in France and some great holiday ideas by Original Travel.
This is a sponsored post
Whether you're after hot, lazy days playing on a French Riviera beach on the Mediterranean sea, teaching your kids some of France's immense history around the Normandy region's historical sites or whizzing down mountains on bikes or skis – in France you can do literally anything.
France is the perfect holiday destination. Head anywhere on its vast coastline for a sunny beach holiday filled with watersports and fun, or go inland to the lakes and mountains of the Alps either in the summer or for a winter holiday, or check out the buzz and hubbub of capital Paris and Disneyland Paris.
With food and drink amongst the best in the world, the most beautiful cities, and historic sites, a holiday to France will never disappoint. With so many family-friendly places to go, it's a perfect place for a family trip and you'll be wanting to return again and again. And with easy ferry and air-links to the country from the UK, and some fabulous places to stay for families in France, there's no reason to not try out a different area year after year.
France is divided into 13 administrative regions, each with its own character, traditions, cuisine and even dialects. Any of them would make an awesome child-friendly holiday to France.
I've chosen 5 regions to look at in more detail, and have suggested a hotel, gite, campsite and something quirky in each of them to whet your appetite. So here is a list of some of the best places for families to stay in France that I've found.
BRITTANY
Brittany is a hugely popular destination for families due to how easy it is to get to. An overnight crossing from Plymouth to Roscoff is a good choice for a stress-free journey, and the kids will love going to bed in the UK and waking up in France. You can also go from Portsmouth to St Malo.
The peninsula in the north west of France is the ideal playground for children with beautiful white-sandy beaches at every turn. The Cote de Granit Rose is a wild coastline with pink granite boulders, whilst the Finistere coast boasts wildly dramatic cliffs and headlands overlooking crystal clear waters. It has one of Europe's most important prehistoric sites – the megaliths at Carnac which you can tour around. There are charming port towns and picturesque fishing villages with rich history, as well as museums, souvenir shops and cafes. Kids will be wowed by the water sports, adventure parks, waterslides, little trains and pony rides. And the food is just heavenly. Think fresh seafood, crepes and galettes. Even if the children turn their noses up at Moules Mariniere, they'd be hard-pushed to turn down a chocolate crepe! Towns and areas to head to include Quimper, Finistere, Carnac, Benodet, and Dinan.
Best places to stay for families in France – Brittany
Hotels in Brittany
Ti A Lannec
The four star Ti Al Lannec hotel at Trebeurden on the Pink Granite Coast in Brittany is family-friendly with its swimming pool, play area, play and reading room, and table tennis and giant chess in the gardens. There are special under 13 sessions in the pool, and families can eat from a children's menu at an earlier time in the restaurant. The hotel can also offer babysitting and baby-listening services if parents want a break. Kids will also love what's on offer nearby with Go Ape, sailing, riding, museums, an amusement park, a zoo and a castle to explore. With rooms and suites looking out over the sea, the whole family will love a stay here and it really is one of the loveliest places to stay for families in France
Campsites in Brittany
Deux Fontaines
If you're looking for an all-singing all-dancing campsite that will entertain the kids for hours, look no further than Deux Fontaines. It's a four star Sandaya-run site located between Quimper and Lorient on the Nevez peninsula. It's just 900m from the beach via a footpath, has its own waterpark with slides and free kids clubs for children aged 5 to 17. It has 221 rental cottages and mobile homes, and 63 pitches to take your own camping gear. They even have cool-looking safari tents if you fancy something in between! Activities include a skatepark, play area, badminton, football, volleyball, tennis, table tennis, a bouncy castle, mini disco, petanque and evening entertainment. There is also a restaurant, bar and shop onsite.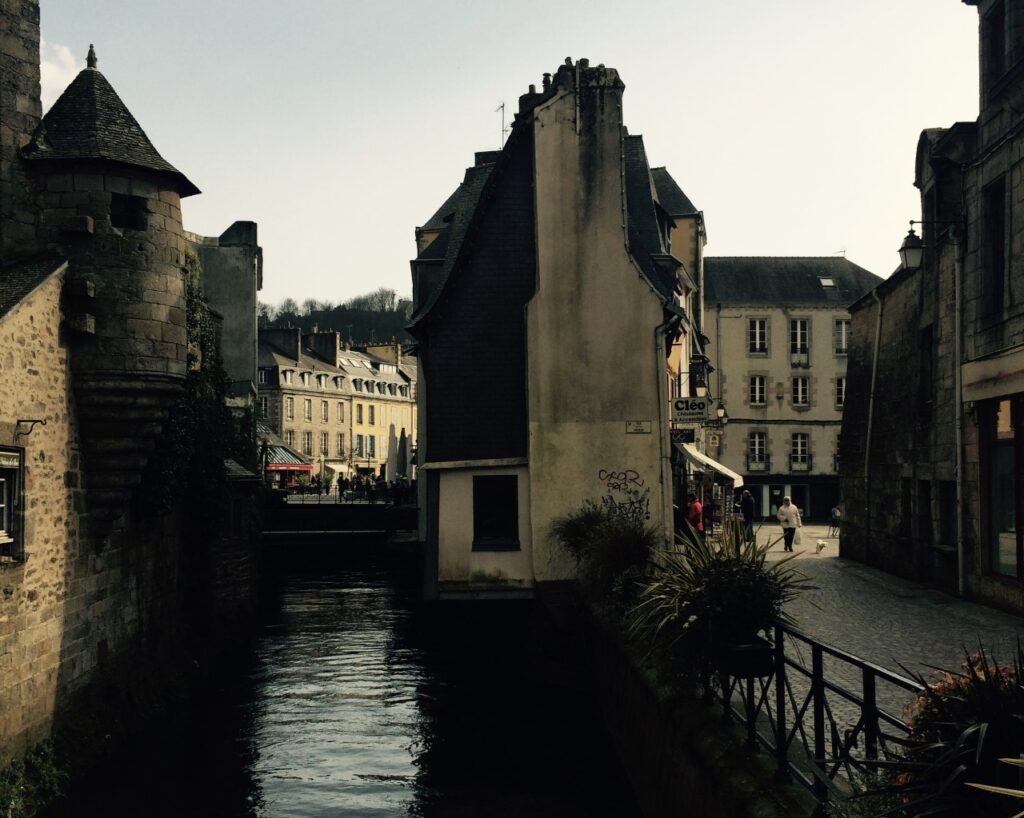 Gites or Cottages in Brittany
Maison Marjolaine
Located in a village setting in southern Brittany between Carnac and Nantes, is the stunning Maison Marjolaine gite. With its own private pool and 4 bedrooms, this place is perfect for a family wanting to be away from it all, and experience the true Brittany. Within easy walking distance is a village with boulangerie, bar and restaurant, and with its very own swimming pool, boules court and south-facing terrace, you won't want to leave. But it's also ideally situated to explore the Morbihan Gulf and the historic town of Vannes.
Quirky places to stay in Brittany
Dihan Evasion
Ever fancied staying in a tree house? Well now's your chance at Brittany's Dihan Evasion. The site is just a few kilometres from the stunning beaches of Morbihan. They have a number of cabins 5 metres up in the trees, where you can stay, as well as Mongolian Yurts, Ecolodges, Nordic Cabins and a Gypsy Caravan. All situated in the middle of the countryside with a mini farm complete with animals, wooden swimming pool, a secret children's room and natural play area.
PARIS
Paris might be one of the best cities in the world to visit, but it might not be the first area you think of for a family holiday in France. You'd be surprised though, how much there is for children to do, how much they'd absolutely love it, and how it can be one of the most fun places to stay for families in France.
Forget the huge array of internationally famous landmarks and monuments for a moment. Paris is FULL of parks and playgrounds for the kids to let off steam. Including the 23 hectare Luxembourg Gardens which is a fantastic place dedicated to the city's children by Napoleon and includes old-fashioned activities like sailboats on its pond, a carousel and watching a marionette show at its theatre. The city's botanic gardens Jardin des Plantes features a small zoo that the kids will love but the animal wow factor will be found at Parc Zoologique de Paris.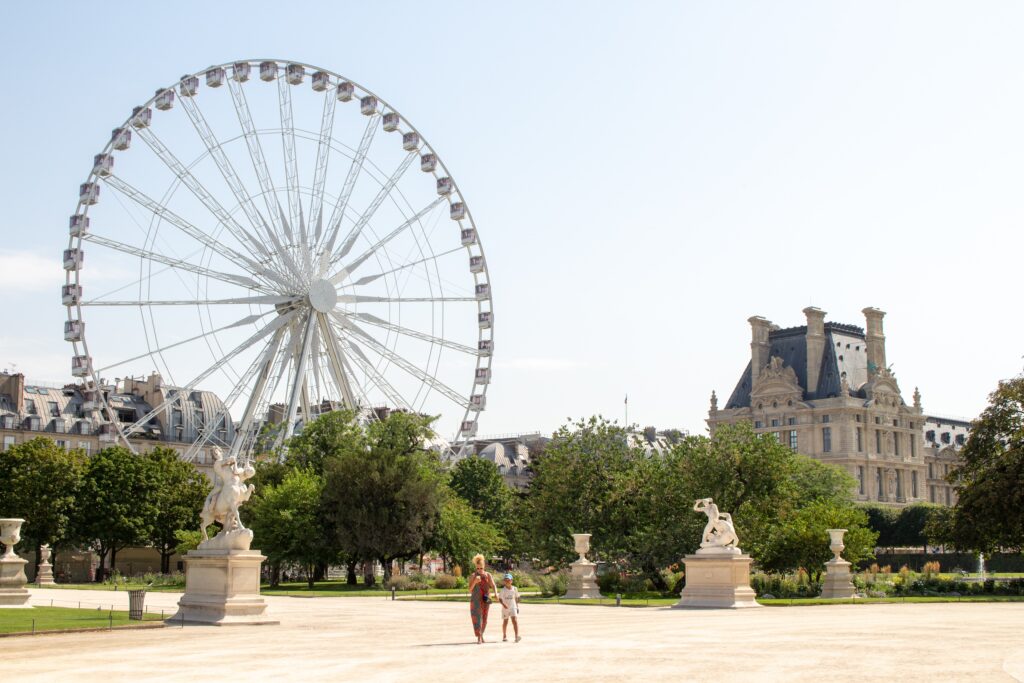 Most of the City of Light's large museums have activities and trails designed just for children such as at the Centre Pompidou or if you want to check out the Mona Lisa at the Louvre Museum. They'd love a ride on the funicular railway up to Sacre Coeur, or a boat trip along the Seine to visit Notre Dame Cathedral. And obviously no visit to Paris is complete without a trip to the main attraction, the Eiffel Tower – but don't worry, they have lifts! A four day Paris family tour would be a brilliant way to introduce the kids to the best the capital has to offer.
If you have enough time on your trip, how about extending it with a few days at Disneyland Resort Paris? If you've got the time, money and stamina then the children will be in their element exploring the five themed 'lands' – 1900s-styled Main Street USA, Frontierland, Adventureland, Fantasyland and Discoveryland. And if they're into Marvel head next door to the new Walt Disney Studios Park.
Best places to stay for families in France – Paris
Hotels in Paris
Novotel Paris Centre Gare Montparnasse
Novotel Paris Centre Gare Montparnasse is a mid-range family friendly Paris hotel. Based in the historic Montparnasse district of the city, it is close to the station and metro ready to get to the big sightseeing attractions. It has family rooms that sleep up to four or you can have interconnecting rooms. It also has its own restaurant and coffee shop.
Campsites in Paris
Camping de Paris
If you don't want to stay in the centre of Paris, how about heading a little further out to the greenery of the Camping de Paris campsite? Situated north-west of the city on the banks of the River Seine, it has a shuttle bus to the local station so you can get back into the heart of Paris easily. It's also 45 minutes drive from Disneyland Resort Paris. Camping de Paris has pitches for you to take your own tent or caravan, or mobile homes, wood tents, chalets and cottages to rent. It's a seven hectare natural park location with modern facilities as well as a playground for children and fully renovated sanitary facilities for campers.
Gites or Cottages near Paris
Villa Saint Maur des Fosses
If you want more space and to be self-catering, a gite or villa near the capital city might be a good idea. Just 30 minutes outside of Paris is the 3 bedroom Villa Saint Maur des Fosses. It is a typical French house with plenty of room, garden and barbecue area, and is the ideal location to the South East of the city and is just a half an hour's train ride into the centre of the action. It's also a half an hour's drive to Disneyland Resort Paris so is superbly situated to have the best of all worlds during a family stay in Paris.
Quirky places to stay in Paris
Houseboat on the Seine
If you have older children and are looking for something completely different, how about staying on a barge on the River Seine. This houseboat would be the perfect adventure whilst being right in the centre of the city. You'd be just steps away from the Tuileries Gardens and an 8 minute walk from the Champs Elysees. It sleeps five with 3 bedrooms and 2 bathrooms, and has a lounge, kitchen and even a washer dryer! Surely one of the most fun places to stay for families in France?
NORMANDY
The North-Western region of Normandy boasts rugged coastline, beautiful beaches, and one of the most historical areas of the country. It's easily reached from the UK with four different ferry sailings, whilst Calais in the neighbouring region of Hauts de France is easily accessible from Kent. A must during a trip to Normandy is a visit to the beaches where the D-Day landings took place in 1944 and the numerous WWII memorial grounds. Particularly if your children are into history or learning about it at school.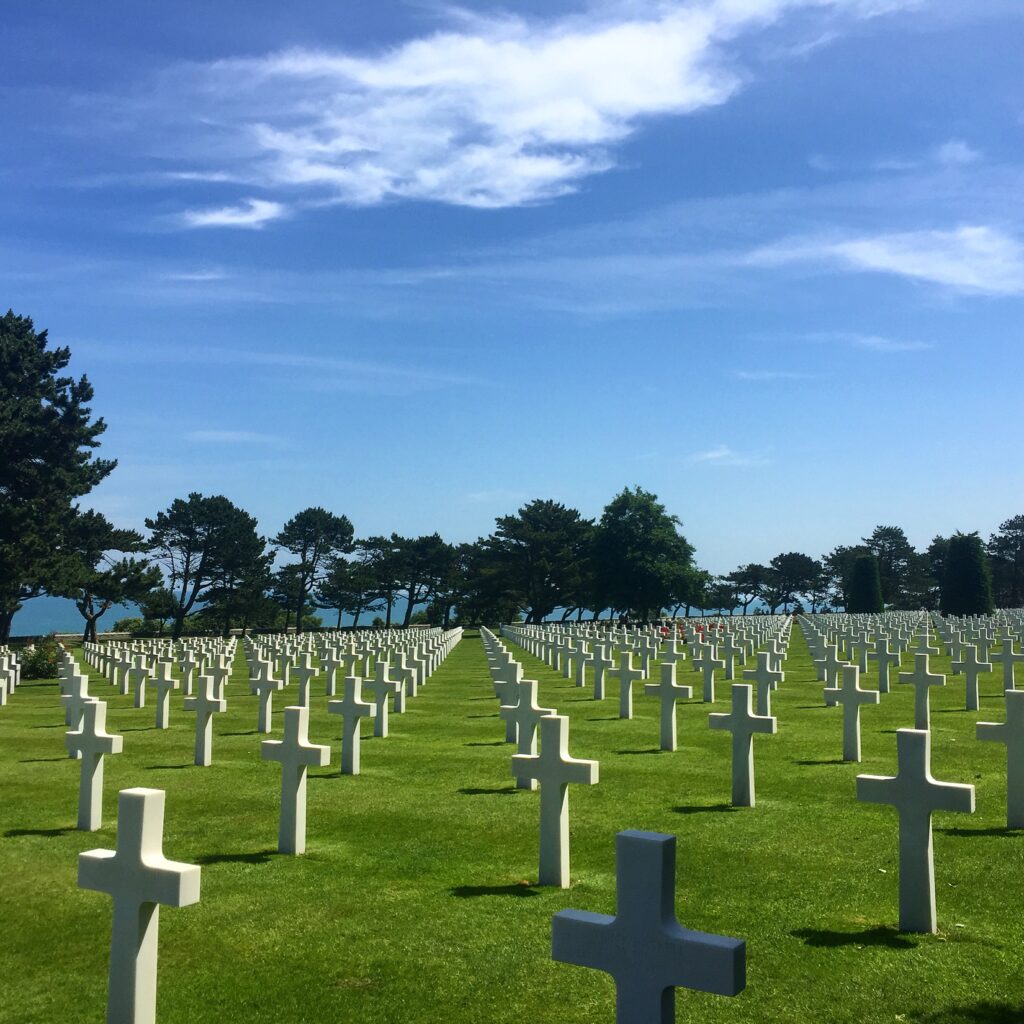 There's the Bayeux Tapestry to see, find out about Joan of Arc in Rouen, and you'll be blown away by the mediaeval monastery of Mont Saint Michel. Although it's not buggy-friendly and little ones might not be so happy with all the steps so I'd recommend taking carriers! Normandy is jam-packed with charming, historical towns such as Deauville and Trouville, and a visit to Honfleur, one of the prettiest harbours in the country, is a delight. The food is also amazing here – think creamy cheeses, seafood and sumptuous cakes. A road trip across Normandy and Brittany would be the perfect way to see both stunning regions.
Best places to stay for families in France – Normandy
Hotels in Normandy
Hotel Barriere Le Normandy
Push the boat out and stay at the 5 star Hotel Barriere Le Normandy, an Anglo-Norman luxury family friendly hotel with a sea view located in the coastal town of Deauville. There are family suites to accommodate everyone, and the children will love all the hotel's facilities. There's an indoor swimming pool, tennis, bike hire and even a kids club for those aged 4-12, as well as a creche for little ones. Whilst the children are having fun and being looked after, us parents can head to the gym, spa or the terrace for a drink.
Campsites in Normandy
La Vallee
The kids are set to have a blast at one of Eurocamps's premier parcs, La Vallee. Close to broad sandy beaches, and fascinating historic towns, families can enjoy a rural setting but just a kilometre from the coast. Stay in a mobile home and let the kids have the time of their life in the pools, Spray Park and waterslides. There are also kids clubs and onsite activities including football, cycle hire, badminton, archery, volleyball and a play park. And within easy reach there is rafting, surfing and windsurfing. There are also wine tasting sessions for the parents! So when you're looking for the most suitable places to stay for families in France this has to be on your list.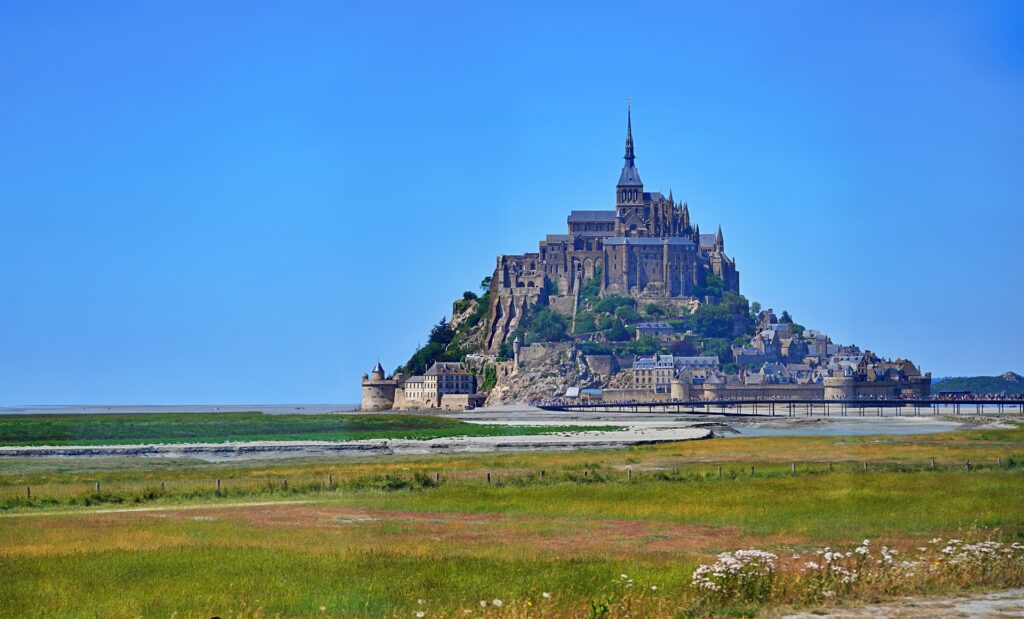 Gites or Cottages in Normandy
Normandy Cottages
Normandy Cottages have 4 gites to rent on a farm in the heart of beautiful, peaceful countryside about 45 minutes from Cherbourg in Normandy. The farm is in a secluded spot behind a village church and the 3 acres of grounds are secure so children can play safely. Kids will love meeting the ponies, goats, sheep and chickens and playing in the outdoor pool. With the beaches only 8km away, you're well placed for visiting Mont St Michel, Bayeux and the D-Day Landing Beaches. Whilst market towns of La Haye du Puits and Portball are within easy driving distance.
Quirky places to stay in Normandy
Fatouville Lighthouse
When looking for somewhere different to stay in Normandy, it doesn't get better than an actual lighthouse! Fatouville Lighthouse was originally used to guide boats on the Seine estuary near to Honfleur, but was sold to a family in 1921. Now it welcomes guests, and can accommodate families who are looking for a quirky stay somewhere unique.
PROVENCE AND THE MEDITERRANEAN COAST
Think of a holiday to France and many would automatically think of long days basking in the sunshine on the Cote d'Azur in the south of France. Provence is the region they imagine. Lavender fields, ancient towns and Mediterranean sunshine. So why not use this region as a base for your family holiday? Either spend a few days driving down through the country, or make the most of the local airports and hire a car. There is so much to see and do there and the kids will love the hustle and bustle of it.
Nice, on the South East coast is the second largest city in France and home to the long beach, which the city is built around. A walk along the Promenade des Anglais next to the beach is a must if you're there. Complete with ice cream obviously! Head to Marseille to look out over the rooftops from the top of the Notre-Dame de la Garde basilica or explore the latest exhibition at the museum. Or take a dip in the crystal blue creeks of Cassis. And if you fancy it, why not take a day trip to Monaco across the border to soak up the life of the rich and famous? When it comes to the best places to stay for families in France this has to be among the top options.
Family friendly places to stay in Provence and Cote d'Azur
Hotels in Provence and Cote d'Azur
Best Western Plus Hotel Brice Garden
The 4 star family friendly Best Western Plus Hotel Brice Garden is located right in the centre of Nice. It's just a few metres away from the famous Promenade des Anglais, the beaches and the pedestrianised shops and restaurants area. They have large family rooms available and promise a Very Important Kids experience. If you're travelling with little ones they offer everything you need such as bottle warmers, and booster seats.
Campsites in Provence and Cote d'Azur
Camping Les Tournels
Less than 20 minutes outside of world-famous St Tropez is the Camping Les Tournels campsite. Run by Yelloh it is the ideal location to explore the Provencal countryside and Cote d'Azur. Head to the closest town Ramatuelle or further afield to see what Nice, Cannes or Monaco have to offer. Or if you want to spend your days chilling out, the kids will love the swimming pool and slides, as well as all the other activities on offer such as aquabiking, horse riding, petanque, mini golf and tennis. Or send them to a kids club whilst you hit the spa – there is a club to accommodate all ages from 0-17. There are 14 different types of rental accommodation to choose from and 444 pitches for camping, so you'd be hard pushed to not find something that suits you.
Gites or Cottages in the Provence and Cote d'Azur
Puget-sur-Argens
Less than an hour North West of St Tropez at Var, is this charming gite with its own private pool which would be ideal for a large family, or two families to stay. It sleeps 10 in four bedrooms and 3 bathrooms. It's situated in a quiet area in the countryside but the popular resorts of the Cote d'Azur are within easy reach. Nearby activities include horse riding, bike riding, watersports, fishing, golf, museums and vineyards so it is one of the most perfect places to stay for families in France.
Q
uirky places to stay in Provence and Cote d'Azur
Chateau Saint Martin
I couldn't write a post about holidays in France without mentioning the possibility of staying in a chateau! If you want to treat yourself to something opulent and luxurious, why not go for a castle? The 5 star Chateau Saint Martin is a former 12th century Knights Templar castle set high in the hills on the edge of Vence. Cannes, Nice and Antibes are less than half an hour away and Monaco is an hour to the east. If you want a relaxing holiday somewhere special where the children can be entertained, Chateau Saint Martin could be for you. It has 30 acres of grounds, a Michelin restaurant, tennis courts, a swimming pool and spa – but the best bit for parents is that it has kids clubs! The clubs include lots of educational and fun activities and excursions, and even a special spa program for children!
THE FRENCH ALPS
Think of the French Alps and you'll likely think of a winter holiday, but there is so much for families to do at the awe-inspiring destination all year round. The Alps stand majestic on the borders between France, Italy and Switzerland and see hundreds of thousands flock there every year for the ski and snowboard season. Towering high above is Mont Blanc, the highest point in Europe, and below is a hive of activity whether that's winter sports, or horse riding, cycling and hiking off the beaten track in the summer. It's one of the most awesome and exciting places to stay for families in France.
And whenever you choose to go, you won't regret visiting this stunning part of the world. Try out the cable car in the Chamonix valley to Aiguille du Midi, which is one of the longest such journeys in the world or if you're brave enough head to the Skywalk, a glass platform which takes you out over the mountains – the kids would love it!
Watersports such as diving, sailing, paddle-boarding kayaking or waterskiing on the region's plentiful lakes are a highlight in the summer, and if you have younger children there are plenty of boat trips to take them on instead. With all that exercise, you'll be pleased to know you can replace those lost calories with delicious food including speciality raclette. Areas to look out for include Annecy, Morzine, Les Gets, Arc 1950, and Les Deux Alpes. Or why not look at a family holiday tour from the Rhone Valley to The Alps.
Family friendly places to stay in the French Alps
Hotels in the French Alps
Langley Hotel Le Petit Prince
The Langley Hotel Le Petit Prince situated in Alpe d'Huez is ideal for families, offering family rooms which sleep up to 5 with bunk beds. If you're there in the winter it is just 3 minutes to a ski lift, but if it's the centre of town you're more interested in, you're only a short walk away. There is also the Langley Freeriders kids club for children aged between 3 and 12, where staff offer a whole range of adventurous activities.
Campsites in the French Alps
Camping l'Ideal
If you're looking for a summer holiday in the French Alps, Camping l'Ideal is a four star resort open from May to September close to the shores of Lake Annecy. The holiday park is the perfect setting for active escapes and outdoor activities such as canoeing, paddle boarding, boating, walking, hiking or biking will be high on the priority list. Cultural attractions and sightseeing are on offer in the area such as Menthon Caslte, Angon waterfall and Veryier-du-Lac. But if you want to spend time on site there is plenty to keep the kids busy. The holiday park has several swimming pools and paddling areas as well as a 3D lagoon, water slides, splash parks and massage jets. All with stunning views of the nearby mountains. There is also a play area, kids clubs, sports, games, evening entertainment and restaurant.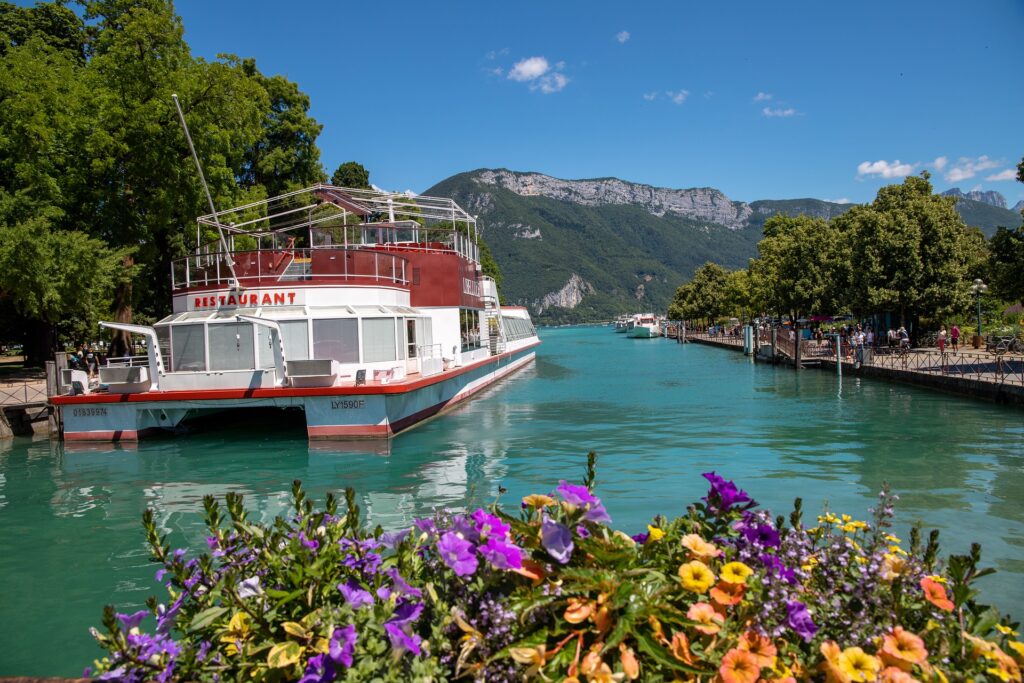 Gites or cottages in the French Alps
Le Logis de Leon
Le Logis de Leon is a pretty gite that sleeps 5 people in two rooms, surrounded by stunning scenery, 40 minutes from Grenoble. Its fully fitted kitchen opens out onto a terrace with flowers and trees, looking down onto a private closed garden for the kids to enjoy. Nearby you can go hiking, Go-Ape, climbing, windsurfing and kitesurfing. And of course skiing in the winter. ​​
Quirky places to stay in the French Alps
Mongolian Yurt
Ever stayed in a Yurt? If you fancy it, there surely isn't a better location for such a stay than at the foot of the French Alps in the summer? This eco Mongolian Yurt looks amazing and can fit families or couples. It's situated on the border between Provence and the southern Alps in a UNESCO world heritage site protected Geopark and near to a river perfect for playing and swimming. Their signature 'love yurt' has a large bed and Mongolian sofa or their other four tents have two to four single beds. The site also offers eco chalets to stay in. Guided mountain tours on bike or on foot with their donkeys are on offer, and there is a playground for kids.
I told you you'd be spoiled for choice, right? With so many amazing places for families to stay in France, a French holiday must surely be at the top of your list. Whether you stay in a family-friendly hotel, a campsite with waterparks, a quiet gite or cottage, or something more unique and quirky, one thing is for sure. The kids of all ages will have a whale of a time.
How did I do?
If you liked this post, have a look at my Travel Section for other ideas for UK family holidays and days out. These might be handy:
Or if you've got something booked but can't face the packing, check out this helpful list – Packing List For Babies and Toddlers. And if you fancy a giggle but still on the subject of UK family holidays, read this – Five Ways A Holiday Is Never The Same After Kids. If you STILL want more after that head over to my Mum Life section for funny rants about all sorts of parenting things. And if you're local to me in Plymouth, keep up to date with the latest in my Local Stuff section.
If you like a bit of social media madness, pop over to my Facebook page where you'll be able to have a laugh at what ridiculousness goes on in my house with three very small boys on a daily basis. Warning – there is often sarcasm, and usually swearing. There are also great travel reviews and some AWESOME giveaways. Feel free to join my Twins, Tantrums and Cold Coffee – Shits and Giggles Parenting Group too, where everyone shares their hilarious stories.
If you like what you see, how about you check me out on Pinterest, Instagram and Twitter too.
And if you want to work with me, feel free to give me a shout here or at helen@twinstantrumsandcoldcoffee.com and I'll get back to you.