Think of the Big Apple and you don't necessarily think of taking children there. But there are some absolutely great things to do in New York with kids.
This is a sponsored post
I've been to NYC twice, most recently to visit friends on a child-free trip – which was amazing!
And whilst I wandered around the bustling streets taking it all in and enjoying not being mum, I did think it would be awesome to take my kids there one day and do it as a whole family. It's one of the best places in the world – why wouldn't you!
Once you start looking into a New York holiday, there are some brilliant places children would love in New York City with loads of family activities to do . Many of which are obvious, but others, if you'd not been with kids, you'd never have even heard of.
Whether your kids want to see all the famous sites, popular attractions, check out the museums or a Broadway show, or hang out out in the play areas in one of the public parks, you will be spoilt for choice in coming up with a New York family itinerary. There are loads of special events and free things going on for little ones and older kids. Here are some of the best things to do in New York with kids that I suggest, whether it's your first time or fifth!
BEST THINGS TO DO IN NEW YORK WITH KIDS
THE BIG APPLE'S BIG HITTERS
1. EMPIRE STATE BUILDING
Think of New York and the iconic image of the Empire State Building immediately springs to mind, so obviously it has to be at the top of things to do with kids in the Big Apple. Whisk them up to the 102nd floor to get panoramic views over the skyscrapers of Manhattan whilst being 1,200 feet above the city. You can also learn about the building's history, and place in pop culture. The children won't fail to be impressed!
2. ROCKEFELLER CENTER
If they enjoyed the Empire State Building, they'll love going to the Top of the Rock at the Rockefeller Center – not only because you get to see where you've just been at the iconic Empire State Building. There are 360 degree views from both indoor and outdoor observation areas so it won't matter what the weather is doing. You can also have your own version taken of the iconic photo of construction workers taking a lunch break high above the Manhattan skyline. On a clear day this is the most perfect place for the best view of the city.
And if you're lucky enough to be in New York around Christmas, the Rockefeller Center has loads more to offer than just stunning panoramic views. Kids will be mesmerised by the 30,000 twinkling lights on the famous giant Christmas tree, or could try out their balance on the ice rink. The rink is open from October to April so there's plenty of time to test it out even if you're not there over the festive period.
3. CENTRAL PARK
Kids will be blown away by the sheer size of New York's Central Park, and who can blame them – it has 21 of its very own playgrounds! Other things to do with kids in Central Park include Central Park Zoo, explore Belvedere Castle, a traditional merry-go-round Carousel, and boat rides on the lake. There is also storytelling at the site of the Hans Christian Anderson statue in the spring and summer months, ice skating from October to March, swimming in the outdoor Lasker Pool, fishing and model boat sailing. Kids will love performances at the Marionette Theatre, or just have a rest with a picnic on the 55 acre Great Lawn. And let your parents people-watch in this popular place!
4. STATUE OF LIBERTY AND ELLIS ISLAND
Want to give your kids a live and fun history lesson? Head to see the Statue of Liberty on Liberty Island, the 305ft tall monument that stands over the waters of New York Harbor as a symbol of the United States of America. There is an audio tour designed specifically for kids aged six to ten and you can climb to the observation deck at the top of the stone pedestal. Children over 4ft tall can then climb further onto the statue's crown, although it is currently closed. Kids will love the interactive exhibits at the free Statue of Liberty Museum. Also head over to the Ellis Island Immigration Museum where there is a section called Ellis Kid which helps little ones imagine what it was like to immigrate to the US.
5. STATEN ISLAND FERRY
If you don't think your kids would cope with climbing up the Statue of Liberty but you'd still like to see it, head to the Staten Island Ferry. The ferry runs 24 hours a day and takes 25 minutes to the island – and is free! Your children can keep their eyes peeled for Governors Island to the east and Ellis Island and Lady Liberty to the west. It offers some of the best views of the Manhattan skyline you'll see. Either get the ferry straight back, or explore Staten Island's parks, restaurants, beaches or Staten Island Children's Museum.
6. THE 9/11 MEMORIAL AND MUSEUM
If you're looking for things to do in New York with kids and they are slightly older, then a visit to the 9/11 Memorial and Museum could be a great way for them to learn more about what happened in the attacks. The memorial and museum usually offer special youth and family programs and tours for visitors with children which use age-appropriate language and interactive activities. They are currently temporarily suspended due to Covid but it is worth checking before you visit.
7. ONE WORLD OBSERVATORY
Let your children get a kick out of riding some of the fastest elevators in the world by going to the One World Observatory at the top of the tallest building in the United States of America. It takes just 47 seconds to travel 102 floors! The 100th floor of One World Trade Center, also known as Freedom Tower, plays host to HD videos of New York and the Sky Portal where the 145 high-tech screens give you a bird's eye view of the street 1,776 feet below. You're at the top of the building which is the focal point of the lower Manhattan skyline, and the kids will be in awe!
8. SHOPPING
Okay, think shopping in New York and you don't automatically think of it as something to do with kids in the Big Apple. But find the right stores and they will love you for it. New York is home to the Harry Potter Flagship Store, Lego Stores, M&M stores, a Nintendo store, and a famous American Girl Place at Rockefeller Center where your little ones can even take along their favourite doll for tea and a pamper! Bet the kids will soon change their mind about shopping once they know what's on offer.
9. ICE SKATING WITH KIDS IN NEW YORK
We've all seen pictures of the New York skating rink at Rockefeller Plaza, but if your children fancy trying it out, there are other, often quieter both indoor and outdoor rinks to head to. Central Park has the outdoor Wollman Rink with fabulous views of the neighbouring buildings.
Bank of America Winter Village ice rink at Bryant Park is free, but you need to hire skates or bring your own, and there is both outdoor and indoor skating at the LeFrak Center at Prospect Park. There is a rooftop ArtRink at Brooklyn Children's Museum, or head to The Rink at Brooklyn Commons. All-year-round indoor skating can take place at the Sky Rink at Chelsea Piers. There's also an outdoor rink at Riverbank State Park, and the Abe Stark Rink at Coney Island.
10. TIMES SQUARE
If your children are a bit older they will love the buzz of infamous Times Square – and if they're younger they won't be able to take their eyes off the bright lights. Although very touristy, a trip to New York with kids wouldn't be the same if you were to ignore this dazzling piazza. Head to Dave and Buster's restaurant and entertainment centre, blow their minds with a revolving restaurant at The View, or knock down a few pins at Bowlmor bowling alley. Hershey's Chocolate World will be a surefire winner with the kids, as will the Disney Store. And get the cameras at the ready for a visit to Madame Tussaud's Wax Museum where they can pose with their favourite A-list celebrity. Or if they're fans of The Greatest Showman, take them to Ripley's Believe It or Not museum of oddities and curiosities. And after you've done all that, have a rest on Times Square's iconic red steps.
11. BROADWAY
Broadway is the collective name of 41 theatres in the Theater District of Midtown Manhattan – many of which put on child-friendly shows and performances. Whether your kids would love Lion King, Mrs Doubtfire, Wicked, Harry Potter and the Cursed Child, Aladdin, or The Music Man, there is something for everyone from ages 7 and up. Or if you fancied something a bit different, try out the off-Broadway New Victory Theater which is known for hosting shows designed for kids. One of the best ways to get tickets for shows on Broadway or into any of the other famous attractions is to buy them through www.hellotickets.com. You can book tours and other activities at exclusive prices, and not just in New York – at destinations all over the world!
THINGS TO DO IN NEW YORK WITH KIDS – SOMETHING A LITTLE DIFFERENT
Once you've ticked off the must-see Big Hitters, why not opt for something a little bit different that the kids will love.
12. RiseNY
The Big Apple's newest tourist attraction, RiseNY is a must on a list of things to do in New York with kids. The experience lets you soak in the brilliance and beauty of NYC all at once, by taking you 30ft in the air on a soaring flight simulation ride high above the city's buildings. You'll feel yourself zooming over the iconic landmarks while learning more about the pop-culture of the city. The in-flight experience becomes all the more authentic thanks to wind, mist and scents. It's a must on any holiday to New York.
13. BOAT RIDE
If your children are getting tired, but there's still loads to see, why not take them on a New York boat tour around the waterways surrounding Manhattan. They can have a rest whilst enjoying the water, a good idea for little kids. There are loads of different options including the water taxi, NYC ferry, cruises around the Statue of Liberty, sailboats, Staten Island Ferry, or Governors Island Ferry. Or if your children are total thrillseekers, book onto The Beast Speed Boat Thrill Ride – which is basically likened to a rollercoaster on water, and one of the most fun things to do in New York – but you're going to get wet!
14. HOP ON HOP OFF BUSES
If one of your concerns about visiting New York with kids is the amount of walking involved, then you're not alone. Despite Manhattan covering a relatively small area on a map, when you're there it seems vast. And when you have little people with you it will feel even worse. One of the best ways to get around is to use one of the city's Hop On/Hop Off buses. We all know how they work, and if we don't, they're kind of self-explanatory. Buy tickets for however many days you need, and some operators even have packages to include entry to tourist attractions. Use them as often as you need to not only get from A to B, but sit on the open top deck and take in the view at the same time. There's guaranteed something famous to see at every turn and you can also plug in to the audio guide to learn all about it too. It's a great way to get around, take in your surroundings and let the kids have a rest at the same time. You can also do night-time bus tours to see the city's spectacular lights.
15. ROOSEVELT ISLAND TRAMWAY
Possibly the coolest way to get around in New York with kids, I defy any children to not love a trip on the Roosevelt Island Tramway. The boxy red carriages hang from tramlines, suspending you in the air as you cross the East River to Roosevelt Island. Definitely the coolest New York public transport I've ever seen. Once on the island you can explore Franklin D Roosevelt Four Freedoms Park, tennis courts and ball fields. But I bet it's the tram that is the hit with the kids.
16. SPYSCAPE
Any of your children a budding James Bond? Take them to Spyscape and test out their espionage skills. A visit to the Midtown museum will give them the chance to learn about the mathematician who cracked the Enigma code, and even see if they can run down a laser beam-filled hallway unscathed. Have they got what it takes? Even if they haven't, they'll have a whale of a time trying.
17. CONEY ISLAND
I've been to New York twice and Coney Island has never been on my radar – but it's definitely one to remember if you're taking your children on your trip. It's a peninsular neighbourhood, beach and one of New York's top attractions and is best to visit between Easter and Halloween. There you'll find a boardwalk, wacky rides, parades, restaurants and amusement park.
18. NEW YORK AQUARIUM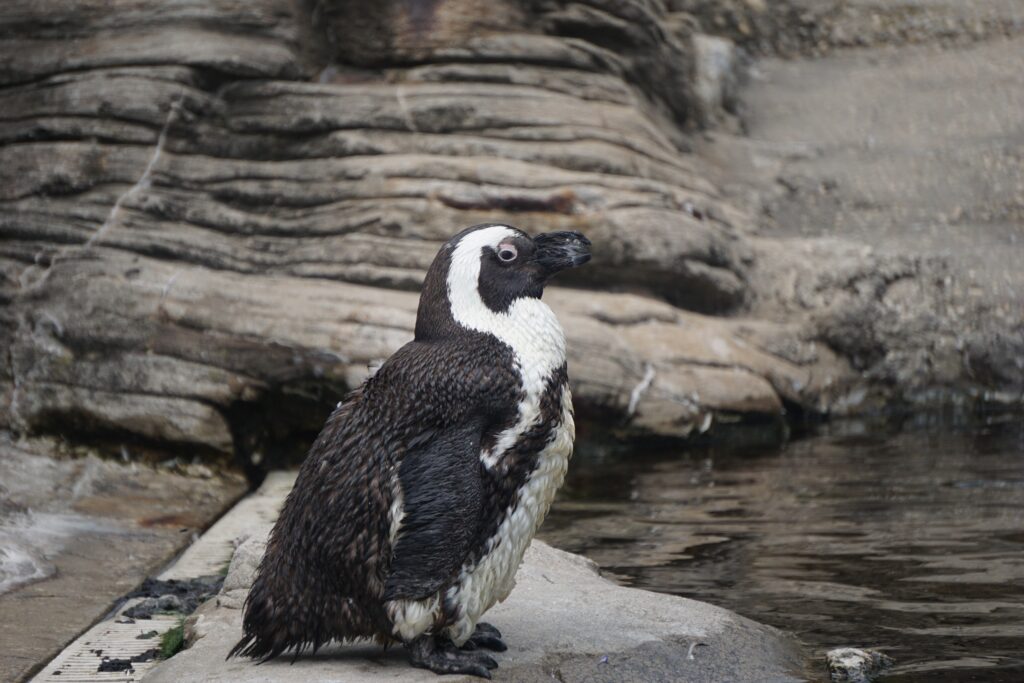 If you're heading to Coney Island, be sure to check out New York's only aquarium. There's a sea lion pool, penguins, recreated reef, and shark exploration at the oldest continually operating aquarium in the US. Children will be able to get an up-close-and-personal look at both Atlantic and Pacific life. And there's even a fictional marine life 4D Spongebob experience for kids.
19. NEW YORK PUBLIC LIBRARY
All children love a library, and New York Public Library will be no exception. Their children's section run storytimes, craft and cultural projects and poetry writing workshops. And you can even see the original Winnie the Pooh bear.
20. SPORTS
If you have sporty children then a visit to watch a game has got to be on the list of things to do in New York with kids. If you're there at the right time, head to the Yankee Stadium to catch the New York Yankees baseball team. The stadium also hosts kid-friendly activities and family-themed events.
Or if you don't think your children are patient enough to watch an entire game, and would rather be taking part themselves, Chelsea Piers is a must visit. It's a 28-acre sports complex on three Hudson River piers and includes pretty much any sport imaginable. Try bowling, golf, ice hocking, ice skating, wall climbing, kids parkour or basketball. Or if any of those don't tickle your fancy, why not have a swim or try boxing, cycling, football, soccer or tennis. Plenty to wear them out!
THINGS TO DO IN NEW YORK WITH KIDS – MUSEUMS
New York is full of museums and whilst most have plenty for the kids, some are even designed specifically for the children to enjoy.
21. CHILDREN'S MUSEUM OF THE ARTS
Budding artists can let their creative juices flow at the Children's Museum of the Arts. There are daily workshops and studio activities they can take part in. And all the paintings, sculptures and multimedia creations that are made are then put on display for all visitors to see.
22. AMERICAN MUSEUM OF NATURAL HISTORY
One of the most popular New York museums for kids has to be the American Museum of Natural History. If they've seen the Night At The Museum movie, they'll be pestering you to go there anyway. It's world-famous and it's little wonder why. You can walk under the giant whale in the Milstein Family Hall of Ocean Life, or learn about species in the Hall of Biodiversity. This place is vast and you could spend a whole day there and still not get round to everything. So make sure you have plenty of time.
23. ROSE CENTER FOR EARTH AND SPACE
Whilst you're at the history museum, make sure you take a detour and check out the Rose Center for Earth and Space. Kids will be blown away by the 87-foot-diameter Hayden Sphere, or they can explore the 13-billion-year history of the universe. There are loads of cool facts about planets, stars and galaxies, as well as a new space show called Worlds Beyond Earth to watch.
24. NEW YORK HALL OF SCIENCE
If you're looking for things to do in New York with kids who love to experiment, then pay the New York Hall of Science a visit. Children can get hands-on with hundreds of interactive exhibits and activities that bring science, technology, engineering and maths to life. Don't let its Queens location put you off. With displays about outer space, robots, 3-D printing, a science playground and rocket park, this museum is worth the trek.
25. INTREPID SEA, AIR AND SPACE MUSEUM
When a museum is actually housed in a former aircraft carrier that fought in World War II, you know your kids are going to want to climb onboard and see it. One of the most exciting things about the Intrepid Sea, Air and Space Museum is the fact it survived 5 kamikaze attacks. Kids can go in the Bell 47 helicopter, navigate a submarine and steer an aeroplane, as well as see the Space Shuttle Pavilion which houses the giant NASA orbiter Enterprise. This is the stuff dreams are made of!
26. BROOKLYN CHILDREN'S MUSEUM
When it opened the Brooklyn Children's Museum was one of the first in the country to be aimed specifically at kids. With its big yellow roof, there are permanent exhibits like 'World Brooklyn' which is a pint-sized cityscape where your kids can shop at fake Mexican bakeries and international bodegas. Or they can explore the critters and plants found in everyday Brooklyn backyards in 'Neighborhood Nature'.
27. CHILDREN'S MUSEUM OF MANHATTAN
Little chance of the kids not enjoying this place. And who wouldn't when you get to crawl through a digestive system, help pump a giant heart and burn energy by ducking lasers and balancing on a beam. All to show them how to build healthy habits. Or little ones can interact with a talking dragon and climb on fire trucks and buses. A visit to the Children's Museum of Manhattan is a bit of a no-brainer.
28. NEW YORK TRANSIT MUSEUM
If you're in Downtown Brooklyn, go underground to the New York Transit Museum which is in an authentic 1930s subway station. Children will learn about the story of New York's iconic underground tunnels network, whilst using pictures, models and vintage cars they can hop aboard.
29. NEW YORK CITY FIRE MUSEUM
This former active firehouse is now the New York City Fire Museum filled with gadgetry and pageantry from the late 18th century hand-pumped engines to modern equipment. All of which the children will love to get their hands on. There is also a permanent exhibition commemorating those firefighters who lost their lives in 9/11.
THINGS TO DO IN NEW YORK WITH KIDS – PARKS AND OUTDOOR SPACES
Considering New York is known as a concrete jungle, it's a surprise there are so many parks and green space everywhere. When your kids are getting fed up with tourist attractions, skyscrapers and museums, take them to one of the city's dozens of fabulous parks. It might be the most famous, but Central Park is most definitely not the only open space children will love.
30. NEW YORK BOTANICAL GARDEN
Kids have their very own Children's Adventure Garden at the New York Botanical Garden in the Bronx. There are plenty of opportunities for kids of all ages to explore the wonders of science and nature here. They can climb the boulders to view the landscape below. Or find their way through Beth's Maze, before inventing their own plant.
31. LITTLE ISLAND
Opened in 2021, Little Island is New York's newest park and looks fantastic. But not only that – it's floating (kind of!) Located in Hudson River Park it is built over the remnants of Pier 54 with a design inspired by wooden piles left behind from the old pier. There are multiple observation decks, an open lawn, food and drink vendors, a small stage and a 687-seat amphitheater. There is a programme of events that include music, dance, theatre, poetry, comey and arts workshops for all ages.
32. LEFRAK CENTER AT LAKESIDE PROSPECT PARK
Head to 526-acre Prospect Park in Brooklyn and there will be something for everyone to do. The wide open space features its own zoo, pedal boats, botanical gardens, and a carousel. You can also see a show at Prospect Park Bandshell. And there's the LeFrak Center at Lakeside which offers a boat dock and wading pools for kids, as well as ice- and roller-skating rinks.
33. BRYANT PARK
Children will be able to take part in storytelling and games workshops at Bryant Park, or learn circus skills such as juggling. There are also outdoor movie nights in the summer and ice-skating in the winter. Or families can take a spin on the Le Carrousel. And above all enjoy the open space.
34. THE HIGH LINE
This walkway is built upon an abandoned train track and is 20-blocks long. The High Line offers car and bike-free strolling for kids, and some great views looking down to the Meatpacking District and Chelsea for adults. If you time it right, you might be able to catch one of the monthly family festivals for little ones. But definitely worth a visit if you want to get away from the hustle and bustle of the streets below.
35. BROOKLYN BRIDGE PARK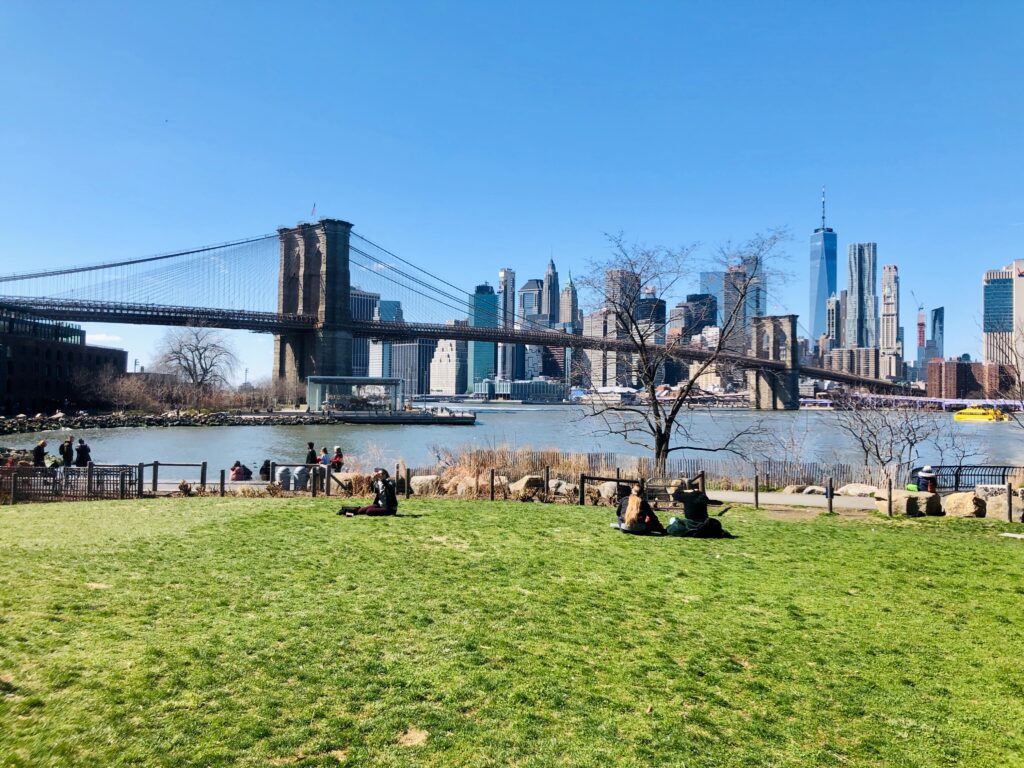 The 85-acre Brooklyn Bridge Park has been made by transforming a chunk of Brooklyn waterfront and is home to unique attractions such as Jane's Carousel, and riverside esplanades with fabulous views of Manhattan. Pier 2 has a three acre site designed specifically for sport, picnics and rollerskating. And there's also a 6,300 square-foot lawn and water play area. The kids won't know what to do first. And if they've walked across Brooklyn Bridge, then they most definitely deserve ice cream!
36. BRONX ZOO
Bronx Zoo is New York City's biggest and best zoo with more than 4,000 creatures including lions, tigers, bears, reptiles, snow leopards, baboons, sea lions and lemurs. Kids will also love the Wild Asia monorail. And for those aged 7 and above, who are more adventurous they can try out zip-lining and a rope adventure course at Bronx Zoo Treetop Adventure.
FUN PLACES FOR KIDS TO EAT
37. CHILD-FRIENDLY RESTAURANTS
After a day of exploring New York with kids, whether it's skyscrapers, parks, or museums – they're going to be hungry. Luckily New York is full of child-friendly great restaurants the kids will love. Whether it's Alice's Tea Cup for a Mad Hatter's Tea Party, Hard Rock Cafe, American Girl Cafe or Chuck E. Cheese. Or head to Serendipity 3, Dinosaur Bar-B-Que or for singing waiters and fun, Ellen's Stardust Diner at Times Square.
So there you have it. Some flipping awesome things to do in New York with kids. There's no way you'll cover a fraction of these during your first visit. But New York is SUCH a great place with so much on offer, you've got a good reason to go back again!
How did I do?
Did you enjoy this post? If so, you'll love this 8 Reasons To Bite The Big Apple one. Why not hang around and read a few more whilst you're here. If you want to read some more of my usual kind of stuff, head over to my Mum Life section. You'll find all things parenting with a tongue-in-cheek twist. Or if you want some days out and UK family holiday inspiration, click on the Travel section.
If you like a bit of social media madness, pop over to my Facebook page where you'll be able to have a laugh at what ridiculousness goes on in my house with three very small boys on a daily basis. Warning – there is often sarcasm, and usually swearing. There are also great travel reviews and some AWESOME giveaways. Feel free to join my Twins, Tantrums and Cold Coffee – Shits and Giggles Parenting Group too, where everyone shares their hilarious stories.
If you like what you see, how about you check me out on Pinterest, Instagram and Twitter too.
And if you want to work with me, feel free to give me a shout here or at helen@twinstantrumsandcoldcoffee.com and I'll get back to you.