If you know somebody who is expecting a child, you'll want to buy them a present, but what are the best gifts for new babies?
There are LOADS of new baby gifts that would make great presents, but if you need a little help deciding, here are some tips. Whether you're looking to buy for baby boys or need baby girl gifts there is something suitable and for all price ranges.
Practical gifts are always well received, after all, a newborn baby has no idea that they're receiving a present, right? But there are lots of keepsake style options too for you to consider if that's your bag.
Whether you want to buy the new arrivals cute baby clothes, a milestone blanket, a baby book, a sound machine with white noise, a night light, a toy for bath time or an item for the baby's nursery which will get years of use, the choice can be seemingly endless when you're looking for the best gifts for new babies.
Lots can determine which newborn baby gift you go for. Is it the first time for the baby's parents or is the baby their second child? If the baby is their first child, then you know they're going to need EVERYTHING for their new bundle of joy. If the child is their second baby, they are likely to have a lot of the essentials already so maybe you are looking for some unique baby gifts or even something for Mum and Dad instead. Or what about a gift certificate so they can choose something themselves?
Is the new mother a close friend who you want to buy a thoughtful gift for, or simply someone you work with? Are you looking for a great gift to take to a baby shower or are they a family member and you want to do find the right gift that will be a huge help to the parents?
Also think about what time of year it is, and if you're buying clothes as a perfect baby gift, consider what the weather is like. Nobody wants a snowsuit for their baby in the middle of July! But you could earn some bonus points by buying one a size or two bigger for the parents to hold onto for winter.
Here are just a few of ideas for the best gifts for new babies. Trust me, the new parents will thank you for these things.
List of the best baby gifts to buy
Muslin Cloths
As well as being great for catching vomit, burping, and cleaning up general gooey mess, muslin cloths or burp cloths are also great for comforting and swaddling too. These baby muslin cloths have 6 layers of fabric, so they are super soft and absorbent and great for catching any spillages. They are made from 100% breathable cotton so they are safe on a newborn's delicate skin. You can also throw them straight in the washing machine and they can be tumble dried too. And even when the baby doesn't need them any longer, I can guarantee their use will be changed to cleaning cloths or rags for washing the car!
A cuddly toy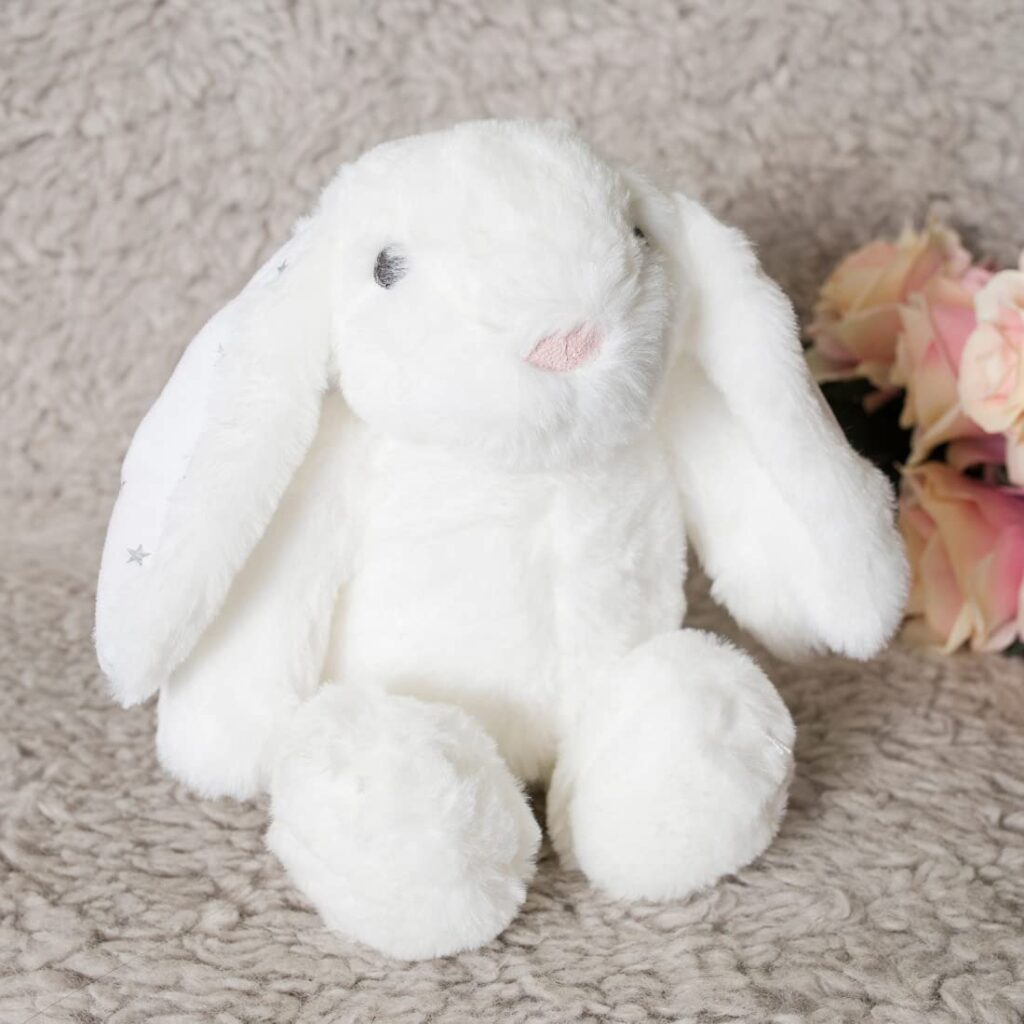 A cute and soft cuddly teddy bear makes a lovely keepsake for a newborn baby, I still have my childhood teddy – it was an Andrex puppy free with tokens on the side of a loo roll pack, and ever so originally named 'Puppy'! This bunny rabbit has embroidered eyes and nose with no small parts or loose fibres that may present as a choking hazard, making it safer for a baby. With a unisex design, grey and white, this cuddly bunny is the perfect gift for any expectant or new mums for baby showers or gender reveals. 
Newborn Pramsuit
For that first trip out in the pram, you will want to keep your baby as cosy as possible. A pramsuit makes a lovely baby gift. Choosing something like this one, that is made from soft fleece and cotton, would be perfect. This pramsuit is both super warm and cosy, breathable and won't do any harm to your baby's sensitive skin.
Newborn baby blanket or comforter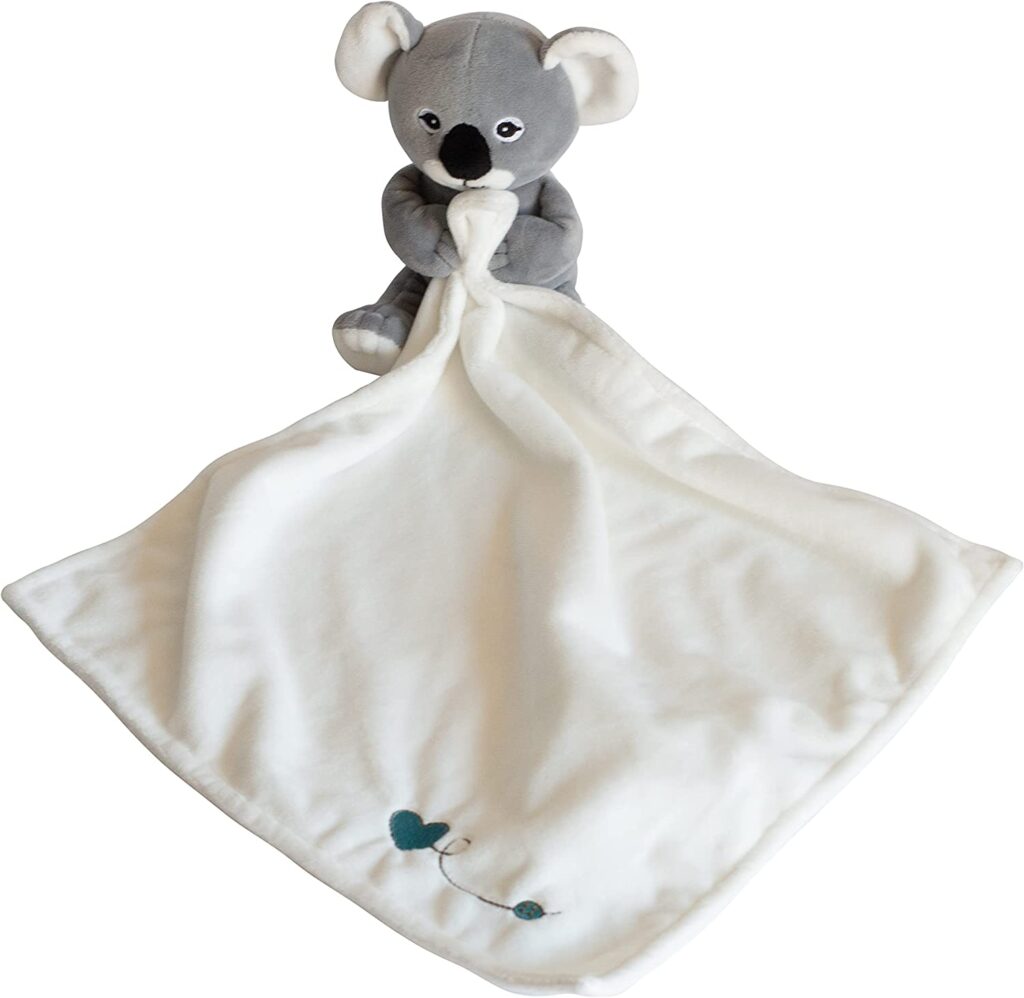 A cute fleece blanket or comforter makes a lovely baby gift. You can use a loop to attach this to your pram so it doesn't fall off and get dragged through the dirt. The cute bear design will make this little blanket extra huggable and as the baby gets older they may use it as a comfort blanket, which may even encourage good sleep. We can at least live in hope!
Newborn Sleepsuits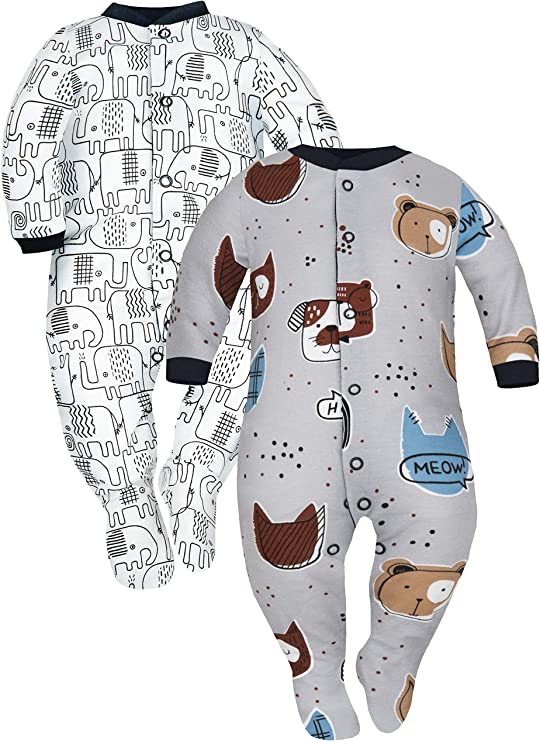 No list of best gifts for new babies is complete without this one. Choose a pack of sleepsuits that are made from 100% cotton which will be soft and gentle. There are always plenty of colours and funky patterns to choose from. Babies spend most of their early months in sleepsuits as they are functional and make for easy nappy changes with poppers. Although outfits look cute, parents will soon learn that having plenty of sleepsuits, especially in the early days, is the way forward.
A teething toy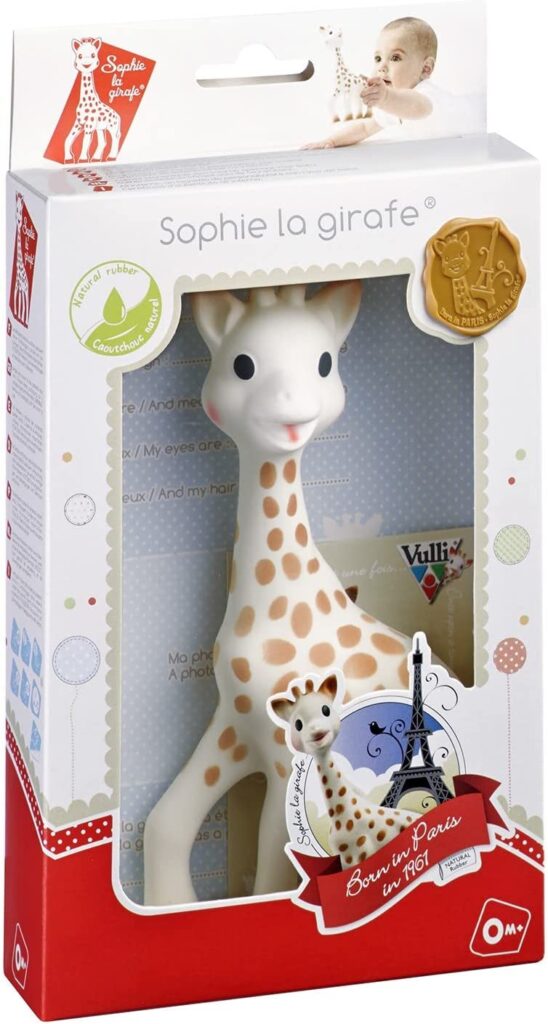 You could buy the baby a trendy teething toy like Sophie la girafe, which is flexible and has many parts for a newborn to chew on. Great for soothing sore gums and relieving teething discomfort. This teether is made from 100% natural rubber, produced from the latex of the Hevea Tree, and decorated with food-grade paint, so you can be sure that this teether is safe for a baby.
Wooden baby toys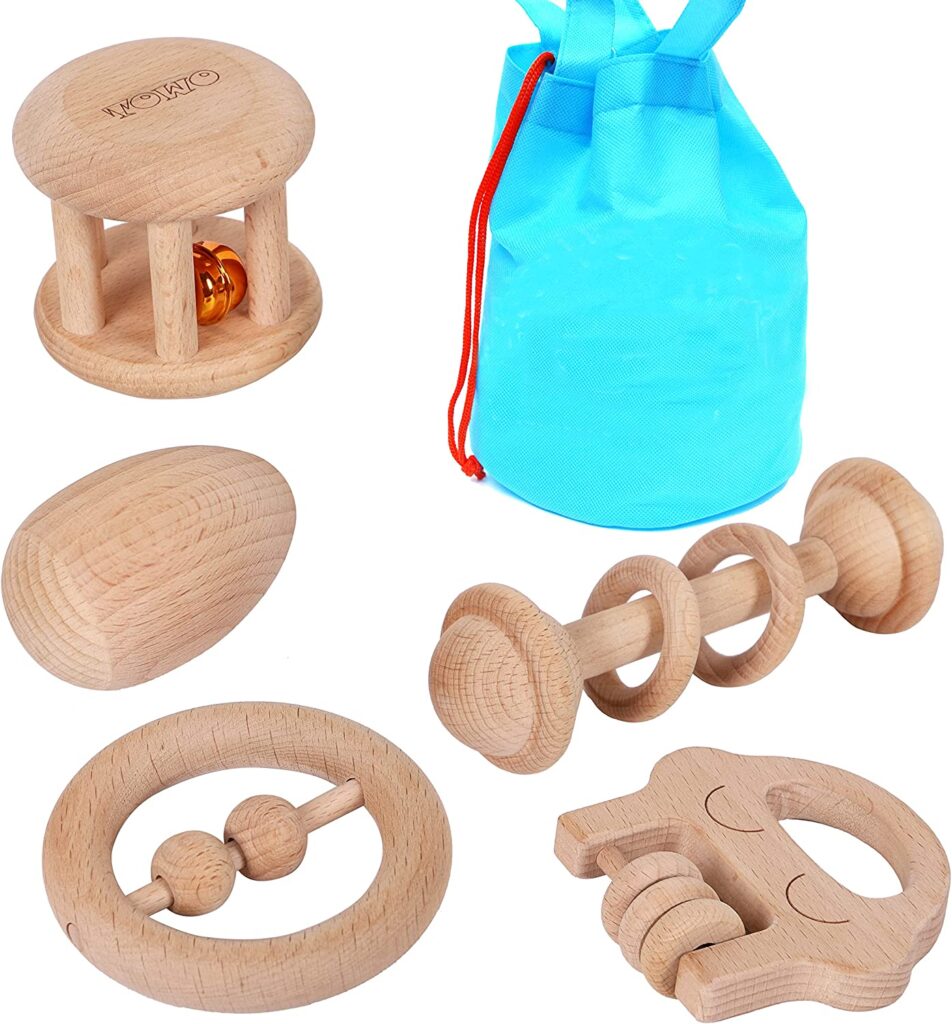 Rattles always make a nice classic baby gift, these wooden ones are made from pure premium beech wood without paint so they are organic, natural and safe for babies. Rattles, roll a rattle, rock maracas, bell shakers, rainmaker, and various baby toy bundles are great sensory toys for babies. With the beautiful drawstring bag, it can be a useful toy to take with you when going out. Suitable for babies 6 months plus and a great idea for the best gifts for new babies.
Baby keepsake box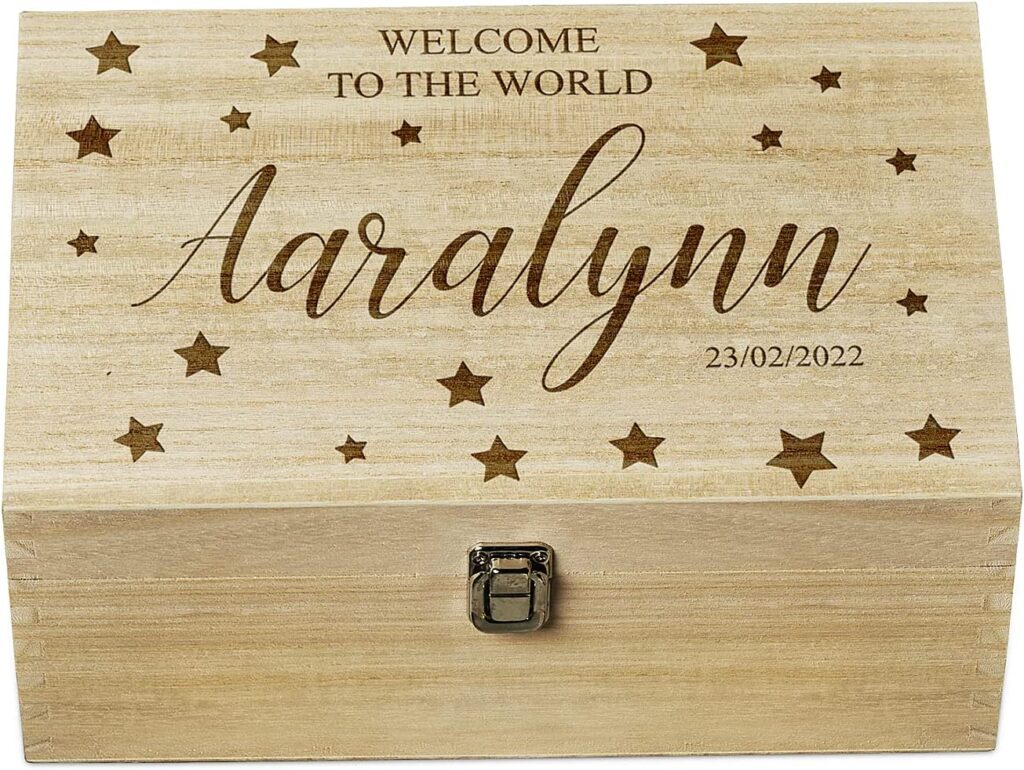 These beautiful wooden keepsake boxes are personalised with the child's name and are great for keeping all of baby's memories in. The box is hinged for easy opening and closes with a clip. These boxes can store things that are precious such as trinkets, photographs, scan pictures, hospital bracelets and whatever else the parents choose to hold on to.
Baby booties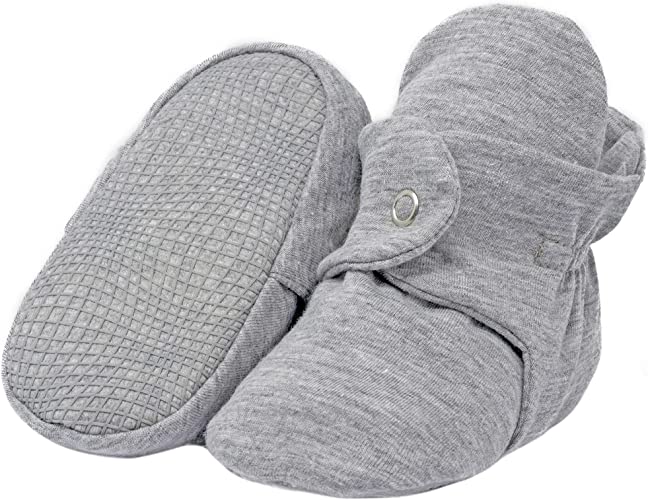 Baby booties are great for keeping those tiny toes warm. These are 100% organic cotton so those little feet stay warm and comfy but don't overheat. These booties are designed to stay on your baby's feet, which is always a challenge. Ella Bonna booties have two level snaps that make it highly adjustable and easy to put on. The sole is made of fleece fabric and the insole is padded for maximum comfort. It can be twisted and flexed, allowing baby's feet to move freely. Oh, and they're PROPER cute.
Newborn hat and mitten set
The main priority with a newborn baby is keeping them safe and warm, among everything else, so a hat and mittens set is always one of the best gifts for new babies and welcome as a present for those days out in the pram. You could choose a cute knitted hat with a pom pom and matching mittens. These come in lots of colours and are sized from newborn to two years. They are ideal for the colder months and to keep little hands toasty.
Newborn hand and footprint kit
They used to offer this in the hospitals, where somebody would pounce on you not long after giving birth and offer for your baby to have their hand and footprint cast. But, you can give a hand and footprint kit as a gift set so the parents can choose to do this in their own time. Because let's face it, the last thing you'd want to do when your babies are just a few hours old is stick their hands and feet in clay! But it would make a great baby gift for when they've got that hectic first month out of the way. This set is done with non-toxic white clay and the kit contains a mini rolling pin, hand painted wooden frame, double sided tape and easy instructions. These are great to keep to compare how tiny the baby was when it was first born. The frame can also hold photographs so can be kept on a shelf or sideboard.
So if you're looking for the best gifts for new babies, any of these items would make welcome presents, I'm sure. Having a baby is hard work, so anything that can make that slightly easier is ideal. What would you choose? Or what was your favourite gift you received?
Good luck!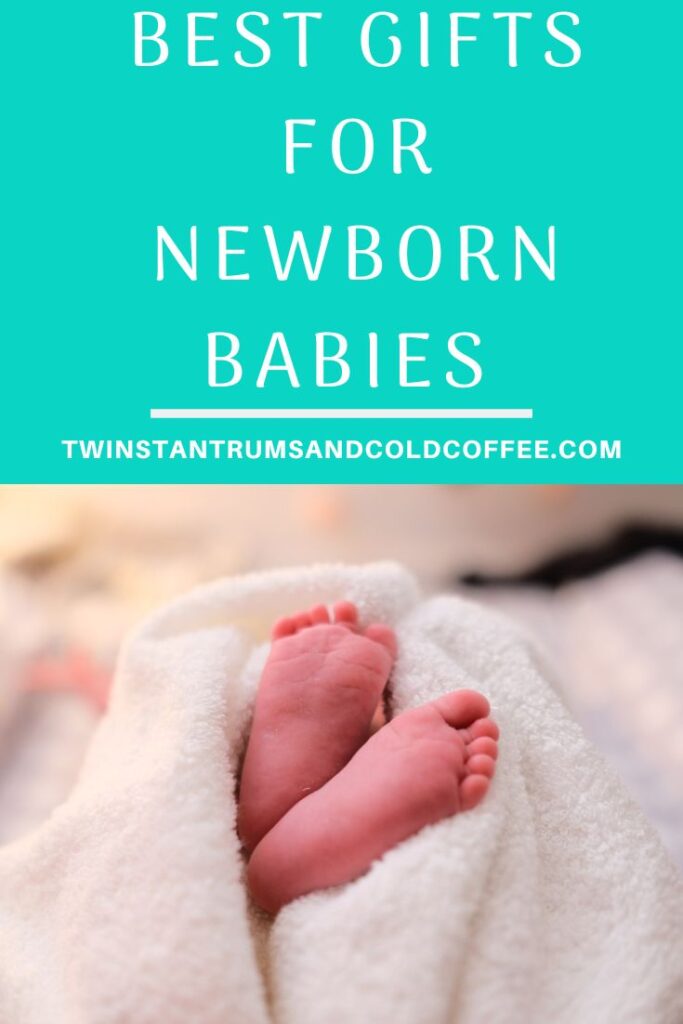 You might also like these posts:
*This post contains affiliate links. If you click on and purchase a product through these links I earn a small commission. It doesn't affect the price you pay, but helps me buy clothes for my kids and wine for me. So, thanks!
How did I do?
If you liked this post, how about you hang around and have a read of some more. You'll definitely like this one about how I ignored advice to survive the newborn days. Or this one about how my toddler wasn't too keen on the twins, ooh, for about six months. Then head over to my Mum Life stuff for more tongue-in-cheek parenting rants, or the Twins section for more hacks about looking after twins. If you want some days out and travel inspiration, then check out my Travel Section.
If you like a bit of social media madness, pop over to my Facebook page where you'll be able to have a laugh at what ridiculousness goes on in my house with three very small boys on a daily basis. Warning – there is often sarcasm, and usually swearing. There are also great travel reviews and some AWESOME giveaways. Feel free to join my Twins, Tantrums and Cold Coffee – Shits and Giggles Parenting Group too, where everyone shares their hilarious stories.
And if you want to work with me, feel free to give me a shout here or at helen@twinstantrumsandcoldcoffee.com and I'll get back to you.