Do you remember those carefree days, where you could just go out at your leisure without having to remember to take a tonne of stuff? Me neither! Heading out with babies takes a lot of organisation. How to make baby formula on the go is one of those skills that you will master along the way.
*Disclosure: This post contains Amazon affiliate links I may receive payment for. It does not affect what you pay.
Before you even leave your home, you will need to have a plan in place for the day ahead. How long will you be out for? How many feeds will your baby need in this space of time? It is best not to mix a formula feed too far in advance as warm milk is a breeding ground for bacteria.
Making a bottle of formula on the go doesn't have to be difficult though, with the right containers and tools you'll have a stress-free experience. Unlike trying to balance two newborn babies on your lap to feed them like this…
Different ways of how to make baby formula
Make up a bottle in advance
Once a formula bottle is prepared, it can sit at room temperature for up to 2 hours, so it's okay to prep one bottle ahead of time as long as you plan to give it to your baby within this time-frame.
Use a formula powder dispenser
One of the best ways to simplify the process of making a bottle of formula is by measuring out the formula in advance. They sell great little containers that can hold and dispense the exact amount of formula you'll need for each bottle. I'd have been totally lost without a couple of these!
Travel bottle warmers
Portable bottle warmers quickly and safely warm your baby's bottle on the go. With four temperatures to choose from, you'll be able to give your baby their bottle just the way they prefer it. Plus, it's completely cordless and holds its charge for up to 12 hours.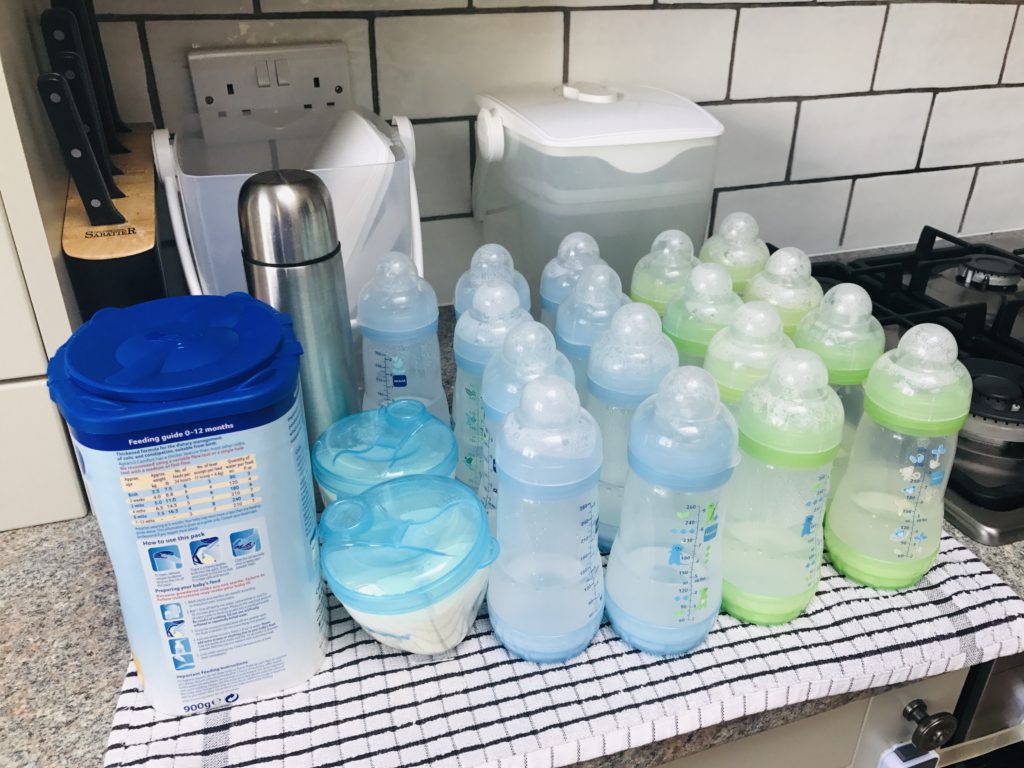 Bottles with pre-boiled water is my best tip on how to make baby formula
Make sure you have pre-filled your bottles with water. Water that has been boiled and left to cool down are the perfect solution, always test the temperature first to make sure they are not too hot. I would then take a flask of boiling water to mix in with the cooled stuff to top it up to the right amount. Then add in the powder from my funky container. Give it a shake and job done.
Pre-mixed cartons
They are a little more expensive than buying tins of powdered formula, but you can buy cartons of formula that are already pre-mixed for you. These then just need to be poured into your babies bottle and you're all set. Despite the price, these are SUPER handy to have in the cupboard for emergencies.
Other things you will need for your baby on a day out
Muslin cloths
Keeping a few muslin cloths in your changing bag is so worth it to clean up any baby sick and to keep on your shoulder when your baby is being burped.
Baby Wipes
Essential for every trip. When do you not need baby wipes? I will carry these for the rest of my life.
Nappies
You'll often need more than you think, so buy LOTS of nappies. Or go for reusable ones.
Spare clothes
Always a good idea in case of a nappy explosion. The one day you don't take spare clothes with you WILL be the day you need them.
It's one thing to go out for a few hours and have to figure out how you'll give your baby their bottle, it becomes next level when you are going on holiday or have a long road trip ahead of you! I hope these tips are useful? Breastfeeding is not easy for everybody so knowing how to go about how to make baby formula and mixing a bottle is essential knowledge for new parents.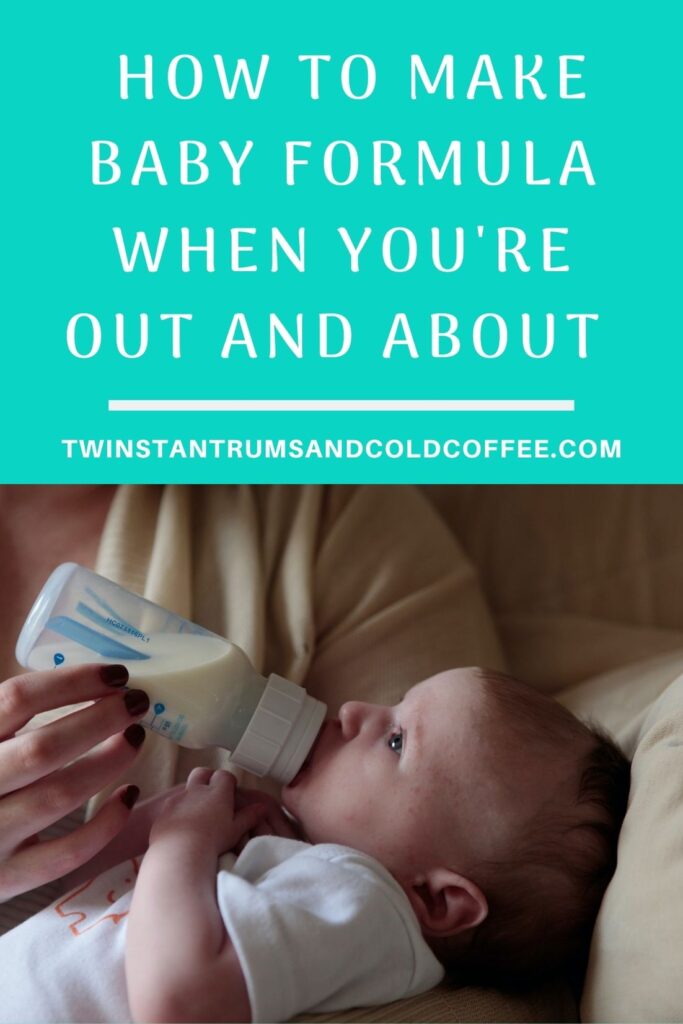 How did I do?
Did you like this post? Then how about you hang around and have a read of some more such as Newborn Baby Essentials Checklist. You'll also definitely like this one about how I ignored advice to survive the newborn days. Or this one about how my toddler wasn't too keen on the twins, ooh, for about six months. Then head over to my Mum Life stuff for more tongue-in-cheek parenting rants, or the Twins section for more hacks about looking after twins. If you want some UK travel inspiration, then there's also my Travel Section too.
If you like a bit of social media madness, pop over to my Facebook page where you'll be able to have a laugh at what ridiculousness goes on in my house with three very small boys on a daily basis. Warning – there is often sarcasm, and usually swearing. There are also great travel reviews and some AWESOME giveaways. Feel free to join my Twins, Tantrums and Cold Coffee – Shits and Giggles Parenting Group too, where everyone shares their hilarious stories.
If you like what you see, how about you check me out on Pinterest, Instagram and Twitter too.
And if you want to work with me, feel free to give me a shout here or at helen@twinstantrumsandcoldcoffee.com and I'll get back to you.