Weaning and eating with young children can be messy business. In a bid to make the hideous clear-up after three mealtimes a day slightly more bearable, I teamed up with Messy Me who sell weaning accessories that not only are made for mess, but are also designed to still look stylish in your home. Surely every parents' dream?
There are dozens of things on the market that could help do the same job, but I don't want my nice new kitchen covered in gawdy colours and patterns that appeal to kids – it's bad enough the amount of toys that are everywhere, please allow me to have some kind of control!
Messy Me, a family business based in Farnham, produce all sorts of amazing-looking oilcloth products which can get as covered in food as your babies like but still wipe clean and look good in your home.
We have recently moved house and decorated our kitchen grey, moving our huge bespoke table in from the dining room but didn't want it getting covered in food three times a day. It's made of scaffolding planks, so it's game over if food gets into the cracks between them. But it's now protected with a Messy Me oilcloth tablecloth – grey to match my walls and I love it. When the Twins reach out and dump food on the table or smear their dirty hands all over it, I'm not stressing out or wiping every crumb off instantly.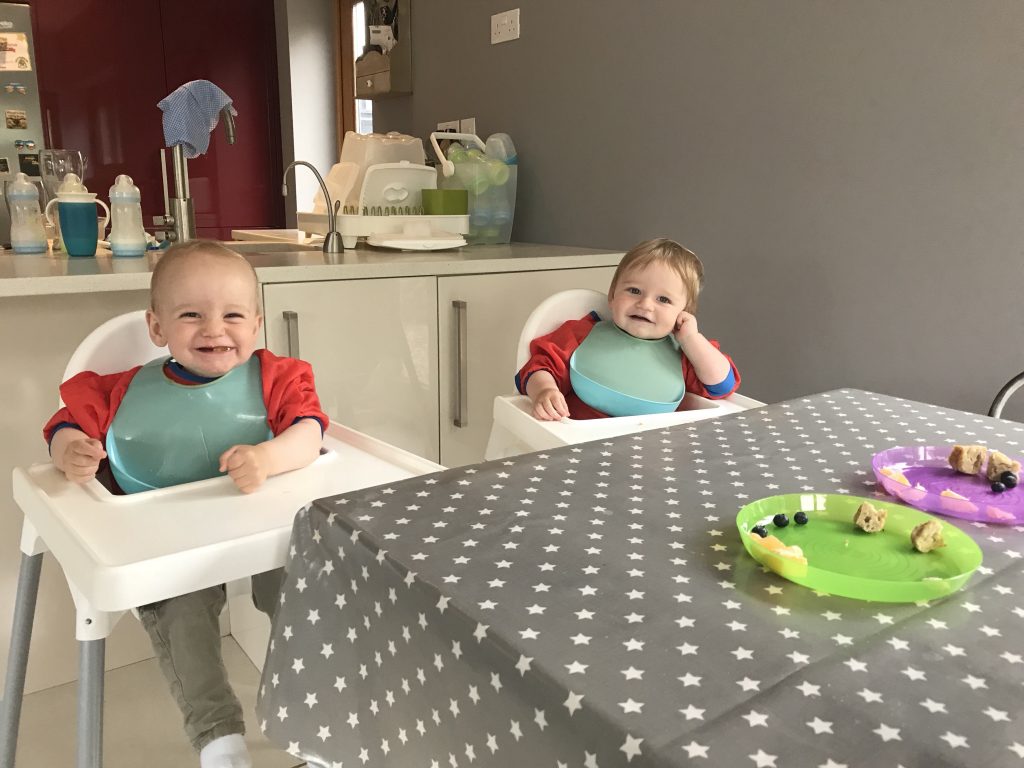 I know it is easy to clean up at the end of the meal and is back looking stylish within seconds. It's thin enough to fold and put away when I don't want to be reminded of children, but looks great in my kitchen the rest of the time.
Messy Me also sell *handy oilcloth splash mats, perfect for putting under high chairs to catch all the food, and easily shake out and throw away afterwards. Saves so much time rather than mind-numbingly wiping it all up on your hands and knees, losing the will to live!
Inspired by their own three children who like to make a mess, Messy Me also produce *high chair insert cushions for a range of wooden chairs, including the Tripp Trapp, a *high chair cover, a *special one for the Ikea Antilop chair (which let's face it EVERYONE has), as well as bibs, tunics and *aprons which are ideal for not only mealtimes but arts and crafts as they get older. And if you haven't had enough of the oilcloth products for at home, you can even buy cute *mini changing bags to take out and about.
All the products come in a range of patterned hard-wearing oil-cloth, and the tablecloths can suit any sized table as you can buy the material by the metre. Ideal for my huge table. The oilcloth is from Denmark and is beautifully soft, has a 100% cotton base for added breathability (not so important for a tablecloth maybe, but definitely for the aprons and bibs), and has a great gloss finish which means it's harder wearing and resistant to most stains.
Messy Me warn you that it's not completely foolproof, and food such as tomato pasta sauce or blueberries could stain it, but let's face it, better to stain a tablecloth than a nice table. They can be washed occasionally at 30 degrees and ironed if needed on the reverse on a cool setting.
So if you need help dealing with the mess, but you still want your home to look like you have a say in what's going on rather than the kids, Messy Me will no doubt have a product which is ideal.
Prices start from £6.50, and you can find out more at Messy Me.
* I was sent this product by Messy Me to review. All opinions are my own.
How did I do?
Did you enjoy this post? Why not hang around and read a few more. To read all about weaning twins, and what I consider the worst times of the day, head to Weaning Twins – Double The Mess, Double The Stress. Or if you want some more light-hearted, tongue-in-cheek parenting rants, go to my Mum Life section. And for some days out and UK holiday inspiration read my Travel Section.
If you like a bit of social media madness, pop over to my Facebook page where you'll be able to have a laugh at what ridiculousness goes on in my house with three very small boys on a daily basis. Warning – there is often sarcasm, and usually swearing. There are also great travel reviews and some AWESOME giveaways. Feel free to join my Twins, Tantrums and Cold Coffee – Shits and Giggles Parenting Group too, where everyone shares their hilarious stories.
And if you want to work with me, feel free to give me a shout here or at helen@twinstantrumsandcoldcoffee.com and I'll get back to you.
This post contains Amazon affiliate links marked with a *. If you click on and purchase a product through these links I earn a small commission. It doesn't affect the price you pay, but helps me buy clothes for my kids and wine for me. Thanks!