There's no better feeling than getting your Christmas shopping done early and knowing you're ahead of the gift shopping frenzy that the holidays bring. When shopping for Christmas gifts for your kids, finding a gift they'll love and use can be tricky. But, it doesn't have to be. These Hot Water Bottle Gifts are awesome!
This is a collaborative post
In this article, we'll go over the 5 hot water bottle Christmas gifts the kids will love this holiday season.
1. Cozy Plush Elephant Microwave Animal Toy
This cozy plush elephant microwave animal toy is the perfect Christmas gift to keep your child warm and entertained. Your child will feel comforted and cozy with this heatable toy elephant. Just 90 seconds in the microwave will warm this toy up and keep your child cozy and comfortable during the cooler days of the year. This plush elephant toy is versatile and can be used as an ice pack – just place it in a bag in the freezer and let your child use it to cool down. Whether your child has muscle aches, has trouble sleeping or just needs help warming up– this plush elephant toy is the perfect gift for them.
2. 0.8 Litre Eco Hot Water Bottle With Cream Lamb Fluffy Cover
This fluffy lamb eco hot water bottle is a cute gift that your child will love to snuggle and use to keep warm. Not only is it a cute, comforting gift – but it's eco friendly and a great sustainable choice for your kids. The inner bottle is made from more than 90% renewable materials including sugar cane, is PVC free, recyclable, and odourless making it safe and easy to use for your child. The lamb cover is ultra-soft, fluffy, and great for children to use as a plushie that keeps them warm. Simply place the hot water bottle in the microwave and let your child enjoy the benefits of this eco lamb hot water bottle.
3. Cozy Plush Giraffe Microwave Animal Toy
If you're in search of a plush toy that your kids can use to stay warm and snug, try this cozy plush giraffe microwave animal toy. It's gently scented with French Lavender, which can help your kids stay calm, relaxed, and aid them in sleeping. All you have to do is place the plush toy in the microwave for 90 seconds and give it to your child to keep them relaxed and warm. Whether your child needs help sleeping, staying warm, or unwinding, this plush giraffe animal toy is a great solution. You can also use this plush toy as a cool pack by placing it in a plastic bag in the freezer. It's suitable for all ages and is a great warming toy that your kids will love.
4. 0.2 Litre Luxury Mini Hot Water Bottle With Lion Fleece Cover
Looking for a smaller hot water bottle that your kids will love? This luxury mini lion hot water bottle is the perfect option! This mini hot water bottle comes in an extra soft fleece lion cover that will keep your kids entertained and warm. It can be used at home or be taken with you on the go and be placed in jacket pockets and strollers to keep your child warm and cozy. With its excellent ability to insulate, your kids will stay snug and comfy all winter long.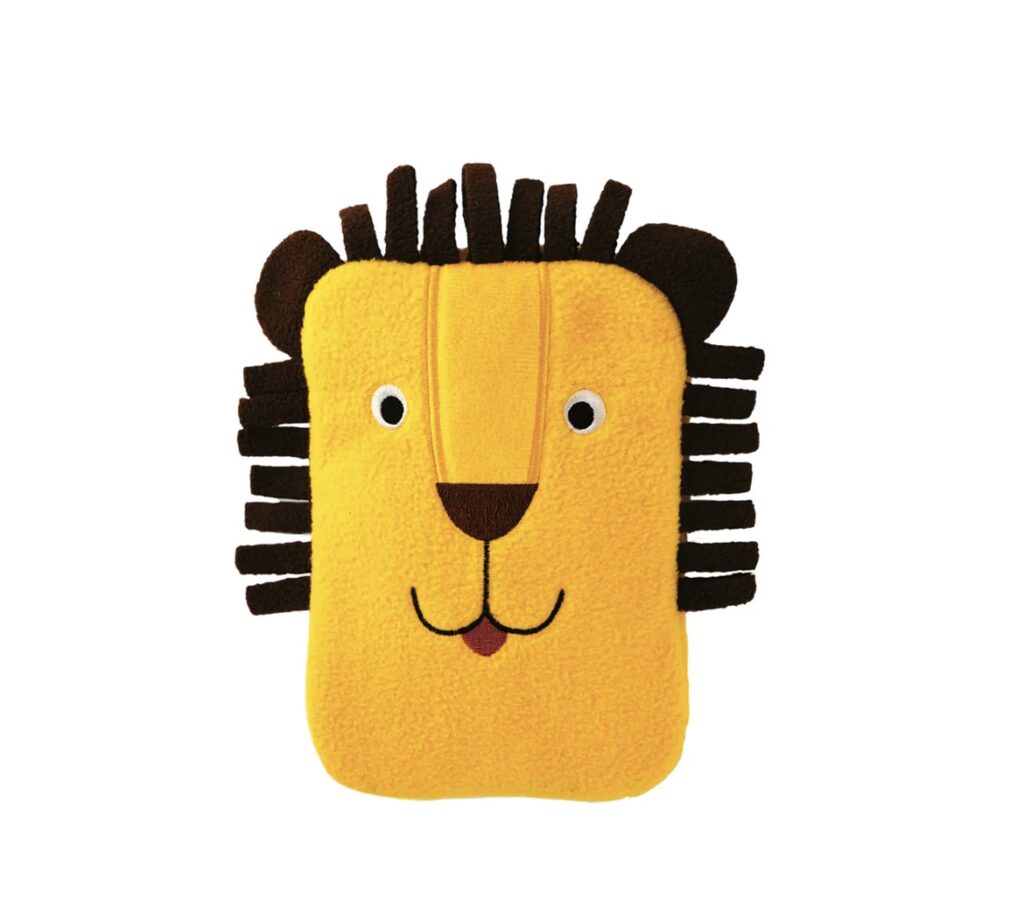 5. Cozy Plush Puppy Microwave Animal Toy
Puppies are cute, cuddly, and adored by many – what's not to love? That's what makes this cozy plush puppy microwave animal toy such a beloved Christmas gift. It'll comfort your children, can be a great toy to play with, and will keep them warm and snug. Simply place this plush toy in the microwave for 90 seconds to get warmth and comfort. This plush puppy toy also releases a gentle French Lavender scent over time, which will help your kids relax and fall asleep during those sleepless nights. If your child needs an ice pack or wants to cool down, you can place it in a plastic bag in the freezer and use it as a cold pack.
Final Thoughts On These Hot Water Bottle Christmas Gifts For Kids
There's nothing quite like the magic of watching your kids open their Christmas gifts with pure excitement. Instead of waiting until the last minute to shop for Christmas gifts for your kids this year, try one of these great 5 Christmas gifts. Not only will your kids love how cute and comforting these toys are, but they'll also get to keep warm and cozy with them.
How did I do?
Did you enjoy this post? So why not hang around and read a few more whilst you're here. If you want to get in the Christmas spirit I've got several posts you'll like:
If you fancy reading more of my usual kind of parenting stuff, head over to my Mum Life section. You'll find all things parenting with a tongue-in-cheek twist. And if you want some family holiday inspiration or days out, head to my Travel Section.
If you like a bit of social media madness, pop over to my Facebook page. You'll be able to have a laugh at what ridiculousness goes on in my house with three very small boys on a daily basis. Warning – there is often sarcasm, and usually swearing. There are also great travel reviews and some AWESOME giveaways. Feel free to join my Twins, Tantrums and Cold Coffee – Shits and Giggles Parenting Group too, where everyone shares their hilarious stories.
If you like what you see, how about you check me out on Pinterest, and Twitter and Instagram too.
And if you want to work with me, feel free to give me a shout here or at helen@twinstantrumsandcoldcoffee.com and I'll get back to you.