The long summer holidays are approaching and if you're looking for a summer camp in Plymouth to put your children into, then you are in for a treat.
This is a collaborative post with High 5.
If you're anything like me, you're already dreading the thought of keeping your kids entertained for six LONG weeks. And you want an alternative as something for them to do.
High 5 are running summer camps in and around Plymouth throughout the holidays and the activities on offer look AMAZING.
My eldest who has just turned six went to a holiday club for a day during half term for the first time. I was secretly just trying him out to see if he liked it with a view to sending him more in the summer. Luckily he LOVED it, so he'll definitely be joining in the High 5 fun during the summer break.
I work from home and could catch up on my work in the evenings so don't necessarily NEED to send him. But the difference is I WANT to send him. I want him to have a whole load of fun that he wouldn't have with me. Meet up with some of his mates who are also going to be there. And make new friends.
Okay, there might be an element of selfishness too and I'd like a bit of peace and quiet. But that kind of depends on offloading my twins at the same time too! Any takers?
Jam-packed full of fun activities
The six year old is literally not going to know what's hit him with a High 5 holiday club. It's way more than the bog standard summer camp in Plymouth by the looks of things. This is like a pumped-up, adrenalin-inducing, action-packed experience for the kids. I wonder if they'd let me join in too…
The Ofsted-registered summer holiday club takes place at:
– Pomphlett Primary School
– Elburton Primary School,
– Widey Court Primary School
– Mount Kelly Prep School
– Stover School in Newton Abbot
– Plymouth College
Summer 2021 holiday camps in Plymouth will run weekly from July 26 to September 3. They are open to kids aged 5 to 15, and will be absolutely PACKED with entertainment.
Kids will jet off around the world at a High 5 summer camp in Plymouth
This year's theme will be Round The World In 30 Days and you can just imagine how cool that's going to be!
Organisers say to be prepared for your children's imaginations to run wild as they travel the world for an epic and unforgettable High 5 summer holiday camp. Every stop will be packed full of action and activities guaranteed to have them coming home happy and (fingers crossed) tired out.
Kids will turn into little adventurers and be taken to Africa, Asia, North America, South America, and Europe throughout the six weeks. Staff will be sure they make memories with a whole summer of chock-a-block action, outdoor adventures and multi-sports activities.
Each of the weeks will have a strong flavour of the continent they are visiting for those particular sessions. There will be daily creative art options centred around those continents. And each day of the week the holiday camp will also have a theme. Here's an example to give you an idea:
Mega Monday will kick off with team games, tournaments and problem solving challenges to help the children break the ice and make new friends. There's also a chance for each team to rack up the highest score to be crowned champions.
Tokyo Tuesday will see the kids celebrate the 2021 Tokyo Olympic Games with the High 5 Alternative Olympics. They'll have a chance to compete in fun and wacky team events to win medals and certificates.
Wet Wednesdays does what it says on the tin – bring your swimmers and towel because everyone, including the coaches will be getting wet! High 5's famous water inflatables and wet games will have them soaked in giggles and memories.
Themed Thursday will be full of games, arts, crafts and activities themed on the continent they're visiting that week.
Fun-time Friday will end the week exactly as it sounds – with favourite fun-filled things to do honed over years of High 5 summer camps.
It doesn't get much more fun-packed, does it?
It's set to be an "incredible summer"
Ben Knight from High 5 said: "We believe High 5 offers a supreme summer holiday camp experience. More than 30 different games and sports alongside our daily Wild Tribe (think bushcraft but better!) and Round the World art and craft activities.
"Plus that's before you factor in our bonus extra activities programme, daily swimming and weekly surprises.
"As a family-run business with young children of our own, we recognise the importance of helping all children develop their body awareness and core skills, essential to help kids become proficient in physical activity and play.
"Studies show that developing these skills over time leads to a level of self-belief and confidence in their own abilities. These are skills which will set them up well for the rest of their lives.
"We're also very much aware that for many children after a year of lockdown, life can be a little troubling at times. That's why we've teamed up with the amazing, empathetic people at Elephant Counselling. Based in Devon, they will be on hand to check in with everyone's wellbeing."
He added: "Parents trust us because we guarantee a fabulous array of activities. Not just sports and games but arts, crafts, amazing inflatables and more –exceptional well-trained staff, wonderful facilities and a safe and secure environment.
"Your little adventurers will come home full of stories, smiles and memories to last a lifetime. As well as new friends and a zest for living life to the full away from a screen.
"It's going to be an incredible summer and we can't wait to take your children along for the ride."
Summer camp in Plymouth will have extra special surprises
Staff say there will also be some extra special surprises as they reveal their amazing inflatables and extra activities at each of the sites during the camps.
Doesn't it all sound FLIPPING BRILLIANT?
The camps cater for children aged 5 to 15, and they are split into groups for age-appropriate activities.
The Rookies – 5 to 7 year olds
The youngest High 5 campers are the Rookies. Staff recognise that being away from parents can be new and sometimes daunting for the younger kids. So they are with staff who are specialists in Key Stage 1 childcare. They have either Childcare, Play work or Qualified Teacher Status.
Each week they deliver small bite size chunks of 'Ronnie Heath's FUNdamental Multi Skills Activity'. As well as some basic first aid, expeditions, knot and rope work, and Mountain Medicine. On top of all the other fun sports activities, High 5 makes sure the young ones are in for a treat!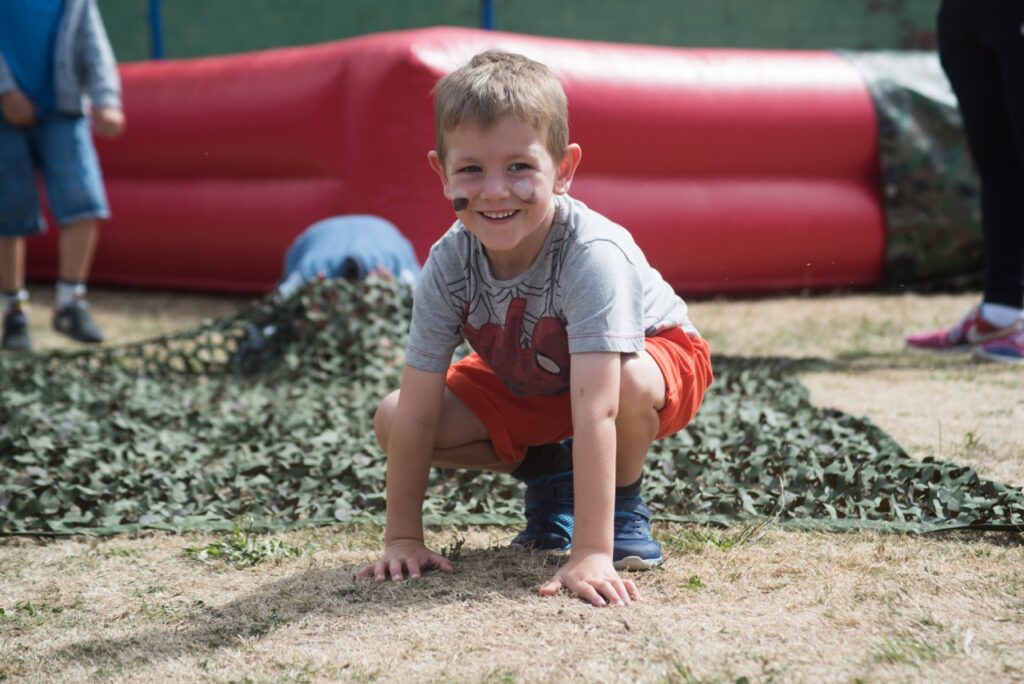 The Semi-Pros – 8 to 10 year olds
The Semi-Pros who are eight and over can access pretty much all the High 5 activities including those which run off-site. If high-octane sports isn't quite your son or daughter's thing, then they can also offer creative activities with weekly-themed arts and crafts.
Survival Steve will also be about for the children to try out bushcraft and survival activities. There's also a buddy system for the Semi-Pros where campers can be teamed up with more experienced guests to help them feel at home and less nervous. How nice is that?
The Pros – 11 to 14 year olds
This is for the older campers who are already at secondary school or starting in September. They are given much more freedom to express themselves, be independent and pursue the activities they are most interested in.
The youngsters will be encouraged to step outside their comfort zones, get stuck into the huge choice of sports on offer and see there's more to life than a smartphone. They get access to their own common room separate from the younger age groups. It has a Bottle Flipping Tower Challenge, a table tennis table, and sound system so they can play their own music during breaks. If the lead coach approves, that is!
Sport Monitors – 14+
If you're aged 14 or over you become a Sport Monitor and gain responsibility and experience by helping out the High 5 staff with activities.
Perfect for teenagers interested in becoming sports leaders, coaches or teachers in the future. They will experience a blend of all their favourite activities with valuable mentoring opportunities.
Not only will they get a t.shirt, a coach who acts as their mentor, and regular feedback they'll receive a written report and certificate.
Book whole weeks or individual days
If you're working and need a whole week or multiple weeks of the Devon summer camp, then your child gets to experience the whole shebang. Or you can book your child in for individual days too. It's perfect. And totally guilt-free in my book as they'll be having so much fun.
A day can be from 8.30am to 4.30pm or can be extended from 8am to 6pm. Prices are £33 for a standard day, £38 for an extended day. Whole weeks cost £132 for standard days and £152 for extended ones.
If you book for a full week your child will get their very own free High 5 T-shirt and passport to chart their journey with. Book a High 5 summer camp here.
Football and tennis camps
High 5 are also running football and tennis camps in Plymouth this summer.
If you've caught football fever from this summer's Euros tournament they're also running First Touch Football camps at Eggbuckland Community College and Top Bounce Tennis will be at Mannamead Tennis Club in Plymouth throughout the summer.
First Touch Football summer camps will be brand-new small group and one-to-one football coaching under the guidance of elite coach Charlie Legg. He's an experienced footballer who was a coach at Exeter City's youth academy. He also worked as strength and conditioning coach at Plymouth Albion and Plymouth Raiders.
And as if that isn't enough, High 5 are running an exciting three-day Freestyle Football workshop. It's with Jamie Knight aka Skillzy the official Euro 2021 mascot. One of the world's top professional freestyle footballers, Jamie is coming to lead the camp from August 11-13. He'll showcase his exceptional talent and ball skills. So if you have a football fanatic, this is the place to be!
So with so much fun to be had for the children, the question is, why haven't you booked yet?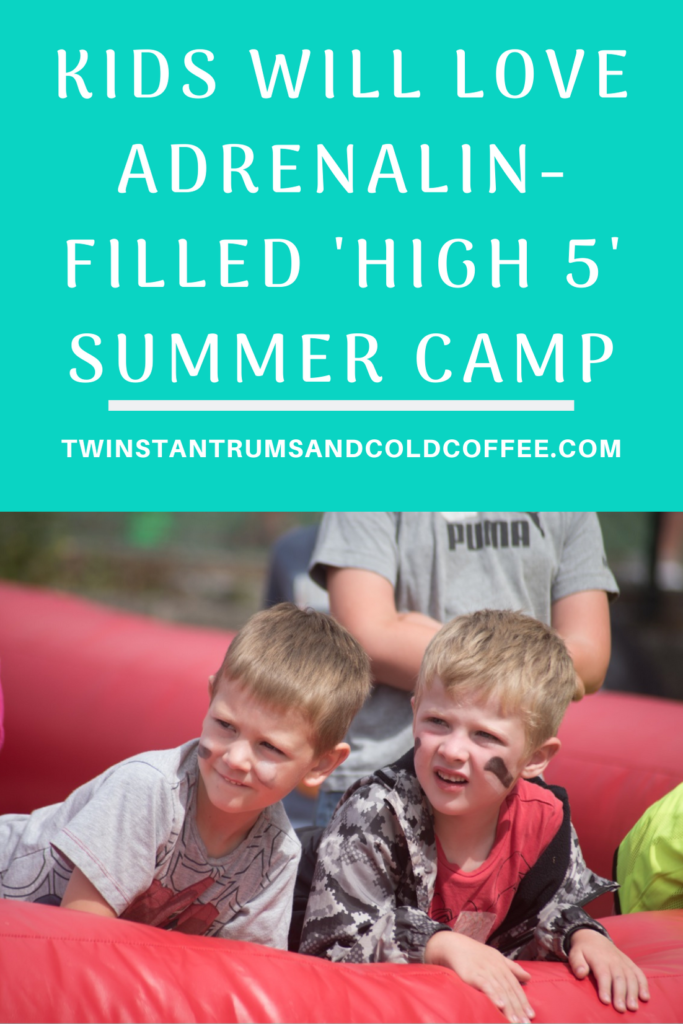 How did I do?
Did you enjoy this post? You might like some of my others whilst you're here. Keep an eye out for the latest Local Stuff here. If you want to read some more of my usual kind of parenting stuff, head over to my Mum Life section. You'll find all things parenting with a tongue-in-cheek twist. And if you want some family holiday inspiration or days out, head to my Travel Section.
If you like a bit of social media madness, pop over to my Facebook page where you'll be able to have a laugh at what ridiculousness goes on in my house with three very small boys on a daily basis. Warning – there is often sarcasm, and usually swearing. There are also great travel reviews and some AWESOME giveaways. Feel free to join my Twins, Tantrums and Cold Coffee – Shits and Giggles Parenting Group too, where everyone shares their hilarious stories.
And if you want to work with me, feel free to give me a shout here or at helen@twinstantrumsandcoldcoffee.com and I'll get back to you.