If you happen to see a colourful Elmer the Elephant (or 40 of them) whilst you're out and about in Plymouth, don't be alarmed. You're not seeing things.
What you're actually witnessing is Devon and Cornwall's biggest art event of the year – and your kids are going to LOVE it.
Fiction's favourite elephant Elmer, from the bestselling children's books by David McKee, is the star of Plymouth's Elmer's Big Parade, which starts on Monday, July 8.
Elmer is everywhere
40 different elephant sculptures, all of which have been beautifully painted by both established and emerging local and national artists will be dotted around the city for 10 weeks until September 16.
Kids will love searching for them (although some you definitely won't miss!) on the enchanting trail. My eldest and his cousins are already looking forward to doing it with Granny and Grandad in the holidays. They all love a trail!
More than 250,000 visitors and locals are expected to take part in the free, family-friendly event – put on by St Luke's Hospice Plymouth with Wild in Art and Andersen Press.
But these are no ordinary elephants. They're on an important mission to raise awareness and funds for St Luke's and the vital service the charity provides, looking after terminally ill patients and supporting their families.
Each sculpture is sponsored by a local organisation, and the parade is the culmination of months of preparation as the 40 artists selected to paint an 'Elmer' worked their magic. And what a job they've done!
School children get involved
10,000 children from 25 schools across the city have also been getting involved in the project – so I expect some of your kids have been taking part. They have created their own unique mini Elmers which will be on display at Mount Edgcumbe, whilst teachers have been working with the St Luke's Education team to improve their confidence and skills in supporting children living with loss.
It's estimated that 1 in 29 children – one in every class – has experienced the death of someone close to them, so St Luke's is working with teachers and other staff to encourage more open conversations with youngsters about death, dying and bereavement, which – when conducted sensitively in an age-appropriate way – help ensure no child feels left behind.
Elmer's Big Parade Plymouth was officially launched last week at a special preview evening which welcomed special guest Elmer creator David McKee.
'A real excitement'
Tavistock-born and Plymouth-educated David said: "The pleasure that you can feel that the illustrators and painters have had working with this, there's a real excitement to be had with this project, which is incredible.
"To find out there's such a high percentage of children who know bereavement through the loss of someone close, and that St Luke's is very involved in helping the children get through those periods, it's incredible.
"It's quite emotional really, knowing that something you started that long ago is not only still around, but new things from others have been made because of that. I suppose in a way, there is a sort of responsibility which you feel. Especially when you realise that it's not just decorative – the cause is such a good one. Helping St Luke's in any way is a good cause."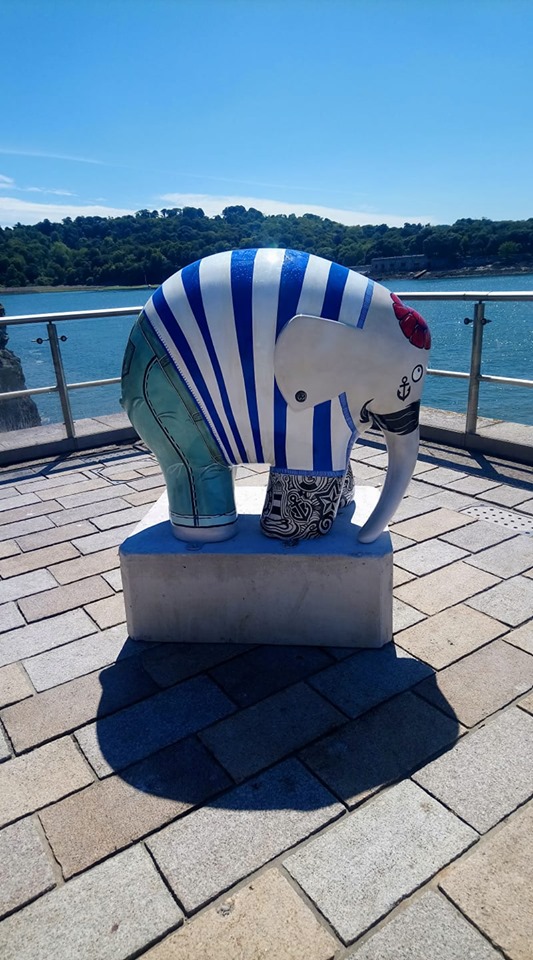 The grand finale of Elmer's Big Parade will be an auction at which the Elmer sculptures will be sold off to raise funds for St Luke's.
The official trail map is available to download via the App Store, Google Play or available in print at local tourist information centres and St Luke's charity shops.
For more information about the parade visit: www.elmerplymouth.co.uk or follow the trail on social media @ElmerPlymouth using #ElmerPlymouth.
Pictures by Paul Slater Images.
How did I do?
Did you enjoy this post? You might like some of my other local bits and bobs, so keep an eye out for the latest Local Stuff here. How about Be Part Of The Magic As Disney Celebrates 100 Years or Buzz As Moo Music Cafe Opens In Plymouth. Or while you're here check out some of my blatantly honest (but totally relatable views) on Mum Life with two year old twins and a four year old.
If you like a bit of social media madness, pop over to my Facebook page where you'll be able to have a laugh at what ridiculousness goes on in my house with three very small boys on a daily basis. Warning – there is often sarcasm, and usually swearing. There are also great travel reviews and some AWESOME giveaways. Feel free to join my Twins, Tantrums and Cold Coffee – Shits and Giggles Parenting Group too, where everyone shares their hilarious stories.
And if you want to work with me, feel free to give me a shout here or at helen@twinstantrumsandcoldcoffee.com and I'll get back to you.