Exciting news this week – I've been invited to be a co-host for the amazing #ItsOK Bloggers Linky!
For those of you who have no idea what it's all about (basically me a few weeks ago), it's a chance for parenting bloggers to hook up with each other and share their blogs. But this isn't all homecooked meals, no screen time and perfect parenting. No siree. This is real life – and if you've ever read my blog, you'll know that's basically what I'm all about.
So the #ItsOk Linky is for those parents who aren't whipping out the arts and crafts every 10 minutes, who aren't ashamed to use a bit of iPad bribery when needed, who don't iron a single damn thing, and if push comes to shove, happily hide in the bathroom to scoff a Snickers to avoid the kids' whinging.
It's all about saying 'It's Okay' to not love every minute and that you'd rather be at the local spa some days, but you also realise that doesn't make you a crap parent. Nobody is going to judge you here!
And although the linky is set up for bloggers to share their posts, it's also a great way for non-bloggers to find fab stuff to read.
So who are we?
The linky is hosted by three other awesome mum bloggers who I bloody love – and me. We take it in turns to host the linky each week. The others are:
Summing up the linky, Nicole said: "In a sentence, the linky is about cutting ourselves some slack as parents. We've all been there – that place where we feel we're not doing our best as mums or dads, that we aren't giving our 100 per cent day in and day out. Where mom guilt shrouds us every time we bottle-feed instead of breastfeed or give our toddlers chicken nuggets instead of a home-cooked-from-scratch meal. Where we are constantly playing catch-up instead of enjoying our kids.
"We at the #It'sOK HQ want to change that. Want parents to feel less guilt and more joy in parenting. The linky is a safe place where you won't be judged for not being perfect (perfection is relative, anyways), but appreciated for being the best parent YOU can be. For doing the best YOU can. For Perfectly Imperfect Parenting, which leaves you and your children happier!"
What kind of posts can I add to the Linky?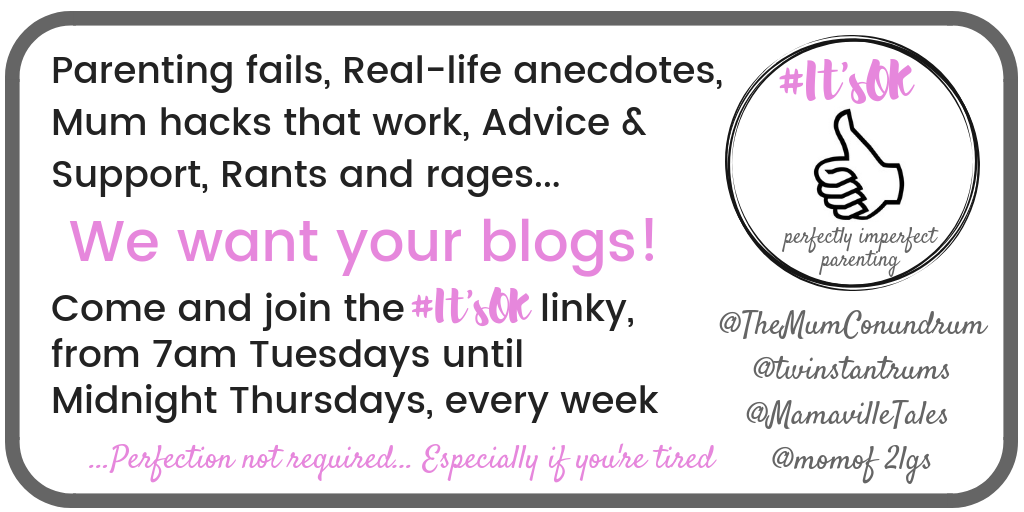 You can link up any blogposts that reflect REAL parenting. These can be about actual incidents that have happened to you, posts about parenting fails, sweary rants (because let's face it we all love a good rant – and you know how I love a good expletive), and helpful advice. It doesn't have to be funny. It can be heartfelt or serious – whatever you fancy posting, we can't wait to read them.
You can link up from any of our blogs, from 7am Tuesdays to midnight Thursdays, and while the host of the week will comment on every post, we all will retweet your posts on Twitter. We'll also share the best posts on Facebook and Pinterest.
Don't worry – they're pretty simple!
Old linkies
If you fancy having a squiz at some of the quality bloggers who have joined the linky in previous weeks, check them out here:
Week 2
Week 5