Hey there parent bloggers, how's it going?
Welcome to Week 13 of the #ItsOK Linky.
How's your week been? I've had THE BEST WEEK. Mainly because I was away on a hen do for one of my best friends, meaning I had 54 hours and 10 minutes without my kids. This is the first time I've been away from my twins, and the longest away from my three year old.
Did I miss them? A little bit. Did I have an amazing time? Yes! I had a wee and shower in peace. I washed, blowdried, and straightened my hair all in one go for the first time in 19 months, (so good I even did it twice!) Let alone the sleep, the relaxing and the drinking.
Nailed it
Hats off to my Other Half though who totally nailed three whole rainy days looking after the three boys on his own. About a week before, he admitted it was probably going to be the worst weekend of his life –  but turns out he rocked it. Even getting the Play Doh out without it turning into brown sludge and taking all three to the park on his own. Doesn't sound too much of an achievement? You try taking a three year old and 19 month old twins to the park on your own. I don't even attempt it!
The other very cool thing I did this week was set up a new Facebook Group for my blog and have had SO MUCH great banter, I'm loving it. If you fancy having a gander, come and join in the fun here – Twins, Tantrums and Cold Coffee – Shits and Giggles Parenting Group.
Anyway, thank you for joining us again if you're one of our regular bloggers. If any of you are newbie parent bloggers – welcome, and if you have no idea what you're doing, you're in good company with me.
Onto the linky! 
My lovely co-hosts are parent bloggers Kate from The Mum Conundrum, Carly from Mom of Two Little Girls, and Nicole from Tales from Mamaville.
Carly is taking a short break from blogging at the mo, so this week we are joined again by Jacqui from One Messy Mama who is going to be a guest co-host. Hurrah for Jacqui!
Nicole hosted the Linky last week and chose the fabulous Every Other Woman Manages post by Daydreams of a Mum as this week's Featured Blogger. Congratulations lovely, you can grab your badge here. And thank you for sharing.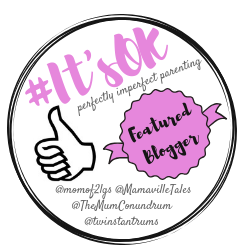 Twins, Tantrums and Cold Coffee

Instructions: Select all code above, copy it and paste it inside your blog post as HTML
Hey, 'It's okay!'
If you're a first timer to the linky, find out all about it here. We're basically saying it's okay to not be okay sometimes – particularly when it comes to parenting.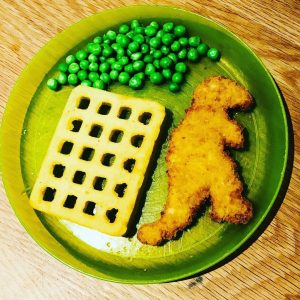 It's okay to serve up Bernard Matthews' turkey dinosaurs and waffles at least once (maybe twice?) a week because you know it's one of the few things guaranteed they'll eat. It's okay to leave your 19 month old twins in their cots with a bottle of milk and some books in the morning whilst you slap on some foundation and wash your fringe (no time for the rest of my hair these days) – or maybe have an extra 20 minutes snooze.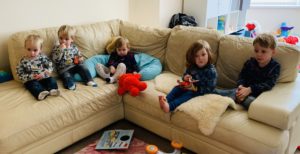 It's perfectly okay to be excited about a weekend away with your mates, and it's totally fine to stick Paw Patrol on three hours into a playdate, so you can hide in the kitchen to eat biscuits and drink HOT coffee with your mate.
The rules
We're all pretty relaxed here at #ItsOK, but for the linky to work we have a few rules:
1.) You can add ONE of your posts to the link-up – any post you like, as long as it's on a real life parenting theme and you haven't posted it on the #ItsOK linky before.  But as parent bloggers, I'm guessing that's pretty simple.
2.) Before you add your post to the link-up, make sure you pop the linky badge, using the html below, on your post. It's not as scary as it looks, honest. Even I managed to do it! Copy the code from this page, then open a new browser tab, go to your site and navigate to the post you want to share on your site. Go into 'edit page', change the view (in the top right hand corner of the writing area on WordPress) from 'visual' to 'text'.
Scroll to the bottom of the text, and paste the code in there. If you change your view back to 'visual' again you'll see the linky badge in all it's glory at the bottom of your post. Ta-dah!!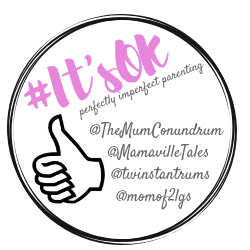 Twins, Tantrums and Cold Coffee

Instructions: Select all code above, copy it and paste it inside your blog post as HTML
3.) Make sure to comment on the host's post, the post before yours, and one of your choice.
4.) The linky will run every Tuesday morning at 7am until Thursday evening at 11.55pm.
5.) Tweet us (@twinstantrums @TheMumConundrum @MamavilleTales@onemessymama4) with the URL to your post. Make sure you include the hashtag #ItsOK so that we know you're one of those lovely parent bloggers types and tweet us your linky post, and not just telling us about your random day… Remember this step – if you don't tweet us, it's tricky for us to share.
6.) Kate is hosting this week so will comment on all your posts, and they will be retweeted and shared on Facebook. If your post is featured as one of our favourites then you are very welcome to display our lovely '#ItsOK Featured Blogger' badge on your sidebar.
7.) Come and join our lovely Facebook group, and we'll share your posts on there, as well as on the #ItsOK Facebook page – pop over to like and follow us where we'll share the best parent blogger posts from each week's linky too.
8.) Are you on Pinterest? Come on over and follow our #ItsOK board, we'll share your posts and you can plunder all the super-useful/funny/interesting reads and finds we amass too.
Parent bloggers keeping it real
The #ItsOK linky is all about celebrating real-life parenting. Please link up with posts on this theme ONLY. We're not too keen on random sponsored posts. We're all about Mum (and Dad) life, warts and all.
Even I can follow these rules, so it can't be that difficult! Any problems, just give us a shout.
It's a great way of finding other blogs to read, and realising somehow or other we're all in the same boat – and #ItsOK!
Happy linking!