It's that time again! Can you believe the #ItsOK Linky is live again? I'm sure my weeks are only about 4 days long at the moment, they're going so bloody quickly.
So it's Week 10 of the fabulous #ItsOK Linky, and guess what? You've got yours truly hosting (no doubt f*cking it up) this week. Soz in advance. Badge coding and I are NOT friends this week, as some of you will probably see. But hey, #ItsOK!
Anyway, thank you for joining us again if you're a regular. If you're a newbie – welcome, and if you have no idea what you're doing, you're in good company with me.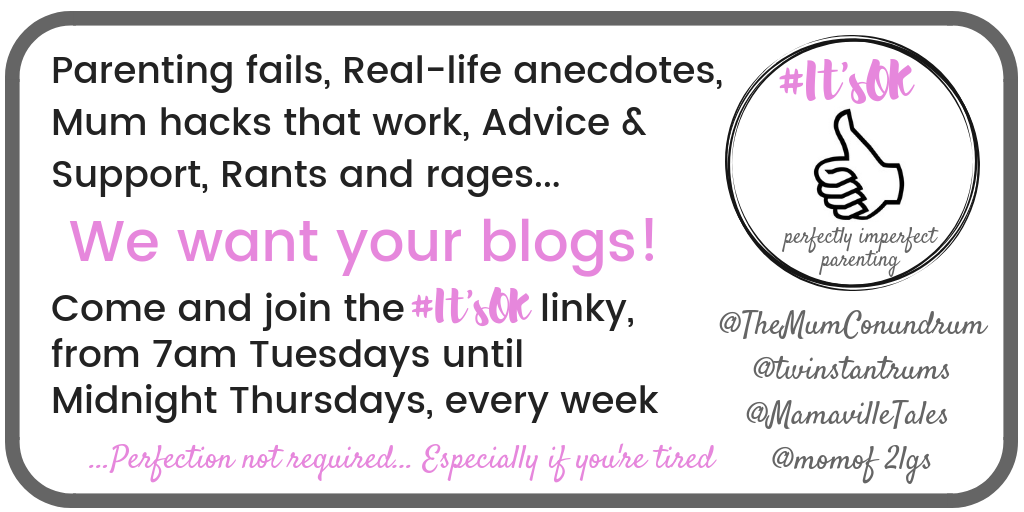 My lovely co-hosts (Kate from The Mum Conundrum, Carly from Mom of Two Little Girls, and Nicole from Tales from Mamaville) really enjoyed reading all your posts from last week and we are ready for more!
Carly is taking a break from blogging until the new year, so until then we are joined by Jacqui from One Messy Mama who is going to be a guest-host. Hurrah for Jacqui! We are then taking a two week break for Christmas and will be back half a stone heavier in the new year.
So how's your week been? My kids have quite frankly, driven me mad in the last seven days. I thought 18 month old babies were supposed to be cute. In fact I reckoned (before this week) that this is probably one of the best ages of young kids. They can walk, and laugh, and kiss, and smile and say a few barely recognisable words. That is proper cute. I mean look at these two's faces FFS.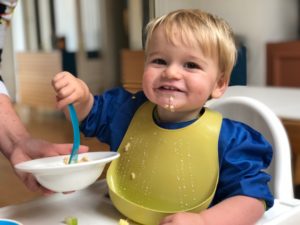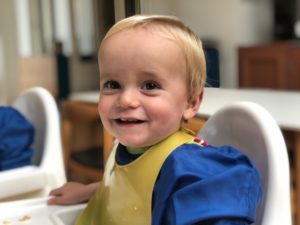 But don't go being fooled by their grins. This week they have been devils! DEVILS, I TELL YOU!
Not only are they fighting with each other (I wasn't expecting this 'til MUCH later) they have bloody well turned on me too. I've been teaching both of them to kiss, and over the last few weeks have been *enjoying their snot-covered, dribble-soaked, open mouthed 'kisses'. I mean, that's sweet, right? Less snot would be preferable though.
Well it was sweet, until this week. They now not only refuse to kiss me with quite insultingly fierce head-shaking, they have taken to slapping me in the face instead. And that bloody Twin One has decided he'd to like to scratch your eyes out at the same time (I have a flippin' cut under my left eye), and if he's really pissed off will try and bite you too. Like, WTF, what happened to my lovely babies? I hope Father Christmas is watching the little shits…
Onto the linky! 
Kate from The Mum Conundrum hosted the linky last week and chose Me, Them and the Others' post Under 5s Versus Over 5s  as this week's Featured Blogger. Congratulations lovely, you can grab your badge here. And thank you for showing me there is a light at the end of this parenting tunnel..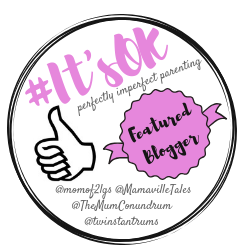 The #ItsOK Linky

Instructions: Select all code above, copy it and paste it inside your blog post as HTML
If you're a first timer to the linky, find out all about it here. We're basically saying it's okay to not be okay sometimes – particularly when it comes to parenting.
It's okay to bribe your three year old son and six year old nephew with party rings, mini fingers of fudge and Haribo to get them to sit still through the local Christmas panto. Then wonder why you can't get a good photo of them…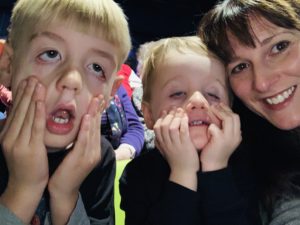 It's okay to bring your child into bed when they're teething, then put them straight back in their cot once they're asleep as their wriggling is doing your head in. It's okay to threaten that Father Christmas only comes to the houses of good children, 1,498 a day.
And it's okay to NOT have an effing Elf on the Shelf.
The rules
We're all pretty chilled out here at #ItsOK, but for the linky to work we have a few rules:
1.) You can add ONE of your posts to the link-up – any post you like, as long as it's on a real life parenting theme and you haven't posted it on the #ItsOK linky before.
2.) Before you add your post to the link-up, make sure you pop the linky badge, using the html below, on your post. It's not as scary as it looks, honest. Even I managed to do it! Copy the code from this page, then open a new browser tab, go to your site and navigate to the post you want to share on your site. Go into 'edit page', change the view (in the top right hand corner of the writing area on WordPress) from 'visual' to 'text'.
Scroll to the bottom of the text, and paste the code in there. If you change your view back to 'visual' again you'll see the linky badge in all it's glory at the bottom of your post. Ta-dah!!
4.) The linky will run every Tuesday morning at 7am until Thursday evening at 11.55pm. I'm hosting this week so I'll comment on your post, as well as one of the other hosts, and all four of us will retweet it and share with all our followers.
5.) Tweet us (@twinstantrums @TheMumConundrum @MamavilleTales @onemessymama4 ) with the URL to your post. Make sure you include the hashtag #ItsOK so that we know you're tweeting us your linky post, and not just telling us about your random day… Remember this step – if you don't tweet us, it's tricky for us to share.
6.) I'm hosting this week so will comment on all your posts, and they will be retweeted and shared on Facebook. If your post is featured as one of our favourites then you are very welcome to display our lovely '#ItsOK Featured Blogger' badge on your sidebar.
7.) Come and join our lovely Facebook group, and we'll share your posts on there, as well as on the #ItsOK Facebook page – pop over to like and follow us where we'll share the best posts from each week's linky too.
8.) Are you on Pinterest? Come on over and follow our #ItsOK board, we'll share your posts and you can plunder all the super-useful/funny/interesting reads and finds we amass too.
The #ItsOK linky is all about celebrating real-life parenting. Please link up with posts on this theme ONLY. We're not too keen on random sponsored posts. We're all about Mum (and Dad) life, warts and all.
Even I can follow these rules, so it can't be that difficult! Any problems, just give us a shout.
It's a great way of finding other blogs to read, and realising somehow or other we're all in the same boat – and #ItsOK!
Happy linking!