It's Week 4 of the #ItsOK linky and it's set to be a good one – and not just because I'm now involved 🙂
Nicole from Tales From Mamaville is hosting the linky this week, and we're all really excited to read some more fabulous blogs, and share them with the world.
If you're a first timer to the linky, find out all about it here. We're basically saying it's okay to not be okay sometimes – particularly when it comes to parenting. It's okay to give them Shreddies for tea now and then, it's okay to count down the hours until bedtime, and it's totally okay to shut the door on a trashed playroom and crack open the wine at the end of the day.
Featured Blogger
Carly from Mom of Two Little Girls chose our Featured Blogger from last week.
She said: "My favourite blog post from last week is Sons Over the Yardam's post In which we try not to f***ing swear. It's honest and I could definitely relate to all of it. Whilst we all do try not to swear in front of our kids, the odd slip will happen because we are also human, we're not just mothers. We need to cut ourselves some slack, because #itsok not to be perfect all the time!"
 Congratulations! Get your Featured Blogger badge here and proudly show it off!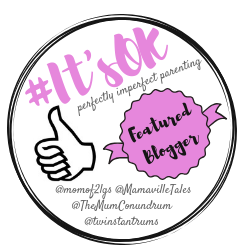 The #ItsOK Linky

Instructions: Select all code above, copy it and paste it inside your blog post as HTML
Onto the rules
It's all pretty relaxed here at #ItsOk, but for the linky to work there's got to be a few rules:
1.) You can add ONE of your posts to the link-up – any post you like, as long as it's on a real life parenting theme and you haven't posted it on the #ItsOK linky before.
2.) Before you add your post to the link-up, make sure you pop the linky badge, using the html below, on your post. If you're wondering how to do it, have a look here for details (under 'Linky Badges Explained' about halfway down the post – Kate is WAY better at the technical stuff than me, so I'll let her explain it!)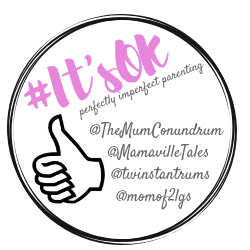 The #ItsOK Linky

Instructions: Select all code above, copy it and paste it inside your blog post as HTML
3.) Make sure to comment on the host's post, the post before yours, and one of your choice.
4.) The linky will run every Tuesday morning at 7am until Thursday evening at 11.55pm. The lovely Nicole is hosting this week so she'll comment on your post and all four of us will retweet your post and share with all our followers.
5.) Tweet us (@twinstantrums @TheMumConundrum @MamavilleTales @momof2lgs ) with the URL to your post. Make sure you include the hashtag #ItsOK so that we know you're tweeting us your linky post, and not just telling us about your random day…
6.) Nicole will choose her favourite post which will be featured the following week, retweeted and shared on Facebook. If your post is featured as one of our favourites then you are very welcome to display our lovely '#ItsOK Featured Blogger' badge on your sidebar.
7.) Come and join our lovely Facebook group, and we'll share your posts on there, as well as on the #ItsOK Facebook page – pop over to like and follow us where we'll share the best posts from each week's linky too.
8.) Are you on Pinterest? Come on over and follow our #ItsOK board, we'll share your posts and you can plunder all the super-useful/funny/interesting reads and finds we amass too.
The #ItsOK linky is all about celebrating real-life parenting. Please link up with posts on this theme ONLY. We're not too keen on random sponsored posts. We're all about Mum (and Dad) life, warts and all.
Even I can follow these rules, so it can't be that difficult! Any problems, just give us a shout.
It's a great way of finding other blogs to read, and realising somehow or other we're all in the same boat – and #ItsOK!
Happy linking!
Click here to join Week 4's linky