Hola parent bloggers! Welcome to Week 12 of the #ItsOK linky.
We're back in the swing of things this week and raring to go. Albeit I still haven't quite come to terms with Christmas being over and having to stop eating everything in sight. You'd think the fact I'm bridesmaid in six weeks time should really be stopping me scoffing almost out of date black forest mince pies.. But alas, no.
So how's your week been? I've managed to add an extra half a day to my three year old's pre-school schedule so I'm feeling smug. Although it basically means by the time I've got 19 month old twins there, back and sorted out, it's pretty much time to chase them round the house with their coat and shoes to go and collect him again. But you know, little wins and all that!
Anyway, thank you for joining us again if you're a regular. If any of you are newbie parent bloggers – welcome, and if you have no idea what you're doing, you're in good company with me.
Onto the linky!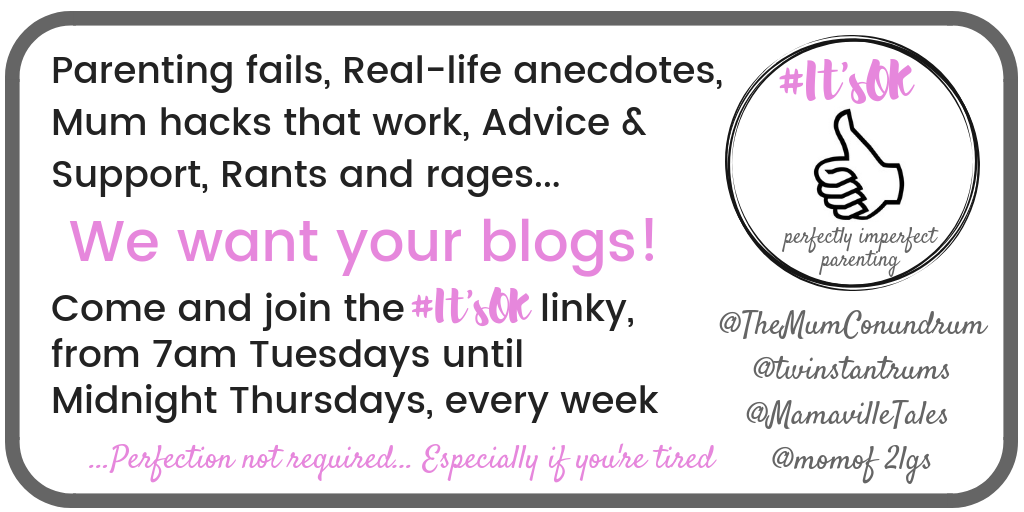 My lovely co-hosts are parent bloggers Kate from The Mum Conundrum, Carly from Mom of Two Little Girls, and Nicole from Tales from Mamaville.
Carly is taking a short break from blogging at the mo, so this week we are joined again by Jacqui from One Messy Mama who is going to be a guest co-host. Hurrah for Jacqui!
Jacqui hosted the Linky last week and chose the fabulous Me, Them and The Others' post Help! I Have No Parenting Instincts as this week's Featured Blogger. Congratulations lovely, you can grab your badge here. And thank you for sharing.
3.) Make sure to comment on the host's post, the post before yours, and one of your choice.