Half term in lockdown is upon us, and I'm in two minds whether I'm actually looking forward to it or not.
In the one sense I can't WAIT to not have to shout 'FINGER SPACE' every 5 seconds, or have to look at the eyebrows of (f*cking) Rosie of YouTube phonics fame.
I won't have to set the alarm at ass o'clock to get everyone up and ready for preschool two days a week at 8.30am, and the five year old's Teams call at 9.15am every morning. I still don't know why it takes so long.
But in another sense, the brutal reality of having to entertain my kids the whole of half term in lockdown is not really looking that appealing either!
Nobody is keen on a half term in lockdown
I mean, this is no normal half term. Yes, we'll have the light relief of no homeschooling. But we CAN'T GO ANYWHERE OR SEE ANYONE
There won't be any of our usual day trips out or meeting friends for play dates at each other's houses. Nope, stupid Covid 19 has put paid to that.
So if you're like me, you're slightly nervous of a half term in lockdown. With three boys aged 5, 3 and 3, and who like nothing more than to smack each other around the head with a toy.
How are we going to get through a half term in lockdown, I hear you ask? (Or is that just me asking myself, over and over again…)
We're only allowed to go out for exercise, and when we do we have to stay local. Although by the looks of my Facebook feed, my understanding of the term 'local' looks very different to a lot of others though. I thought it was supposed to be seven miles from your home. If you're in Plymouth like me, and are local to any of these places, have a read of Top 20 Plymouth Places To Go In Lockdown.
There will be walks, walks and more walks. If you and your kids aren't actually bloody walked out by now.
Then there is the hallowed ground that is the play park. Basically the only place I've been taking my kids for the last month. Less moaning than with a walk, I find.
And of course there is the garden. Ah, remember how much we all loved and used our gardens in the first lockdown? A half term in lockdown with all that fabulous weather wouldn't be half so bad, would it? Or the Pimms.
Slightly different scenario this time round
Unfortunately it's freezing/raining all the time at the moment, and our garden is an overgrown mess right now. The boys have been out there a few times but funnily enough aren't as interested as when they had a paddling pool and Slip n Slide on the go for weeks on end.
So it looks like our half term in lockdown is likely to feature rather a lot of time indoors. And rightly so, seeing as we are being told to stay at home.
If you've followed my blog for a while, you'll know I'm not exactly one of *those mums who has activity after activity up my sleeve for days at home. Not unless you count jigsaws, play doh, kinetic sand (at a push), junk modelling, Lego, and excessive amounts of screen time. Add popcorn and a duvet, and plonk yourself down next to them and this turns it into a movie afternoon – an absolutely bone fide half term in lockdown activity. Not lazy parenting at all. (Wine optional, but remember it's always wine o'clock somewhere in the world!)
I mean, seriously, my twins were doing circuits of the kitchen table on their balance bikes last week, and made a slide out of a mattress on the stairs. So they're not exactly the type of kids who like to sit down at the table and do craft. Which is just as well as I kind of hate it too.
But if you're looking for some great ideas of how to entertain the kids during this half term in lockdown, you're in the right place. I reckon this little lot from my fellow bloggers will serve you well – and stop you from losing your mind (or cracking open the wine at 2pm/see above).
Activities to keep kids entertained during a half term in lockdown
Science experiments
Beth from Twinderelmo suggests experimenting to find out whether you can make an egg bounce? Sounds impossible, surely? But looks like loads of fun. Find out how to do it here.
Rainbow sticks
Jenny from Peak District Kids suggests making rainbow sticks from sticks you collect on your walks. Then peel off the bark with a potato peeler and paint them. She also has some other great outdoor craft activity ideas for when you're out and about.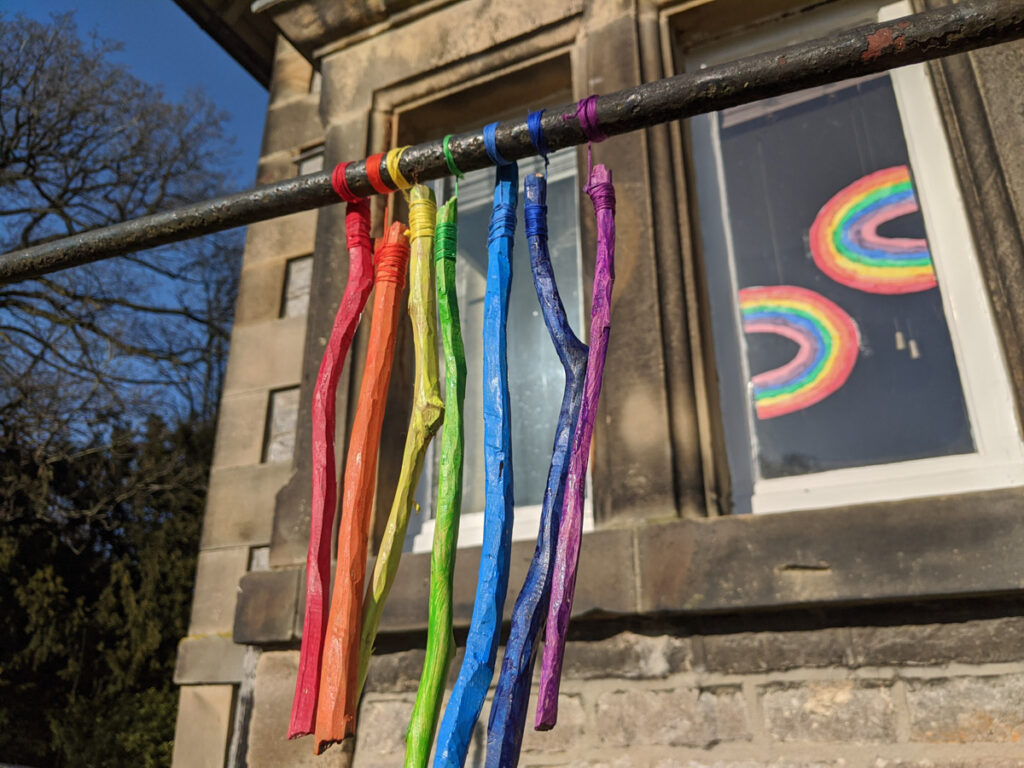 Pirate crafts and activities
Anna from Twins and Travels says the list of things to do is endless. From making parrots using handprints, to telescopes using toilet rolls and treasure chests from egg boxes. There are loads they'll love to do. Find out more here.
Activity Stations
Jess from Tantrums to Smiles says setting up activity stations is the way forward. She said: " Okay so this requires a little effort at the start of the day but after that it should keep the kids busy for ages! I just set up different areas for them to play and then they can move around them through the day as and when they get bored.
I have things like play doh (on a mat or tray), colouring pages I print out and pencils, some books on their beds for quiet reading, some garden toys and bubbles out in the garden on dry days, a craft activity with easy instructions from somewhere like twinkl, and biscuit decorating with some icing pens and different sweets. The kids love having different things to choose from and it means that whilst they need me a bit through the day I can still get some work done without having to set up new activities through the day.
Leaf Crafts
As Jemma from Thimble and Twig says, it's easy to find leaves whilst we're out and about. So why not bring some home to do some cool crafts with. You could make butterflies, dragons, or lanterns. Or just do some straightforward rubbing. Find out more here.
DIY Sewing Cards
How cool are these? A great idea from Jo of A Rose Tinted World to teach your kids to sew, and lots of us would already have the stuff we need. It's great for their fine motor skills too. Find out more here.
Treasure Hunts
Vikki of Best Lodges With Hot Tubs says a treasure hunt always goes down well. She said: " Kids of all ages love a treasure hunt. We make the 'treasure' first by painting rocks gold and silver, before I hide them along with cryptic clues (to suit the age group in question). It gets them outside, having fun and using their brains. A prize for the winner is always a good incentive too!
Signs of Spring Checklist
Have a look at this awesome checklist from Blossom Education for your little ones to use whilst out on a walk. It encourages children to spot things on the way and tick off things such as a daffodil, snow drop or butterfly when they see them. Download them here.
Make chocolate bubble wrap
Now this sounds like my kind of half term in lockdown activity, and even better that it's from my lovely friend Carly from Mom of Two Little Girls. All you basically do is pour melted chocolate over bubble wrap and let it set in the fridge, for an impressive treat. But read more detailed instructions here.
Indoor Camp Out
Jodie from Maidenhead Mum says she's planning an indoor camp out for her five and eight year old. She said: "They are going to build a huge den in the spare room and sleep there for the night. They seem very excited about this and are already planning what 'equipment' they need – torches and cuddly toys!
Junk Modelling
Victoria from Travel Vixta says junk modelling always goes down well with her kids. She said: "Junk modelling goes down a treat in my house and keeps the kids entertained for hours. I simply give them a box of safe and clean recycling, colourful paper/card and a roll of sticky kraft paper tape and they spend ages creating all sorts of imaginative things! There's something they love about being let loose with a roll of sticky tape. We use paper tape so it's more eco-friendly and they can rip it themselves so they don't even need any scissors.
Tuff Tray Activities
Gemma from The Work Life Blend recommends tuff tray activities, saying her kids have loved them. Whether you use shaving foam, spaghetti, jelly or paint, they'll enjoy making a mess. Have a read of 50 tuff tray ideas here.
Scrapbooking
Do your children love scrapbooking? Emma from Little Miss Eden Rose says it's a great way to document what goes on and to make sure the thousands of pictures we take don't just stay on our phones. Get prints of your photos, stick them in and decorate the pages with stickers or details about the photos. Here are some ideas.
Scavenger Hunts
Now I don't know about you, but a scavenger hunt is something I can get into. Mainly because it involves me staying in one place and sending my kids off to find things. Sarah-Marie from Tired But Crafty Mummy has a whole load of different ones on her site for us to use. Choose from science, indoor, Chinese New Year, or Fairy Tale. To name a few.
So there you have it, a whole range of activities to keep the kids busy during half term in lockdown. And failing that? There's always a movie afternoon.
Good luck!
How did I do?
Did you enjoy this post? You might need activities for pre-schoolers, keeping toddlers entertained at home, or 20 easy craft ideas for mums who hate craft. How to get your children to play outside more is worth a read too. If you want more funny real-life parenting head to my Mum Life section. Or for UK travel and day out inspiration click on my Travel Section.
If you like a bit of social media madness, pop over to my Facebook page where you'll be able to have a laugh at what ridiculousness goes on in my house with three very small boys on a daily basis. Warning – there is often sarcasm, and usually swearing. There are also great travel reviews and some AWESOME giveaways. Feel free to join my Twins, Tantrums and Cold Coffee – Shits and Giggles Parenting Group too, where everyone shares their hilarious stories.
And if you want to work with me, feel free to give me a shout here or at helen@twinstantrumsandcoldcoffee.com and I'll get back to you.