If you're a romantic type, you may already be thinking of how to celebrate Valentine's Day in lockdown. It's going to look quite different to other years, that's for sure.
AD – This is a collaborative post with Moonpig on how to celebrate Valentine's Day in lockdown.
Going out for a romantic meal, or to fancy bars is out of the question this year, but there are still plenty of ways you can celebrate Valentine's Day in lockdown.
Whether you keep it to just you and your partner once the kids have gone to bed, or make it a family affair, there are lots of ways to make it special.
How to make Valentine's Day in lockdown special
The Other Half and I don't go over the top, but we do always make sure we mark it in some way. He's pretty good and I usually get a bouquet of gorgeous flowers, and without a doubt a personalised Moonpig card. He loves a Moonpig card – I've got a huge stash of them in my memory box from all manner of occasions since we've met. 
Maybe I should up my game this year, seeing as it's been a pretty miserable 12 months. Moonpig has some fabulous gifts that are perfect for Valentine's Day. Not only do they have flowers, balloons, chocolates and prosecco, they also have some quirky presents your partner will love. My favourite so far is the cheese hamper! They also have games, experiences, and awesome collections of gins or beers. 
I'd definitely recommend having a look. I had no idea they sold so many different things. And delivered straight to your door is exactly what we all need to celebrate Valentine's Day in lockdown.
A luxurious bath could go down a treat
How about running your other half a lovely luxurious bath on Valentine's Day evening? Moonpig have everything you need to make it special.
Have you seen these fabulous scented bath slabs? They're like bath fizzers, but are in a big bar almost like a chocolate bar and the idea is you break chunks off to use rather than the whole thing in one go. They come in gorgeous scents such as salted caramel, banana popcorn and peony and pear. And you could buy a Yankee Candle from Moonpig to light next to the bath too. 
Or if baths aren't your partner's thing, how about a shower steamer from Moonpig? Along the same lines as the bath slab, but you break off a piece of shower steamer, and place it in the bottom of your shower ready for it to dissolve and release scents to 'uplift' or 'destress' you.
How about a date night with a difference at home?
If you're looking for something a bit different to do, why not organise a date night for your Valentine's Day in lockdown.
Moonpig are selling an At Home Date Night Gift Experience for £20. And the best thing about this is how it can be used physically together or virtually if you're apart this Valentine's Day in lockdown. The completely digital experience provides couples with a jam-packed evening of awesome couple fun filled with clues, activity instructions and challenges. It lasts between two and three hours and includes nine activities such as couples quizzes, musical challenges and riddles. I can't wait to try this out! 
A safe bet with me and no doubt many of us mums, especially at the moment, is alcohol. You can buy all sorts of boozy gifts on Moonpig, but this special Valentine's Edinburgh Gin is surely a winner? I may have to sample it whilst I'm in that luxurious bath.
And if you want to keep it traditional, how about this BEAUTIFUL bouquet of roses? I defy any woman to say they wouldn't love to have these arrive on their doorstep any time of the year, let alone for a Valentine's Day in lockdown.
More ideas on how to celebrate Valentine's Day in lockdown
If you're looking for some other ideas on things to do, here are a few more:
Wendy Mallins from Daisies and Pie says roasted vegetable tarts for Valentine's Day will go down a treat this year. She said: "Roasted vegetable tarts make a super easy, delicious vegetarian Valentine's Day dinner idea. Roasted Mediterranean vegetables with tangy feta cheese served in heart-shaped tarts – yum!"
Bethanie Wardell from Northumberland Family Diaries suggested setting up a Valentine's Day breakfast for all the family. With cards and buying the children the Guess How Much I Love You book, and Valentine's Day table decorations. She said: "This year the emphasis will be on sharing the love so we might bake Valentine's biscuits to give to grandparents, Daddy and each other." 
Charlotte Stein from Team Stein Blog is determined lockdown won't alter her family's plans. She said her children love a heart-shaped pizza and a few simple treats.
"My husband and I always dine in at home on Valentine's night, just the two of us. We feel it only fair and fun that we give the kids a fun-themed tea before we have our home date night without them! On the run up to Valentine's Day I like to pick up some Valentine's Day decor, then I keep what I have bought each year and re-use it. This year for our table decorating we have bunting, fairy lights, dishes and paper decorations."
Claire Bayliss from Big Family Big Fun says the way her and her children celebrate Valentine's Day won't be affected by lockdown. Their children all receive some sweet treats and a little toy, and they lay on a special Valentine's Day tea party for lunch, and heart-shaped pizzas for tea.
Lyndsey O'Halloran of Adventures Begin At Home is planning something special for her partner at home. She said: "As we're not able to go anywhere it would be nice to try to do something your partner enjoys at home. That might be making them a bubble bath, playing board games, or watching their favourite film."
Amanda Whittingham from Mummy2Twindividuals says she celebrates Valentine's Day as a family, so they are all involved. Among the things they do, her twin girls send cards to their grandparents, Amanda hides compliments written on hearts all over the house, and she creates a trail of hearts which lead to a Valentine's card. Amanda also gives her twins a special Valentine's breakfast of pink or red foods such as strawberry milk, strawberries and raspberries in porridge, French toast hearts, and watermelon hearts. She also gives them a small token gift, and likes to attempt a photo shoot with a Valentine's backdrop.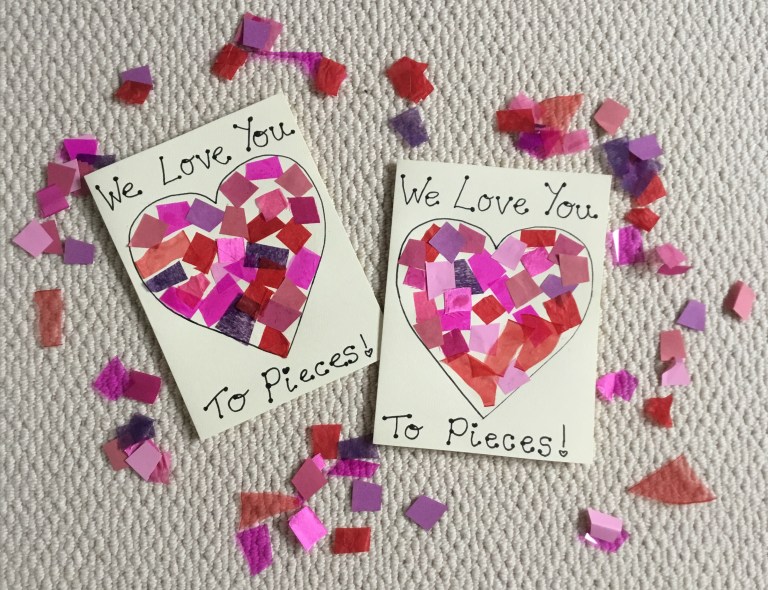 Jo Boyne from A Rose Tinted World suggests recreating a romantic candlelit restaurant in your dining area. She said: "Pretend that this restaurant has a real name. I'd go French, personally. Print out a menu from your fake restaurant with the planned meal courses. Include a wine list! Decorate the table with rose petals, candle light, and perhaps even consider using a wine bottle for your candles. Add some mood music and pretend you're on holiday for your perfect date!"
Victoria Sully of Lylia Rose suggests a virtual date. She said: "If you can't meet in person then have a virtual date! There are lots of fun ideas to make this exciting and not just the standard talking on video chat – although that's fine too! One idea is to order each other a surprise takeaway to arrive at the same time. Another fun idea is to draw a picture of each other over a video date. Buy canvases and nice paints or pastels and give it your best shot. For a surprise, don't show each other and post them to one another as a gift!"
How will you celebrate Valentine's Day in lockdown?
How did I do?
Did you enjoy this post? If so, why not read a few more whilst you're here. I think you'll enjoy this one, What Mums Really Want For Valentine's Day. Or what about How To Plan A Perfect Valentine's Day For Your Other Half. If you want more parenting chat, then head to Mum Life. And if you're after UK holiday inspiration, then check out my Travel Section.
If you like a bit of social media madness, pop over to my Facebook page where you'll be able to have a laugh at what ridiculousness goes on in my house with three very small boys on a daily basis. Warning – there is often sarcasm, and usually swearing. There are also great travel reviews and some AWESOME giveaways. Feel free to join my Twins, Tantrums and Cold Coffee – Shits and Giggles Parenting Group too, where everyone shares their hilarious stories.
And if you want to work with me, feel free to give me a shout here or at helen@twinstantrumsandcoldcoffee.com and I'll get back to you.