Fellow mum blogger Caroline Freathy is a self-confessed 'birth geek' and big hypnobirthing fan.
Alongside looking after her three children and running two blogs, she has set up a hypnobirthing business to help other women.
In this guest post she explains, in her hilarious way, what it's all about, and how despite initially thinking it was 'hippy at best' and 'utter tosh at worst', it really isn't…
So, you've been trying for a baby, the time of the month rolls round, you pee on a stick and two lines appear!
You're pregnant!
It's so exciting, so amazing! You can't believe that this is actually happening. You might cry or simply jump around on the spot waving a pee-covered stick in your partner's face (like I did!)
A warm glow descends and you start to think of all the things you need to get sorted in less than a year! Then suddenly a thought cuts through this all…
"This baby will have to come out!…
Of ME!…
HOW?"

Time to Google
This, if you are anything like me is when the incessant googling starts. And the purchasing of your body weight in pregnancy books, magazines and chocolate happens. To power you through the epic reading session you have planned ahead of you!)
You sit down, snuggle up, ready to absorb the wisdom of the wonderful world of pregnancy to learn? Well…
You learn that birthing a baby is like pooing out a watermelon! (Eek!)
You read that essentially it would be better if you didn't eat any cheese other than cheddar for nearly a year (after trying to manically Google – again! – in the Tesco aisle whether camembert is pasteurised – Google doesn't bloody know!)
… And you'd better not eat any eggs. Well unless you have cooked them for at least half an hour leaving them so rock solid that there's no chance of a runny yolk!)
… Oh, and stay away from seafood, I mean some is ok and some isn't. But unless you want to carry that 500-page 'Pregnancy Bible' with you everywhere it would be safer to just assume that fish for the next 9 months or so should come in the form of fish fingers!

A whole new world
When you have slammed the book shut, terrified and having consumed most of the chocolate you bought, because at least, thank God that is a safe food. And you promise your little bump that you will eat acres of fruit and veg later to balance it out! You decide to pick up the nice, fluffy magazine for expectant parents and you discover a whole new world…
What pushchair are we going to buy?

Do we need a new car?
Do we need to move house?
Disposable or cloth nappies?
What car seat should we buy?
Which play mat should we purchase?
Do nappies really need their own bin?
Are we going to have to re-mortgage the new imagined house to pay for all this stuff?
Then onto a whole host of lifestyle choices that have coined the term 'mum guilt' for all expectant parents to shoulder before they sprog!
Breastfeeding, bottle-feeding or combi feeding?

To co-sleep or not to co-sleep?
Is using a dummy sinful or a wave of genius?
The list is relentless and could go on and on for at least another three pages. Don't worry I will spare you the rest of the million and one questions that assault you once you find out you are pregnant!)
In short, you learn from many books what size your baby is week by week. You learn what you should and shouldn't be eating. And you learn what buggy is the new must-have fashion accessory (surely still the Bugaboo right?!)
So many questions
But, and this is a big but…
What do you learn about how your body works during pregnancy and labour?
Where do you learn how to release the fear you have of birth? Asking the questions you wanted answered and to help your body to be calmer during labour? Allowing you to birth without your mind shouting, "No, this is impossible, I don't want to poo a watermelon!"
What about learning about the many birth pathways that could unfold in front of you? And the benefits and risks of each? And knowing how you feel about each pathway? In fact, where to even find this information?
What about how to go into a meeting with a member of your medical team and be a part of a two-way conversation about your birthing options? Rather than feeling like you have no idea quite what is going on, although they seem to be discussing your body.
This isn't to have a go, but this was me before my first birth. I knew which buggy we were getting, which baby carrier. I had been to some free antenatal courses. Other than practising breastfeeding with a Cabbage Patch doll and a knitted boob (realistic!), said that I wasn't to worry about birth too much. They said that feeding would come naturally (umm, it didn't and the C-Section they told us probably wouldn't happen, happened too! I'm not complaining, but a proper heads up on how to deal with these events would've been very well received!)
"That sounds great" you say, "Where can I learn about all that then? Tool me up!"

What about Hypnobirthing?
And this is where I'll mention the word 'hypnobirthing'!
Are you still there?…
Are you thinking, "Oh bugger it, she sounded nice and now she's mention the 'hypno' word!"
(Virtual tumbleweed!) But stick with me, hear me out!
Hypnobirthing?
It's a strange word isn't it?
To be honest, when I first heard it I thought 'Oh here we go!" This was obviously the new next fad. The word sounded strange and I thought it was no doubt hippy at best and utter tosh at worst!
But surprisingly it really isn't. In fact, the biggest barrier to the whole concept is the word 'hypnobirthing'!
But what IS Hypnobirthing?
So, to put the record straight. Hypnobirthing courses are where you learn all about the physiology of your body during labour. About how you want to get the oxytocin (the love hormone) flowing instead of the "Oh Shit, there's a polar bear in my garden!" adrenaline fuelled 'Freeze-Fight-Flight' response, that really isn't wanted when in labour.
It is where you will discuss how and where to find the information you need to make cheap levitra vardenafil price informed and empowered decisions about your very specific pregnancy and birth. Because you know the thing about pregnancy and birth is, it's different for everyone (sometimes different for the same mum with each birth, In fact, I am one of those people!)
"Yeah OK!" You say, "But what about the relaxation side of hypnobirthing?"
Rest assured, you are not going to be put into a deep sleep with just a click of my fingers (although wouldn't that be something!?) and no, you're not going to be made to cluck like a chicken when the word 'baby' is uttered!
Hypnobirthing is not ACTUAL hypnosis
This is not stage hypnosis-like magic as used by the likes of Derren Brown or Paul McKenna!
Instead, hypnobirthing is simply a relaxation tool grounded in the scientific research-based, positive and powerful use of hypnotherapy scripts, which allow you to relax your body and mind whilst you listen to them.
They have particular 'trigger' or 'anchor' words which enable you to relax further the more you practice them and like with anything – just like riding a bike – the more you practice, the better you get at it.
This means that using the variety of relaxation techniques, you can teach your body how to keep in a more calm, more relaxed state when going into and during labour.
Hypnobirthing is pretty cool
There you go, so instead of hypnobirthing being all a bit 'woo-woo', it is actually a pretty cool practical toolkit involving learning about your rights (which you have), how to source the risks and benefits for each decision you will need to make as an expectant parent about your birth, as well as employing you with a whole host of relaxation techniques – all of which can be tailored to support any birth experience whether it be a C-Section, vaginal or assisted; in a hospital, midwife-led unit or at home.
Boom! Impressive don't you think? But then I am a self-confessed birth geek! Anyway, I will leave you now. The sofa, the pregnancy books and the chocolate is calling – and I'm not even pregnant (see told you I was a birth geek!)
The business bit!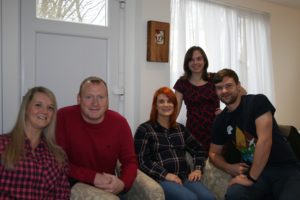 If you are interested in the theory of hypnobirthing then I run 'KGH Bump, Birthing & Beyond', a business that offers expectant parents the chance to enrol on 'The Complete Antenatal Course: Birthing in the Know'.
My course will enable you to remain calm and connected during your pregnancy and birth, equipping you with these particular skills:
Teaching you how to use relaxation scripts and a range of relaxations, finding what works for you and equipping you with relaxation techniques during labour

Explaining the physiological side of birth and how our body works during labour
Explaining what encourages labour and what inhibits labour
Exploring all the options and avenues open to you as a pregnant woman and give you the risks and benefits of each intervention as well as the risks and benefits of deciding to do nothing, allowing you to make informed decisions
Equipping you with the skills and questions to turn meetings with members of your medical team into two-way conversations, showing that they are not the only experts in the room, as you are the expert in how your body feels and responds whilst pregnant
Ensuring that you and your birthing partner are active members in your pregnancy and birth, not just bystanders
Understanding the power of having a birth preference, along with being able to adapt your birth plan when informed with new information during your labour
Signposting you to further information regarding specific birth topics or issues personal to your pregnancy and birthing journey
About Caroline…
Hi, my name is Caroline. I am a mother of three (two boys and a girl, just in case you wanted to know!) and am a self-confessed birth geek!
I love TV. Although I now mainly watch CBeebies or Boomerang. In fact I think I have seen every Bing and Scooby Doo show ever made (and there are a hell of a lot of versions of Scooby Doo, so I see this as a major achievement!) One day I dream of regaining control of the remote again!
I adore reading (again, an obsession which before kids was a '52 book a year' challenge of all the new releases. Now I'm lucky to reach 5 books a year despite being part of a book group! Of course, this isn't counting 'Ten Little Dinosaurs' or 'Each Peach, Pear, Plum'. Those I read at least 6,597 times a week!)
I am also a big fan of National Trust houses (and love to pretend that I am the sole owner of whichever house we are visiting, walking around in a big swishy skirt – yep, basically the usual Elizabeth Bennett fantasy!)
Before having my children I was a primary school teacher.
How the birth obsession began
In 2010 I became a stay-at-home mum when my first son was born and the birth obsession began! Since then I have had two more children, but the birth obsession didn't wane, so I decided to gain a KGH Hypnobirthing teaching diploma to help spread the love, whilst reducing the fear surrounding birth. After gaining my qualification I set up my business 'KGH Bump, Birthing & Beyond'.
I run a birthing blog (My Birth Matters Blog) and a parenting blog (Earning My Mum Badge). At this point you are thinking, "How does she do it all?" . In fact I have a rather hap-hazard approach to my blogs where I think about them often. But actually getting anything done for them between the kids and the hypnobirthing business happens less regularly than I like! I love my blogging babies though and promise one day to shower them with attention!
Oh and I'm married to a very lovely man. Even if he is mildly bewildered by my birth obsession and is confused by Instagram. He's more of a Twitter guy!
How did I do?
Did you enjoy Caroline's post? You might like some of my birth blogposts too. I wrote a post for Caroline's My Birth Matters Blog about how having twins was actually easier than a single baby. You might also like my take on the whole birthing experience here with Epidurals are the best thing ever.
If you like a bit of social media madness, pop over to my Facebook page where you'll be able to have a laugh at what ridiculousness goes on in my house with three very small boys on a daily basis. Warning – there is often sarcasm, and usually swearing. There are also great travel reviews and some AWESOME giveaways. Feel free to join my Twins, Tantrums and Cold Coffee – Shits and Giggles Parenting Group too, where everyone shares their hilarious stories.
And if you want to work with me, feel free to give me a shout here or at helen@twinstantrumsandcoldcoffee.com and I'll get back to you.