The school holidays are fast approaching and working parents everywhere are wondering what the heck they're going to do with their kids. Well High 5 Summer Camps in Plymouth are the answer.
This is a collaborative post with High 5
I don't know if you're like me, but working from home during the school holidays is practically impossible. With three boys running around wrecking the house and demanding snacks every five minutes, I don't get anything done. Plus it's REALLY boring for them. Entertaining themselves basically translates into their language of let's beat each other up. All day long.
So High 5 Summer Camp is going to save my sanity yet again, and I can't wait!
High 5 summer camps are the perfect holiday childcare solution
If you're in Plymouth and looking for somewhere to send your kids during the LONG summer holidays then look no further.
High 5 is running action-packed sessions every weekday from July 26 to September 2 for 5 to 15 year olds at locations in and around the city. These include Elburton Primary School, Mount Kelly, Plymouth College, Widey Court Primary School and up the road at Stover School.
And they are guaranteed to have the BEST time. My seven year old went last summer and loved it. Ever since he saw the poster outside his school for this year's camp he's been asking if he can go.
The difference this time around is that I can pack all three boys off at the same time – as the twins are now old enough too. If you could see my face right now you would know just how happy I am about this prospect!
Kids will love the Around the World in 30 Days theme
The theme of this year's High 5 summer camp is Around the World in 30 Days. And it's set to capture the imaginations of all the kids that go, as they 'travel' around the world on an unforgettable experience.
Over the six weeks High 5 runs, children will visit a different continent, with a programme packed full of action and activities relating to that part of the world.
Here's what is planned in each continent:
Europe
The week children travel to Europe they'll be taking part in Human Italian Table Football, Robin Hood Archery and even encouraged to sing to win the Eurovision Karaoke. They can challenge their accuracy on Dutch Mini Kick Darts, tackle the Icelandic Slip 'n' Slide and practice their ball skills in High 5's very own Wimbledon Mini Tennis Tournament.
Africa
They'll have the best time in Africa getting wet in the Jungle Celebrity Cyclone Challenge, playing Superhero Safari Nerf, get their brains in gear for some Jungle Jams Team Problem Solving, enjoy a Safari Reptile Zoo Visit and the Jungle Bouncy Castle will be set up on site for the kids to enjoy all week.
Asia
There are some seriously unique and fun experiences promised when the children go to Asia week. Activities will include Japanese Archery, Sumo tournaments in brilliant superhero Sumo Suits, the chance to try Pokemon Power Zorbs in the High 5 epic Battle Arena, and a day of Circus fun with the popular Disco Dome and High 5 Kabaddi.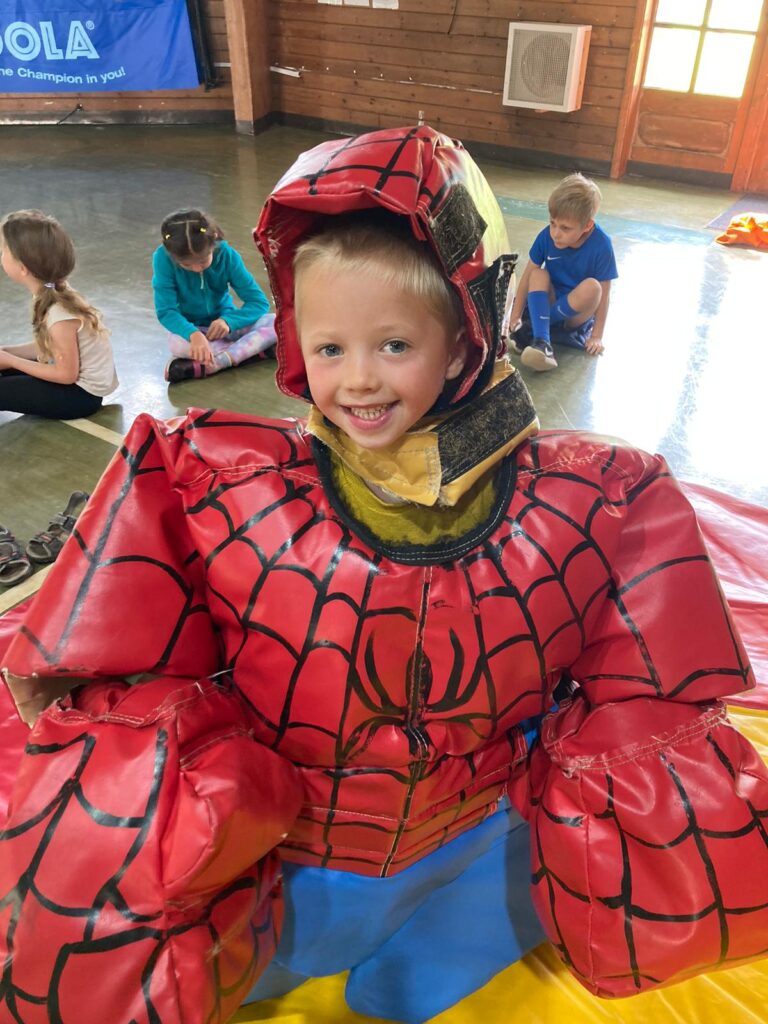 North America
Things just get better and better when they head to North America. There's a Disney Disco in the Disco Dome, a Jedi Training academy complete with Nerf Wars, the High 5 Ryder Cup mini golf tournament, circus skills, Splat a Coach, All Stars Dodgeball Tournament and a traditional US Sports Day. And we can't forget the popcorn and ice pops!
South America
The kids won't believe their eyes in South America week with Brazilian Zorb Football on a super cool Inflatable Pitch, a High 5 Grand Prix, Aztec Team Problem Solving challenges, a Chilean Handball tournament, Mexican themed day as well as a the chance to try out Frescobol which is beach tennis. Sounds awesome to me!
And if the kids have any energy left by the end of the holidays, the last week will be a High 5 Summer Spectacular where they get to celebrate the best of everything the summer camps have to offer.
Throughout the six weeks there will also be an incredible range of inflatables for the kids to use (possibly my seven year old's favourite bit last year!), as well as coaching sports, and arts and crafts, when they feel a bit worn out!
Who can go to High 5 Summer Camps?
Children aged 5 to 15 can attend High Summer Camps and are split into various age groups.
The 'Rookies' are the 5 to 7 year olds and are given loads of support if they're nervous about being away from parents. High 5 Rookies staff are specialists in Key Stage 1 childcare with play work or qualified teacher status. The kids are helped to develop their body awareness and core skills to help them become proficient in physical activity and play.
The 'Semi-Pros' are the 8 to 10 year olds and classed as fully fledged High 5 campers. All campers who are 8 and over can access pretty much all of High 5's additional activities including those that run off-site. But if non-stop high-octane sports is not your child's thing they can also enjoy the creative arts and crafts sessions. Whilst Semi-Pros are a little more independent, High 5 staff know they can still get nervous so operate a 'buddy system' where they can team some of the newer kids up with more experienced campers to help them out. So us parents needn't worry!
The 'Pros' are the 11-14 year olds, already at secondary school, and are quite independent. So at High 5 they are given much more freedom to pursue the activities that interest them most at the same time as being encouraged to step outside their comfort zone. They get access to their own common room, separate from the younger ones where there's a Bottle Flipping Tower Challenge, table tennis table, and sound system for music.
Those youngsters aged 14-15 are given special duties at High 5 summer camps. They are given the opportunity to be Sport Monitors and gain experience and responsibility assisting staff with activities. They get to have loads of fun with their favourite activities whilst learning valuable mentoring skills. Perfect for those interested in becoming sports leaders, coaches or teachers in the future.
Sounds absolutely amazing, doesn't it?
One parent said in their review: "My children have just had an amazing week! Thank you so much! They are exhausted after 4 days of activities. They couldn't wait to get going in the mornings- there's no way I was going to make them late – " Hurry up mum!". As a working mum, it makes me feel so much less guilt knowing they are having such fun. Thank you High Five team."
High 5 also offers specialist football summer camps
And if your kids are specifically more into football, High 5 are offering something perfect for them this summer too. Their First Touch Football camps will take place at Eggbuckland Community College and Pomphlett Primary School which will be five weeks of epic football activities.
They include daily masterclasses working on dribbling, shooting, and accuracy plus mini matches and games to help fast-track players' skills and boost their confidence and knowledge. Ideal for your very own football fanatics.
So with all this planned by High 5, I'm not sure what you're waiting for?
It's a chance for children to challenge themselves, build self confidence, develop new skills, face their fears and learn to believe in themselves more. All at the same time as having SO MUCH fun and making new friends.
And all whilst us parents get to actually work in peace, without being asked for 439 snacks an hour, knowing that the kids are having the time of their lives!
You can book the High 5 holiday camps here.
How did I do?
Did you enjoy this post? Make sure to read Things To Do In Plymouth With Kids or if you need some rainy day ideas, head to The 20 Best Things To Do Indoors In Plymouth With Kids You may also like some of my other Local Stuff or the days out reviews in my Travel Section. And if you want to read some of my usual tongue-in-cheek parenting rants, head to my Mum Life section for a giggle.
If you like a bit of social media madness, pop over to my Facebook page where you'll be able to have a laugh at what ridiculousness goes on in my house with three very small boys on a daily basis. Warning – there is often sarcasm, and usually swearing. There are also great travel reviews and some AWESOME giveaways. Feel free to join my Twins, Tantrums and Cold Coffee – Shits and Giggles Parenting Group too, where everyone shares their hilarious stories.
If you like what you see, how about you check me out on Pinterest, Instagram and Twitter too.
And if you want to work with me, feel free to give me a shout here or at helen@twinstantrumsandcoldcoffee.com and I'll get back to you.