It's supposed to be the sanctuary of our home, but what if it's a tad on the tiny-side? Here are 9 tips on how to make the most of space in a small bedroom.
This is a collaborative post
If you have a small bedroom, and have a lot of 'stuff' to fit in, you need to get imaginative. The last thing you want is to have clothes and other items strewn all over the place plus bulky furniture and a lack of smart storage solutions making it feel even smaller.
Tips on how to make the most of space in your bedroom
1. Have wardrobes with sliding doors
If you're short on space in your bedroom, one of the best things to do is have sliding door wardrobes. They not only offer a contemporary option and modern look, but really do make the most of your space and make the room look bigger. You can open the wardrobe and not need to have the space to swing open a hinged door which can get in the way. This can limit where you put other furniture, but if you have sliding doors, you can put things like bedroom cabinets or your bed much closer to the wardrobes. They are ideal for smaller rooms or box rooms and are the best way to create a lot of space.
2. Have a bed with storage
There are loads of different ways to use your bed for storage. We have a divan with drawers underneath which are ideal for keeping towels and bedding – particularly as we don't have an airing cupboard in our house. Other storage beds you get ottoman beds which lift up and enable you to store things under the mattress. If you have a more simple bed frame with no built in bed storage, buy boxes that slide underneath the bed to make the most of the space there.
You could always use risers to raise the height of the bed so you can get taller boxes underneath and make the most of every square inch for extra storage. Just make sure you store things you don't need that regularly under there like holiday clothes, as you're bound to forget they're there! And if you have a super tiny bedroom, why not consider a wall bed or even a sofa bed in your living room.
3. Let in as much light as possible
Okay, so it's not like you're about to bash a hole in the wall to make the window bigger, but if you can let in as much natural light as possible, your bedroom will feel bigger. Don't cover up your window with heavy blinds, and use ties and hooks to pull back the curtains as much as possible during the day. Even with them overhanging just slightly when they're drawn back, you can lose up to a third of the light coming in from the window. 
Also use lamps and different lights in different parts of the room, rather than just relying on one main light fixture in the middle of the ceiling. This ends up casting shadows in the corners and will make those areas feel dark and less spacious. If you have lamps on bedside tables or a desk, the rest of the room will feel bigger and there will be an illusion of space.
4. Use mirrors to make your bedroom feel bigger
It's an obvious thing really, but using mirrors in your bedroom will definitely make it feel bigger and brighter. Whether you opt for a standing mirror in the corner of the room, a mirror on the wall above your bed, mirrored door wardrobes or a mirror attached to the back of the bedroom door, they will work wonders. A mirror's reflection can give the impression of a room being wider and taller, and will also reflect the light giving the illusion of more space. We have sliding mirrored door wardrobes so have the best of both worlds, and it really does make a difference. Without the floor to ceiling mirror on our fitted wardrobe, the room would feel so much smaller.
5. Use multi-purpose furniture to save space
You might not have a lot of room in your bedroom for many pieces of furniture but if you have a little empty space, make sure you use it wisely. Having multi-purpose furniture can really help save space and make your bedroom feel bigger. For example, if you need your bedroom to also be a home office and need a desk to work at, make sure it can also double up as a dressing table for you to get ready at.
Or can you build a desk into compact spaces such as an awkward alcove that a standard piece of furniture wouldn't fit into? It could end up being the perfect place for it. You could also swap bedside tables for a chest of drawers to house more stuff, or even a nest of tables if you need more surfaces for items such as table lamps but that can also be put away.
6. Use pretty storage boxes on top of the wardrobes
If there is space on the top of your wardrobes, buy some attractive-looking storage boxes that could sit on top of them. There are some great options around to buy, and it gives you yet another storage option without taking up any more valuable floor space.
7. Decorate it with light, bright colours
It may sound obvious but a great way to make the most of space in a small bedroom layout is to decorate it as light and bright as you can. Okay, dark walls may make it feel cosy and sumptuous, but it will also make it feel much smaller than it actually is. If you paint the walls white or light colours, you are immediately opening it up and creating a sense of extra space. They will reflect light and make the walls seem farther apart. Best colours would be white, beiges, yellows, soft pinks and light blues.
8. Have floor to ceiling curtains
You might not have a huge window in your bedroom, but you can make the room feel more spacious by using floor to ceiling curtains. Without you even realising it, they elongate the space, vertically stretch your room and make your ceilings seem higher. Just make sure you have tie-backs to hold them fully open to let in as much light as possible during the day.
9. Keep your bedroom tidy
It might seem obvious, and for some people it's easier said than done. But keep your room tidy to make it feel bigger. If you've got clothes lying on the back of a chair, shoes all over the floor and other items not packed away, it'll make it feel messy and a lot smaller. If everything is put away where it belongs, it's an easy way to make your room feel bigger.
There are some really smart ways to make a small room feel bigger, especially if you can use practical storage solutions. You can make a small bedroom feel much more spacious. Do you have any other tips on how to make the most of space in your bedroom? I'd love to hear them.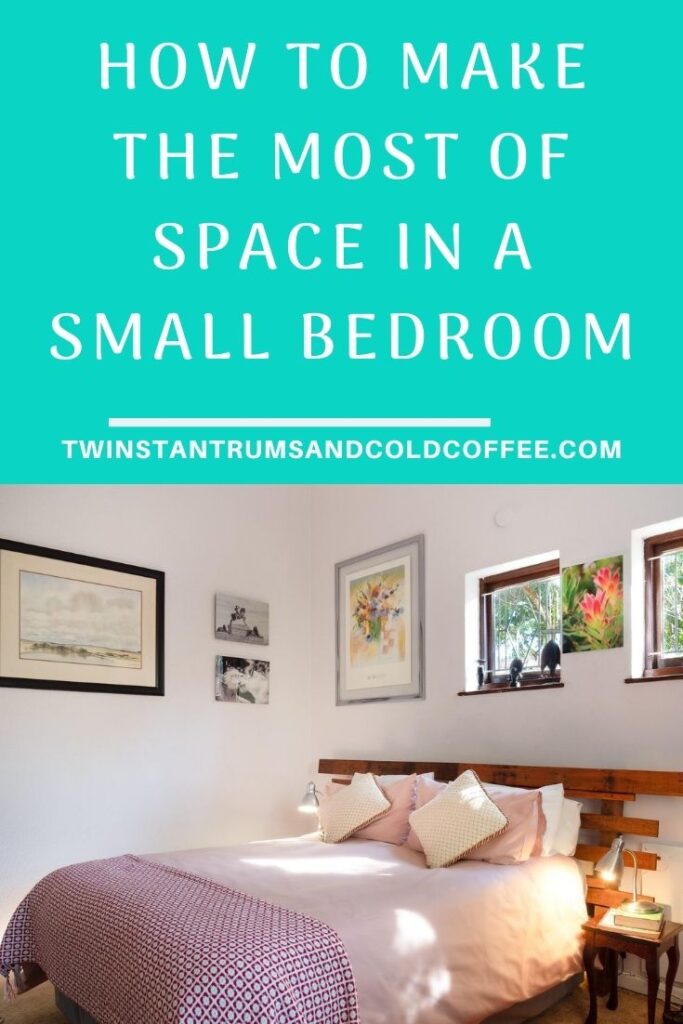 How did I do?
Did you enjoy this post? Why not have a look at some others whilst you're here. If you want to read some more of my usual kind of stuff, head over to my Mum Life section. You'll find all things parenting with a tongue-in-cheek twist. Or you'll discover lots of UK holiday inspiration and family days out in my Travel Section.
If you like a bit of social media madness, pop over to my Facebook page where you'll be able to have a laugh at what ridiculousness goes on in my house with three very small boys on a daily basis. Warning – there is often sarcasm, and usually swearing. There are also great travel reviews and some AWESOME giveaways. Feel free to join my Twins, Tantrums and Cold Coffee – Shits and Giggles Parenting Group too, where everyone shares their hilarious stories.
If you like what you see, how about you check me out on Pinterest, Instagram and Twitter too.
And if you want to work with me, feel free to give me a shout here or at helen@twinstantrumsandcoldcoffee.com and I'll get back to you.