If you're anything like me, getting your kids to play outside is a must. It's like they're little puppies that need wearing out.
This is a collaborative post and I have been compensated for my time.
We're lucky that we have a decent sized garden at home, so my boys can go out there and burn off some energy whenever they like. But it's amazing how quickly they can get bored – despite having ALL the stuff in it to entertain them.
My view is that if they've got enough variety to play with or on, then they'll be able to spend longer in the garden, they'll tire themselves out so may actually go to sleep at bedtime, and they'll be less likely to trash my house instead.
Since Covid and lockdowns my garden has been my saviour. Especially in the first one where we were stuck at home but also enjoyed some fabulous weather. As soon as the dreaded homeschooling was done, we were outside. As much as we hated not being able to go anywhere, our garden was a change of scenery and meant we could get fresh air and exercise without breaking any rules and staying safe.
So I've come up with a few ideas of how to make your garden fun for children and some outdoor play ideas. Obviously I know not everyone has room for loads of big items, so there are also simple, smaller things too. And I'm guessing if you don't have a garden at all, you'll probably not be reading this post!
How to make your garden fun for kids
1. A trampoline
I know not everyone has the space to have a trampoline but honestly if you do, then get one. And get the biggest one you can possibly fit if you have more than one child. All three of my boys love it and usually go on it at the same time, so I'm glad ours is fairly sizable. It's great for them getting exercise as well as expelling all their excess energy
2. Swings
The other favourite in our garden is a wooden swing. The boys love it and by buying a baby seat to start with, it's really grown with them. It's also been a great way for them to learn how to swing themselves. Fatmoose do AMAZING sets – not only single or double swing sets, but frames that also have slides or climbing nets attached to them too. Again if you have more than one child, and the room, get a double one to save fights. Although if you have three children like me, you can't always prevent them! Who needs to go to the park when you have such awesome play equipment in the garden?
3. Water or sandpit
If your children love to get messy, then what better way for them to do it than in the garden – and not your house! Most children love playing with water and sand, so invest in a good sandpit and let them loose! Sensory outdoor play in early childhood is so important.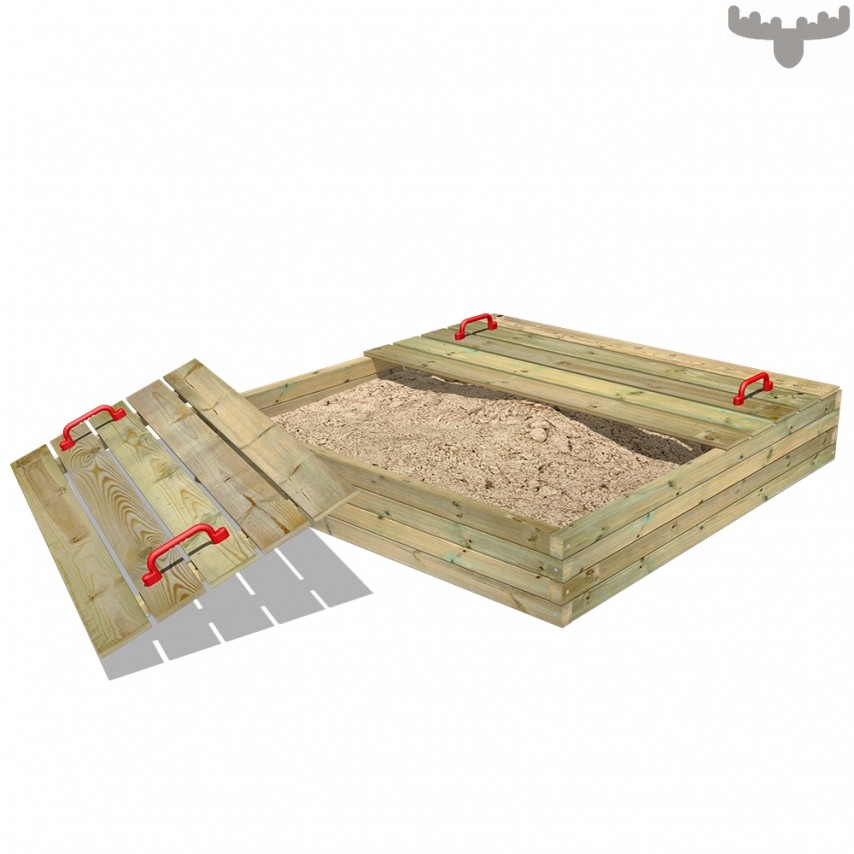 4. Paddling pool or slip 'n' slide
On the subject of water, when the weather is warm enough, an easy afternoon's entertainment is to put up a paddling pool in your garden. Or if you have room and your children are old enough, what about a slip 'n' slide? We bought one last summer and it's hilarious! The twins were a little bit too young and kept crying when they fell over, but my five year old was LOVING it!
5. Garden toys
If you've got a smaller garden and don't have room for the big stuff, then don't be disheartened. There are so many great outdoor games and toys available for children to have fun in the garden. As well as the usual balls, spacehoppers, and water pistols, my boys also love making dens out of little pop-up tents and tunnels, playing quoits or skittles, and taking shots at their goal net. I have to admit I can't see them becoming the greatest footballer England has ever seen though! And if you want something quick and easy, whip out the bubbles. I've not met a child yet who doesn't love bubbles! (Even though they do usually spill all the liquid within minutes.)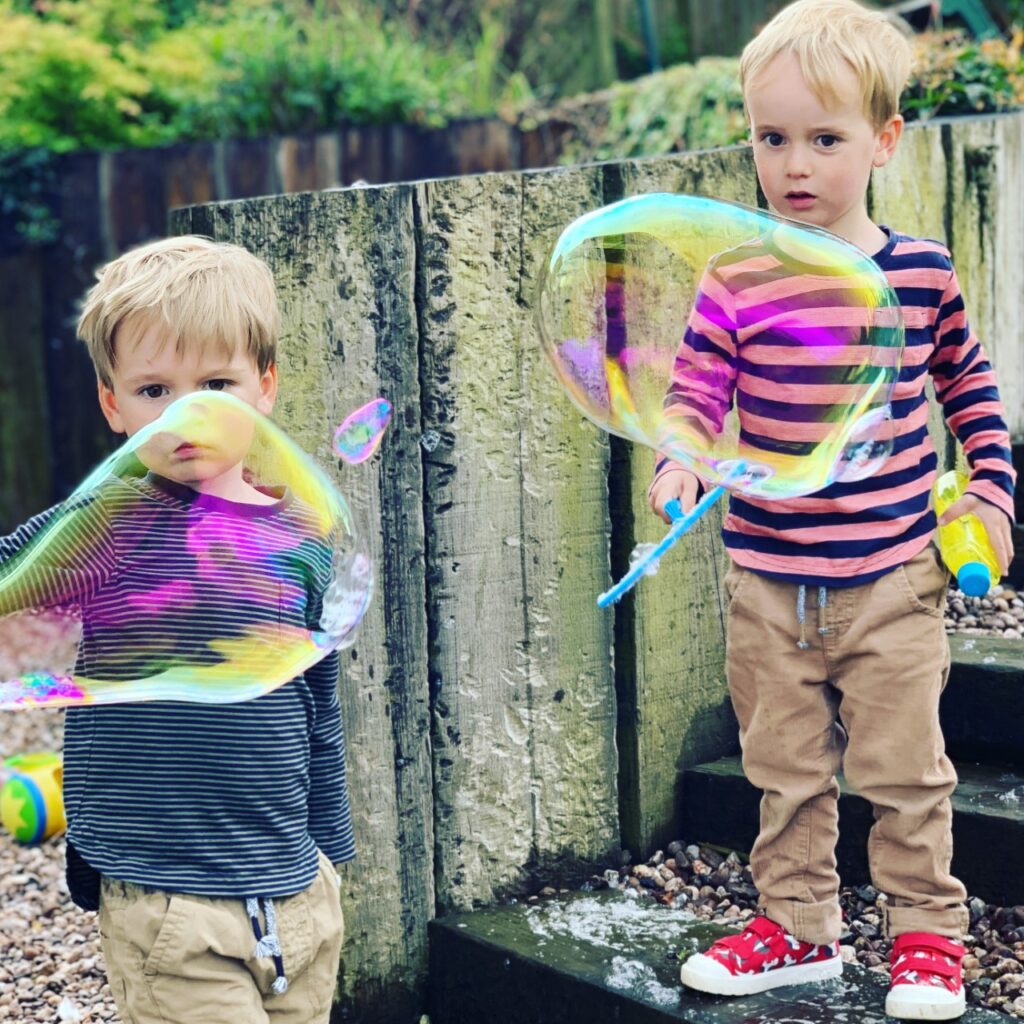 6. Climbing trees
Okay so this one obviously depends on what you have in your garden, but we have one tree that the boys love to climb. And as much as it's just pure coincidence that it's there, I'm super happy about it as it's just yet another thing to keep them entertained when they all decide to fight and want to do the same thing.
7. Coming up with their own fun
Generally when my boys are in the garden they head for the swings or the trampoline, but if we're out there for a bit longer, they soon come up with some outdoor games to play of their own. Whether this is setting up an obstacle course with some of the garden play equipment they have and getting me to time them, or doing egg and spoon races with plastic food from their toy kitchen, they'll come up with something. When we got our new garden furniture delivered the twins spent hours playing in the giant cardboard box on the lawn! I've also done scavenger hunts for them I've found online, and one of their absolute favourites (obviously) is the annual Easter Egg Hunt.
8. Getting your children to help with gardening
I'm not a big gardener, but I've been dabbling with a few bits this year. When I say a few bits, I mean a ready-made hanging basket for my front door, and growing some sunflowers from seed. I clearly don't have green-fingers as the first batch didn't do a single thing, and only 10 out of about 40 seeds have shown any sign of life in the second batch. I'll let you know if we ever see an actual flower! But I got the boys involved in the planting (or should I say, Spiderman!), and they loved it. It's a great way to teach them and they've loved watching the plants emerge and grow.
9. Feeding the birds
Thanks to their awesome grandparents, my boys are proper little bird-spotters and know lots of the names of the birds that come into our garden. We had a bird table (albeit a bit old and rusty) in our garden when we moved in, so the boys regularly leave food out for them. And their Grandad put up a bird box on the side of our summer house that the boys watch. It's such an easy, kid-friendly garden play idea.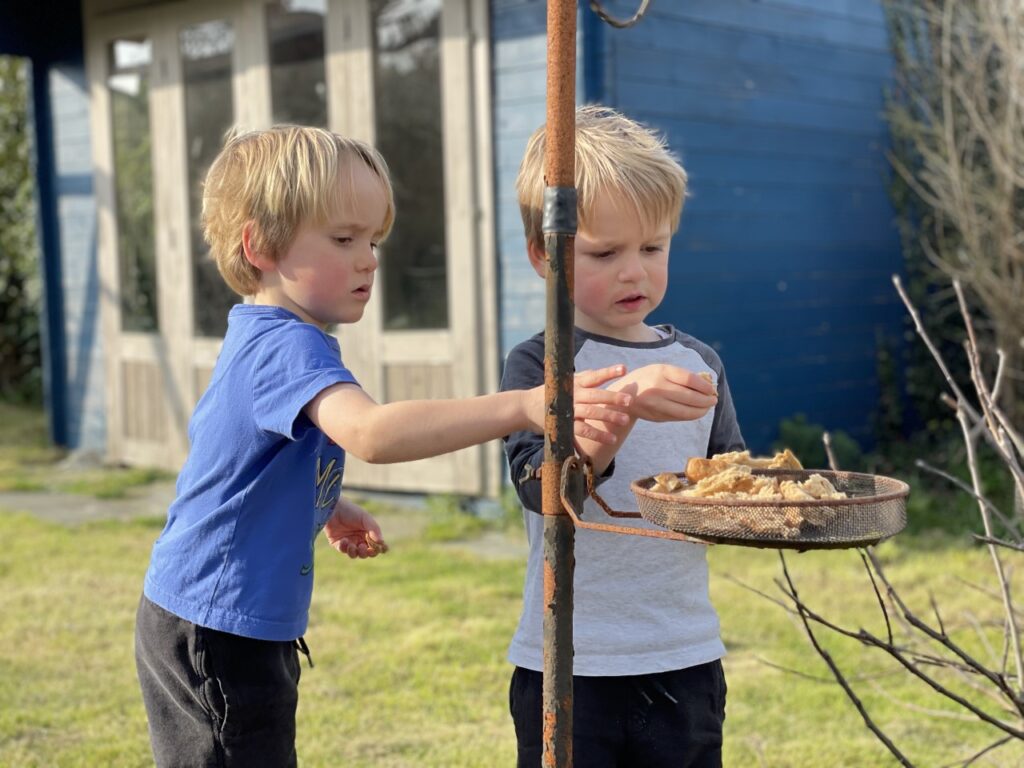 10. Relaxing in the garden
Whilst this might be us parents' number one priority for our gardens, children may well have other ideas. But if you set them up with their own little picnic blanket or chairs, they would love eating alfresco and chilling out from time to time. Anything other than having to sit at a boring dinner table inside. I've found they sometimes even eat more if they're doing this too. Or maybe they just want a rest from all the garden fun they're having. Or what about getting a hammock? They'd have fun figuring out ow to get in and out of it, then can relax once they've mastered it!
There are countless other ways to get your children playing outside and how you can make your garden fun for kids. But these are tried and tested by me. I'd love to hear yours too. How do you do it?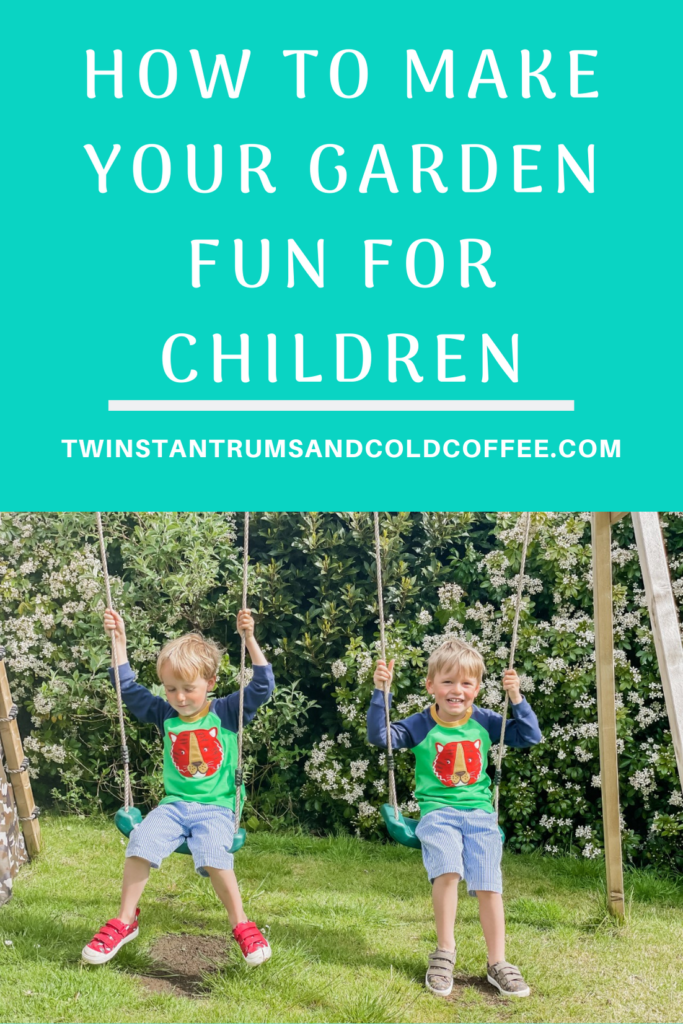 How did I do?
Did you enjoy this post on making your garden fun? Why not read Tips On How To Get Your Child To Play Outside More. Or Outdoor Learning Activities To Try With Your Children. If you want to read some more of my usual kind of parenting stuff, head over to my Mum Life section. You'll find all things parenting with a tongue-in-cheek twist. And if you want some family holiday inspiration or days out, head to my Travel Section.
If you like a bit of social media madness, pop over to my Facebook page where you'll be able to have a laugh at what ridiculousness goes on in my house with three very small boys on a daily basis. Warning – there is often sarcasm, and usually swearing. There are also great travel reviews and some AWESOME giveaways. Feel free to join my Twins, Tantrums and Cold Coffee – Shits and Giggles Parenting Group too, where everyone shares their hilarious stories.
And if you want to work with me, feel free to give me a shout here or at helen@twinstantrumsandcoldcoffee.com and I'll get back to you.