Are you already thinking ahead to the next school holiday and wondering how you're going to entertain your kids? We've all been there, but having a series of fun activities lined up will keep them occupied and prevent them from bouncing off the walls until they're back at school.
This is a collaborative post
If you're looking for new things to keep your little ones entertained, it might be time to think outside the box! Here are some new ideas to keep boredom at bay during the school break.
Get closer to local wildlife to entertain your kids
School holidays (especially from spring onwards) are the perfect time to explore the great outdoors with your little ones — and you don't even have to venture that far to get a little 'wild' and entertain your kids.
There are plenty of critters to spot in your own garden, although some of them might need a little coaxing; bird feeders are great for encouraging feathered visitors, for example, while there are hedgehog boxes for sale (pick one up from a charity like RSPB) which can provide a safe haven for these naturally nervous creatures. This is a fantastic way to introduce new fauna to your garden and give your children a chance to learn more about local wildlife.
Create an obstacle course in the garden
Sometimes the simplest activities can provide hours of fun! Creating an obstacle course in your garden will help your kids get moving, burn off some energy, and can even enhance their problem-solving abilities. Use tunnels, cones, balls, planks of wood, and anything else you can find lying around your garden to build your course — make it as straightforward or challenging as you like, and you can even get pets involved too!
Get your bake on to entertain your kids
Baking is a great activity that the whole family can do together, and let's face it, what little one doesn't like to indulge in some sweet treats and homemade bakes? During the Easter break you can have a go at Easter-themed goodies (Pinterest has plenty of ideas), from classic hot cross buns to adorable bunny-shaped cookies. During the summer hols, try out some tasty scones with jam and cream (a British summer staple). They'll love pouring out the ingredients, mixing, decorating, and of course, eating their treats!
Have a go at geocaching
Geocaching with kids is an adventure that is both fun and educational. Geocaching is essentially a modern-day treasure hunt where you look for hidden containers (called caches) using a GPS-enabled device such as a smartphone. These caches are located in various locations around the world — including in your local area. Geocaching with your kids can be a great way to get them outdoors, explore new places, and keep them entertained for hours. All you need to do is download the Geocaching app and you're ready to start hunting!
Play crazy golf on a rainy day
You can't always rely on the great British weather, but there are plenty of rainy day activities to entertain your kids and one of them is indoor crazy golf. There are loads of mini golf courses up and down the UK; if you're in Plymouth, head to Paradise Island Adventure Golf at Drake Circus' Barcode in the city centre. It has two 18-hole courses that the whole family can play, as well as a restaurant for a tasty, well-earned lunch afterward!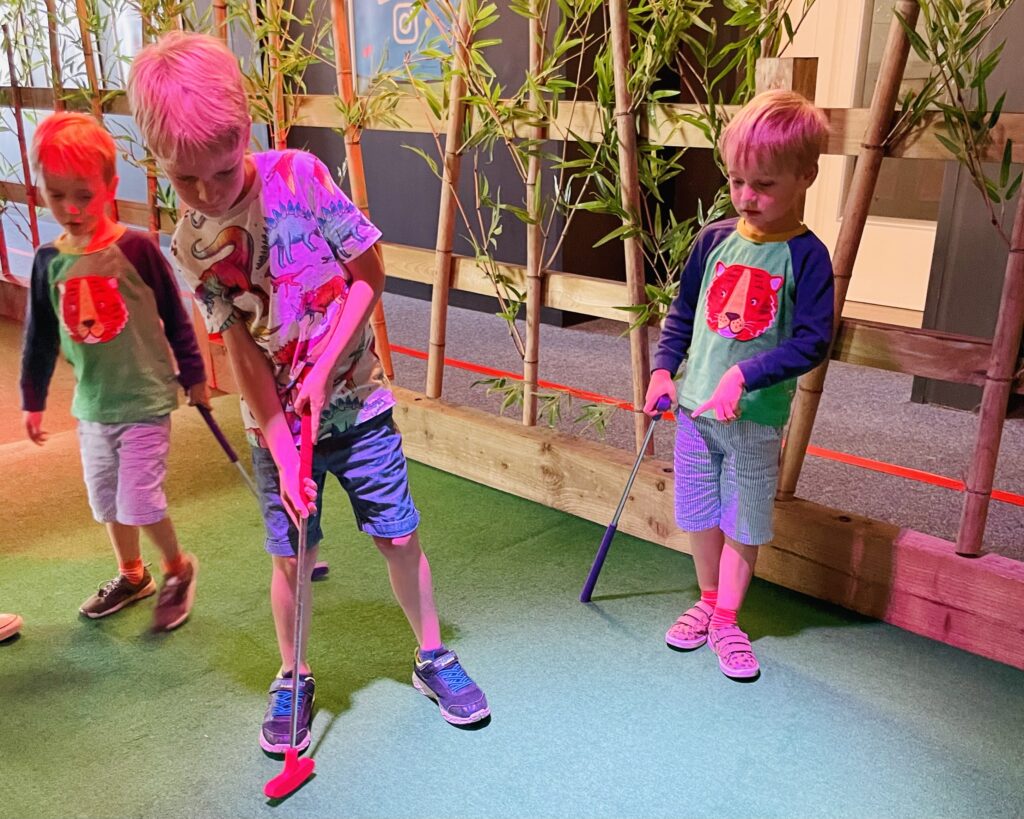 Plan the ultimate movie night to entertain your kids
A movie night is a simple yet endlessly entertaining activity that kids of all ages can enjoy. Just choose a selection of films (whether you raid your DVD collection or browse streaming services such as Netflix and Disney+) and you can turn your living room into an at-home cinema.
Create a cosy atmosphere by dimming the lights and bringing down duvets or blankets. Everyone can dress up in their comfiest pyjamas, and don't forget to grab everyone's favourite snacks like popcorn, sweets, and other treats to complete the experience. You can even make a theme night out of it by serving themed snacks or putting up decorations that match the film's genre.
If you're at a loss when it comes to how to entertain your kids during the next school break, add these simple yet fun activities to your list and you'll have plenty of ways to stave off boredom and keep them occupied for hours!
How did I do?
Did you enjoy this post? Why not hang around and read a few more whilst you're here. If you want to read some more of my usual kind of stuff, head over to my Mum Life section. You'll find all things parenting with a tongue-in-cheek twist. Or if you want some days out and UK family holiday inspiration, click on the Travel section.
If you like a bit of social media madness, pop over to my Facebook page where you'll be able to have a laugh at what ridiculousness goes on in my house with three very small boys on a daily basis. Warning – there is often sarcasm, and usually swearing. There are also great travel reviews and some AWESOME giveaways. Feel free to join my Twins, Tantrums and Cold Coffee – Shits and Giggles Parenting Group too, where everyone shares their hilarious stories.
If you like what you see, how about you check me out on Pinterest, Instagram and Twitter too.
And if you want to work with me, feel free to give me a shout here or at helen@twinstantrumsandcoldcoffee.com and I'll get back to you.