AD | I have been gifted a bite away® to enable me to write this blog post about insect bite itching and pain. I was also compensated for my time.
If anyone is going to get an insect bite, it will be me. Literally every time.
For some reason my skin must be particularly attractive and any insect that bites, must think they're about to have a seven-course Michelin-starred banquet when they see me. I don't even have to be anywhere exotic. I woke up with a nasty bite on my arm the other day, just because my window was open all night.
Not only do I seem to attract all things bitey, I also react quite badly to an insect bite too. They tend to swell up, blister and fill up with grim looking liquid. Basically resulting in what can only be described as a cod liver oil tablet. I won't post a picture. Nobody needs to see that.
I was once bitten so many times on my legs by mosquitoes on holiday, and they all reacted badly that I ended up at hospital on steroids.
Now, if you were getting bitten this much at home, you'd probably think you had an insect problem. If you found this out to be true, then you'd need a team of exterminators like those at Pest Control Experts (https://www.pestcontrolexperts.com/exterminator/) to help.
But this isn't always the case – sometimes it can be just passing insects that bite you. That's certainly the case with me. As you can imagine I've tried many an insect bite cream, lotion, or potion. To prevent being bitten and also to treat the bites afterwards. I've never really found anything that does much of a job. Even full-on Jungle-strength stuff!
So needless to say, I am REALLY keen to try out the new bite away® chemical free medical device the next time I get bitten. Packing for my holiday I was definitely sure to stick it in the bag, both for the kids, but particularly me!
It's a great alternative to insect bite and sting remedy creams, patches and lotions.
What is bite away®?
The nifty hand-held medical device has been designed to treat itching, pain and swelling caused by an insect bite or sting. And can treat bites and stings commonly caused by those pesky mozzies, wasps, bees, hornets, horseflies and other biting insects.
And it's a clever little thing. The heat technology it uses has been clinically proven to relieve itching, pain and swelling in just two minutes. A study has shown that two minutes after using it there was a notable reduction in pain. And after 10 minutes the pain had almost disappeared.
How does it work to treat an insect bite or sting?
bite away® has a small ceramic disk which is the bit you place on the insect bite or sting. Once you press a button on the pen, it concentrates 51c heat to the disk and onto the affected area. This in turn decreases the itching. Apparently through targeting the pain receptors, "an inhibition of the neuronal itch signalling pathway can be achieved". Thereby decreasing the itch – but that's a bit too scientific for me!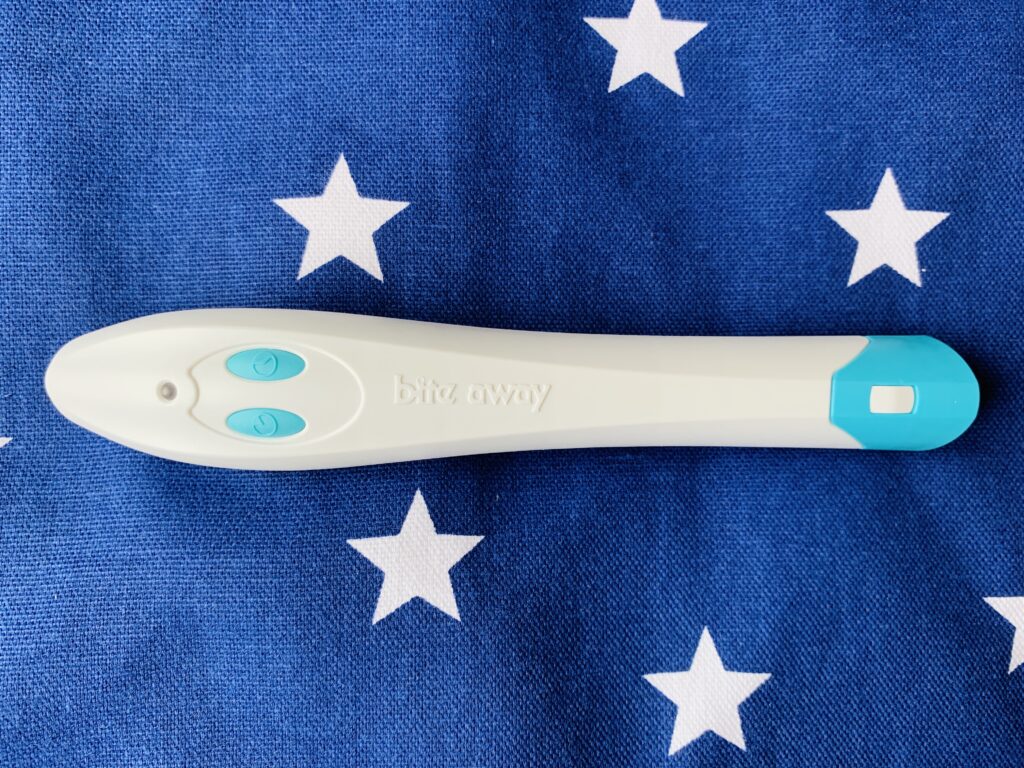 By heat shocking the area the swelling can also be reduced. The creators of bite away® say that in a much more scientific way though…
How do you use bite away® on an insect bite?
Once you've been bitten or stung, place the device onto the affected area and gently press it onto the skin. Ensurethere are no air gaps. You can select one of two buttons on the wand for either three seconds or five seconds. Once you've pressed the button, the ceramic plate will heat up to about 51c for either the three or five seconds selected. It beeps once you've pressed the button and then an LED goes on once it's ready. It then switches itself off automatically.
The three second option should be used on sensitive skin or children. You should make sure there's a two minute interval between each application. And don't do it more than 5 times per hour on the same bit of skin. Although can't see that anyone would do that!
Typically I've not been bitten since I've had my bite away®. But I have tried it on my foot to see what it feels like. I'd be lying if I said it didn't feel pretty hot. It left a very faint mark that disappeared straight away afterwards. But I"ll let you know how I get on once I get bitten. I'm sure it won't be too long before that happens.
Why should you buy a bite away®?
At £26.99, you'd be forgiven for wondering why you should buy it rather than stock up on creams. But other than the fact the folks at bite away® say it really does work, creams have a use by date. I for one have a whole stash of them in the cupboard. And I get it out every summer only to find half of them are no good to use. But the bite away® can be used up to 300 times. That's A LOT of bites.
It is suitable for pregnant women, allergy sufferers and children. Although only kids over the age of 12 and adults should actually administer it. Jeez, I dread to think what would happen if I let my three boys loose on this and the damage they'd do!
It doesn't leave a greasy residue like creams can do (usually all over my clothes). Its dermatologically tested, and there's clinical evidence that bite away® is effective in managing the symptoms of an insect bite or sting.
Oh, and because of its size the bite away® is highly portable. Ideal for the first aid kit, hiking and travel. And considering how much stuff I usually have to take on holiday, it's been easy to fit in.
For more information about bite away® head to their website, or buy it on *Amazon. And if you're in the US and need to delve further, check this out https://www.pestcontrolexperts.com/exterminator/. I'm now wondering how long it'll be until I need to use bite away®. Not long!
How did I do?
Did you enjoy this post? If you want to read some more of my reviews, there are plenty to choose from. Check out my thoughts on the Mountain Buggy Nano Duo, the Land Rover Discovery, or the Maxi Cosi Pearl Pro car seat. And if you want my usual mum ramblings, check out my Mum Life section.
If you like a bit of social media madness, pop over to my Facebook page where you'll be able to have a laugh at what ridiculousness goes on in my house with three very small boys on a daily basis. Warning – there is often sarcasm, and usually swearing. There are also great travel reviews and some AWESOME giveaways. Feel free to join my Twins, Tantrums and Cold Coffee – Shits and Giggles Parenting Group too, where everyone shares their hilarious stories.
And if you want to work with me, feel free to give me a shout here or at helen@twinstantrumsandcoldcoffee.com and I'll get back to you.