The summer holidays have arrived (along with the rain!) and parents and caregivers are on the lookout for exciting activities to keep their children busy during this break. With a little creativity and imagination, you can make this summer one to remember without breaking the bank, at the same time as holding onto a little bit of sanity. In this blog post, I've put together 20 free ways to entertain kids during the summer holidays.
From outdoor adventures to indoor fun, these activities are sure be winners with the kids. And if they're not – well at least you won't have mum guilt over not trying!
How to entertain kids during the summer holidays on a budget
1. Nature Exploration
Take your kids on a nature adventure in your local park or nearby woods. Encourage them to observe plants, insects, and birds. You can even go on a nature scavenger hunt with a list of items to find, sparking their curiosity about the natural world. Just watch out – if they're anything like my boys they'll come home with pockets full of stones, and sticks.
2. DIY Art Projects
Tap into your child's creativity with DIY art projects. Use basic art supplies like crayons, markers, and coloured paper to create masterpieces. From finger painting to making collages, the possibilities are endless! This one might be for the mums who are OPPOSITE to me. The mums who actualy LIKE arts and crafts and don't mind their kids trashing the kitchen table. But it's a great idea for the rest of you! Or head over to 20 Easy Craft Ideas For Mums Who Hate Crafts.
3. Back Garden Camping
Transform your back garden into a camping wonderland as a way to entertain kids during the summer holidays. Pitch a tent, set up sleeping bags, and enjoy the thrill of camping under the stars. Share campfire stories and indulge in marshmallow roasting. Whether they actually spend the night out there or just the evening, they'll love it. This is always a good one to get Daddy to do with them – whilst you pour yourself a glass of wine and head for a nice hot bath in peace.
4. Water Balloon Fight
Beat the heat with an epic water balloon fight in the yard. Fill up balloons and let the kids cool off while engaging in friendly water warfare. What do you mean, it's not stopped raining yet? Well if that's the case, you're going to get wet anyway, so they might as well have funny chucking water balloons at each other.
5. Outdoor Sports Day
Organise a fun-filled sports day with various outdoor games like relay races, tug-of-war, and sack races. Create teams and encourage friendly competition. Whether this is in your garden with a few neighbours, or organise a load of friends at the local park. They'll love it.
6. Storytelling Sessions
Host storytelling sessions in the evenings. Share classic fairy tales or let the kids take turns narrating their own imaginative stories. Just maybe set a time limit!
7. Picnic in the Park
Pack a delicious picnic and head to the park to entertain kids during the summer holidays. Let them run, play, and enjoy the open space while having a lovely meal with your family or friends. I always find a travel mug of coffee (or a bottle of fizz if you're walking) makes the experience a whole lot better.
8. Science Experiments
Ignite their scientific curiosity with easy and safe home-based science experiments. Create mini volcanoes, make slime, or explore density with simple household items. Again I'm being sexist, but Dads or Grandads are pretty good at roping in for this. I'm good at supervising from a distance.
9. Dance Party
Get your groove on with a lively dance party at home. Play their favourite tunes and let them dance their hearts out. I mean this seems to happen on a daily basis in our house. But make it official, have a full-on kitchen disco.
10. Visit the Local Library
Explore the local library and take advantage of their summer programmess. Many libraries offer free storytelling, arts and crafts workshops, and reading challenges. Our local ones do an awesome Lego club and you can sign up for their Ready, Set, Read challenge.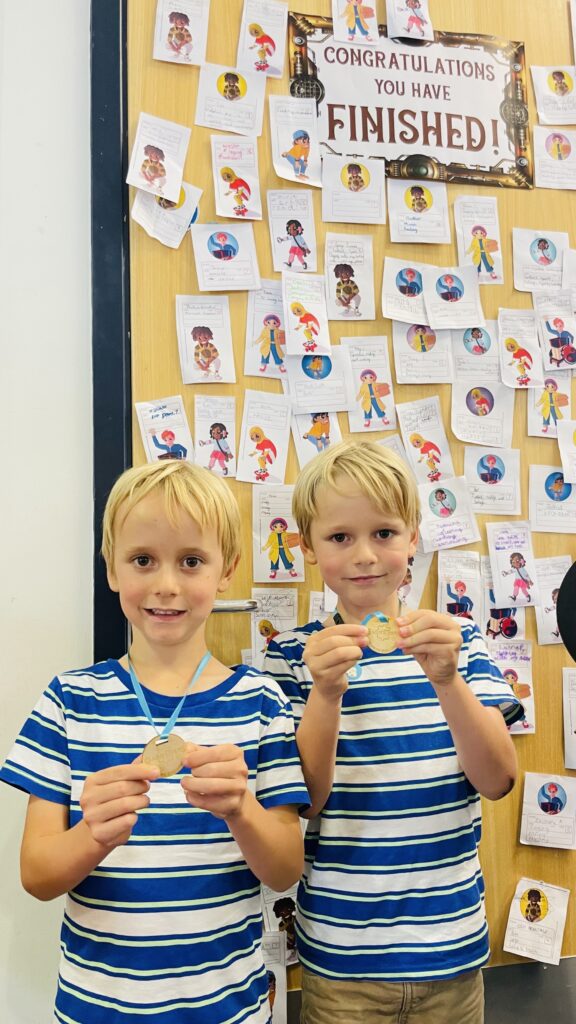 More ways to entertain kids during the summer holidays
11. DIY Obstacle Course
Create a DIY obstacle course in the back garden. Use hula hoops, cones, and skipping ropes (or any other outdoor toy you can find lying around) to challenge their agility and balance. My boys like to be timed doing their laps. Mainly so that they can fight over who did it fastest.
12. Birdwatching
Set up a birdwatching station with binoculars and bird identification books. Observe and identify birds that visit your garden or nearby trees. The RSPB is a good place to start with this. Or just get my parents round to help – they're birdwatching fanatics!
13. Movie Marathon
Have a movie marathon with their favourite films. Create a cosy movie den with blankets and pillows for a fun cinematic experience. I mean I'm not being funny, but you don't need to ask me twice to do this sort of activity – especially when it's raining outside.
14. Gardening Fun
Let them get their hands dirty with gardening. Plant seeds or flowers together and teach them about the importance of nurturing living things. And hope you have green fingers – unlike me.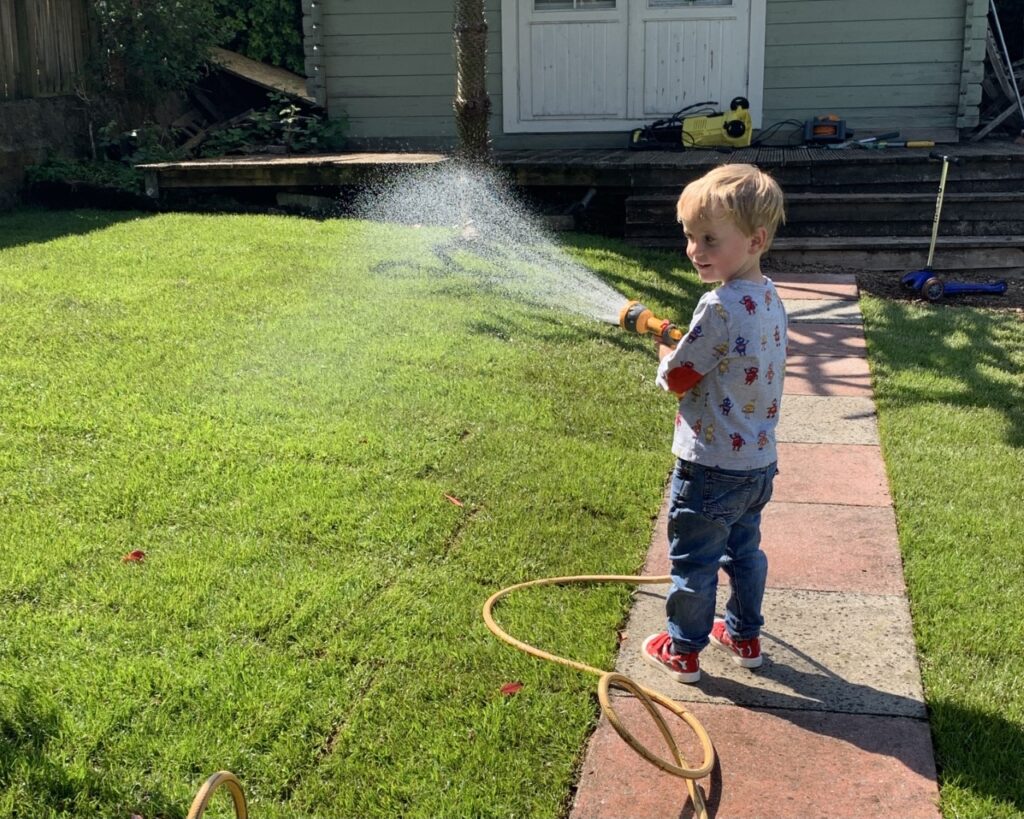 15. Indoor Fort Building
On rainy days, engage in indoor fun by building forts with blankets and cushions. This activity sparks their imagination and gives them a cosy hideaway. Totally my kind of way to entertain primary aged kids during the summer holidays.
16. Visit a Farmers' Market
Take a trip to a local farmers' market. Let them explore different fruits, vegetables, and artisanal products. There will also be LOADS of yummy things to buy for your lunch.
17. Free Community Events
Keep an eye out for free community events, like outdoor movie screenings, concerts, or festivals, that are family-friendly. If you live in Plymouth, then check out my Plymouth Summer Days Out Guide.
18. DIY Ice Lollies
Create refreshing and healthy DIY ice lollies using fruit juices and fresh fruits. A tasty treat to beat the summer heat! (If we ever see the sun again?)
19. Dress-up Play
Encourage dress-up play and let them become their favourite characters. This imaginative activity boosts creativity and storytelling skills. And let's face it, it also beats the mess of arts and crafts or scientific experiments!
20. DIY Board Games
Design and create your own board games together. Use cardboard, markers, and dice to craft unique game experiences. The only problem will be that they'll make up the rules. And change them to their advantage EVERY time you play. Sound familiar?
Conclusion – How To Entertain Primary Aged Kids During the Summer Holidays
With these 20 free and fabulous activities, entertaining primary aged kids during the summer holidays is a breeze. (Honest!) From outdoor adventures to indoor fun, there's something for everyone. Embrace the spirit of exploration, creativity, and togetherness to make this summer vacation truly unforgettable. Enjoy the smiles, laughter, and quality time spent with your little ones as you embark on these budget-friendly adventures! Or treat them in the spirit I've intended – a way to get you through the day until bedtime!
How did I do?
Did you enjoy this post? If so, it's most unlike me to be so useful and you should check out the 'usual' type of stuff I write. Honest, relatable rants about parenting three young boys. With a touch of swearing and a lot of sarcasm. You'll like it! Check out my Mum Life section or head to my Travel Section for some UK family holiday and days out inspiration.
If you like a bit of social media madness, pop over to my Facebook page where you'll be able to have a laugh at what ridiculousness goes on in my house with three boys on a daily basis. Warning – there is often sarcasm, and usually swearing. There are also great travel reviews and the odd giveaway. Feel free to join my Twins, Tantrums and Cold Coffee – Shits and Giggles Parenting Group too, where everyone shares their hilarious stories.
If you like what you see, how about you check me out on Pinterest,  Instagram,  Twitter, Threads and TikTok too.
And if you want to work with me, feel free to give me a shout at helen@twinstantrumsandcoldcoffee.com and I'll get back to you.