If you're looking for a statement lamp for your house but don't want to go huge and bold, look at his fabulous Volta Levitating Light Bulb. It's like magic!
AD: This is a paid collaborative post with Floately.
Not only does it float, it spins, casting beautiful patterns onto your walls. It's absolutely mesmerising to watch. I'm finding when it's on that my eyes are drawn to it, and suddenly I'm in a trance watching the lamp rather than what I was doing.
It's eye care optimised to help you relax, and that's exactly what it does when it's on next to you in the evening.
I know what you're thinking though – why would I have such a delicate-looking lamp in my house with my boys around?

If you don't know, I have three boys – a five year old and three year old twins. And let's just say they can be quite 'spirited' at times. Pretty much nothing is safe in my house when the three of them are on the loose. Let alone a levitating light bulb.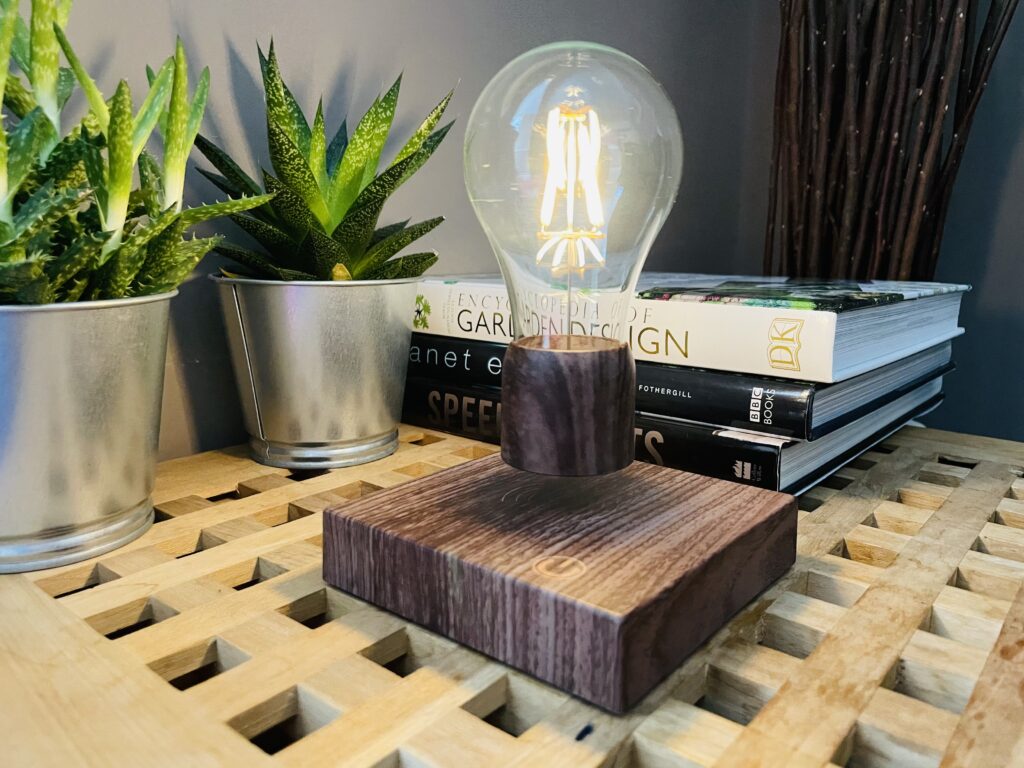 And if you're the same, you needn't worry. The touch-activated Floately Volta Levitating Light bulb is shatterproof, durable and built to last. Its reinforced bulb is protected against breaks and cracks, and its contact wires are 10 times stronger than those in the average lightbulb. So even the clumsiest or 'carefree' children will be hard pushed to break it. It can last you for years to come in your home.
Volta gets its name from the Italian physicist, Alessandro Volta, who was a pioneer of electricity and power. He was the guy credited as the inventor of the electric battery.
How does the Volta Levitating Light bulb work?
So you're going to ask me how a floating light bulb works, aren't you? Clearly I have no knowledge of such things, and I just think it's magic, but apparently not.
It uses wireless induction technology to allow the LED bulb to levitate and spin. Still none the wiser? Nope, me neither…
Floately, the people behind Volta, say that while most light bulbs are fixed to a socket, Volta is powered through magnets and the air by induction, allowing it to be suspended in mid-air with almost no friction and then rotate.
It has a wireless power module that is capable of transmitting just enough power to light the bulb up completely, but because it is an LED bulb it is energy efficient and won't send your electricity bill soaring.
You can also turn the light off but keep it floating 24 hours a day if you want.
Now just in case you want to get REALLY techy. Inside the wooden base there are lots of electromagnets and a magnetic induction charger.
So as you lower the bulb onto the wooden block, the outermost electromagnets serve to attract the bulb's base, while the inner magnets create a repelling force.
Still with me? This is what holds the bulb in place, causes it to hover, and enables it to pick up power from the charger block via magnetic induction.
If like me physics isn't your strong point, don't worry. Let's gloss over the science just for a minute, and concentrate on what is important when it comes to this levitating lamp. How COOL it looks!
And not only does it look pretty damn cool, it's made with sustainable materials and it feels solid too. Not cheap in any way. This is a quality bit of kit. The sensitive touch sensor switch feels just like touching wood.
Getting your floating light bulb to work
I did wonder how the heck I was going to get this floating lamp thing to work without wrecking it. So obviously I got my husband to do it for me – then I could blame him.
Despite the website saying it may take a bit of patience and practice it was much easier than I expected it to be. When it was my turn to set it up, I managed to get the bulb to hover on the second attempt. Although I have to say, it makes you jump when you don't hit the spot as the magnets are so strong it slams the bulb down onto the slab if it doesn't start levitating.
Here's the expert advice on getting it working:
Step 1 – place the base on a flat, non-ferrous surface and turn on the power by connecting the cable to the base and plugging the adapter into a power socket.
Step 2 – Hold the light bulb with both hands. Start from the centre of the base and 10cm above the base, and slowly move it down until you are about 2cm above the wooden base. You will feel an upward repulsion force on the base.
Step 3 – Once you feel that the bulb is almost balanced in mid-air, so not falling down or being pushed up, slowly loosen your grip. If the light bulb is sucked back to the base, restart step 2 again. But if it floats then you've done it!
Now just stand back and marvel at it. Remember not to spend too many hours staring at it though. The kids will be after a snack at some point soon.
Other Floately products available
Other Floately products include a floating plant pot, a floating lamp, floating moon lamp and even a floating bluetooth speaker.
The Arsai floating plant pot is a levitating planter that helps create a relaxing atmosphere inside your home. It has a 360 degree self-rotation which ensures it has perfect sunlight exposure from all angles, therefore resulting in faster and even more plant growth. Clever stuff!
It has a low grade consistent magnetic field, is lightweight, easy to clean, has power-off protection and made with sustainable materials.
And looks lovely too!
So all you've got to do now is get your mates round to show it off. And try to stop your children from playing with it!
How did I do?
Did you enjoy this post? Why not hang around and read some more whilst you're here. If you want to read some more of my usual kind of stuff, head over to my Mum Life section. You'll find all things parenting with a tongue-in-cheek twist. Or if you want some days out and UK family holiday inspiration, click on the Travel section.
If you like a bit of social media madness, pop over to my Facebook page where you'll be able to have a laugh at what ridiculousness goes on in my house with three very small boys on a daily basis. Warning – there is often sarcasm, and usually swearing. There are also great travel reviews and some AWESOME giveaways. Feel free to join my Twins, Tantrums and Cold Coffee – Shits and Giggles Parenting Group too, where everyone shares their hilarious stories.
And if you want to work with me, feel free to give me a shout here or at helen@twinstantrumsandcoldcoffee.com and I'll get back to you.