Sometimes we busy mums need to recharge our batteries and in my world the perfect solution is a spa break with friends.
AD | Disclaimer – We were given this trip for free in return for this review, but all opinions are my own.
It's no secret I love a spa. And I love a spa break with friends even more. I am the easiest person in the world to buy gifts for – just send me to the local spa and I'm happy.
So when my good friend and fellow twin blogger Anna from Twins and Travels and I decided to meet up for a weekend, it didn't really matter where we went. So long as there was a spa for us to lounge around in.
She lives in Chelmsford, Essex and I live in Plymouth, Devon. So getting together doesn't happen very often. 270 miles and six kids between us tends to do that!
I needed to get the train so I didn't leave the Other Half with no car, so I was already limiting our options.
Let Red Letter Days find you a spa break with friends
But turns out it doesn't matter, as Red Letter Days came up trumps for us with a fabulous spa break at a four star Holiday Inn just outside Reading.
Okay, so when you're talking about a spa day or break with friends, Holiday Inn might not be the first hotel that pops into your head, but seriously, have a rethink. We had a great time!
Admittedly, three days with no children, we were going to have a brilliant time wherever we went, but we were super-impressed with the hotel, its facilities and its staff.
And for the price they charge, this is an absolute WINNER of a spa break. Red Letter Days offer a deal that gives you two nights bed and breakfast, one dinner and a 60 minute massage each for just £320 for both of you!
There are loads of extras you can add on like we did, having a second dinner and a champagne afternoon tea. But it was still a bargain for what we got.
The hotel is smart and welcoming as soon as you walk in, and the staff are incredibly friendly and helpful.
I escaped the madhouse at the crack of dawn so that even after four hours on the train and a short taxi ride from the station, I was still there by 11am.
48 hours blissful child-free spa time
And with a late 2pm check out on the Sunday, that was more than 48 hours of blissful child-free time to be enjoyed. Two whole days where we could relax, talk blogging (which we did a LOT), chill out in the spa, and indulge ourselves.
We started as we meant to go on – chilling out in the hotel lounge bar practically main-lining much-needed coffee, then moving onto a delicious lunch from the bar.
Our room was ready for us by 11am but it still seemed to take us several hours to get round to finding it. Too much to talk about to move!
But when we did check into it, we were more than happy. It was a twin (obviously) and had plenty of space for us to spread out, a desk, chair, and ample sized bathroom. There was a huge TV on the wall but we didn't even switch it on – did I mention there was a lot to chat about?
Spa and Wellness centre was inviting
Once we'd unpacked we headed to the hotel's Espirit Spa and Wellness centre which was surprisingly swish. The 19 metre pool looked inviting and there were plenty of loungers around the edge for guests to relax on. There's also a fitness gym (which obviously we ignored!) and a sauna and steam room. Although these were closed due to Covid at the moment.
Off the poolside is a double treatment room where we had our Dermalogica massages on the Saturday morning. Anna had a full body massage, and I opted for the hot stones full body treatment – both of which were amazing! It was a little strange being in the same room, but once we were face down and being pampered we totally forgot about it.
The pool was a real bonus too. After a *fair bit of lounging around chatting, we thought it would be rude to not test it out for a few lengths. Is 20 acceptable? That's basically all I managed. And I chose a great moment as I had it to myself.
Spa break with friends is nothing without fabulous food
Other than talking and catching up all weekend, the other main event was eating. It felt like we did a LOT of eating. And when the food was this good, it was hard to stop!
We chose from a three course set menu on the Friday night, at the two AA Rosette awarded Caprice Restaurant. And the food was delicious. I opted for the mezze platter of grilled halloumi, sundried tomatoes, olives, stuffed peppers, cucumber, beetroot hummus and pitta bread. It was then followed by a succulent sirloin steak, and caramelised apple baked New York cheesecake. Safe to say I was stuffed!
The second night we were treated to a five course taster menu. It was similar to the previous night's choices. But with added canapes and chocolate truffles, a cocktail and a bottle of champagne. Clearly the diet had gone out the window.
And as if that wasn't enough food we also had a champagne afternoon tea in the hotel's lounge bar. Sandwiches, scones, and sweet treats – we couldn't even finish it, not even with my sweet tooth. THIS is what a spa break with friends is all about!
Sleep was needed, and sleep was what we had
But do you know what the absolute BEST bit was? The amount of sleep we had. So at home, I tend to average about 5.5 hours a night and I think Anna must be the same. Judging on how late we stay up working and messaging each other.
But with no children wandering in at 4am or waking us up at the crack of dawn we were free to stay in bed for as long as we wanted. We both woke up early due to our body clocks. But we went straight back to sleep and made the most of it. On the second morning we slept until gone 10am! This is UNHEARD of!
What. A. Treat.
Breakfast was served until 10.45am so it meant we could happily have a lie-in and not worry. Plus we were so stuffed from the constant eating anyway, it wasn't like we woke up hungry.
The beds were so comfortable, and the thick blackout curtains meant we could have probably stayed there all day. It was just what two tired twin mummies needed after this very strange pandemic year.
Not obvious choice for spa break with friends but was actually ideal
The Holiday Inn was about 15 minutes outside of Reading city centre on Junction 10 of the M4. So really simple to get to by car. It's located amongst office buildings so I imagine it's used a lot by business people in more 'normal' times. But there were lots of families, couples and groups clearly taking advantage of the fabulous Red Letter Days deal.
Outside there wasn't much to see or do because of its location. But it rained the entire time we were there, so that made no difference to us.
Even had it been glorious sunshine, all we wanted to do was relax, enjoy some child-free time and catch up. The hotel had everything we needed. And it was proof that it didn't matter where we went for our spa break with friends. It was all about the company.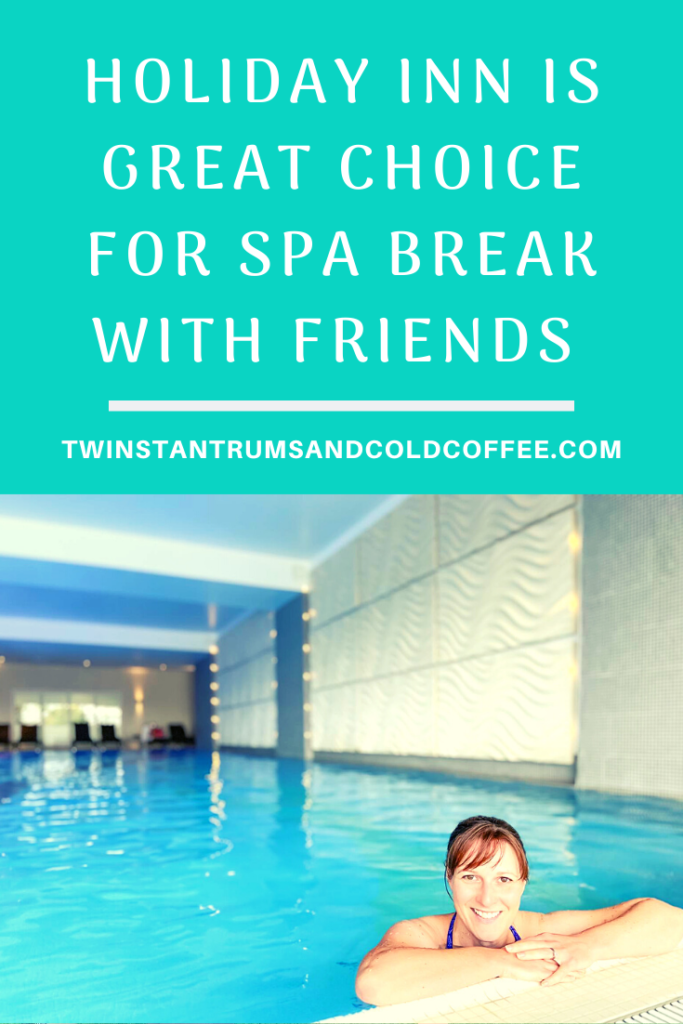 How did I do?
Did you enjoy this post? If you're looking for some more spa choices, have a read of The 7 Best Spa Breaks in Cornwall by Rachel Bustin. Or if you've not got time for a full on weekend, but are still child-free, have a read of 19 Great Ideas for an Adults Day Out in England. And check out some of my other reviews in my Travel Section. Or if you want more of my usual parenting waffle, head to Mum Life.
If you like a bit of social media madness, pop over to my Facebook page where you'll be able to have a laugh at what ridiculousness goes on in my house with three very small boys on a daily basis. Warning – there is often sarcasm, and usually swearing. There are also great travel reviews and some AWESOME giveaways. Feel free to join my Twins, Tantrums and Cold Coffee – Shits and Giggles Parenting Group too, where everyone shares their hilarious stories.
And if you want to work with me, feel free to give me a shout here or at helen@twinstantrumsandcoldcoffee.com and I'll get back to you.