Are you a camper? I know plenty of friends who point-black refuse to go camping. Then there are others who love it and see it as a great option for an affordable family holiday. I am not going to lie, camping with kids can be pretty stressful, but there are a few steps you can take to ease the pain and make camping with kids easier and a more enjoyable experience for the whole family.
Tips for camping with kids
No matter what age your kids are, (I have seen families with newborn babies), camping can be very successful. My best advice would be to try and relax and go with the flow. Do what works for you and your family. Whether you are at a campsite or camping in a festival field, organisation beforehand is key. Here are a few camping tips on the best way to do things with young children and older kids (although I'm no expert!).
The planning process is vital to make camping with kids easier
When you're planning your next family camping trip, ask for input from your children – yes seriously. Look at the website of the site you are staying at so they can see what it looks like and what sort of things are in the local area. If they are old enough, ask them to help choose a few things to pack, this could be a teddy bear or a couple of little games. I usually let my boys pack a small rucksack with whatever they want to take. A couple of small board games can be a great way to occupy them if you have any rainy days or bad weather.
Have a trial run with the tent
Setting up your tent in your garden allows you and the kids to get some practice in putting things together. There is no worse feeling than not knowing how to put the tent up, especially if it is raining or getting dark. And you just KNOW this is a recipe for a full on row with your partner!
So to make camping with kids easier we put ours up a few weeks before first camping trip in it, and we were so glad we did. Even though it barely fitted in the garden. (And we have a decent garden!). The kids could even get the air mattresses out and try sleeping in it before your trip – if you fancy a night under the stars with them.
Don't feel bad about bringing an iPad
I know, I know. Camping is all about disconnecting and being out in nature – for some people! Your children may be totally happy running outdoors but often in the evening you will relish having been sensible, and having brought an iPad for a bit of YouTube/Netflix/CBeebies downtime. It also means you can listen to some music or even play an audiobook. We tend to download some programmes or movies onto one of our iPads for if we want something to watch ourselves. Can be perfect round the camping stove, fire pit or camp fire.
My main pro tip is to remember to invest in a couple of power banks so that you can charge your electronics if you do not have an electric hook-up pitch. Which I can totally recommend! Nothing worse than your phone going dead, especially when you use it as your camera like we all do. We had no electric the first time we went and would never do it again. It wasn't my kind of camping experience – albeit it I know some people love it.
Pack lightly to make camping with kids easier
While it might be tempting to pack favourite toys, games and activities, keeping it simple is the easier, better option. A few small games such as card games like Uno, some bubbles and a ball should be good to keep them busy for a while but it all depends on how much space you have in your tent. Ours is huge so I let them bring a rucksack each, but that's it. As far as clothing goes, make sure you have a few layers to keep you warm at night.
A couple of changes of tops, shorts and tracksuit bottoms are your best bet as they dry off more quickly than jeans. If your site has a launderette then you're fine, if it doesn't then maybe bring a few more options. Wellies and slip on shoes are also on our list of things not to forget. We have a no shoes in the tent rule for the entire family – so it's much easier if you can just slip them off at the door or in the tent porch. I live in flip flops whilst camping for exactly that reason.
Easy meals and snacks
There's nothing worse than 'hangry' children and having been out in the fresh air, they will be extra hungry. Having plenty of easy camping meals and snacks for your kids should help to dissolve any meltdowns. Easy meals include noodles, baked beans, pasta and hot dogs.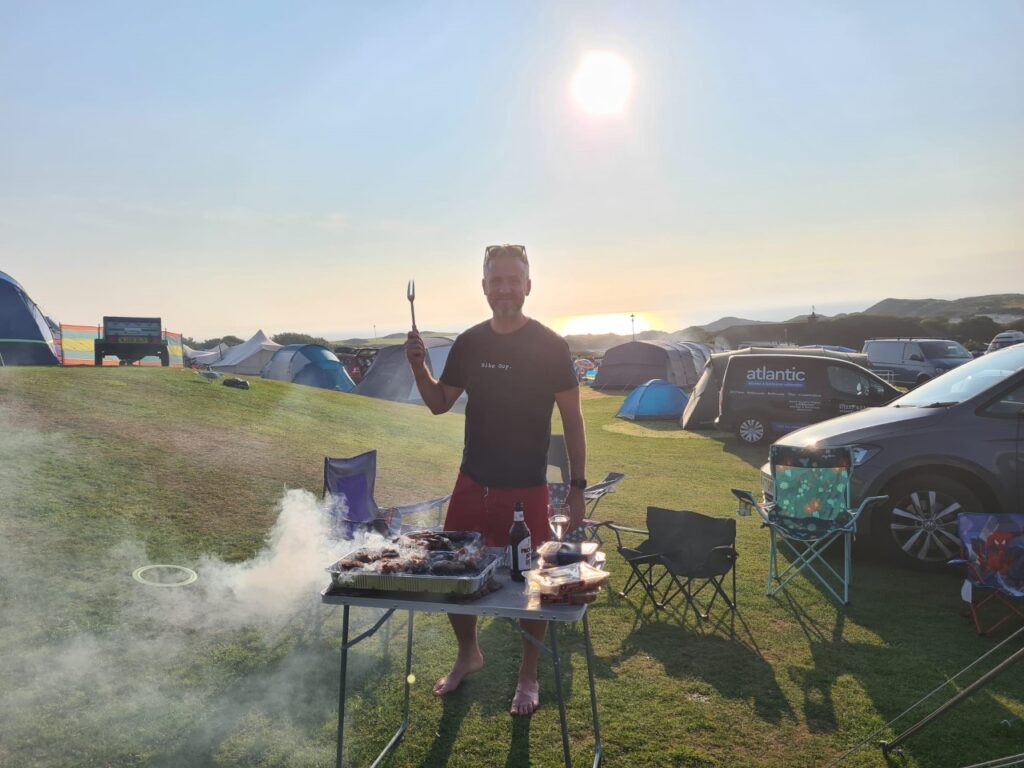 We take a meal that we've cooked at home with us for the first night, then do as simple a things as possible to make camping with kids easier. Barbecues are always a great idea, and eat at the onsite restaurant for one of the nights if it's that sort of camp site. We also pack snacks such as cereal bars, breadsticks, crackers and little packets of biscuits. Because we all know you can never have enough snacks, right?
Make sure your tent is big enough
If you have a large family, you may want to consider getting a bigger tent which has sectioned off rooms so that you can all have a bit of space and separation from each other. It is good to have a tent that you can stand up in rather than small ones that you have to crawl into. It just feels less stressful when you are not all on top of each other at the end of the day. When my husband suggested we get into camping, the first thing I said was that we had to have a decent sized tent and all the right gear. No way could I cope if we were all in each other's way. That would NOT be an enjoyable camping trip for me!
First aid
Pack your first aid kit, sun lotion, plasters, Calpol, antihistamines, CBD oil medications and a tick puller. Keeping these items handy, and always in the same spot is a good idea and will save you any anxiety should anybody start feeling unwell or have a little accident. Believe me I got lots of insect bites during a camping trip and was grateful that I had packed the antihistamines, bug spray and bite creams.
Check out the local area
Research the local area and any attractions whilst camping with kids, family-friendly walks and playgrounds and places to eat out. Planning some fun family outings beyond the campsite will keep them occupied. The last thing you want is for them to be bored.
Let them have freedom
A lot of campsites are very safe areas for children to go off and explore and play in the great outdoors. Of course this is age-dependent and whether you trust that your kids will be sensible. But it is a great feeling to sit back and watch them run and play or ride their bikes in the fields or play area .Whilst you have a glass of something alcoholic in your hand – obviously.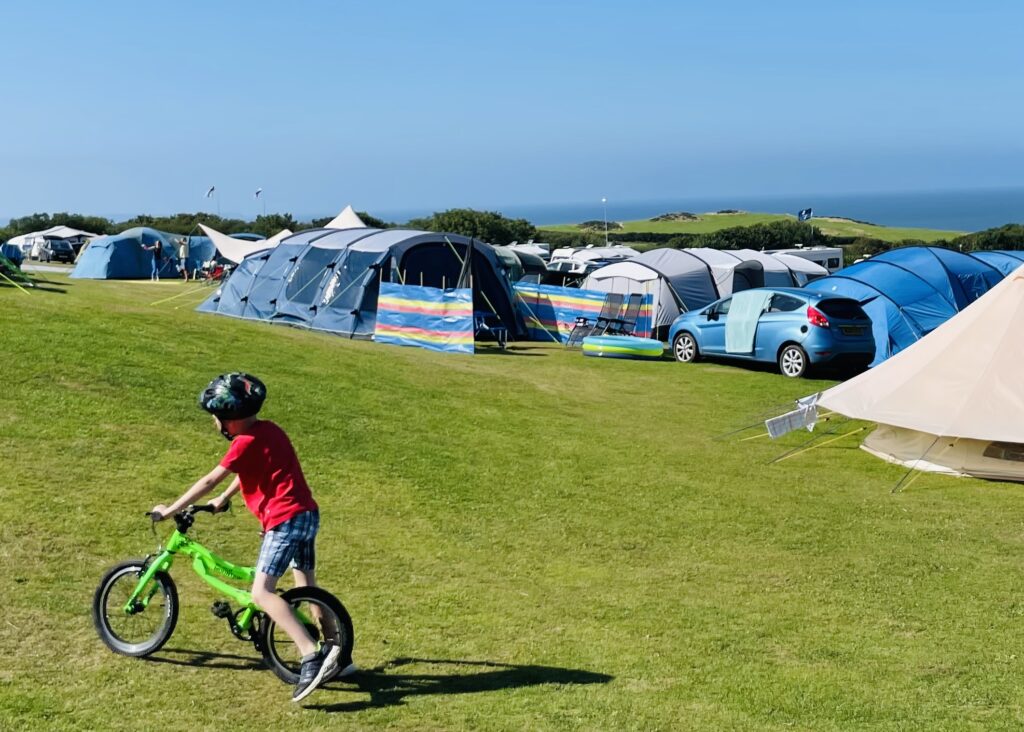 Pack an extra tent
Packing an extra small tent is such a great idea – depending on what sort of site you are on and if there is room. It can be used as a play tent and you can also store some of your bags in there to keep space free and uncluttered in your family tent. Our tent has a side extension that we use for exactly this and it works brilliantly.
Invest in the right camping gear
The first time we went camping properly we had borrowed a tent and didn't really have much except the basics. It was a kind of experiment to see if we wanted to invest in our own stuff and see what we'd need. We soon learned that there are a few things that can make your camping trip a lot more comfortable. We had things like a picnic table, folding camp chairs, a portable potty a thick sleeping bag each with extra blankets, but when we went on our next trip we had a LOT more stuff. And even then we discovered more and more things we wanted to buy to make camping with kids easier and keep the tent relatively tidy. So when we go in a fortnight we have a camping wardrobe for clean clothes, camping toilet for the middle of the night, a mini fridge and even a camping washing line!
Are you new campers or pros? Tell me what your family camping hacks are to make camping with kids easier and to have a great time.
This is a collaborative post.
How did I do?
Did you enjoy this post? Hang around and read some more such as:
What to pack when camping with kids
Best Campsites for Families in the UK
12 of the Best Glamping Sites In the UK
5 Top Travel Essentials For Twins
Five Ways A Holiday Is Never The Same After Kids
Packing List For Babies And Toddlers
10 Top UK Family Holidays Ideal For Young Children
Travel Review of Trevornick Campsite, Cornwall
How To Find A Summer Holiday That Doesn't Break The Bank
If you still want more, head to my Travel Section. And if you fancy reading my usual kind of stuff, head over to my Mum Life section. You'll find all things parenting with a tongue-in-cheek twist.
If you like a bit of social media madness, pop over to my Facebook page where you'll be able to have a laugh at what ridiculousness goes on in my house with three very small boys on a daily basis. Warning – there is often sarcasm, and usually swearing. There are also great travel reviews and some AWESOME giveaways. Feel free to join my Twins, Tantrums and Cold Coffee – Shits and Giggles Parenting Group too, where everyone shares their hilarious stories.
If you like what you see, how about you check me out on Instagram Pinterest, and Twitter too.
And if you want to work with me, feel free to give me a shout here or at helen@twinstantrumsandcoldcoffee.com and I'll get back to you.