If you have a dedicated room in your house for your children's toys you're a lucky family. But what if you want to brighten it up and make your kids' playroom fun and don't know how to go about it? Here are some great tips on what to do.
This is a collaborative post.
One of the main selling-points when we bought our house was that it had a big dining room and sunroom that we knew we could transform into an awesome playroom for the boys.
The twins were only 5 months old and the eldest was coming up to 2.5, when we moved, so we knew there would be many years ahead where they would need somewhere to play. And we would need a playroom to keep all the mess in and shut the door on every night!
So within a few months of moving in we got rid of the dark and dingy dining room in favour of a bright and funky playroom, and we've not looked back since. 
Here are some great ways to make your kids' playroom fun
1. Bright and bold walls
Okay so it may sound obvious but go for light or bright walls. Our walls were dark red so we were always going to brighten them up. We didn't want to go for white, so we opted for a total mixture of everything to make it fun. You wouldn't do this in a normal lounge or bedroom, but we wanted the emphasis to be on fun as it was a playroom. We did one cream wall, then two lime green walls, a dinosaur wallpaper wall and a feature wall. It might sound a bit much, but it looks great!
2. Use stickers
If you're not brave enough to go with bright or bold walls, then using stickers is a great way to inject some fun into a playroom. We bought some quotes from children's books in sticker-form to put on the walls in a 'reading' area of the playroom, and they're great. We've also got some dinosaur wall stickers too which my boys love. 
3. Neon signs
If you want to go all out, how about a neon sign? They are a great way to make a statement in a playroom or kids' bedroom, and can even be personalised to fit your kids' interests perfectly. Neon 87 sell some absolutely brilliant signs that would be perfect for a playroom like these . They come in various sizes so could fit any room. My boys would love the dinosaur ones.
But it's in my office that I really got lucky, with a Neon 87 sign of my blog name. Just look at it, it's literally a thing of beauty and I can't take my eyes off it. The amazing guys at Neon 87 created it especially for me and I'm literally in love with it! 
4. Feature walls
Feature walls work really well if you have a big playroom. So you could either use one of the neon signs, stickers, or feature wallpaper. The end wall of our playroom which we try to keep as clear from clutter as possible has a huge fun map of the world on it. It's actually wallpaper although you can get stickers like it too. So not only is it great fun, it's educational too!
5. Fun pictures on the walls
If you can't or don't want to decorate, then it's still easy to make your kids' playroom fun just by putting up a few pictures on the walls. We opted for some brightly coloured Hulk, Spiderman and Captain America canvases. And we also have the word PLAY spelled out in four separate framed jigsaws too. Although the boys were too young to do the jigsaws themselves!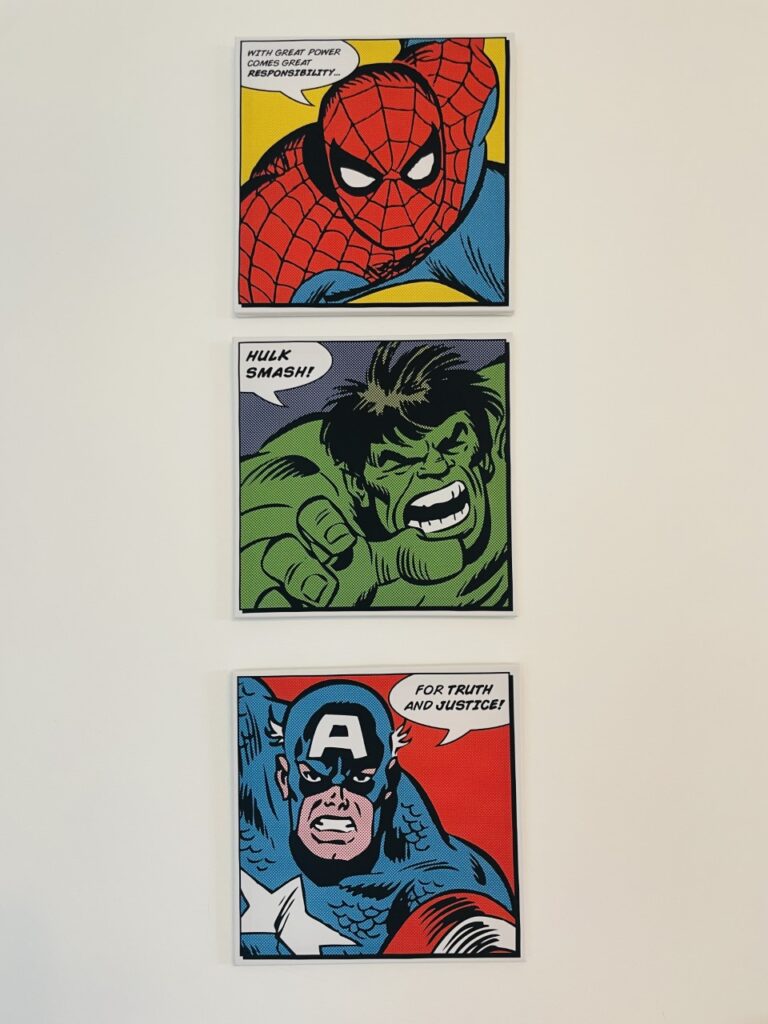 6. Blackboard wall
If your kids are prone to drawing on the walls like ours were, give them a space where they're actually allowed to do it. We have one small area of wall which we painted with blackboard paint and let them come up with their own creations in chalk. It's an easy way to make your kids' playroom fun. So long as they know that's the only place they're able to do it!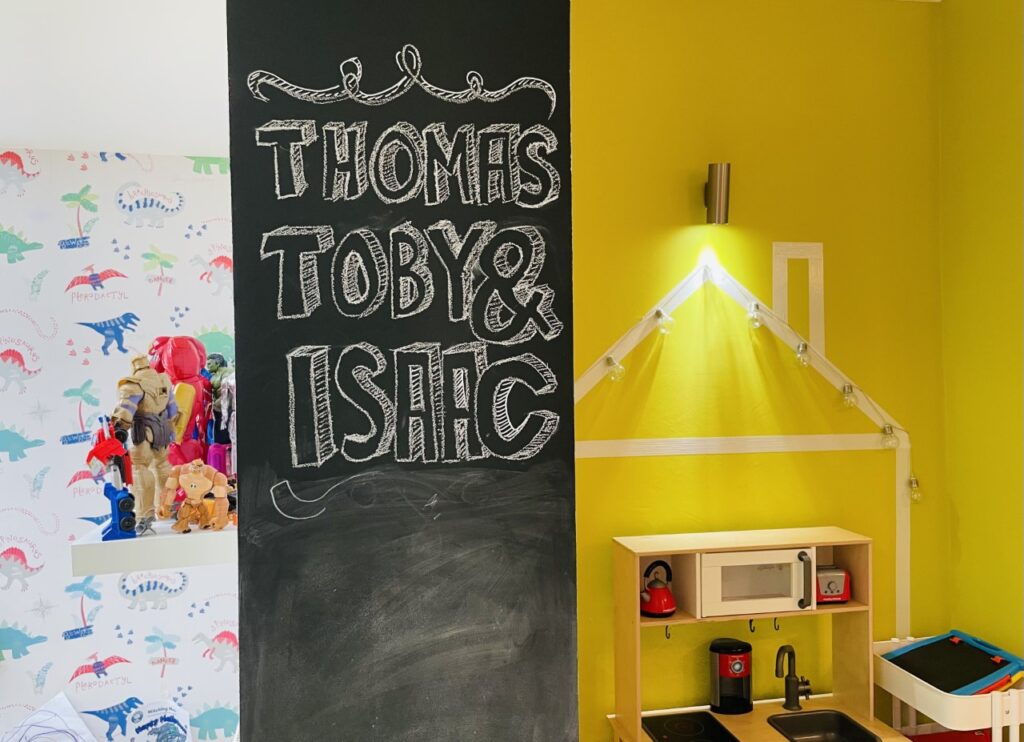 7. Having books on display
Rather than just having boring bookshelves like we do in our boys' bedrooms, we wanted to make more of the 'reading space' in our playroom So we have several shelves that show off the front covers of the books which makes it a lot easier for the boys to find them. It also makes more of a feature of them as they're so colourful. We then put a few beanbags underneath for them to chill out with a book.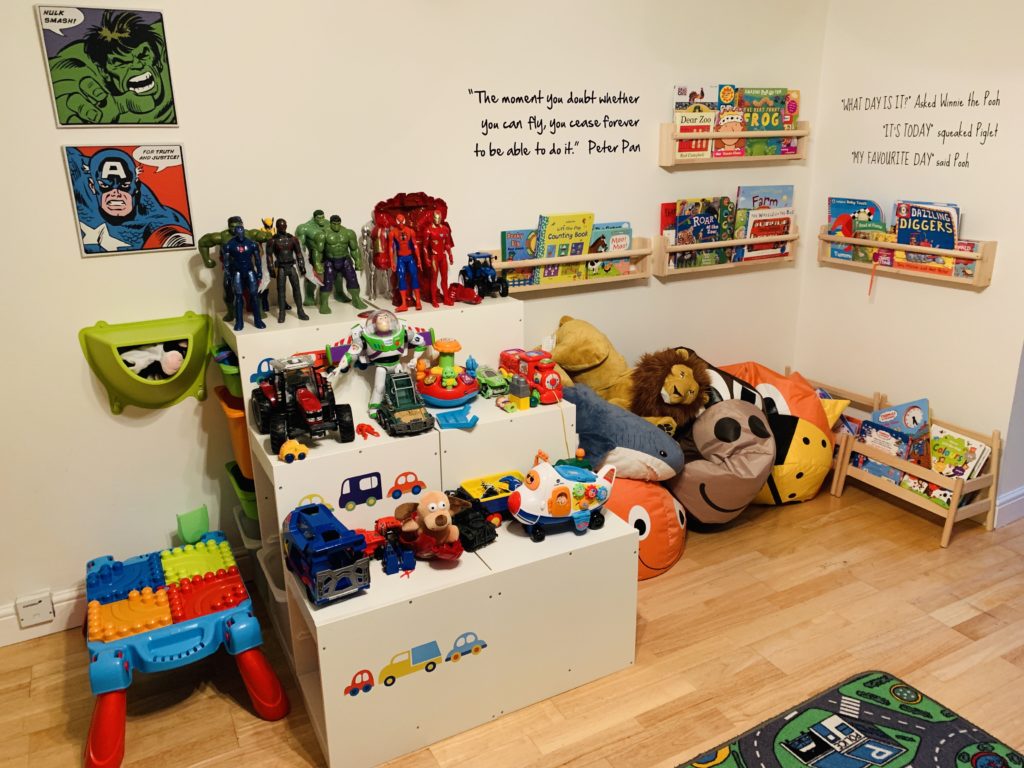 These are just some of the ways to make your kid's playroom fun, there are loads more – and that's before you even put all their toys in there!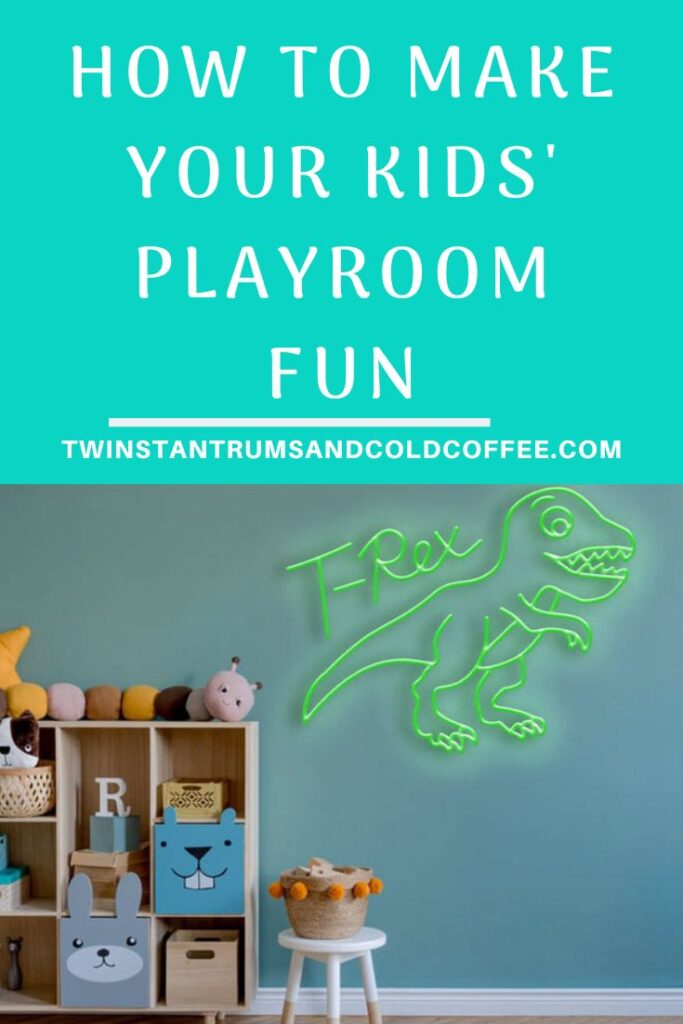 How did I do?
Did you enjoy this post? Why not head over to my Mum Life section to read all about the ridiculous side of parenting three young boys. Or if you want some days out or UK holiday inspiration, check out my Travel posts.
If you like a bit of social media madness, pop over to my Facebook page where you'll be able to have a laugh at what ridiculousness goes on in my house with three very small boys on a daily basis. Warning – there is often sarcasm, and usually swearing. There are also great travel reviews and some AWESOME giveaways. Feel free to join my Twins, Tantrums and Cold Coffee – Shits and Giggles Parenting Group too, where everyone shares their hilarious stories.
If you like what you see, how about you check me out on Pinterest, Instagram and Twitter too.
And if you want to work with me, feel free to give me a shout here or at helen@twinstantrumsandcoldcoffee.com and I'll get back to you.