Finding a good birthday gift is tough enough without having to worry about picking one out at the last minute. Unfortunately, last-minute gift shopping is something we all do.
This is a guest post in collaboration with Alycia Coloma.
But you don't have to stress under all the pressure. The good news is, we've got 7 last-minute birthday gift ideas to make your search for the perfect gift easier.
1. Gift boxes
Sometimes it's hard to decide on a single gift that's just right, so why not give a bundle of gifts with a gift box. You can find all sorts of different gift boxes online, from boxes designed for people who love camping to those made specifically for chefs. No matter who you're shopping for, you'll be able to find a gift box for them. Or if you're looking for something a bit different for the woman in your life, check out this best birthday gifts for wife list.
2. Flowers
Flowers are one of the best options you have if you're looking for good same day delivery gifts. While finding a gift the same day can be tough, flowers are one thing you can usually get delivered within a few hours. Even better, you can get a custom birthday bouquet to make your gift even more special.
3. Edible Gifts
Delicious gifts are often the best kind, and there's nothing quite like an edible arrangement when it comes to a sweet gift. These arrangements may look beautiful, but they're also full of delicious fruits and chocolates that make them an excellent present. You can also opt for a basket of chocolates or sweets; it all depends on who you're buying a gift for.
4. Personalized Wine Rack
You don't want your last-minute gift to feel like it was rushed, so avoid that by giving a personalized wine rack. You can have a wine rack personalized with initials, a small emblem or anything else you want. In fact, you can have any piece of wood engraved if you've got an engraving shop near you. Wine is a perfect way to relax after a long day, so a wine rack is a good gift for people who stress a lot.
5. Monogrammed Bathrobe
Monogrammed bathrobes are a common gift, which means they're pretty easy to find for same-day gifting. There are stores that sell monogrammed bathrobes that feature a single letter, so you should be able to find a robe that fits the bill. Make sure the robe you choose is soft and absorbs water, that way it will get plenty of use.
6. Jewelry is a perfect birthday gift
If you want to give somebody a meaningful gift that doesn't take a long time to get, head down to your local jewelry store and look for some high-quality jewelry. Whether you opt for a simple vintage ring, a nice watch, or a beautiful necklace, you can really make a birthday special with the right piece of jewelry. Pocket watches are ideal for personalisation with unique engraving, you may want to include dates, names, initials, or a message that commemorates the occasion. If you do choose jewelry as a last-minute gift, make sure you keep the receipt in case it needs to be returned or resized.
7. Useful Gifts
Most people think an expensive or unique gift is the best way to go, but sometimes people just want something useful. If you're having trouble thinking of a good gift idea for someone, try to think of something that they could use in their daily life. Somebody who loves running might want a gift card to a running shoe store, while somebody else may prefer a portable charger for their mobile phone. What about for a coffee addict like me? They would love one of these birthday gifts for coffee lovers. When you get somebody a useful gift, they'll remember you every time they use it.
One way to make useful gifts extra special is to personalize them. For example, you could get a customized photo blanket instead of a plain one for that added personal touch. Depending on the item, you can have it engraved, monogrammed, embroidered, or printed with the recipient's name, initials, or a symbol that means a lot to them. Taking that extra step can make your gift so much more thoughtful and memorable.
Finding a good gift isn't always easy, especially if you don't have a lot of time. Fortunately, there are a lot of solutions if you're looking for a last-minute gift. And no matter what, your friends are going to appreciate getting a birthday gesture from you.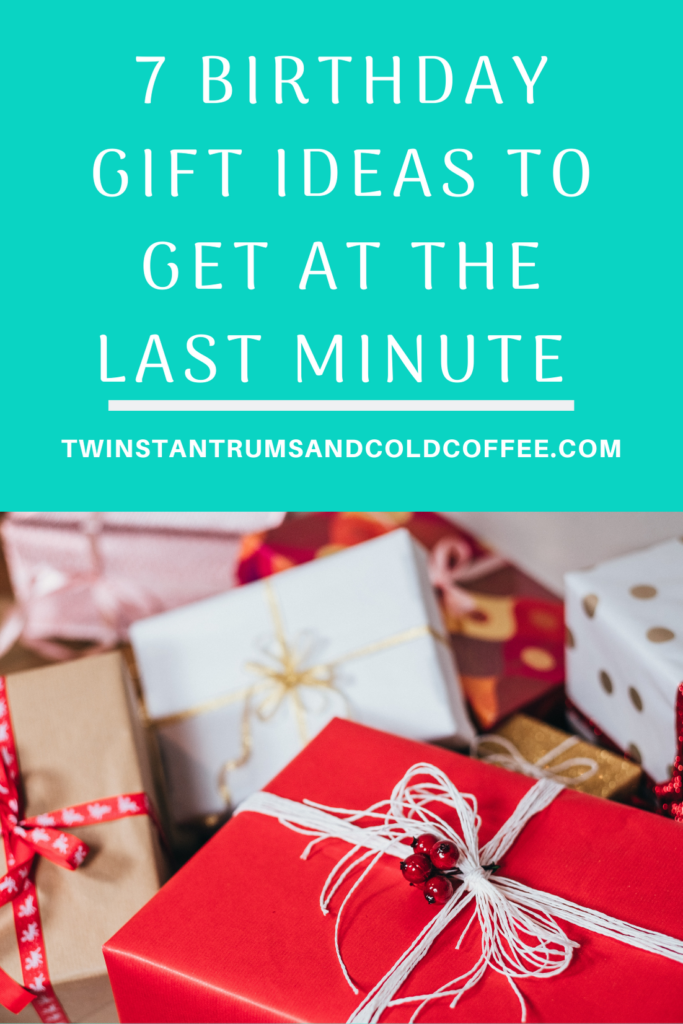 How did I do?
Did you enjoy this post? Why not hang around and read some more. If you want to read some more of my usual kind of stuff, head over to my Mum Life section. You'll find all things parenting with a tongue-in-cheek twist. Or if you want some days out and UK family holiday inspiration, click on the Travel section.
If you like a bit of social media madness, pop over to my Facebook page where you'll be able to have a laugh at what ridiculousness goes on in my house with three very small boys on a daily basis. Warning – there is often sarcasm, and usually swearing. There are also great travel reviews and some AWESOME giveaways. Feel free to join my Twins, Tantrums and Cold Coffee – Shits and Giggles Parenting Group too, where everyone shares their hilarious stories.
And if you want to work with me, feel free to give me a shout here or at helen@twinstantrumsandcoldcoffee.com and I'll get back to you.