How to describe Circus Extreme in one word – WOW!
The entire performance is just incredible. Go see it – go see it now!
It's from the producers of the famous Moscow State Circus but is just jaw-droppingly daring. This is serious edge of the seats stuff. I found myself gasping every so often and almost wanting to shut my eyes, it was so risky!
Circus Extreme has been five years in the making, and is now on a European tour.
It features some of the most talented performers in the world, and that's flippin' easy to see within minutes of the show opening.
Acts include the Danguir Troupe, who opened the performance with their high wire and double wheel of death stunt, which has never been seen before in the UK.
It basically looked like four giant hamster wheels on steroids spinning around the Big Top whilst the troupe walked, skipped, and jumped all over them high in the air. Talk about breath-taking. We were all hooked within seconds!
Circus Extreme has everyone's favourites and much, much more
There were circus favourites such as jugglers, the aerial rope, trapeze and tightrope but even when you've seen stuff like this before you still couldn't take your eyes off the performers.
Especially when the team of tightrope walkers, high up in the roof of the Big Top somehow managed to cycle two bikes across the rope whilst balancing another performer on a bar on top of them. Seriously, HOW do they do this stuff?
British performer Laura Miller showcased her internationally-renowned aquatic aerial ring act which combined fire, water and air. One minute she's flying through the air gracefully on the ring, making all sorts of heart-stopping moves look like a piece of cake.
The next she's like a mermaid plunged into a pool, swimming around on the bottom before being whisked high up to the roof on the aerial ring again.
Henry the clown has audience in fits
Henry the World Famous Prince of Clowns, a legendary figure in the circus, kept the audience entertained between the acts, and he was brilliant. Not your usual creepy, unfunny clown at all.
Word of warning though, Henry LOVED a bit of audience participation, so if you don't want to be dragged into the ring, don't sit near the front. But the Plymouth crowd loved the 'volunteers' who obliged. They were all great sports, making total fools of themselves alongside the clown – including a young lad who took it all in his stride. There was even a moment when cooked spaghetti was being thrown out into the crowd – and being chucked back by audience members. Including my Dad.
But for me the best bit of Circus Extreme was the finale – performed by the Extreme FMX Team. They're a group of daredevil motorcyclists who were basically put on this Earth to wow us.
Just back from their European tour, the team made pretty much every jaw in the Big Top drop with their act.
Circus Extreme stunt riders are mind-blowing
The stunt riders started off with the Globe of Death – dubbed the most death-defying act ever performed. The stunt put the riders under G-force similar to that of a fighter pilot, as they rode their bikes vertically and horizontally whilst encased in a mesh sphere. As you do.
As if that wasn't enough, their stunts then went up a gear. Or five. The riders were suddenly then pilots (still on their bikes!) flying through the air OVER THE TOP of the Globe of Death. And like that wasn't enough, whilst they were in mid-air they were performing stunts such as the Superman, seat grab, nac nac (apparently a freestyle motocross trick) and back flips. It was un-BELIEVABLE!
The audience was told not to leave their seats whilst the riders/pilots/stuntmen/absolutely bloody mad men were performing, but there was no chance anyone was going anywhere. We were transfixed!
Kids and adults alike loved Circus Extreme. I didn't take my twins, but my friend took her 20 month old daughter who was mesmerised. My four year old sat with his mouth wide open in awe the majority of the way through, and my brother and nephews want to go back again before it leaves town, they were so impressed.
One word of advice – see Circus Extreme now!
It's housed in the UK's largest state-of-the-art centrally heated (btw you don't need a jumper) Circus Big Top that can seat 3,000 people.
Whether you're a petrolhead, theatre-goer, or thrill-seeker, the show is AMAZING.
It's on in Plymouth until Sunday October 13, and is then heading to Ealing in London, as part of its European Tour.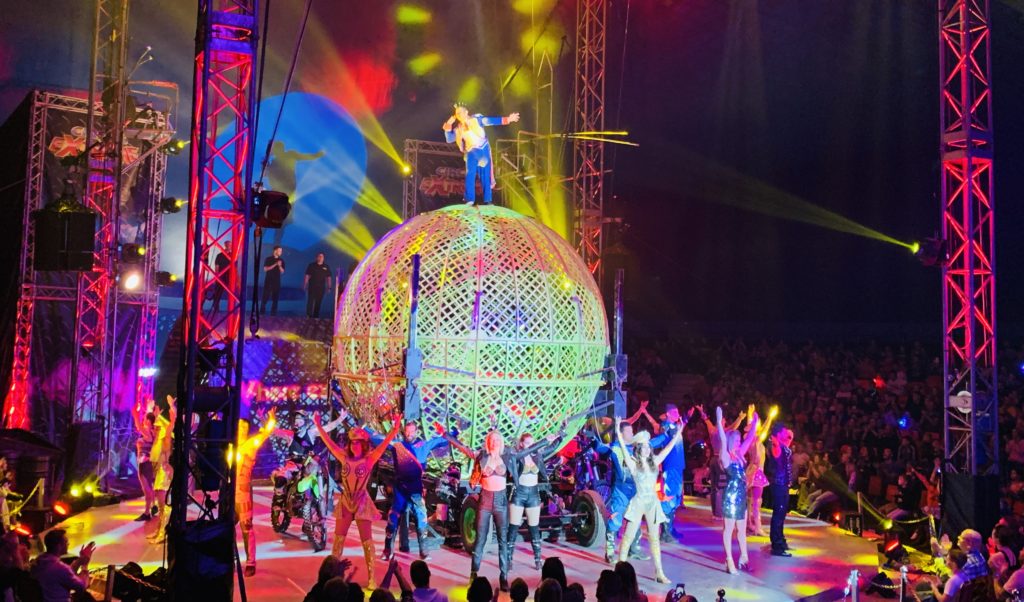 Find out more and buy tickets at www.circusextreme.co.uk and look out for half price flyers in shops. Just make sure you don't miss it.
Did I mention that I happened to enjoy it?
Disclaimer – we were given tickets for the circus for the purpose of this review, but opinions and words are my own.
How did I do?
Did you enjoy this post? You might like some of my others. Why not find out more about Disney On Ice's UK Tour. Or have a read of my days out and travel section. And if you want more local stuff, have a read of some more posts here.
If you like a bit of social media madness, pop over to my Facebook page where you'll be able to have a laugh at what ridiculousness goes on in my house with three very small boys on a daily basis. Warning – there is often sarcasm, and usually swearing. There are also great travel reviews and some AWESOME giveaways. Feel free to join my Twins, Tantrums and Cold Coffee – Shits and Giggles Parenting Group too, where everyone shares their hilarious stories.
And if you want to work with me, feel free to give me a shout here or at helen@twinstantrumsandcoldcoffee.com and I'll get back to you.