Are you looking for a good kids' movie to watch as a family? We all know children love to watch films so why not try to choose an educational one.
This is a collaborative post and I have been compensated for my time.
If you are looking for something shorter than films, kids learning videos from Kids Academy are perfect for you. Or check out these educational TV shows for kids.
But if you want something a bit longer there are some brilliant kids' movies available that they'll learn from whilst watching.
Your child can absorb any information like a sponge. This is why you should consider instilling the right values in your son or daughter, such as kindness, responsibility, or compassion. But how can this be done most simply and unobtrusively?
It's best to choose a good educational kids' movie that tells about friendship, loyalty, or learning from mistakes. Then your child will quickly understand how to interact with the world around him or her. All you have to do is spend a few hours.
Here are 7 educational kids movies to watch
1. Toy Story 2
Many people know this cartoon. The toys that come to life in this kids' movie will arouse genuine interest in your child. Beautiful animation and the original script will be interesting even for adults. But these are far from the main aspects of why Toy Story 2 is worth your attention. The writers were able to integrate the concept of loyalty and friendship ingeniously.
The two main characters are toy models from different sets who are oblivious to the difference between each other. The cartoon teaches children that family, loyalty, and friendship are the main values for which you can overcome any obstacles. After watching, you can explain to your child why it is important to value family and make everyone happy. My boys love this one!
2. Coco
Family values are the top feature of this cartoon kids' movie. The main character is an aspiring musician who does not understand why his family forbids him to play. The reason lies in the deceased great-grandfather. The hero needs to determine why his ancestor was guilty of his family and how it is connected with music. The cartoon is interesting because it will be useful for any viewer. Children can see how a passion for music motivates the protagonist to solve mysteries and build relationships with his family.
Adults can see how unfounded prohibitions and condemnation of someone have a detrimental effect on the family. You should watch this cartoon with children, even if you are a student and need to write your assignments. Take some time on the weekend or ask someone, "Can you write my paper?" Or use this paper writing service. Then you will have the opportunity to watch this cartoon.
3. The Incredibles
This is a great kids' movie about a family with superpowers. The main characters fight evil and use their skills for teamwork. The film promotes family values and the fact that together you can achieve incredible results. The idea of superpowers shows children how power creates responsibility and the need to take responsibility for decisions and their consequences. Your child will love this family friendly movie.
4. Moana
This Disney family film will be of interest primarily to children under 10, but even an older audience will be able to appreciate the plot. And sing along if you're anything like me! It is based on heroes who strive to find love and follow the call of their hearts. The film also teaches children to overcome their fears and listen to intuition. It will be useful for your child to watch how the main characters overcome obstacles and learn to understand each other.
5. The BFG
This film is a little naive, but it is perfect for explaining to children how important it is to combat bias and negative opinions about those who are different from someone else. The gentle and touching story of friendship between the giant and the main character will allow anyone to understand how important it is to accept people without value judgments and appreciate the family. In addition, viewers can see that all dreams come true if they persist and do not give up.
6. Bridge To Terabithia
This story is about a boy and a girl who become friends despite differences in upbringing and social status. The main characters find themselves in a whirlpool of adventures and learn to help each other. The family film very simply and succinctly shows how you can overcome fears and learn to appreciate life. The ending will be useful even for adults. Through this kids' movie, your child learns that being positive and loving others can change the world.
The movie is only 95 minutes long, so you don't have to change plans for the whole day. But if you are a student with a family, then it is better to delegate some tasks to someone else. Maybe you should look for professional essay writing help. Then you are risk-free and guaranteed to get a well-written paper.
7. The Land Before Time
At first glance, this film is a typical friendship story. But not everything is as simple as it seems at first glance. The main character is a small dinosaur who wants to find a valley with relatives and live happily. He meets peers who become his friends and help him get to a magical place. The film very easily and naturally tells children about the importance of teamwork and the support of friends. The finale shows that any hard work is rewarded, and no one should stop halfway. My boys will watch this movie over and over again. It's lovely!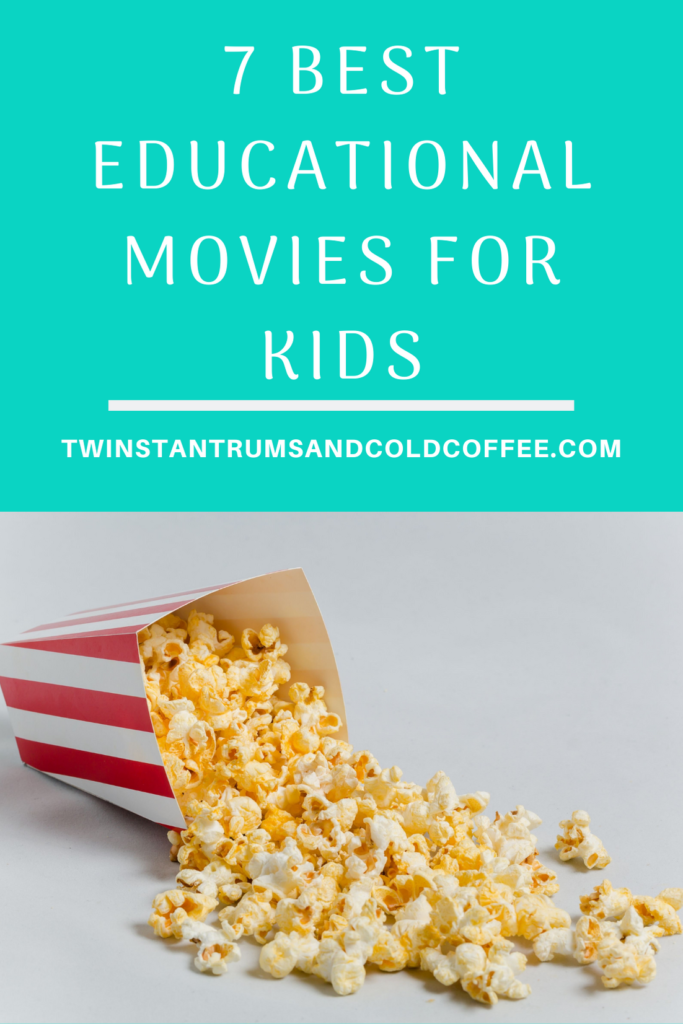 How did I do?
Did you enjoy this post? Why not hang around and read a few more. If kids' movies are what you're looking for, try this Top Must-See Christmas Movies For Kids. If you want to read some more of my usual kind of stuff, head over to my Mum Life section. You'll find all things parenting with a tongue-in-cheek twist. Or if you want some days out and UK family holiday inspiration, click on the Travel section.
If you like a bit of social media madness, pop over to my Facebook page where you'll be able to have a laugh at what ridiculousness goes on in my house with three very small boys on a daily basis. Warning – there is often sarcasm, and usually swearing. There are also great travel reviews and some AWESOME giveaways. Feel free to join my Twins, Tantrums and Cold Coffee – Shits and Giggles Parenting Group too, where everyone shares their hilarious stories.
And if you want to work with me, feel free to give me a shout here or at helen@twinstantrumsandcoldcoffee.com and I'll get back to you.