If you're expecting a baby, one of the things you will need, before you even leave the hospital, is a car seat to ensure your newborn is travelling safely in the car. But what are the best car seats to look at?
In fact, nanny, grandad, auntie or uncle – if you are taking your tiny humans out in your car, you will also need car seats and the UK law states that children must travel in child car seats from birth until the age of 12 (or 135 cm tall).
But how do you know which type of car seat to choose? There are lots of different factors to consider such as this country's safety regulations, the stage of your child, the child's age, weight limit, height limit, ease of use, safety features, and whether you are hoping to use it as part of travel systems. Start by looking at the safest car seats based on your child's age, height or weight.
There are three types of car seats for children:
A rear-facing seat
A forward-facing seat with a five-point harness
A booster seat
Children under the age of 15 months must be transported facing rearwards in seats that are approved. Sitting your child in a rear-facing position when travelling in the car is the safest option and it is proven to give greater protection in the event of a crash. If you're a new parent you should be thinking of the safest place for your baby when buying a new car seat and that is to have the child rear-facing.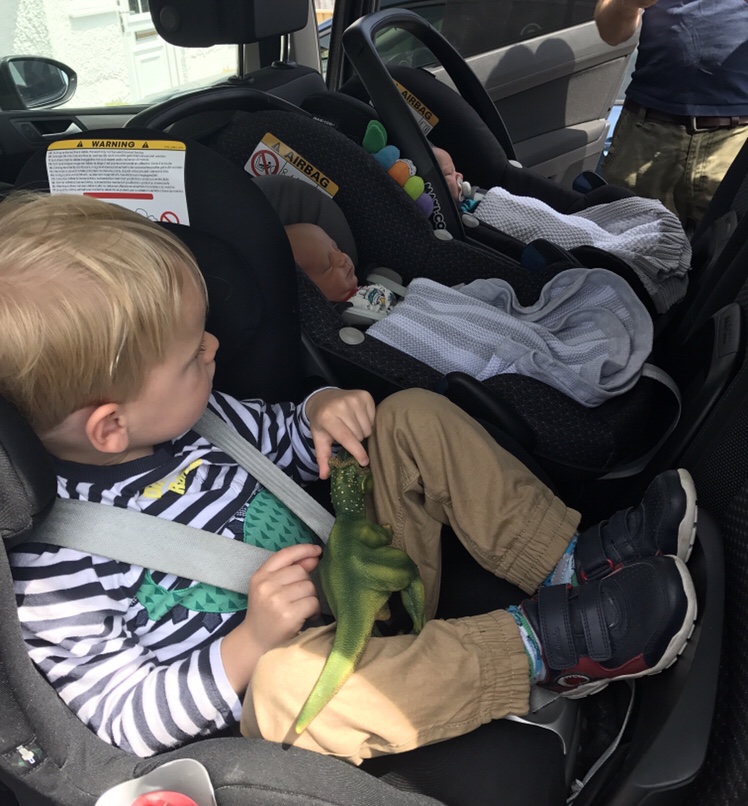 Infant car seats can be installed in two different ways. You can use ISOFIX, which is a system that allows you to fit the seat using special anchor points that attach directly to a car or you can use your car's 3-point seatbelt to attach the car seat securely. Ease of installation is an important consideration when you're looking for the best option. Especially if it's going to be transferred between cars regularly. There is nothing worse that having to swap between car rides on a daily basis and it not be easy installation. It's no fun struggling in the back seat of small cars knowing it won't even be in there for a long time. You'll soon start getting annoyed!
Likewise if you have ISOFIX in the rear of your car, going with an ISOFIX option could be the best car seat for you. You can use the vehicle's seat belt to hold the infant seats in position, but what if you're in the car on your own without children? I've done this before and found the car seats sliding all over the back seat as they're not held in place with ISOFIX. And let's be honest, none of us have got the time to faff around securing seats with seat belts when we don't even have any kids with us!
Your child can use a front-facing car seat when they're over 15 months old. When weight-based seats are selected, the child may travel rear-facing until reaching a weight of 13kgs.
Before you buy a car seat you should check that it meets ECE safety standards. There will be a sticker located on the car seat to show this. Also, please make sure the car seat is compatible with your car. Most are universal fitting, but it's best to check it can be fitted in the correct position before you buy. Better safe than sorry.
Best car seats for babies and children to look out for
I have chosen some of the best brands out there, to give you a bit more of an insight into the best car seats for babies and children. Whether they're for tiny babies, older children or ones that do the job for both.
Joie i-Spin 360
The Joie -i-Spin 360 has a 360º pivoting protector that spins rearward, forward and everywhere in between. This car seat meets the i-Size ECE R129/02 standard and is suitable from birth up to 4 years (105 cm). This can be used rearward and forward facing (when the time comes). There is a Smart Ride lock-off which helps keep your baby in rear-facing mode until it is safe to turn forwards and it has a sleepy time tilt which includes 6 reclining positions. This car seat also features a grow-with-me infant insert which has three individual pieces for a custom fit at any stage. Just be aware any seat that spins will be no good if you end up with 3 kids all in baby car seats in a row like we did. There's no space for the fancy one to 'spin' once there is another car seat in the middle. Believe me, I'm speaking from (bitter) experience.
Silver Cross Dream i-Size
The Silver Cross Dream i-Size baby carrier is one of the best infant car seat options you can look at. It is a very safe choice for newborns and it has been awarded the best-ever rating when used with the Dream i-Size base by independent car seat testing body ADAC. The car seat features antibacterial bamboo fabrics that provide the best in comfort. This car seat is suitable from birth to approximately 15 months (weight up to 13kg). For smaller babies, the newborn insert creates the perfect seating position for your little one. As your baby grows the removable cushioned sides create more room and the quick and easy-to-adjust, 5-position headrest ensures they're protected until they're ready for their next stage seat.
Maxi-Cosi CabrioFix
The Maxi-Cosi CabrioFix is suitable from birth up to approximately 12 months (or 12 kg). Their i-Size safety standards offer the highest safety ratings in Europe. The CabrioFix i-Size is lightweight and super-easy to carry so is a good option if you're using it to carry your baby into the house from your car. It is designed to give you freedom of movement and the car seat fits most strollers and prams and has memory release buttons. This padded i-Size baby car seat comes with a newborn inlay that adds comfort for your newborn and a headrest will always perfectly fit the head of the baby. There is a large sun canopy that ensures your baby's protection from the elements.
Joie i-Gemm 2
The Joie i-Gemm 2 car seat meets the i-Size ECE R129/03 standard and it is suitable rearward facing from birth to 85 cm (less than 13 kg). It installs in your car using the Joie i-Base Advance, i-Base lx or i-Base. The car seat has a Tri-Protect headrest offering security with three layers of protection inside the wings. There is a Grow Together multi-height headrest and harness system that adjusts simultaneously and requires no re-threading of harness. This seat has a 5-point harness with shoulder and lower buckle covers that easily tightens with one pull motion and it is compatible with most Joie pushchairs and with other pushchairs using Maxi-Cosi style car seat adapters.
Britax Römer Baby-Safe 3 i-Size
The Britax Römer Baby-Safe 3 i-Size car seat is suitable for 3 months – 4 years (up to 18 kg). It is the perfect follow-up seat to use after a newborn infant carrier. This car seat can be easily clicked onto the Flex Base 5Z and it meets the i-Size standard and includes premium safety and comfort features. The car seat suits children from three months up to four years – adapting to your little one as they grow to ensure continuous comfort and protection. It allows for both rearward and forward facing rides, making the transition quick and easy when your child is old enough. For maximum comfort, you can easily switch between six ergonomic reclining positions.
Besafe Stretch
The BeSafe Stretch is a rear facing seat from 6 months to 7 years, this is known to be the safest position for travelling. This car seat grows with your child all the way to 125 cm and 36 kg. The unique external frame on the seat will bear the forces in a crash. Being belt installed means you can install the seat in any position in the car, even in the front passenger seat and middle rear bench. By using long-lasting materials and making the exchange of parts a lot easier, the lifetime of the seat has really been extended.
Nuna AACE lx
The Nuna AACE lx booster car seat has every feature needed for a growing child in a sleek design. The 3D growth system means that seat depth can be increased and as the headrest is raised the shoulder width expands, making more room as your little one goes from child to big kid to pre-teen. They'll be protected thanks to a detachable side impact protection pod that works with the integrated foam. A green belt path with belt positioner makes buckling easy and secure. The recline adjusts smoothly for a custom fit to both your child and your vehicle. It is suitable for children 100-150cm (approximately 3.5 years to 12 years old) so can last you ages.
Silver Cross Motion All Size 360
The Silver Cross Motion All Size 360 has been named best baby, toddler and child car seat in ADAC's 2022 Autumn Test and it is suitable from birth to approximately 12 years. Motion All Size 360 offers 360° rotation for easy accessibility and adapts as your child grows with easy to remove inserts and a stow-away harness. This car seat features an extended rearward facing mode with effortless rotation to forward facing. A removable newborn insert, 8 headrest positions and 3 recline positions. It also has ISOFIX and support legs for simple and safe installation and a Side Protection System (SPS) keeping your child safe and protected on every journey.
Maxi-Cosi Kore Pro i-Size
The Maxi-Cosi Kore Pro i-Size car seat is suitable from 3.5 years up to 12 years (100 to 150 cm). This clever car seat detects when your child is sitting on it. The ClickAssist light illuminates the buckle area, making it easy to click the buckle and the safety belt together. The shell provides full body side protection by covering your child from lap to head. The car seat is also equipped with the Side Protection System Plus (SPS Plus), which consists of glass fibre shock absorbers in the side wings combined with energy absorbing material. This complete system provides superior side protection for your child at all times.
Chico Fold & Go i-size air
The Chicco Fold & Go Air i-Size car seat is designed to follow children from 100-150cm (3-12 years). Independently adjustable height and width adapt to your child's growth, giving them comfort, space and safety. Providing additional comfort, the Fold & Go Air reclines to four different positions whilst the five belt positioner ensures the child's abdominal area is protected. i-Size safety means installation is done easily using the vehicle belt and rigid connectors.The Fold & Go Air is also easily folded to carry and store in the boot when not in use. This seat also features 3D channel mesh fabric which improves ventilation throughout seat and backrest.
So whether you're looking for the right car seat for your newborn baby, a booster seat for older children, or a second one to put in the grandparents' vehicles, as you can see the choice is vast. Be sure to do your research using consumer reports and reviews, whether you're looking for a forward-facing car seat, a rear-facing car seat, the best convertible car seat or all in-one car seats that will see your child through from birth to the age of 12.
There's a lot to think about when it comes to finding the best seat, including the cost, but these are some of the best car seats on the market in the UK. Good luck finding the right one!
If you enjoyed this post you might like these:
How did I do?
Did you enjoy this post? Why not hang around and read a few more whilst you're here. If you want to read some more of my usual kind of stuff, head over to my Mum Life section. You'll find all things parenting with a tongue-in-cheek twist. Or if you want some days out and UK family holiday inspiration, click on the Travel section.
If you like a bit of social media madness, pop over to my Facebook page where you'll be able to have a laugh at what ridiculousness goes on in my house with three very small boys on a daily basis. Warning – there is often sarcasm, and usually swearing. There are also great travel reviews and some AWESOME giveaways. Feel free to join my Twins, Tantrums and Cold Coffee – Shits and Giggles Parenting Group too, where everyone shares their hilarious stories.
If you like what you see, how about you check me out on Pinterest, Instagram and Twitter too.
And if you want to work with me, feel free to give me a shout here or at helen@twinstantrumsandcoldcoffee.com and I'll get back to you.