When you're a mum you worry a lot about what your kids eat. You worry even more when they are fussy eaters like mine. But I've discovered a new way to ensure they stay healthy – and it's all about good bacteria and cultures.
This is a sponsored post for BC30™ through Kitchen PLAY.
My eldest is six, and my twins are four, and to say they are fussy when it comes to food is an understatement. There are literally about four meals that they will eat, and I do these on a rotation. And obviously one of those is chicken nuggets and potato waffles, which I suppose I shouldn't even count!
I'll hold my hand up and say I'm no cook. I can throw food together and it's not bad, but it's my husband who is the chef in our family. But due to him working late, it's me who feeds the boys.
I've done the usual that we all do, trying to hide veggies in other food, blitzed up smoothies, and basically BRIBED them to eat but I have to say, my success has been more than pitiful.
They've always been fussy, even as babies. When I weaned my eldest I did that typical first-time mum thing of making my own purees from scratch. Only to see most of them end up on the floor, or across the kitchen walls if I was really lucky!
When the twins were six months I tried Baby Led Weaning in a bid to conquer the fussiness before it even had a chance to start. And admittedly they ate a lot more than their big brother did. But it seems every day now there's something else that they decide they don't like. It's so frustrating, isn't it?!
Being a mum of fussy eaters can be worrying at times
Obviously as a mum I worry that they're not getting enough goodness from their diet. Luckily, they'll eat fruit, but the veggies have pretty much dwindled down to raw pepper (only yellow though!), cucumber, cherry tomatoes and carrot at a push. So, I give them those A LOT! If I have the audacity to put something like a piece of broccoli on their plate, they look at me like I have two heads!
Luckily all three boys never stop running around – albeit most of the time actually chasing each other and screaming! But exercise is exercise, right? So, I'm happy they are active and have a healthy lifestyle. And all three swim weekly and do taekwondo as well as love riding their bikes and racing around our garden. It's their internal well-being that I always have a niggling feeling about.
Which is why I'm so pleased to have discovered BC30™ – a high-quality culture ingredient used by food and beverage makers to help support healthy digestion and immune health in people of all ages.
Rather than attempting to get my kids to drink such a thing in a yoghurt, BC30 is found in loads of different foods and beverages. So, it's ideal to get the boys to have it without even realising!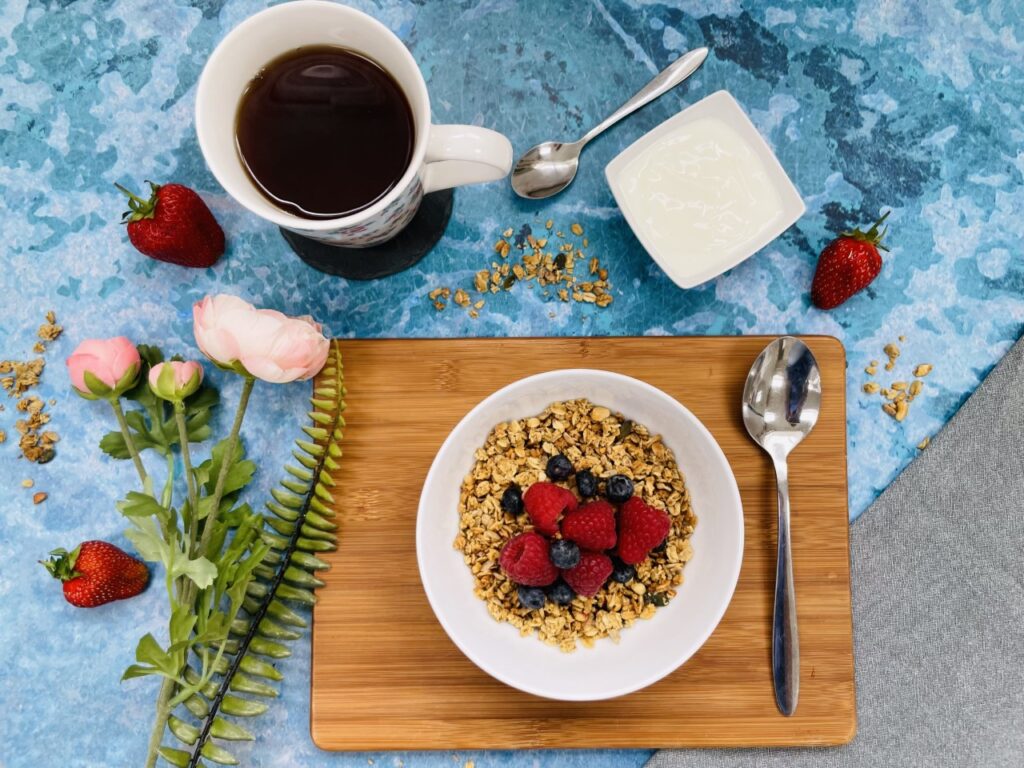 Porridge and granola containing BC30™ are delicious
We've got the porridge oats and the granola, which they wolf down – even when the weather is hot! Porridge for breakfast and I know they're not only filled up for the rest of the morning (until the numerous snack requests ensue obviously!) but that they're filled up with something that's doing them a whole load of good too.
I've been eating the granola and feel great for it. Granola is one of my favourites anyway, particularly with a bit of natural yoghurt and fruit. I feel like I'm in a posh hotel when I have it at home! But I've been having to watch out as the boys have cottoned onto it too and love it as a snack. They eat it dry with no milk out of pots so it's perfect to take out and about with us as a snack.
But how does it all work, and what's so special about BC30, I hear you ask?
Well listen up for the science bit.
BC30™ is a live 'culture' also known as good bacteria
BC30 is a natural and safe live 'culture'. Cultures are living microbes which may provide a health benefit and can be referred to as 'probiotics' in many countries. These cultures may also be known as 'good' or 'friendly' bacteria. We've all heard of these terms, right?
But BC30 is different. It's even better! It's different from other cultures because it is a 'spore-forming' strain. The spore acts as a natural barrier, protecting the active, good bacteria through both the manufacturing process as well as the digestive process.
Not all cultures are the same and they must be alive when they reach your gut to have any benefit. It's no good eating or drinking them and then they be useless by the time they reach their crucial destination!
The handy little protective shell on BC30 means it survives the journey to your gut where it can help regulate bacterial populations, and keep your systems running smoothly and healthily.
Its protective shell also means it can survive extreme temperatures such as microwaving or boiling water, as well as protecting against stomach acid until the culture arrives in the gut to team up with your own bacteria.
Are you still with me? Good, now keep going. This technical stuff is GOOD!
BC30™ good bacteria can support our digestive and immune health
BC30 and its effects have been backed by more than 25 published research papers that show it can support digestive and immune health. It is used by food and beverage makers all over the place to create 'good bacteria' enriched products which means people like you and I can get our hands on it really easily.
We've been eating porridge and granola containing BC30, but it can also be found in products such as dried fruit, cereal bars, flaxseed and peppermint tea! So, you can easily get these added health benefits wherever you are and life takes you. Mainly to the play park in our case…
You can look out for the BC30 symbol or '"Bacillus coagulans GBI-30, 6086" in the nutrition labels of fortified foods and drinks during your weekly shop or online.
So, my boys might still be the world's fussiest eaters, but now I know I can add more good bacteria to their diet and help support their digestive and immune health, I'm feeling much happier about it.
Gut health is a complex issue, and I'm by no means scientifically-minded enough to understand it all. But what I do know is I'm not going to be panicking too much over whether they eat that tiny piece of broccoli anymore!
How did I do?
Did you enjoy this post? Why not hang around and read a few more whilst you're here. If you want to read some more of my usual kind of stuff, head over to my Mum Life section. You'll find all things parenting with a tongue-in-cheek twist. Or if you want some days out and UK family holiday inspiration, click on the Travel section.
If you like a bit of social media madness, pop over to my Facebook page where you'll be able to have a laugh at what ridiculousness goes on in my house with three very small boys on a daily basis. Warning – there is often sarcasm, and usually swearing. There are also great travel reviews and some AWESOME giveaways. Feel free to join my Twins, Tantrums and Cold Coffee – Shits and Giggles Parenting Group too, where everyone shares their hilarious stories.
If you like what you see, how about you check me out on Pinterest, Instagram and Twitter too.
And if you want to work with me, feel free to give me a shout here or at helen@twinstantrumsandcoldcoffee.com and I'll get back to you.