Updating your bedroom for the autumn season is all about adding feelings of warmth, security and comfort to your bedroom.
This is a paid collaborative post
For an instant autumn feel, replace thin fabrics with thicker weaves and light colours with warm, neutral tones.
Cosier layers, warmer colours and thicker textures are autumn hallmarks. This article will offer several tips on how to update your bedroom for the autumn season. Read on for some great ideas from our interior design experts or read this Bedroom Decor- Ultimate Guide.
Autumn colour palette
Whether it's coming up to autumn or you love autumn colours, decorating with an autumn colour palette is always a stylish choice.
Autumn colours include browns, beiges, reds, yellows, oranges and greens. We recommend choosing pastel and subdued colours.
Here are the colours we recommend:
· Brown – RAL 1001 (beige)
· Red – RAL 3002 (carmine red)
· Orange – RAL 2011 (Deep orange)
· Yellow – RAL 1023 (golden yellow)
· Green – RAL 6011 (reseda green)
You can get these in branded paints or ask for a custom mix at a paint centre.
Upgrade your bed frame to update your bedroom for the autumn season
Need a new bed? Autumn is as good a time as any to get it done. We offer a wide range of bed frames, with doubles starting from as little as £165.
Autumn is a transition season, so you'll need plenty of storage. Ottoman beds have a lift-up base with storage underneath, which are an ideal solution to declutter or store your summer clothing until the sunshine revisits us.
If an ottoman bed isn't your cup of tea, a divan bed is another option. Divans have drawers rather than storage under the bed base.
Add softness underfoot ready for autumn
The best way to add a perceptible layer of warmth and comfort to your bedroom? Add softness underfoot with a shaggy or pile rug.
Softness underfoot is essential for comfort with wooden flooring, but a high-quality rug can enhance even carpet.
Try putting a rug beside your bed so your feet have something soft to compress into when you venture out. Another top tip is to put a soft rug near the entrance to your bedroom, so there is a comfortable transition into your space.
Create a layered bed
A layered bed has five layers:
· Fitted sheet
· Top sheet
· Duvet
· Coverlet
· Pillows / cushions
Layered beds are used in show homes for a reason – they provide layers of texture and a natural sensation of warmth and comfort.
For the autumn season, choose bed linen with textures and deep patterns. Cremes, beiges, browns and greys are perfect for keeping things neutral.
Plush pillows are a great way to upgrade your bedroom for the autumn season
One of the simplest tricks in the book to create an autumn vibe is to layer your bed, seats and sofas with plush pillows. Pillows with a thick weave, textures and earthy colours make a real difference to tactile comfort in bedrooms.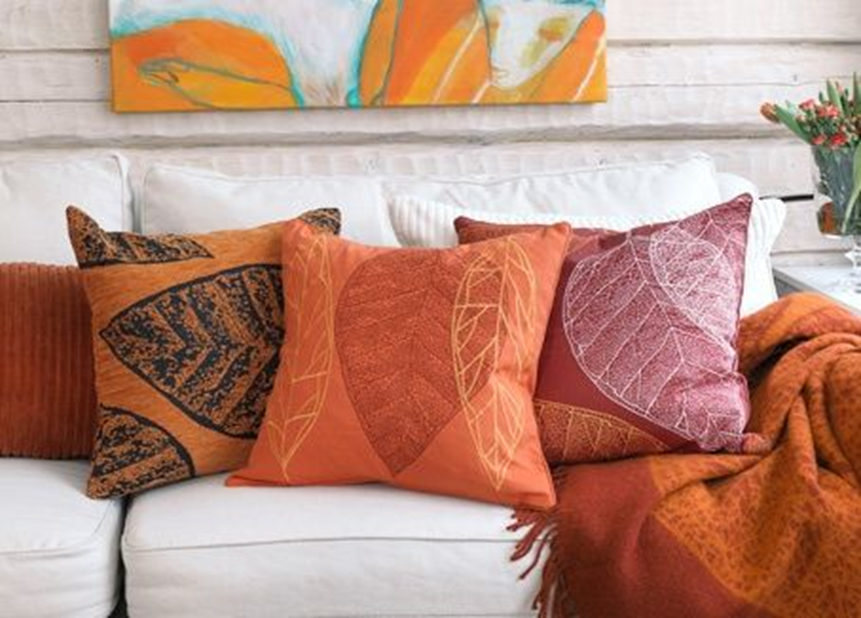 Best of all, you can match your pillows with your décor to create harmony and symmetry in your interior design, giving it a professional edge.
Autumn wreaths
Without question, wreaths are the best wall decorations to create a natural sensation of autumn in bedrooms. Wreaths are statement pieces that stand out, mimicking the look of autumn leaves, berries and plants.
Wreaths are loops, so they have symmetry and emphasis. You can use wreaths above your bed to create a relaxed, welcoming vibe, hang them from your door, and combine them on a feature wall to create a beautiful display. They are the perfect way to transform your room if you're updating your bedroom for the autumn season.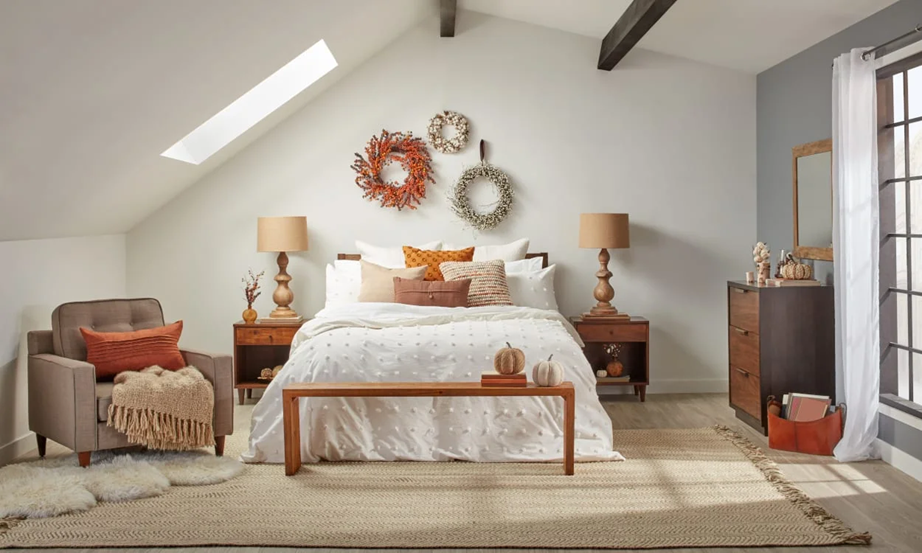 Use seasonal scents when updating your bedroom for the autumn season
The last step to update your bedroom for the autumn season is introducing scents associated with autumn, warmth and comfort.
Cinnamon, pumpkin spice, apple cider, pecan pie, sandalwood, bonfire, sage, fig and myrrh are fantastic scents for an autumn theme.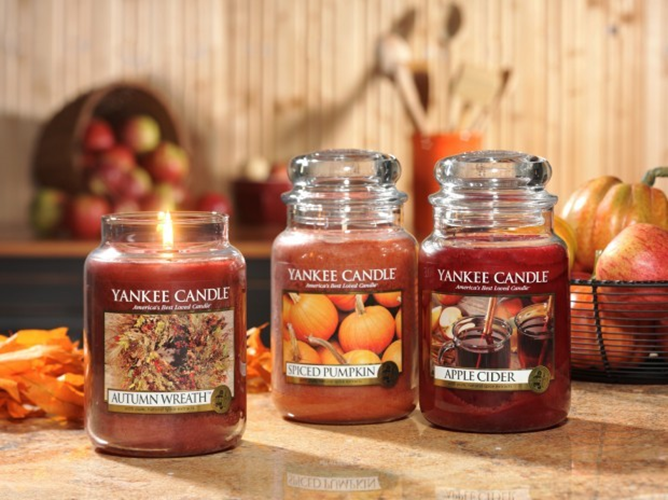 If you like candles, check out Swedish candles, also known as log candles, made from a log milled out to accommodate a candle.
Have more ideas?
If you're updating your bedroom for the autumn season, we'd love to hear about it! Share your tips in the comments section below
How did I do?
Did you enjoy this post? Why not hang around and read a few more whilst you're here. If you want to read some more of my usual kind of stuff, head over to my Mum Life section. You'll find all things parenting with a tongue-in-cheek twist. Or if you want some days out and UK family holiday inspiration, click on the Travel section.
If you like a bit of social media madness, pop over to my Facebook page where you'll be able to have a laugh at what ridiculousness goes on in my house with three very small boys on a daily basis. Warning – there is often sarcasm, and usually swearing. There are also great travel reviews and some AWESOME giveaways. Feel free to join my Twins, Tantrums and Cold Coffee – Shits and Giggles Parenting Group too, where everyone shares their hilarious stories.
If you like what you see, how about you check me out on Pinterest, Instagram and Twitter too.
And if you want to work with me, feel free to give me a shout here or at helen@twinstantrumsandcoldcoffee.com and I'll get back to you.