With so many beautiful destinations to visit across the world, it can be difficult to please everyone in the family when deciding where to go. When you travel with kids there's a lot to think about.
This is a collaborative post.
Kids like energetic activities such as ziplines and kayaking, but we also understand that parents want them to sample new cuisines.
With some fantastic tour guides and some off-the-beaten-path places, you'll have a plethora of holiday alternatives all over the world for your travel with kids.
Unlike old times, it's so easy in this era to research about different places of the world and book flights online within minutes. Online flight booking has indeed made the life of travellers easy.

Now the only challenge is to pick the perfect places to travel for your kids and thankfully there are plenty of fantastic family-friendly vacation spots to select from all around the world.
Best Places To Travel With Kids
Rome, Italy
This is a fantastic location for your children to learn about history. Wherever you go in Italy, you'll find the perfect blend of exquisite kid-friendly food, world-class art treasures, famous monuments and old-world charm.
The ancient city of Rome is a child's dream come true. Visit the magnificent Colosseum, stroll around the busy piazzas, and enrol your children in gladiator training.
Even small children are familiar with Roman gladiators, and here is their chance to learn more about them from historical re-enactors who bring this ancient art to life.
Your kids will see carts and businesses serving the wonderful Italian flavour of ice cream almost everywhere in Rome.
Costa Rica
The nation is full of unusual species, including an abundance of colourful birds, monkeys and the very beautiful sloth, making it an excellent family vacation playground.
Costa Rica provides the ideal combination of beach and outdoor activities and the majority of the country's most popular attractions are easily accessible by vehicle.
As a result, it's simple to enjoy a luxurious vacation while simultaneously immersing yourself in the local culture. You'll find lots to do here, from adventure sports to seeing iconic sights like the La Fortuna Waterfall and the Arenal Volcano.
Animal enthusiasts visiting Costa Rica will be astonished by the abundance of animals to be seen, including sloths, turtles and uncommon birds.
Honolulu, Hawaii
Families that often visit Hawaii know that it is an excellent place for kids to experience not just stunning natural beauty, but also a multicultural atmosphere and a genuine sense of aloha.
Kids and adults may see a dolphin performance at Sea Life Park on the island's east coast in Honolulu. Alternatively, the entire family may immerse themselves in the water for incredible snorkelling at Hanauma Bay or shark swimming with North Shore Shark Adventures.
The most popular hangout area on Oahu is Waikiki Beach. When you've had your fill of sun, head to this beach on the outskirts of Honolulu's downtown district. There you can get a bite to eat or shop for souvenirs. The Hawaii Children's Discovery Center is an interactive, participatory learning environment. Children are encouraged to utilise their senses of touch, sight, hearing and scent to better comprehend the world around them.
Edinburgh, Scotland
Edinburgh is one of the greatest European destinations to visit with your children. Visit a ccastle, a frightening dungeon, a Harry Potter tour, an extinct volcano, or delve into medieval history. The Crown Jewels, the Great Hall, Mons Meg and the city vistas will all appeal to children.
Throughout the year, 12 major festivals, including the famed Fringe, take place. They range from a storytelling celebration to a scientific festival. There's also the Museum of Childhood, where parents can reminisce as your children get hands-on. During the warmer moths, expect to see a lot of people. Traffic jams on the stairwell are regular, which adds to the enjoyment. It's certainly a brilliant UK holiday destination for kids.
Reykjavik, Iceland
Whether you have little kids or teens, Iceland is a great place to visit. From exploring nature to meeting local animals, sampling ice cream to swimming in geothermal pools, there are plenty of things for the whole family to enjoy.
This tiny capital is simple to navigate by bike, making it ideal for older children. Take the lift up to Hallgrimskirkja for some spectacular views. The Sun Voyager sculpture in Reykjavik is an excellent spot to begin a family trip to Iceland with kids. This is one of the country's most well-known works of art. In Iceland, there are several excellent kid-friendly museums. The Saga Museum is a famous tourist attraction in Reykjavik the kids will love.
Florida, USA
When planning a trip to Florida, the first place you should go is Orlando. It is a kid's paradise with a plethora of attractions for children of all ages. Which is why it is one of the best destinations in Florida for a family holiday.
With its four parks – Magic Kingdom, Blizzard Beach, Typhoon Lagoon and Animal Kingdom, Disney World is a must-see.
Sanibel is one of the best family vacation spots in Florida. At this beautiful barrier island, you can enjoy snorkelling, swimming, cycling and a variety of other activities with your family.
In recent years, Tampa has established itself as one of the greatest destinations for a family vacation. Tampa provides plenty of splashy entertainment for kids, including water shoots, flume rides and fountains.
Toronto, Canada
While the winter months in Toronto are packed with snow-related activities such as skiing, ice skating and sledding, the summer months provide a very different experience.
From zoos and aquariums to one of of the world's most spectacular natural marvels. From the top of the CN Tower you can get a bird's eye perspective over the city and its surroundings.
The Royal Ontario Museum's building has been renovated into a one-of-a-kind, jagged, towering edifice. The short boat journey from Queen's Quay Terminal in Downtown Toronto to numerous interconnecting islands will be a hit with the kids. For youngsters of all ages, the Ontario Science Centre makes learning entertaining.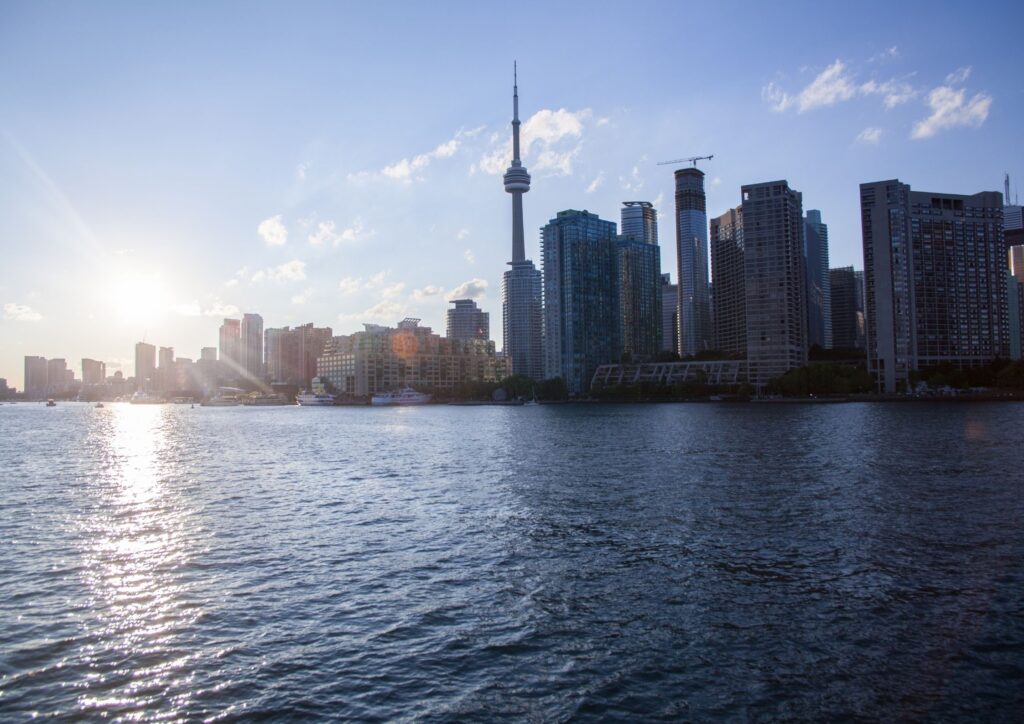 Tips on how to travel with kids
Be realistic about how much you can see or do in a day. And relish your leisure time as much as your exploration time.
It will take some time for kids to adjust to different time zones, climates and cuisines. So bear with them and have fun wherever you end up and how you travel with kids.
How did I do?
Did you enjoy this post? Why not have a look at others in my Travel Section. You'll find lots of UK holiday inspiration and family days out. And if you want to read some more of my usual kind of stuff, head over to my Mum Life section. You'll find all things parenting with a tongue-in-cheek twist.
If you like a bit of social media madness, pop over to my Facebook page where you'll be able to have a laugh at what ridiculousness goes on in my house with three very small boys on a daily basis. Warning – there is often sarcasm, and usually swearing. There are also great travel reviews and some AWESOME giveaways. Feel free to join my Twins, Tantrums and Cold Coffee – Shits and Giggles Parenting Group too, where everyone shares their hilarious stories.
If you like what you see, how about you check me out on Pinterest, Instagram and Twitter too.
And if you want to work with me, feel free to give me a shout here or at helen@twinstantrumsandcoldcoffee.com and I'll get back to you.