If you're having an Isle of Wight holiday and looking for a family-friendly day out then Tapnell Farm Park will tick all your boxes.
AD: we were given a family ticket for a morning session at Tapnell Farm Park for the purpose of this review. We were also given a complimentary ferry crossing to the Isle of Wight by Wightlink.
The award-winning farm park has just as much indoors as outdoors so whatever the weather you'll have a great day out.
We went three years ago when my twins were little in a buggy, so I knew as soon as I booked our holiday to the Isle of Wight that I wanted to go back. They've just turned four and my eldest is six, so they are perfect ages to enjoy everything Tapnell Farm Park has to offer.
And boy does it have a lot to offer!
Tapnell Farm Park offers so much more than just animals
Obviously it has animals as the name suggests, but there's so much more than that. The kids were spoiled for choice.
My boys headed straight for the Animal Barn and to the bugs and beasties the second they went through the door. Fascinated by stick insects, giant snails, locusts, and cockroaches, not to mention the Australian bearded dragon. They'd have stayed here for hours watching them.
The bugs area leads into the 'meet the animals' and pet enclosures where you can say hi to the goats, harvest mice, ferrets, rats, rabbits, and guinea pigs, as well as new baby chicks in the Hatchery.
Once they'd oohed and ahhed over the animals, and told us for the 396th time they'd like a guinea pig (answer is still no), we followed them to the Adventure Barn, where the real fun began.
Adventure Barn is great for all-weather fun
Here they couldn't believe their eyes. I mean, how would they choose what to go on first when fun was staring right back at them everywhere they turned.
The six year old took the lead and everyone followed to the pedal go karts. We were the first ones on them and obviously Daddy had to win. Mummy brought up the rear. But the twins didn't care. They just squealed with excitement the whole way round the track. There are also mini go karts for little ones too, although their legs weren't quite long enough to put enough pressure on the pedals, they still enjoyed being pushed around.
Inside Tapnell Farm Park's Adventure Barn is where you'll hear the laughter and excitement from the kids. There are two zip wires, a climbing wall, several trampolines, and a straw bale play area. Never did I realise that a load of stacked hay bales could provide so much fun. It's set up almost as a mini maze for them to make their way around, to reach three slides. Combine that with some funky music playing over the speakers, and my three decided to create their own hay bale disco too!
Children are spoiled for choice at Tapnell Farm Park
When we could drag them outside, they loved the Look Out rope climbing pyramid. Or should I say fearless Twin One the climber did – getting right to the top. His slightly more cautious twin brother just watched!
Next to the Look Out we found the Sledge Slides – two sloped wooden tracks the boys raced down on sledges. Picking up some serious speed along the way! And Twin Two definitely did NOT have a strop because he lost the race. Honest.
The boys then headed to try out the trim trail in Tapnell's new playground. This is right up their street and entertained them for ages. Twin One was particularly chuffed with himself for being able to do the monkey bars on his own for the first time. It was also ideally situated next to plenty of picnic benches so we could sip a coffee from the cafe whilst they played.
We could also watch them on the jumping pillows from our latte-drinking spot too. Isn't it great once your kids are old enough to do stuff on their own?!
The jumping pillows went down a treat. Wearing them out ready for a snack and a sit down before starting all over again.
Wallaby feeding was highlight of the day
It was then time to visit the Wallaby Walkabout and Meerkat Enclosure which was 100 per cent the highlight of the boys' day. It was a timed activity where a keeper was on hand to tell us about the wallabies and let the boys feed and stroke them. They LOVED it! We then listened to him talk about the meerkats and watched them in their enclosure. Before the boys were drawn back to the wallabies again!
Other animals outside in the paddocks included donkeys, goats, alpacas, pigs, sheep and even highland cows. But it was the wallabies that stole the show.
We then had a quick game of mini golf. Or an attempt at it. Not even the six year old has quite mastered how to hit the ball. No matter how many times Grandad has tried to teach him. And as for the little ones, they pretty much just knock it into the holes with their hands. But they enjoyed it!
Three-storey soft play is ideal for a rainy day at Tapnell Farm Park
We then headed to the soft play barn for their booked session. The barn houses a three storey soft play area which they loved. And we were able to sit and watch again. Perfect! There's a toddler zone which was closed due to Covid but there's plenty of space for the little ones to still play.
We ended up running out of time to try our hand (feet) at the Farm Park Footy, or have a play in the giant sand-pit or ride-on tractors.
Due to Covid, Tapnell Farm Park are running morning and afternoon sessions. We opted for the morning which was 10am to 1pm. With so much to do you're hard pushed to get around it all in three hours. Especially if you book a slot in the soft play. In normal times, and certainly when we came three years ago, it was a full day out.
"Best burger ever' at The Cow restaurant
So we decided to extend our day out by having lunch afterwards at the award-winning The Cow restaurant which is on the same site. The best burger the six year old had ever tasted, apparently. I think I can pretty much say the same about the one I chose too, to be honest.
We stayed on the Isle of Wight for a week's holiday. I used to go there as a child on holiday and as I say, came for a few days three years ago. There's so much for kids to do on the island. It's such a family-friendly holiday.
Wightlink ferry is quick and easy crossing to the Isle of Wight
Car ferries run regularly by Wightlink from Lymington or Portsmouth. We sailed from Lymington to Yarmouth which took about 45 minutes. It was just enough time for the boys to have an explore, try to spot some seals and watch the posh luxury yachts go by. 
We spent the time onboard wandering and watching, but there is a cafe and lounge where you can sit. Or if you want the best view head up on the various decks. You get a great view of The Needles, one of the Isle of Wight's most famous landmarks, as you dock too.
If you're thinking of a holiday there, you'll find some brilliant days out on the Isle of Wight for children. A week definitely isn't enough if you want to do everything.
But make sure you book a visit to Tapnell Farm Park during your stay. The kids will love you for it.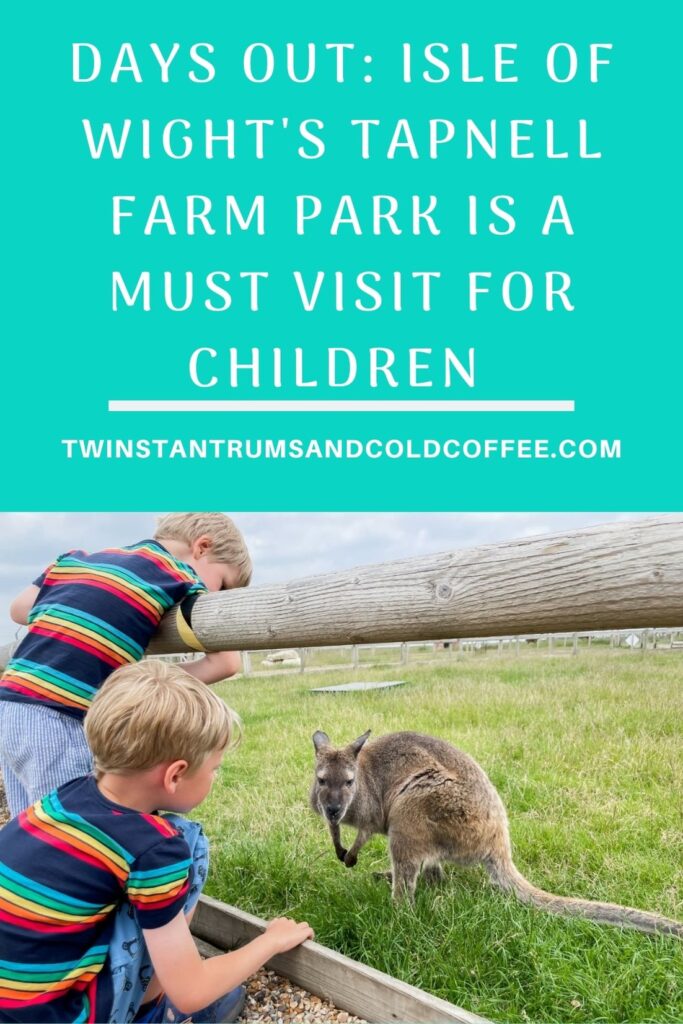 How did I do?
Did you enjoy this post? Why not check out a few of my other days out reviews of Camel Creek, Springfields and Lappa Valley. If you still want more, head to my Travel Section. If you want to read some more of my usual kind of stuff, head over to my Mum Life section. You'll find all things parenting with a tongue-in-cheek twist. In fact, on the subject of travel, you'll like this one Five Ways A Holiday Is Never The Same After Kids.
If you like a bit of social media madness, pop over to my Facebook page where you'll be able to have a laugh at what ridiculousness goes on in my house with three very small boys on a daily basis. Warning – there is often sarcasm, and usually swearing. There are also great travel reviews and some AWESOME giveaways. Feel free to join my Twins, Tantrums and Cold Coffee – Shits and Giggles Parenting Group too, where everyone shares their hilarious stories.
If you like what you see, how about you check me out on Pinterest, Instagram and Twitter too.
And if you want to work with me, feel free to give me a shout here or at helen@twinstantrumsandcoldcoffee.com and I'll get back to you.