The last holiday I went on with my parents was to Dorset, at the age of 15.
Fast forward 21 years, and it seemed quite fitting that when we invited Mum and Dad to join us on a week's break, we returned to the county.
Well, that's how I sold it to them, anyway. The fact that we have a 16 month old toddler, Thomas, who loves nothing more than being with Granny and Grandad, and doing all sorts of disruptive toddler-like things, had nothing to do with it. Thoughts of how my husband and I might almost have a 'holiday' in Dorset if we took the grandparents along to help, hadn't entered our heads. It was just a lucky coincidence. Honest.
Dorset is ideal for both kids and grandparents
It took no convincing at all. The Other Half is more than happy to spend time with the in laws – especially after two weeks in France playing tag team to the 12 month old baby who decided to start some wobbly walking. And my parents jump at the chance to spend any time with Thomas. They also love Dorset. So a win win situation.
So we squeezed what seemed to be our entire house into the car and headed two-and-a-half hours up the road to Dorset's Isle of Purbeck, and the picturesque village of Studland.
Studland is famous for its four-mile stretch of golden, sandy beach and heathland, maintained beautifully by the National Trust. It's ideal for watersports, and a haven for wildlife, with walkers flocking to the designated trails through the sand dunes and woodlands. Its gently shelving bathing waters mean the beach is perfect for families. I remember spending many sunny days as a child here, and it was lovely to come back. From the coastline you can see Old Harry Rocks and across to the Isle of Wight, and incidentally, Studland Bay also has the most popular naturist beach in Britain too. Maybe that bit's not so family friendly…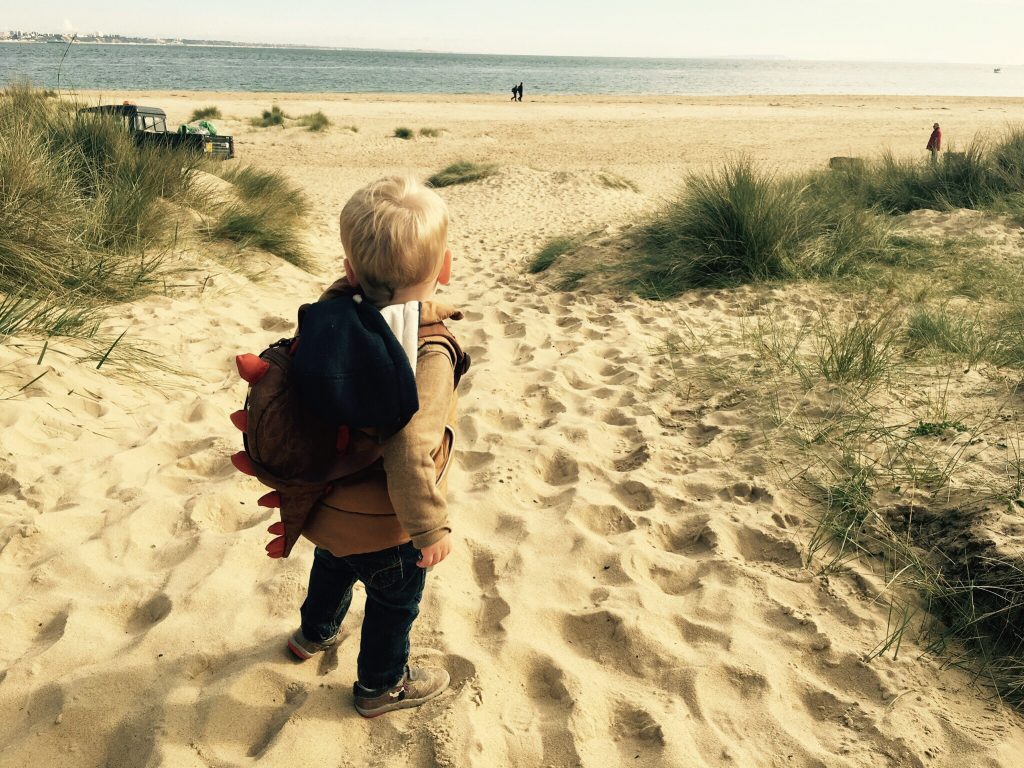 The village of Studland is beautiful
The main village of Studland has about 180 houses, most of which are set a few hundred metres back from the sea. You'd be hard pushed to find a rubbish-looking house in this place. No wonder it was Enid Blyton's inspiration for Toytown in Noddy. There is a mixture of cute cottages, massive mansions, old thatched roofs, and modern glass-fronted properties.
So we definitely weren't disappointed with our Dorset accommodation for the week – an amazing five bedroom detached house called Homelands. It was absolutely perfect for a three-generation holiday. Enough room to sleep nine, three bath and shower rooms, and a lounge, as well as a wonderful kitchen diner, with a fabulous sun room built onto the end which became our main living space for our break. Three of the four bedrooms, as well as the lounge and sunroom overlooked Purbeck's rolling fields out to the sea.
What a view it was, and just stunning to wake up to each morning. Outside there was a multi-tiered deck with seating, as well as a barbecue, large lawn and patio. You could even join up with a footpath out to the Dorset coast from the back gate.
But forget all that. The best bit about the house for Thomas was the fact there were cows in one of the neighbouring fields. What more does an animal-obsessed toddler want than to be able to say hello and goodnight to the cows each day? Over and over again.
Dorset holiday home is perfect for large families
Homelands has been recently renovated to a very high standard, but the owners have retained lots of its period charm. It has high ceilings throughout which only adds to the sense of space, as well as original fireplaces, and a stained glass front door. It has been set up as a holiday home with large families in mind. Both the lounge and the kitchen hoard books, and games for visitors of all ages, and it was ready and waiting for young children with a travel cot, high chair, stairgate, and plastic cutlery and crockery all there.
We loved the house. The sunroom extension on the kitchen was fantastic. With a comfortable corner sofa and TV, it was the area where we all gathered. If someone was cooking in the kitchen, the rest of us could sit enjoying the stunning Dorset view – and Thomas had the choice of four playmates at all times. But there was still plenty of room to escape for some peace if needed. We couldn't have asked for a better some precautions place to stay.
Although we could have easily spent our whole time at Homelands, we were also keen to visit as much as we could around that area of Dorset (and tire Thomas out each day).
A day out at Farmer Palmer's is a must
First on the list was Farmer Palmer's Farm Park, just half an hour away near Wareham. As the name suggests, this popular attraction offers hands-on animal experiences as well as amazing play areas for children up to the age of 8. They can bottle feed the lambs, meet the pigs and goats, hold a guinea pig, and groom a pony. And if the little ones get bored of the animals (never in Thomas' case) there are endless play possibilities. There are pedal tractors to ride, go-karts (which actually Daddy and Grandad went on, rather than Thomas), a bumpy tractor and trailer ride, and indoor soft play.
But proving the most popular with visitors seemed to be the straw mountain, where children can climb on straw bales, crawl through tunnels and woosh down slides, and the sand playground of traditional children's play equipment, wooden farm animals, and mini water wheels, as well as the Wendy House area of wooden child-sized houses for them to explore. There is also interactive water-play fun in the Splash Zone, and an outdoor bouncy castle. We spent a whole day here and only left because Thomas was worn out having so much fun. It was definitely one of the best family attractions we've discovered.
So much to do for families in Dorset
Other days out included a ride on the Swanage Steam Railway. Thomas loved the hour's return journey through the six miles of Dorset countryside looking out for cows along the way. The route passes the ruins of Corfe Castle, and travels down to the beach at Swanage.
After a train ride, it seemed a must to have our picnic on Swanage seafront and a wander around the shops and amusement arcades. Situated along the Jurassic Coast from Studland, Swanage is the closest town, and with countless fish and chip shops, a very useful place to know whilst staying in the area.
A ride on the open-top bus to Bournemouth was a trip down memory lane to my childhood holidays, and with the bus stop just outside Homelands, was another great day out. The bus uses the ferry to get across the mouth of Poole Harbour and onto the Sandbanks peninsula – the most expensive neighbourhood in the country and home to the rich and famous. Luckily the open top bus is an ideal way to peer into the grounds of the ridiculously pricey and lavish homes. We all had a little dream. Especially the Other Half.
A walk along the river in the market town of Wareham is also a lovely way to spend the afternoon. Wander around the town's few shops, then picnic with the ducks, before heading up the tow path. In the summer, you can even hire a boat and join the ducks on the water.
Dorset parks are perfect playground for young kids
One place you must visit if you have children with you is Poole Park. Since opening way back in 1890, the park has been at the heart of the town of nearby Poole. And from what we saw, it seems more popular today than ever. The huge area surrounds a lake ideal for the children to feed the ducks, geese and swans. It has two play parks, a fabulous miniature railway that we loved, an indoor soft adventure playground and restaurant, tennis courts, bowling green, crazy golf, mini pitch and putt, model racing yachts, and watersports on the lake. You could happily spend an entire day here.
There is so much to do in Dorset, we barely scratched the surface, particularly with family days out in the area. The county's beaches, scenery, towns and attractions are the ideal place for a family holiday. And as we proved there definitely is something to do whatever your age!
For more information about staying at Homelands, log onto www.dorsetcottages.com or ring 01929 442776.
To discover more about Farmer Palmer's Farm Park, check out www.farmerpalmers.co.uk
How did I do?
If you enjoyed this post, why not have a read of some of my other UK family holiday reviews in my Travel Section. If you like taking the grandparents away with you, Greenwood Grange is perfect or have you been to my favourite place, Bluestone? Or if you fancy some light-hearted mum rambling, click on my Mum Life section for a giggle.
If you like a bit of social media madness, pop over to my Facebook page where you'll be able to have a laugh at what ridiculousness goes on in my house with three very small boys on a daily basis. Warning – there is often sarcasm, and usually swearing. There are also great travel reviews and some AWESOME giveaways. Feel free to join my Twins, Tantrums and Cold Coffee – Shits and Giggles Parenting Group too, where everyone shares their hilarious stories.
And if you want to work with me, feel free to give me a shout here or at helen@twinstantrumsandcoldcoffee.com and I'll get back to you.