AD | I have been gifted a photo book by Rosemood Atelier for the purpose of this review. I have also been compensated for my time.
If you're anything like me, you take hundreds of photos and they just sit on your phone, you never get round to making a photo book out of them.
I'm pretty bad at this – to the point where I got married nearly six years ago and I STILL don't have a wedding album! I've got hundreds of pictures, and I love all of them, but life got in the way (namely kids) and it was one of those things that never got done.
So when the people at Rosemood Atelier asked if I'd like to create a couple of photo books, I jumped at the chance. 
I'd seen their products before online and they looked gorgeous, so this was a perfect time for me to finally get the wedding photos done.
They also offered me the chance to create a second photo book so I decided to pull together all the snaps I've taken in lockdown as a bit of a memory of what will always be a very strange and surreal time. I know there's no chance of ever forgetting it, but I thought it would be nice to have a record of every little detail, almost like a scrapbook.
How do I make a Rosemood photo book?
The first task was actually FINDING the wedding photos! We've had three children and moved house since we got married, so they could have been anywhere!
Once the memory stick was located, the Rosemood website was so simple to use. You can upload up to 500 photos for each photo book, which is brilliant when you take as many as I do – or for something special like a wedding album.
I opted for a premium fabric photo book as I wanted something stunning for the wedding photos. I wasn't so bothered about the lockdown ones!
These are covered in beautiful Italian fabric, come in a choice of six beautiful colours, and the hardcover features your personalised title on the cover and spine in artisanal hot foil stamping. The photos are printed on a choice of two high-quality papers – smooth matte or textured ivory. It looks so posh!
They are 25ins x 25ins square and are available in 46 pages for £85, 70 pages for £109 and 118 pages for £157. So there's no chance of not fitting all those important photos into it. There's the option of buying a luxury gift box for £20. And there's also 10% off identical copies if you wanted to order one for parents.
Rosemood says the worlds of high-end craft printing and personalised photo printing have come together in the creation of the fabric hardcover photo books. And you can totally see that!
Rosemood make creating your photo book easy
The French company takes care of the photo books from start to finish. Guiding you through the creation of the photo album, before proofreading your text up to 500 words. Although I didn't want any text in mine. And optimising the quality and layout of your photos. They check and retouch your photos and optimise the layout of the pages. It's like they're doing all the hard work for us!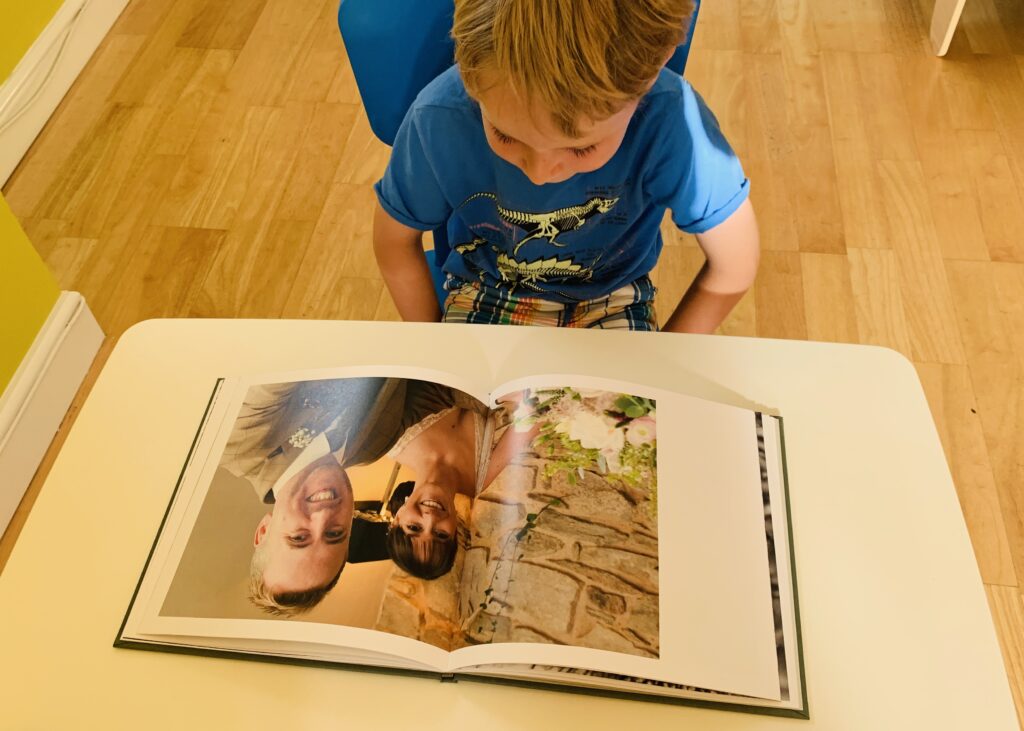 Putting it together took a few hours, but I wanted to make sure I got it right. There is an option, once you've uploaded your photos to the website to click on 'autofill' so you don't have to spend the time laying out your own pages. But I'm a control freak and wanted to do it myself!
It's a great option if you wanted to get a photo book done quickly though. They also have an app, so I was able to upload my photos from my iPhone directly to the app. They were then on the website ready for me to use on my laptop. It saved so much time!
I tried the autofill option with my lockdown book. Because I'd added 277 photos to the album to choose from, it then added extra pages onto my book. This would obviously increase the cost so I opted for laying it out myself again.
Choices of layouts and page design of photo books
In all their photo books, you can choose from different layouts on single pages or double pages which I loved. I wanted to make a couple of statements with my favourite wedding photos, so I put them right across a double page. Although be careful where the centrefold will be on your picture. Luckily Rosemood shows you on the screen so you can adjust the picture. Didn't think it was that good an idea to have my father in law's face totally lost in the fold!
By choosing different layouts for the different pages you can have up to 9 photos on a page. I loved this. It was particularly good for making sure you included lots of guests' pictures without having to use a massive photo. Especially of people you hardly see six years later…
And for my lockdown album this was perfect. Lots of my pictures were quick snaps of a moment in time in lockdown. So they didn't need to be blown up as a show photo. But I wanted to include them as a memory. So laying 9 smaller photos out on one page was the best way to include more less important pictures.
As I mentioned, I like to be in control so I also wanted my photo books to be in chronological order. The only thing I couldn't figure out how to do when I was putting them together was to add extra pages in between others I'd already laid out. For example I suddenly remembered I had other pictures I wanted to use, but only if they could go in chronological order. I'm sure it's possible and I was just being a technophobe though.
Different cover choices
If you didn't want such a special fabric photo book, there are still loads to choose from. Rosemood does a massive selection of printed hardcover photo books as well as softcover photo books too.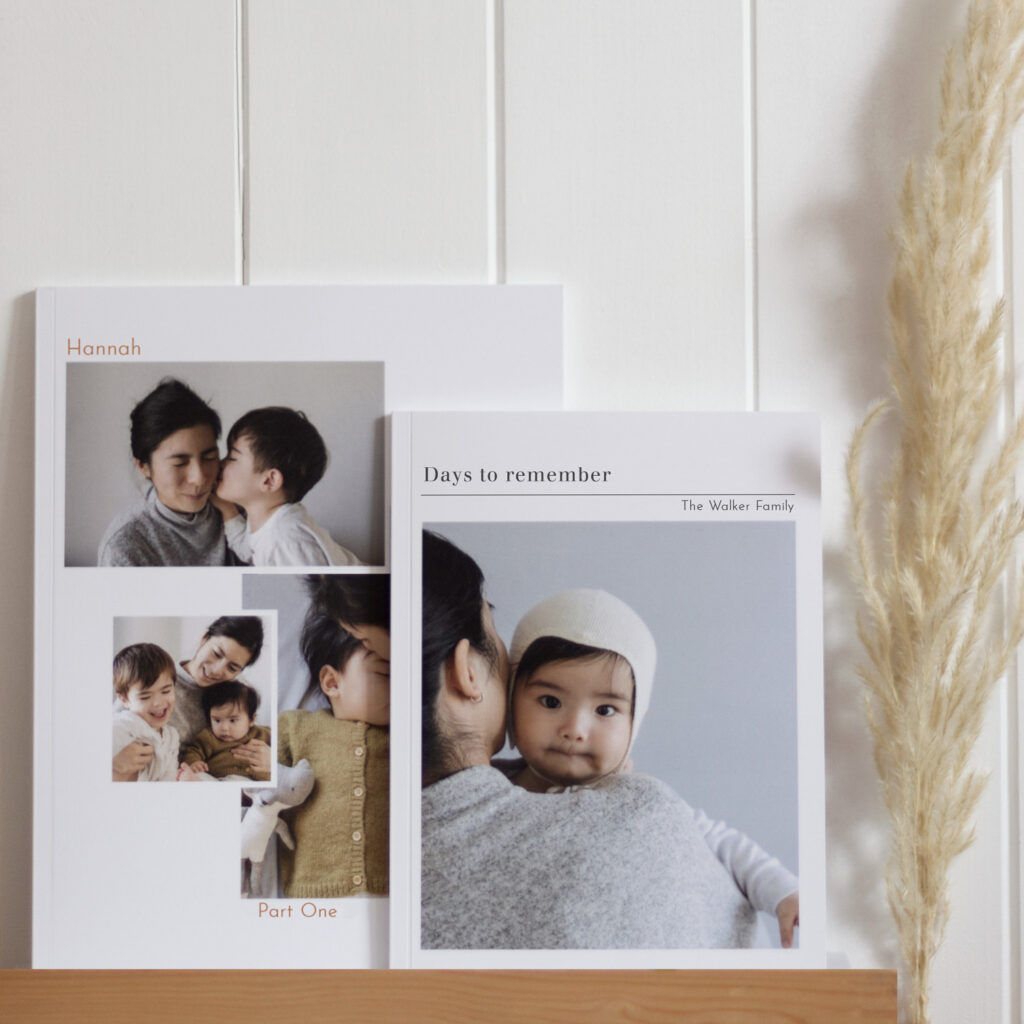 The hardcover ones come in square, portrait or landscape, of various sizes, and contain 40 pages with the option to add more. There are 17 elegant designs to choose from so there's something for everyone. They cost from £36 depending on what you go for.
The softcover photo books give a magazine-style finish and I love my lockdown one – it's so modern and funky! They're also available in three formats and three sizes, with a choice of 17 designs and can be anything from 26 to 200 pages! Plenty of room for all those precious photos.
Rosemood don't just do photo books
Rosemood don't just do photo books either. In fact they are only one of their latest products to be launched. There is a whole range of wedding, baby, birthday, christening and Christmas stationery and cards. As well as personalised calendars on their website.
I absolutely LOVE my photo books. I'm so pleased to have finally put together a wedding album. Obviously it'll now sit on the office shelf forever, but it's DONE! I'm also delighted with my lockdown album. It's such a lovely keepsake from a bizarre time.
So whether you want to create a wedding album, baby's first year keepsake, or a book of a special holiday, Rosemood offers you so much choice. And the quality is outstanding. I can't stop looking at them! Find out more here.
How did I do?
Did you enjoy this post? If you want to read some more of my reviews, there are plenty to choose from. Check out my thoughts on the Mountain Buggy Nano Duo, the Land Rover Discovery, or the Maxi Cosi Pearl Pro car seat. And if you want my usual mum ramblings, check out my Mum Life section.
If you like a bit of social media madness, pop over to my Facebook page where you'll be able to have a laugh at what ridiculousness goes on in my house with three very small boys on a daily basis. Warning – there is often sarcasm, and usually swearing. There are also great travel reviews and some AWESOME giveaways. Feel free to join my Twins, Tantrums and Cold Coffee – Shits and Giggles Parenting Group too, where everyone shares their hilarious stories.
And if you want to work with me, feel free to give me a shout here or at helen@twinstantrumsandcoldcoffee.com and I'll get back to you.