How are we on Week 6 of the #ItsOK linky already? Time is FLYING BY!!
Thanks to everyone who joined the linky last week – there were some amazing posts. Some of them literally had tears rolling down my face (I'm a tad emotional sometimes, I blame sleep deprivation) whilst others had me howling at my laptop. You're all brilliant and I'm so chuffed to be part of the linky with you all.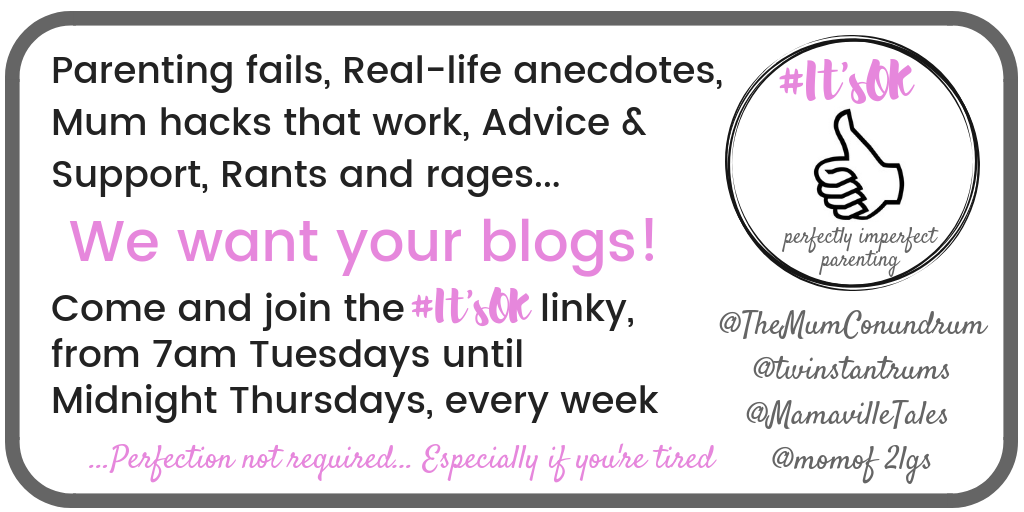 So how's your week been?
I'm on holiday this week, doing seven nights in Cornwall – staying in three different places. With 17 month old twins and a 3 year old. So I'm not entirely sure 'holiday' is the right word. Same shit different location I think is the better description? I do love a holiday but rightly or wrongly, they're just not the same with kids, are they? Plus so far my eldest is being what can only be described as a total dickhead and Twin One just chucked up all over the travel cot. Grim.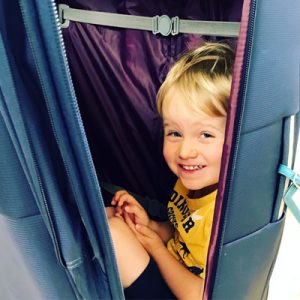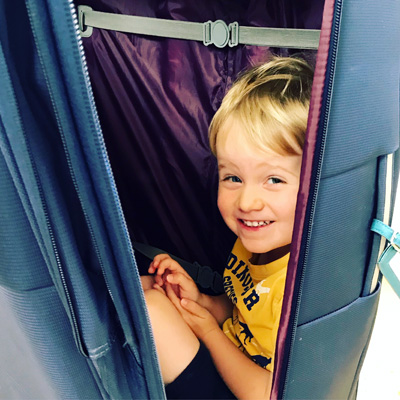 I know I'm only three years into this whole parenting malarkey, but already I'm wondering when I'll be able to lie by the pool of a 5* spa hotel sipping on a gin cocktail again. If you fancy a squiz at my thoughts of holidays pre and post kids, have a read here. But at least the Other Half is around so whilst he'll come home needing another week off to recover, I'm TECHNICALLY only doing half the parenting…
#ItsOK Linky
Anyway, lets get onto the linky! Carly from Mom of Two Little Girls is hosting the linky this week, and the four of us co-hosts are really excited to read some more fab blogs.
Kate from The Mum Conundrum hosted last week and chose this post The Adulting Badge by the very funny Earning My Mum Badge as the Featured Blogger. Well done lovely, you can grab your fancy pants badge right here.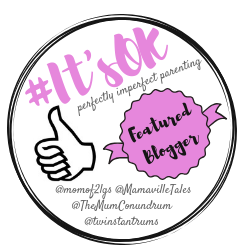 The #ItsOK Linky

Instructions: Select all code above, copy it and paste it inside your blog post as HTML
If you're a first timer to the linky, find out all about it here. We're basically saying it's okay to not be okay sometimes – particularly when it comes to parenting. It's okay to not dress your little ones properly at home (like I do ALL the time) when they're just going to sit in every bit of food anyway, bribe them with party rings just so you can have another five minutes of Facebook stalking, or tell them downright lies about the local theme park being closed when it rains because you just CANNOT. FACE. IT. YET. AGAIN. It's all okay, and nobody is judging!
Onto the rules
We're all pretty laid back here at #ItsOk, but for the linky to work we have a few rules:
1.) You can add ONE of your posts to the link-up – any post you like, as long as it's on a real life parenting theme and you haven't posted it on the #ItsOK linky before.
2.) Before you add your post to the link-up, make sure you pop the linky badge, using the html below, on your post. It's not as scary as it looks, honest. Even I managed to do it! Copy the code from this page, then open a new browser tab, go to your site and navigate to the post you want to share on your site. Go into 'edit page', change the view (in the top right hand corner of the writing area on WordPress) from 'visual' to 'text'.
Scroll to the bottom of the text, and paste the code in there. If you change your view back to 'visual' again you'll see the linky badge in all it's glory at the bottom of your post. Ta-dah!!
3.) Make sure to comment on the host's post, the post before yours, and one of your choice.
4.) The linky will run every Tuesday morning at 7am until Thursday evening at 11.55pm. Carly is hosting this week so she'll comment on your post and all four of us will retweet it and share with all our followers.
5.) Tweet us (@twinstantrums @TheMumConundrum @MamavilleTales @momof2lgs ) with the URL to your post. Make sure you include the hashtag #ItsOK so that we know you're tweeting us your linky post, and not just telling us about your random day…
6.) Carly will choose her favourite post which will be featured the following week, retweeted and shared on Facebook. If your post is featured as one of our favourites then you are very welcome to display our lovely '#ItsOK Featured Blogger' badge on your sidebar.
7.) Come and join our lovely Facebook group, and we'll share your posts on there, as well as on the #ItsOK Facebook page – pop over to like and follow us where we'll share the best posts from each week's linky too.
8.) Are you on Pinterest? Come on over and follow our #ItsOK board, we'll share your posts and you can plunder all the super-useful/funny/interesting reads and finds we amass too.
The #ItsOK linky is all about celebrating real-life parenting. Please link up with posts on this theme ONLY. We're not too keen on random sponsored posts. We're all about Mum (and Dad) life, warts and all.
Even I can follow these rules, so it can't be that difficult! Any problems, just give us a shout.
It's a great way of finding other blogs to read, and realising somehow or other we're all in the same boat – and #ItsOK!
Happy linking!