It's that time of the week again – LINKY TIME!
We're now on Week 5, and I just about got into the swing of co-hosting for the first time last week. Thanks for having me everyone, I loved reading all your blogs!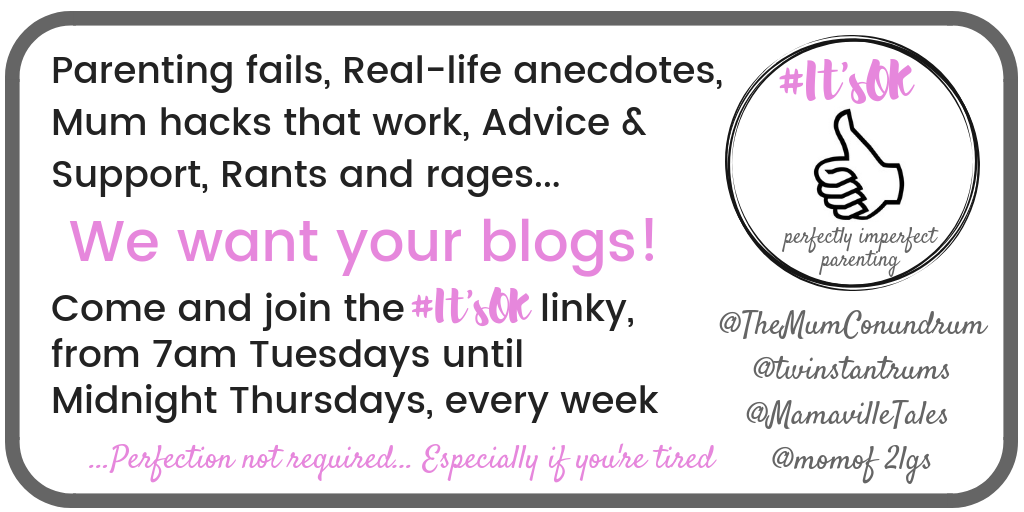 So how's your week been? Mine has basically been overshadowed by the misery that is teething. F*ck me, I forgot how annoying it is.
Twin One seems to grow teeth at the rate of knots without as much as a whimper (I only noticed his first tooth had appeared when he nibbled on my thumb). Apparently his brother didn't get the memo. SHIT. THE. BED. He does not do teething quietly. No amount of Calpol, Anbesol, Bonjela, or those granules that look suspiciously like cocaine are even touching it. So 4.30am WITHOUT FAIL, he is awake and that's it for the rest of the night. You can set your clock by it. Every night for the past week. I literally want to punch myself in the face. Repeatedly.
So at the weekend I was allowed time off for good behaviour and met one of my best mates for a girly lunch.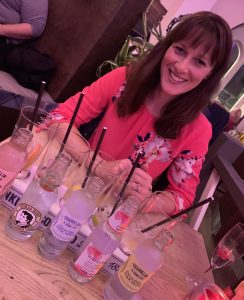 Six hours, two bottles of prosecco and a flight of gin (yes that really is a thing!) later, and apart from having to parent whilst hungover the following day,  everything was okay in my world again.
Which very tenuously brings us onto this week's #ItsOK linky (see, what I did there?)…
#ItsOK Linky
The fabulous and quite frankly bloody hilarious Kate from The Mum Conundrum is hosting the linky this week, and the four of us are really excited about reading some more fab blogs and giving them some sharing love. Hop on over to Kate's page to see who was last week's Featured Blogger and get your snazzy badge.
If you're a first timer to the linky, find out all about it here. We're basically saying it's okay to not be okay sometimes – particularly when it comes to parenting. It's okay to hide in the toilet for 30 seconds of peace (if you're lucky), it's okay to dish up a turkey dinosaur and waffles on more than one occasion a week, and it's okay to jump at the chance of spending six hours drinking with a friend and not miss your children one little bit. Nobody will think any less of you here!
Onto the rules
It's all pretty relaxed here at #ItsOk, but for the linky to work we have a few rules:
1.) You can add ONE of your posts to the link-up – any post you like, as long as it's on a real life parenting theme and you haven't posted it on the #ItsOK linky before.
2.) Before you add your post to the link-up, make sure you pop the linky badge, using the html below, on your post. It's not as scary as it looks, honest. Even I managed to do it! Copy the code from this page, then open a new browser tab, go to your site and navigate to the post you want to share on your site. Go into 'edit page', change the view (in the top right hand corner of the writing area on WordPress) from 'visual' to 'text'.
Scroll to the bottom of the text, and paste the code in there. If you change your view back to 'visual' again you'll see the linky badge in all it's glory at the bottom of your post. Ta-dah!!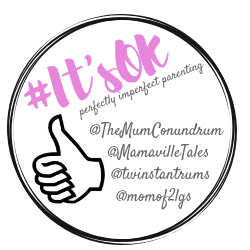 The #ItsOK Linky

Instructions: Select all code above, copy it and paste it inside your blog post as HTML
3.) Make sure to comment on the host's post, the post before yours, and one of your choice.
4.) The linky will run every Tuesday morning at 7am until Thursday evening at 11.55pm. Kate is hosting this week so she'll comment on your post and all four of us will retweet it and share with all our followers.
5.) Tweet us (@twinstantrums @TheMumConundrum @MamavilleTales @momof2lgs ) with the URL to your post. Make sure you include the hashtag #ItsOK so that we know you're tweeting us your linky post, and not just telling us about your random day…
6.) Kate will choose her favourite post which will be featured the following week, retweeted and shared on Facebook. If your post is featured as one of our favourites then you are very welcome to display our lovely '#ItsOK Featured Blogger' badge on your sidebar.
7.) Come and join our lovely Facebook group, and we'll share your posts on there, as well as on the #ItsOK Facebook page – pop over to like and follow us where we'll share the best posts from each week's linky too.
8.) Are you on Pinterest? Come on over and follow our #ItsOK board, we'll share your posts and you can plunder all the super-useful/funny/interesting reads and finds we amass too.
The #ItsOK linky is all about celebrating real-life parenting. Please link up with posts on this theme ONLY. We're not too keen on random sponsored posts. We're all about Mum (and Dad) life, warts and all.
Even I can follow these rules, so it can't be that difficult! Any problems, just give us a shout.
It's a great way of finding other blogs to read, and realising somehow or other we're all in the same boat – and #ItsOK!
Happy linking!