If you have space in your home, a playroom is an ideal place to store toys and let your kids play. But how do you create a perfect playroom? A top interior designer has given me some tips.
This is a collaborative post.
When we bought our house, the space to create a playroom was high on the list of priorities. We had a two year old and 5 month old twins when we moved in, and knew that this would be our home until they've grown up. So it had to be perfect and enable us to adapt as they grew older.
We had a large dining room plus a big family kitchen diner, so we knew straight away the dining room could be changed into a playroom. It was literally what sold the house to us to be honest. At the end of the playroom was a 'sun room' with patio doors to outside so this gave us even more space. Once they started school, I happily nabbed this area back to create my office, still leaving them with plenty of room.
The joy of a playroom is not only somewhere to store the toys and play. But for us parents, it's the ability to SHUT THE DOOR on it at the end of the day and ignore the mess. No tidying it up so that I can sit in it in the evening like a lounge. Just close the door and leave it. Bliss.
So how do you go about creating the perfect playroom?
Abbie Downey, owner of Feather&Fossil interior design has given me some great tips to share and mocked up some potential designs for a playroom in my house.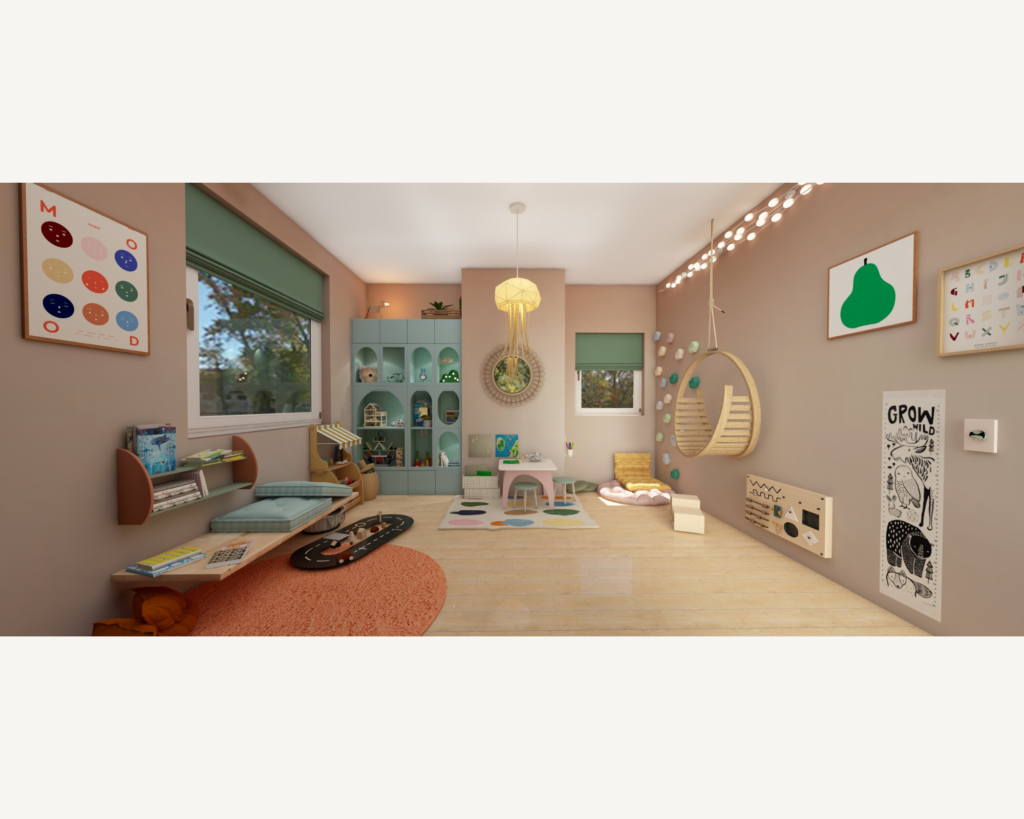 It's all about colour in a playroom
According to Abbie, colour is one of the most important aspects to consider when creating a playroom. Children love colour and a playroom should be a fun and colourful space for them to enjoy and explore. The term 'colour psychology' is used to explain the study of how colours affect behaviours, perceptions and emotions. Therefore using certain colours within a childrens playroom can elicit different responses to how they play and interact.
Abbie says you can choose to go with one colour all over or use specific colours to zone areas within the room (this is great if you have larger playrooms). The key to using different colours is to ensure they are all within the same colour category e.g. pastel tones, jewel tones, earth tones, neutral tones etc.
So what colours are good for a playroom and why?
Here Abbie gives us the lowdown on which colours to choose and why we should choose them.
Orange
Orange is a brilliant colour for playfulness and promotes social interaction. This is great for more energetic areas of a playroom such as a role play corner, climbing wall/frame or gymnastics mat.
Yellow
Yellow is a colour associated with happiness, joy and kindness, so is a perfect colour for playroom spaces. Children exposed to yellow colours tend to be more cheerful and optimistic, however, intense yellow colours can lead to anger so it's best to avoid neon yellow colours in playroom spaces.
Blue
Blue is a super colour for encouraging concentration, thinking and imagination. Light blues are also very good for creating calming spaces. Blue colours are therefore ideally suited for areas such as reading dens, colouring stations and problem solving/puzzle areas within a room.
Green
Green is a very calming colour for children. Children tend to associate green with nature and its calming properties but also with safety and positivity, due to its use in things like traffic signals and positive marking in tests. Similarly to blue, green is great for areas that encourage children to relax, concentrate or problem solve.
Pink
A soft pink colour is a very soothing, calming colour and has been found to lower children's heart rates when they are exposed to rooms containing pink. Brighter, hot pinks can act in the opposite way, encouraging children to be more active and energetic.
Playroom Storage
Once you've decided on the colour or colours of your playroom, the next important area to think about is storage. Because we all know the fact we can hide away the toys in a playroom is the best bit about having one!
Tips for playroom storage:
Try to categorise toys and store in one box per category e.g. cars, people, animals, space, dinosaurs, dressing up. This helps children find the toys they need quickly. It also means they will be able to help tidy up easier as they just need to find the corresponding box. Fun, lowercase labels on boxes are a great way to encourage reading and also allows children to identify the correct storage.
Don't be afraid to use a collection of small storage options. Some things are harder to access if they are in a big box or drawer e.g. dolls house accessories, magnetic numbers or letters. For items like this try using a range of different options such as:
Rotate playroom toys regularly
This is something I am VERY bad at! Abbie recommends rotating the toys in the playroom at regular intervals and I know it's such a good idea. I just don't do it. She says to utilise areas you have for display and playing e.g. low shelves, storage units, tables and rotate the toys/activities displayed on these weekly or
fortnightly. This encourages children to play with different toys/items and supports new imaginative play. You'll be amazed how much they love to play with the toy they haven't seen for a few months and it saves you buying lots of new toys.
Use a mix of open and closed storage
You can store more decorative pieces in open storage or use for visible toy placement – like Abbie suggests with the toy rotation tips above. Use closed storage for things you might want to supervise (think dreaded crafts and playdoh!). This mixture of storage options also helps keep the playroom look aesthetically pleasing and tidy.
If everything is packed away in closed storage the space can look a little empty and unloved. However, if every toy is on display it can look cluttered and messy, and can also be quite overwhelming for children. A mixture, with regular rotation, is a great way to keep the space looking fun and inviting yet organised.
Use easily accessible storage in a playroom
Try to go for storage options that can be easily accessed by children so they can play without needing adult assistance. This can be things like easy to open boxes, baskets without lids, low level shelves and storage racks.
Create different zones in your playroom
Abbie suggests creating zones for different types of play within your room. We did this when we first did our playroom. Funnily enough the boys didn't use the 'chill out reading corner' that much, but I loved how it looked!
Doing this links nicely with the colour psychology Abbie has talked about as different zones will suit different colours.
Playrooms are a place to let your imagine run wild so see if you can incorporate things like:
An active zone with things like climbing walls, gymnastics rings, padded mat and hula hoops. You might want to use yellow in this space to encourage fun and joyfulness.
A craft zone with blackboard walls, large rolls of paper on wall mounted frames, playdoh stations and peg boards with a range of pens, crayons, stickers and chalk.
Imaginary play zones with role play baskets, shops and cafe stations. You might incorporate orange colours into this space to encourage social interaction with siblings or friends.
Reading areas – these can be a full reading den or just a comfortable space with lots of cushions. Blues and green will work nicely in these spaces.
A STEM zone – this doesn't need to be elaborate, just an area with puzzles, Lego/Duplo, building blocks and junk modelling is enough to get your children thinking outside the box.
A music zone – this can be a space with musical instruments for your child to explore or a space they can play some music or poems and just relax.
What furniture and lighting to use in a playroom
According to Abbie, we should be using versatile furniture in our playroom. A low level bench can be used for sitting on, used as a table, used for a play table station and used to play dens underneath.
And a climbing wall can be used for climbing, hanging role play costumes on, imagining dolls or figures scaling a mountain and the padded mats on the floor below can be used for gymnastics, reading, yoga or building dens.
Likewise you should use a variety of lighting options to create different moods. Children will want to use the playroom at different times and for different purposes or moods. Having a range of lighting can help facilitate this. Some options include dimmable main lights, lamps, fairy lights, light signs, lava lamps, and spotlights.
If you have an early riser you may want to introduce softer lighting to start the day and encourage calmer play activities. If your child loves performing and wants to put on a show fairy lights, spotlights and disco balls can help give that star studded stage feel.
Fairy lights and lamps can also be great for reading and music nooks. Remember to keep dangling lights out of reach of children and if you are using low level lamps ensure they are child friendly.
Make the most of your playroom walls
According to Abbie, we shouldn't underestimate the endless ways you can use your walls for extra storage or play. Use wall pockets or globes (see above) for extra storage options that look great and free up floor space. Use blackboard paint to create a creative art zone for your children to draw, write or learn their spellings on.
Create a Lego wall by attaching Lego board bases either directly onto the wall or onto a large piece of wood, which then attaches to the wall (great for renters!). These can then be used to store Lego figures or for children to get creative and make vertical worlds.
All of this is SUCH good advice, right? I'm pleased to say my playroom does in fact follow some of this advice. The main problem being you can't see a lot of it for mess!
About Feather&Fossil Interior Design
Feather&Fossil is a boutique interior design business based in Plymouth, Devon. It is run by Abbie Downey and specialises in Maximalist interior design. Abbie believes that good interior design should be a reflection of your personality and character. She focuses on incorporating the old with the new to create a space that tells a story. Abbie loves working in a maximal way, whether that's colour, pattern, texture or accessories, to forge an environment that's truly representative of you or your brand. Oh, and did I mention she's absolutely lovely too?
Feather&Fossil offer a range of packages, both in person and through online consults.
These packages include:
Consultancy packages that offer bespoke advice for a specific space or education sessions to help you upskill your knowledge around interiors and apply it to your whole home.
Concept board packages that provide you with full designs for your space. These designs will be bespoke to you, your needs and your style. You will be provided with concept boards, 2D plans, 3D visual/CGI images and a full shopping list to buy everything you need (and within your budget!)
Project management packages that offer the above design elements but also include full project management duties and support as well as styling of the design concepts to ensure the space looks just like the CGI images!
Commercial interior design services for small businesses. If you run your own business, whether it's a playspace, a cafe, a hairdressers or an office Abbie can help you translate your brand into your interiors so that you have a space people love, remember and keep coming back to.
You can find out more about Abbie and her business on her Feather&Fossil website, Instagam page, and Facebook page. Email her at contact@featherandfossil.co.uk or ring her on 07427 169138. Abbie has clients all over the UK so you don't have to be local for her to help you.
So if you're looking to create a perfect playroom, use Abbie's tips from this blogpost, or her expertise in designing something bespoke for your home. Just remember to tidy it up more than I do…
How did I do?
Did you enjoy this post? If so, it's most unlike me to be so useful and you should check out the 'usual' type of stuff I write. Honest, relatable rants about parenting three young boys. With a touch of swearing and a lot of sarcasm. You'll like it! Check out my Mum Life section or head to my Travel Section for some UK family holiday and days out inspiration.
If you like a bit of social media madness, pop over to my Facebook page where you'll be able to have a laugh at what ridiculousness goes on in my house with three boys on a daily basis. Warning – there is often sarcasm, and usually swearing. There are also great travel reviews and the odd giveaway. Feel free to join my Twins, Tantrums and Cold Coffee – Shits and Giggles Parenting Group too, where everyone shares their hilarious stories.
If you like what you see, how about you check me out on Pinterest, Instagram, Twitter, Threads and TikTok too.
And if you want to work with me, feel free to give me a shout at helen@twinstantrumsandcoldcoffee.com and I'll get back to you.