A day at a theme park with kids is one of the most fun ways to spend time as a family. With plenty of rides, attractions, and shops to choose from, your entire day will be spent having fun with your family and creating memories that will last for a lifetime. However, all the laughter and smiles can quickly turn into tantrums and exhaustion if you're not prepared for your trip.
Visiting a theme park with kids can be energy-draining, so you need to ready yourself, as well as your children, to ensure that you'll have a fun-filled day at the park. Here's a quick guide to planning for the occasion so that you can thoroughly enjoy the experience with your children.
Wear Something Comfortable For A Day At A Theme Park With Kids
One of the most important considerations you have to make when taking your kids to the theme park is the outfit you'll wear. Leave all the business casual attire you've been accustomed to wearing in your marketing, consultancy, or accounting job. You'll spend the majority of your time watching over your kids and walking from one ride to the next, so you'll want to put on something comfortable and easy to move in. Denim leggings paired with a tank top or a classic tee, for example, won't restrict your movements. Such garments will also keep you cool if you're visiting the park during summer.
Since you'll be on your feet for most of the day, also wear shoes that offer support and can handle hours of walking and standing. Moreover, bring lightweight outerwear, like a cardigan, to prepare you for varying weather conditions. If what you're wearing is comfortable, you can focus on enjoying the rides and activities with your little ones without the distraction of discomfort.
Buy Tickets Early For A Day At A Theme Park With Kids
To minimize stress and potential disappointment, it's wise to purchase your theme park tickets in advance. This not only saves you time, but you might be able to enjoy cost savings or special deals as well. Buying tickets ahead of time also ensures that you can enter the park smoothly, avoiding long lines at the ticket booth so that you can start your day as soon as possible.
Make Hotel Reservations Ahead of Time
If your theme park adventure involves a trip away from home, booking your accommodations in advance is also crucial. Research and select a hotel or another lodging option that's family-friendly and conveniently located near the park. This way, you can easily take breaks, rest, or return to your hotel if needed. Take note, however, that you might not be able to re-enter the park if it's at full capacity, which typically happens during the holidays.
Research About the Park
Thoroughly researching the theme park beforehand is vital to ensuring a stress-free and enjoyable day with your kids. It gives you a chance to familiarize yourself with important information abut the park, giving you a good idea of how to create an itinerary for the big day:
● Park Rules: Every theme park has its own set of rules and guidelines. Understanding these rules in advance helps you avoid potential issues and ensures everyone's safety.
● Kid-Friendly Rides: Check which rides are suitable for your children's age and height. This will help narrow down your ride selection.
● Family-Friendly Attractions: Look for rides and attractions that the whole family can enjoy together. These can be wonderful opportunities to create lasting memories.
● Places to Eat: Find out about the dining options within the park. Knowing where to find food that suits your family's tastes and dietary preferences can save time and keep everyone energized.
● Designated Rest Areas and Restrooms: Locate designated rest areas and restrooms on the park map. These will be essential for breaks and comfort throughout the day.
● Parade Schedule: Be aware of the park's parade schedule. Parades can be the highlight of your excursion, and planning to watch them can add extra excitement to your visit.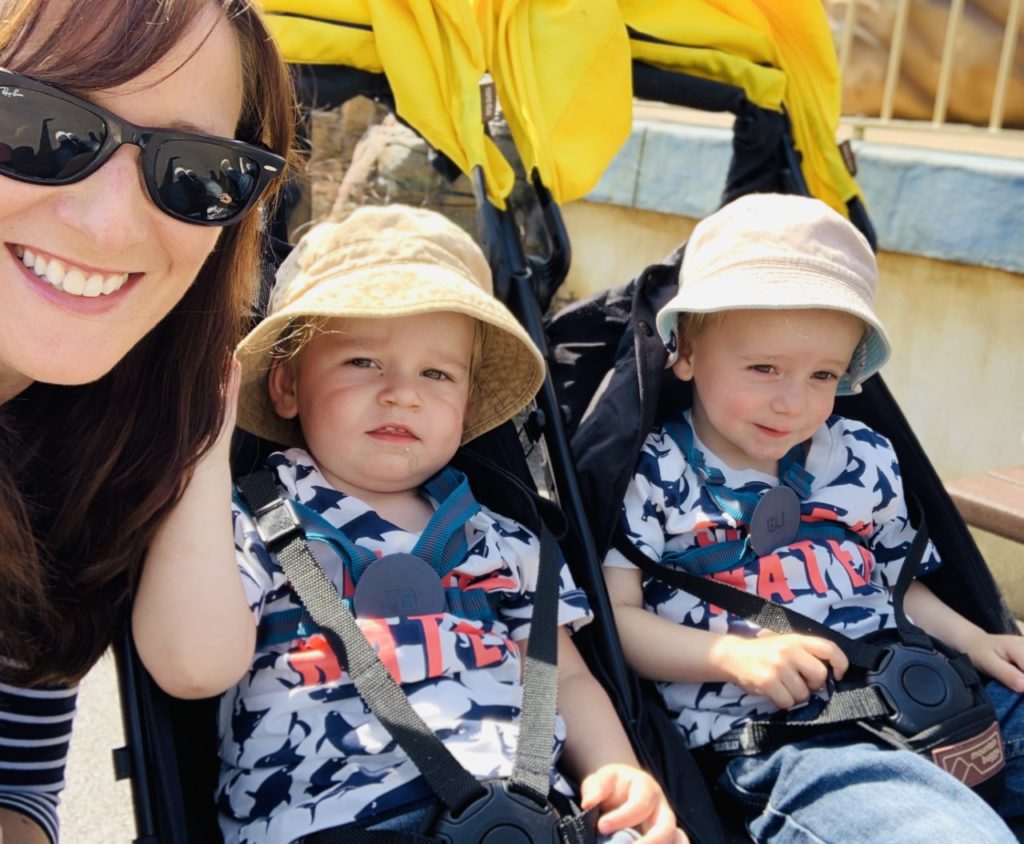 Plan an Itinerary For Your Day At A Theme Park With Kids
Creating an itinerary might seem like a fussy thing to do for what's supposed to be a fun day, but it can significantly enhance your theme park experience. It will allow you to maximize your time and minimize walking between attractions. Prioritize the rides and shows that your kids are most excited about and try to fit them into your schedule efficiently. Having a plan in place reduces decision-making stress and keeps your day well-organized.
Pack the Right Things
Packing the right items for your theme park adventure is crucial. Bringing the essentials will ensure that everyone will have a fun, comfortable, and safe time at the theme park. Here's a list of items you should bring to keep you and your kids in a great mood as you explore the park:
● Sunscreen
● Hats and sunglasses
● Water bottles
● Extra clothing
● Baby supplies
● Stroller and carrier
● Snacks
● First aid kit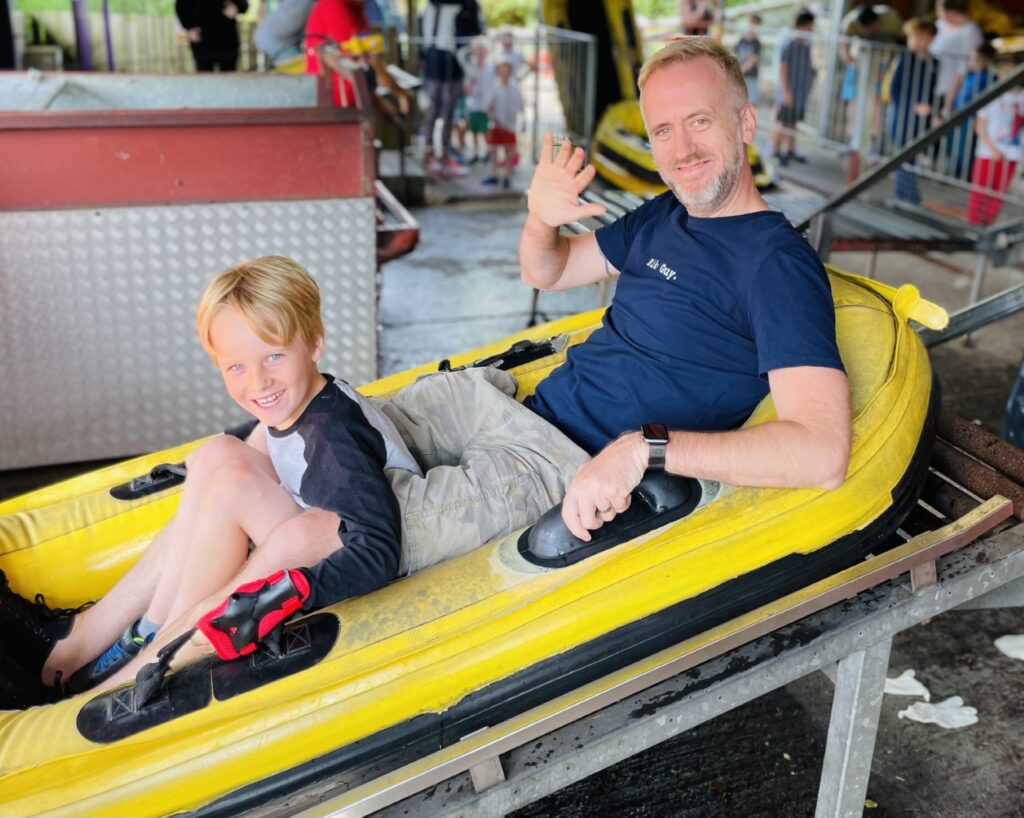 Arrive at the Park Early
Lastly, aim to arrive at the park early. An early start sets a positive tone for the day and gives you a better chance to experience everything the theme park has to offer. Plus, it allows you to secure a great parking spot so that you can enter and exit the park with ease.
Final Words
Going to the theme park should be a fun and memorable experience. But if you aren't prepared for the crowd, heat, and long lines, you and your kids won't be able to enjoy your time together. Fortunately, you can use this guide to ensure that your theme park date with your children will be everything you've imagined and more.
This is a collaborative post
How Did I Do?
Did you enjoy this post? If so, it's most unlike me to be so useful and you should check out the 'usual' type of stuff I write. Honest, relatable rants about parenting three young boys. With a touch of swearing and a lot of sarcasm. You'll like it! Check out my Mum Life section or head to my Travel Section for some UK family holiday and days out inspiration.
If you like a bit of social media madness, pop over to my Facebook page where you'll be able to have a laugh at what ridiculousness goes on in my house with three boys on a daily basis. Warning – there is often sarcasm, and usually swearing. There are also great travel reviews and the odd giveaway. Feel free to join my Twins, Tantrums and Cold Coffee – Shits and Giggles Parenting Group too, where everyone shares their hilarious stories.
If you like what you see, how about you check me out on Pinterest, Instagram, Twitter, Threads and TikTok too.
And if you want to work with me, feel free to give me a shout at helen@twinstantrumsandcoldcoffee.com and I'll get back to you.