Father's Day is coming up, and you generally know what kinds of gifts your spouse will appreciate. You know your partner is into staying active, and you want to get them a present that showcases your support so here are some great Father's Day gifts ideas.
This is a guest post in collaboration with Alycia Coloma.
How do you sift through the fitness gadgets that each seem essential for fitness? There may not be a foolproof method, but here are seven things you could get your fitness hunk for Father's Day.
1. Breathable running shorts
Whatever fitness activities your spouse is into, they'll need the right shorts to stay cool and look sorted out. Look for pace breaker shorts that offer more give. The more airflow, the fewer chances of sweat getting trapped in the fabric, making working out more comfortable. They'll think you're the coolest with one of these Father's Day gifts.
2. Firming hand lotion
From pushups and planks to the pullup bar, chances are your spouse's hands are beyond sore. Help them repair their tired hands with firming hand lotion. Seek out brands that emphasize healing wounds and active recovery.
Any creams that have a chalky finish are best as they won't be oily enough to get in the way of working out when applied on the spot. You know how Olympic athletes dip their hands in sawdust? That's the chalkiness we want.
3. Breathable running sneakers make great Father's Day gifts
When you're running or jogging, your feet work up a sweat; without enough airflow, your feet will swell, and you'll be more susceptible to getting blisters or chafing your feet.
Avoid these pitfalls with a pair of lightweight black running shoes. Your spouse will love the breathable nature of the material.
4. Menthol-infused body scrub
After a long and gruelling workout, your spouse will want to hit the shower even harder than they've hit their workout. Help them soothe their tired muscles with a menthol-infused body scrub. You can find them with cedar, peppermint, and sandalwood scents for extra soothing-enhancing properties.
5. A fitness tracker
Get your athletic partner something to track their progress. Choose from fitness watches, fitness apps, and at-home fitness equipment to monitor their activity. They'll be pleased to have a way of knowing how well they are doing in terms of calorie consumption, steps walked, and if they've been snacking too much during lockdown.
Whether they prefer to work out from the comfort of the living room while not having to look presentable or in the great outdoors, it will be easier than ever to track activity levels. Give them the gift not only of activity tracking, but of convenience!
6. A yoga mat
Even if your spouse doesn't do yoga, a yoga mat is an excellent tool for stretching and should be on the list of perfect Father's Day gifts. Stretching is essential for repairing tired muscles and limbs, so you'll be giving your spouse a gift that they really and truly need. Go for yoga mats with a higher surface volume so your significant other can lean into their stretches without breaking the cushioning effect of the mat.
7. A heat-resistant sweatband
If your spouse has longer hair, give them a heat-resistant sweatband. There's nothing more annoying than hair falling in front of your face when you're trying to work out.
With the right headband, your spouse will be able to stay active without the burden of having any hair or sweat getting in the way of their workout. Give the gift of a stress-free workout this Father's Day.
The bottom line
Finding the perfect fitness gift for your athletic spouse on Father's Day is a workout all on its own. Consider these suggestions and you'll have put your best foot forward!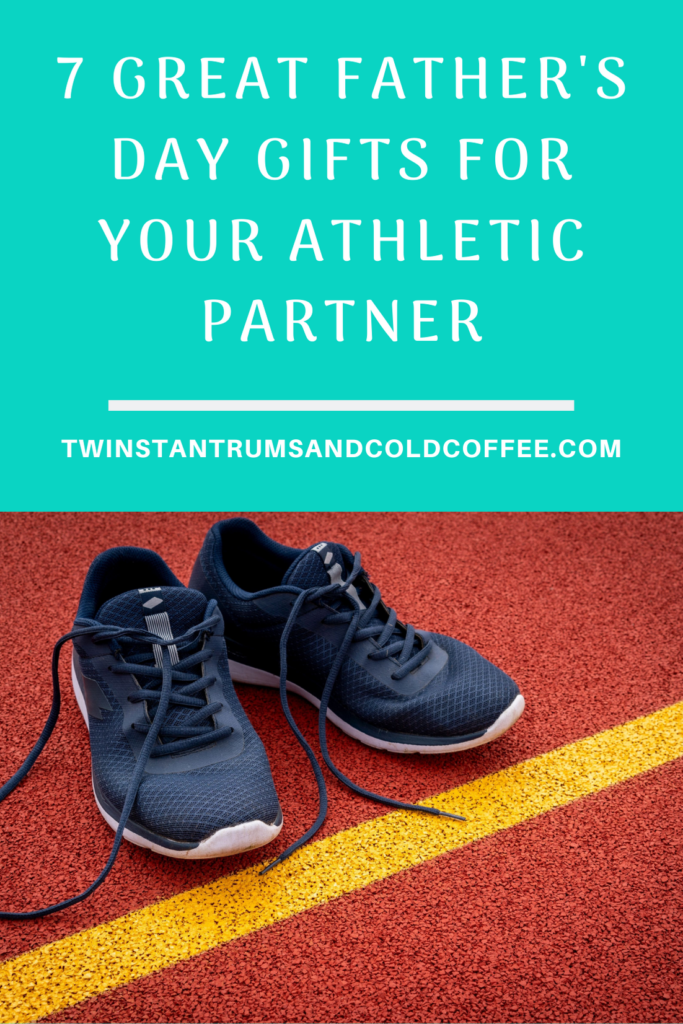 How did I do?
Why not hang around and read some more. If you want to read some more of my usual kind of stuff, head over to my Mum Life section. You'll find all things parenting with a tongue-in-cheek twist. Or if you want some days out and UK family holiday inspiration, click on the Travel section.
If you like a bit of social media madness, pop over to my Facebook page where you'll be able to have a laugh at what ridiculousness goes on in my house with three very small boys on a daily basis. Warning – there is often sarcasm, and usually swearing. There are also great travel reviews and some AWESOME giveaways. Feel free to join my Twins, Tantrums and Cold Coffee – Shits and Giggles Parenting Group too, where everyone shares their hilarious stories.
And if you want to work with me, feel free to give me a shout here or at helen@twinstantrumsandcoldcoffee.com and I'll get back to you.