It can be tricky trying to design a garden that is both great for children and that also provides a space for adults to relax as well. If you plan it out correctly, it is possible to create a family-friendly garden that works for everyone.
This is a collaborative post
In this guide, we will provide a range of tips on how to design the perfect family-friendly garden to suit your needs and desires.
Simple Tips To Consider When Creating a Family-Friendly Garden
Before we dive into the main design elements that you need to consider when creating a family-friendly garden, let's take a look at a few simple tips that may help you along the way:
● Be sure to work out how you're going to use the garden
● Utilise zones for children and adults
● Identify the aspect and the sun movements in the garden
● Ensure there is plenty of space for changes as your children grow
● Make use of paving to create a journey through the garden
● Use plants and bushes as a screen and to add interest
● Consider whether you need to make the garden pet-friendly too
If you are not hiring a garden designer, it may be worth sitting down and sketching out some ideas for your family-friendly garden space to see what might suit you best. Be sure to add storage, and don't forget to mark any existing trees, buildings, or hard landscaping.
How Do You Design a Family-Friendly Garden?
Before you begin making changes to your garden, it's best to create a solid plan. Below are some great tips on how to design the perfect family-friendly garden:
Create Different Zones
Zoning can be incredibly useful when designing a garden. This simply means breaking up the garden space into various distinctive areas. A good example of this is having a play area for the children in one part of the garden and a relaxing area where the adults can chill or entertain friends and other family members.
It's usually best to situate the children's play area somewhere close to the home so that you can keep an eye on the children. Depending on the size of your garden, you may also want to add some additional areas, such as a vegetable patch.
When designing a garden, people often overlook storage. However, this is an important element of a family-friendly garden and should be incorporated into the zoning.
Creating various distinct areas can help to provide each member of the family with their own area where they feel comfortable and relaxed.
Install Artificial Grass for a Family-Friendly Garden
Want to keep a traditional garden lawn for the most part, but perhaps considering having a children's play area section in your garden? You might also decide to go for a fun-coloured artificial grass option instead, that's built for play and safe for kids. Online retailers like Grass Warehouse offer a wide range of colours and styles.
Artificial grass is great for a family-friendly garden as it is very easy to maintain, and it also tends to be much softer than other garden surfaces. Plus, the cost of artificial grass is usually quite reasonable considering how long it lasts.
If you want your children to play football in the garden, artificial grass is perfect. Plus, there is no soil involved, so your children won't get muddy after playing out on the grass.
Use Raised Beds
Raised beds can help you save a lot of money if you have bad levels or poor soil in your garden. These are also great for children as they provide a simple seating area, mini table, or a great thing to climb up and jump off for some extra fun.
Bringing some toy sets outside for playing in the borders is a great low-cost activity and allows your children to get creative.
Raised beds can not only act as a great way to help with the zoning in your garden, but they can also help to create interest, add height, and provide limitless play surfaces.
Make Use of Paving and Pathways
According to Aviara Pavers, paving and pathways can really help when it comes to making the garden zones more obvious. If you add a path off a lawn or football pitch area, this can help to mark out which area is for the children and which area is for the adults.
Depending on the size of your garden, the pathways may also double up as a track where children can ride their bikes.
Stepping stones can add some character and give your children something fun to do by jumping from one stepping stone to another. When you think about it, the creative options are limitless.
Add Some Play Equipment for a Family-Friendly Garden
Play equipment is essential if you want your children to enjoy their time in the garden. If you're on a low budget or you're limited on space, you may not want to add a whole climbing frame, swing and slide set.
Consider how active your children are and what would be the best investment for you and your children. You could even choose to create your own play equipment. For example, a simple rope and tyre can make a great swing. Or you may want to build a small playhouse for your children, giving them their own little sanctuary.
Avoid Toxic Plants
When creating a family-friendly garden, it's important to consider which plants you choose for the garden. Be sure to go around your garden and identify any existing plants. If any of these are toxic, it's best to remove them.
When choosing plants for your garden, choose ones that are non-toxic and don't have any thorns or pointed edges that may cause injury. If you have pets, you should also consider checking which plants may be toxic to your pets and avoid those.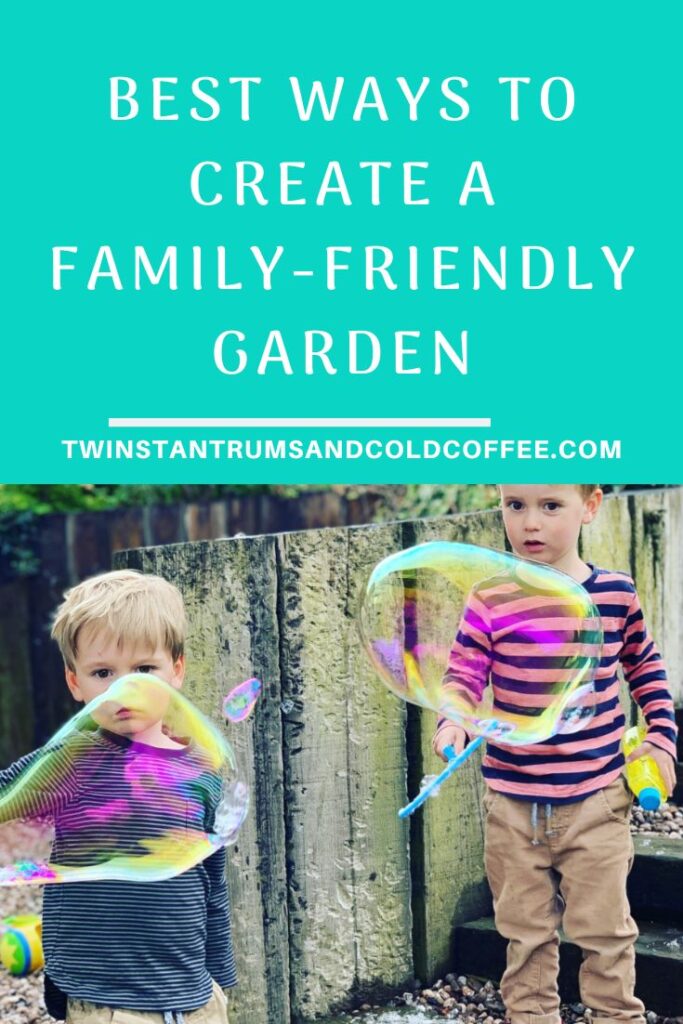 How did I do?
Did you enjoy this post? Why not hang around and read a few more whilst you're here. If you want to read some more of my usual kind of stuff, head over to my Mum Life section. You'll find all things parenting with a tongue-in-cheek twist. Or if you want some days out and UK family holiday inspiration, click on the Travel section.
If you like a bit of social media madness, pop over to my Facebook page where you'll be able to have a laugh at what ridiculousness goes on in my house with three very small boys on a daily basis. Warning – there is often sarcasm, and usually swearing. There are also great travel reviews and some AWESOME giveaways. Feel free to join my Twins, Tantrums and Cold Coffee – Shits and Giggles Parenting Group too, where everyone shares their hilarious stories.
If you like what you see, how about you check me out on Pinterest, Instagram and Twitter too.
And if you want to work with me, feel free to give me a shout here or at helen@twinstantrumsandcoldcoffee.com and I'll get back to you.