If you're missing the excitement of a live performance then watch out – Continental Circus Berlin is coming to Plymouth!
AD | This is a collaborative post with Circus Berlin.
And if it's anything like the last time the Circus came to town, we're in for a MASSIVE treat!
From the producers of some of the world's finest circuses comes a brand new show specially created for an exclusive UK tour and the Big Top will be at Central Park from Friday September 4 to Sunday September 20.
International performers in Circus Berlin
Continental Circus Berlin is an amalgamation of brilliant circus acts, music and real youthful energy, incorporating fantastic performers from all over the world.
If you were there when Circus Extreme came last time, you'll remember how flipping AMAZING it was. And if you didn't then read my review of it here. So I can't wait for this one!
In an age where so much entertainment is unreal, made up of special effects, CGI and has a virtual reality, being pre-recorded, digitally enhanced or in some other way electronically created – the sheer reality of a live show is a breath of fresh air and the feats and skills seen at Continental Circus Berlin are often so amazing that the Circus-goer literally can not believe their eyes.
Death-defying acts
From rola balancing on a motorbike to super fast Las Vegas quick change to the death defying Globe of Death.
Clowns Angelo & Eddie, will guide you through this super show which also includes Beautiful Aerialist's, quick change artistes, high wire walkers, the rotating wheel of destiny, motorbike balancers, Hula Hoop queens, whirlwind acrobats and the death defying Globe of Death with riders traveling a G force speeds inside a mesh dome.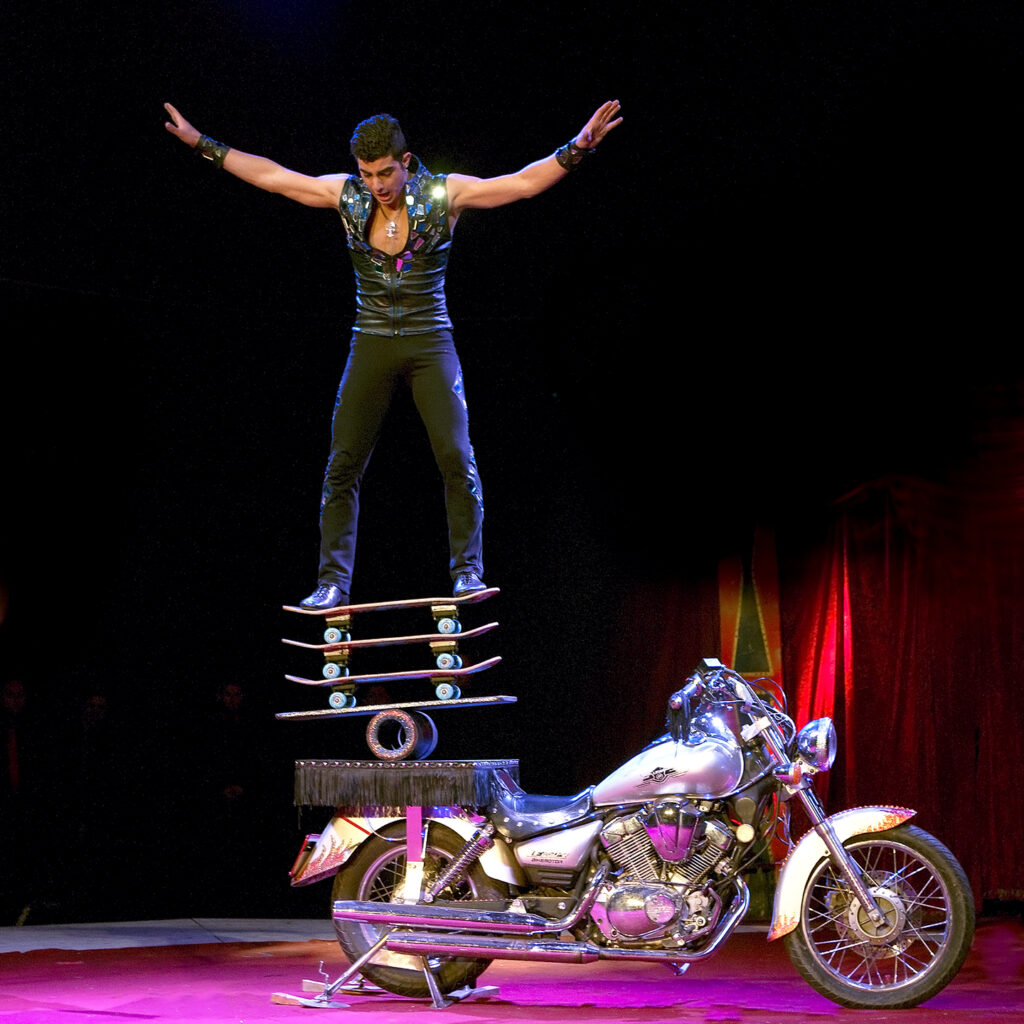 Housed in a climate controlled, socially distanced theatre style big top it is sure to impress. The magical production is brimming with an international cast of breathtaking artistes. And features an unrivalled mix of genuine circus talent from every corner of the globe.
A great show for all ages
This circus is the finest show to come to town under The Continental Circus Berlin banner. The famous name has always been your guarantee of a great show, a rare treat, and great fun and with something for all ages.
I'll see you there!
For more information and to buy tickets ring the Box Office on 0203 375 3970 or ticketmaster on 0844 546555.
How did I do?
Did you enjoy this post? If you want to read more Plymouth posts, check out my Local Stuff section. And if you fancy some parenting rants (*possibly sweary and sarcastic), then read my Mum Life posts.
If you like a bit of social media madness, pop over to my Facebook page where you'll be able to have a laugh at what ridiculousness goes on in my house with three very small boys on a daily basis. Warning – there is often sarcasm, and usually swearing. There are also great travel reviews and some AWESOME giveaways. Feel free to join my Twins, Tantrums and Cold Coffee – Shits and Giggles Parenting Group too, where everyone shares their hilarious stories.
And if you want to work with me, feel free to give me a shout here or at helen@twinstantrumsandcoldcoffee.com and I'll get back to you.