If you're looking for outdoor toys to take camping then a brilliant place to start is Wicked Uncle.
AD: This is a collaborative post with Wicked Uncle.
We all know one of the best things about camping is being outside and enjoying the fresh air. But as campers ourselves, I know the kids still need something to keep them entertained – especially when you're on a quieter site with just an empty field! So whether you need outdoor activities, toys for little ones or brilliant presents for teenagers and older kids, Wicked Uncle has loads that would be ideal for either in the garden or camping.
Children always make their own fun, and I'm lucky that with three boys, they constantly have someone else to play with when camping. Kids also always seem to make friends with others on campsites too – which is brilliant!
It's also worth bearing in mind that camping, especially in the UK, can often bring unwelcome rainy days – which aren't so much fun when the whole family is stuck in a tent. So it's a good idea to have a contingency plan and fun activity up your sleeve for those too, when you're thinking of best camping toys to bring.
If you're anything like us though, you take so much stuff there's not much room left in the car. So it's worth seeking out smaller items or things that can be packed easily when you're looking for toys to take camping.
Here are some brilliant outdoor toys that will keep both young children or bigger kids entertained either in the garden at home or when you go camping. Whether it's your first camping trip or you're a seasoned pro, there's bound to be some fun camping toys your little campers will enjoy.
BEST OUTDOOR TOYS TO TAKE CAMPING AND KEEP YOUR KIDS ENTERTAINED
1. Bubble sets
All kids love bubbles – and I bet even older ones do despite not freely admitting it! If you fancy something more than just your average little pot (that they seem to spill within 5 minutes!) what about this awesome-looking giant bubble set?
It comes with two bubble wands, one star-shaped one to make gigantic bubbles and another one to produce a flurry of little ones. It also means two children don't have to fight over one wand! It's also easier for little kids as they don't have to master the art of blowing – they just dip one of the wands into the tray, drip off the excess, then wave the wands through the air for some bubble magic. I'd bet money that the other kids on the campsite will soon come running to join in as it's a lot of fun. That's exactly what happened when we used our set!
2. Frisbee or Boomerang
Slightly older children will love playing with a frisbee or boomerang. And if you have a wide open field to yourselves just outside your tent, then these are perfect toys to take camping. This Sonic Booma Boomerang has an impressive flight range of up to 20 metres, and it whistles as it goes through the air – and comes back to you again and again. It takes up hardly any room in your car either, so is a definite camping winner.
3. Jump Rocket
If you've never seen a stomp rocket or jump rocket, then you don't know what you've been missing. Kids jump onto the launch pad with all their might to send the rocket soaring into the sky. Have a competition to see who can send it the highest. We have something similar and the boys have loads of fun, it's one of their favourite toys. You can even get double ones so they can jump at the same time. Just watch out when the adults try it out – these things go seriously high! It's such a fun experience for the entire family and would make the perfect gift for anyone you know who is going on a family camping trip.
4. Kite
Staying in a wide open field or close to a big beach has got to have some advantages, right? Make the most of the space whilst camping and take a kite with you. They pack down small to slide in between your own camping gear in the car, and the kids (and you) will have hours of fun flying (or trying to fly) it. It's also a great way to make friends on a campsite. Everyone loves a kite!
5. Football
It's an obvious thing to take with you, I mean, which kids don't like playing with a ball when they're camping? But if you want something slightly different, what about one of those balls attached to a string so you can practise your keepy uppies without losing it? Or this smart ball that glows and counts aloud when you're doing your tricks, or a light up ball which is ideal for playing when the sunsets – as we all know kids are allowed to stay up later when camping!
6. Bikes
One of our top priorities when we go camping is to take our boys' bikes. We've even bought a bike rack for the back of our van specifically for that purpose. They absolutely love riding their bikes, and to ride around the campsite is one of their favourite bits of going camping. Last time we went, they spent seemingly hours practising how to perform the perfect skid on wet grass!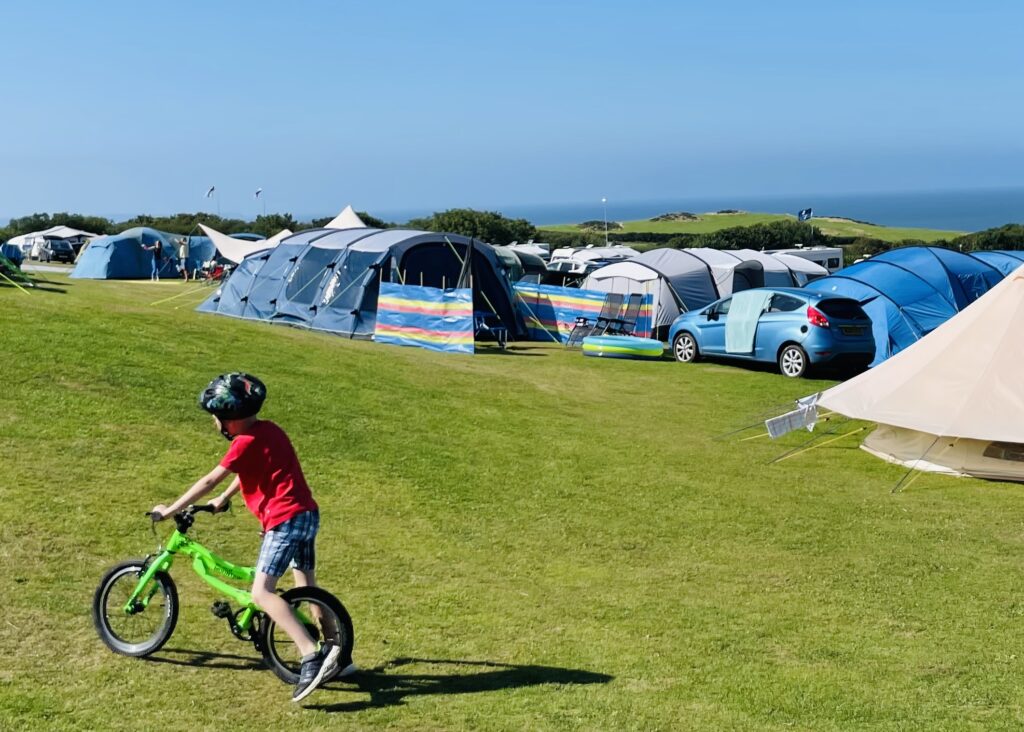 7. Water Pistols
Okay, not every parents' idea of fun – mainly because someone in my family usually ends up crying! But what better place to have some fun with water toys, than when the sun is out and you're camping. Rope some other children in from the campsite and have a huge battle. Just no squirting water inside the tents – this is strictly outdoor play only!
8. Walkie Talkies
If you're going with friends or families, walkie talkies are one of the best toys to take camping. We've done it before where my seven year old was able to talk to his friend in the van in front the whole way to our campsite, then they had a handset in each tent for constant communication when they weren't together throughout the trip. Also handy for us mums to ask to borrow something without having to go outside the tent!
9. Torches
Okay, not strictly a toy, but something the kids will love when they go camping – especially if it's a fun one they can have to themselves. I mean what kid doesn't want their own flashlight? You can get fun dinosaur or unicorn head torches or a brilliant rotating wrist torch which means you can direct the light wherever you want and be totally hands free. Great for fun camping games in the evening, or when you need to get into your sleeping bag in a dark tent! Glow sticks are also a fun alternative.
10. Fidget Toys
So with the best will in the world, it's always good to prepare for a little rain in the UK, so you might also want to think about some indoor toys to take camping too. None of us want to be stuck inside a tent with kids on a rainy day, but sometimes needs must! Think small, so they don't take up much room – fidget toys are great for kids of all ages. Young ones will love the push and pop type ones which are great for fine motor skills and their little hands, whilst older children could practise their skills at geometric puzzles such as Dynacube.
11. Puzzle toys
You might not want to take actual jigsaws with you with all the small pieces, but what about some fun games that are small and compact and still get the brain going? Puzzle Pro brain teasers are ideal to pack in your bag and contain 100 multi-level challenges from easy to expert. It's a great toy to have in the rainy day bag when camping and a fun way to get your brain active.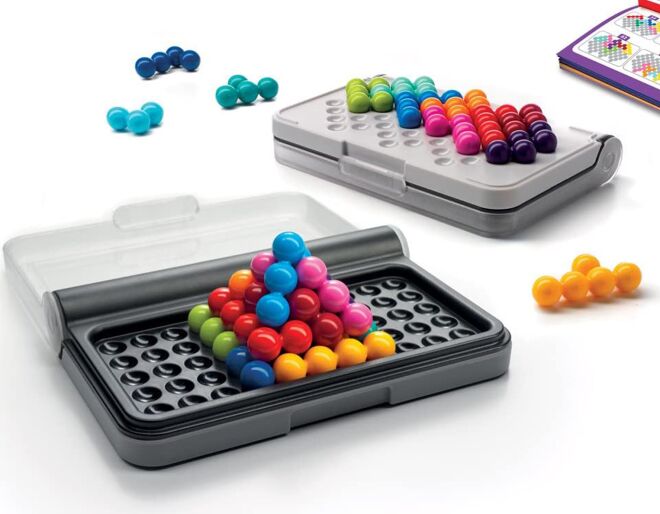 Obviously you won't be on the camp site the whole time during your trip, but no matter how many days out you have planned, there's always time for your children to have some fun in and around the tent on their camping adventure.
Other good camping toys could include taking a scavenger hunt and magnifying glass, a play tent for younger children, toy camping sets, a hula hoop, bug net, play sets, beach toys or card games.
And with some of these ideas they'll be sure to have the best toys to take camping. Have fun on your next camping trip!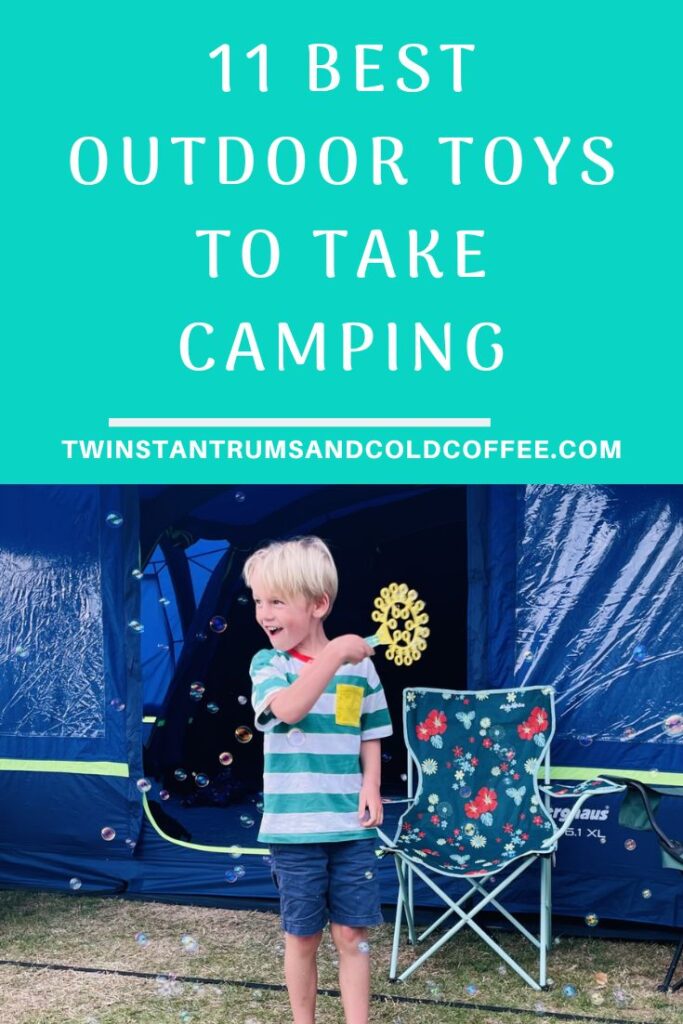 How did I do?
Did you enjoy this post? Why not hang around and read a few more whilst you're here. You might like:
What to pack when camping with kids
Best Campsites for Families in the UK
12 of the Best Glamping Sites In the UK
5 Top Travel Essentials For Twins
Five Ways A Holiday Is Never The Same After Kids
Packing List For Babies And Toddlers
If you want to read some more of my usual kind of stuff, head over to my Mum Life section. You'll find all things parenting with a tongue-in-cheek twist. Or if you want some days out and UK family holiday inspiration, click on the Travel section.
If you like a bit of social media madness, pop over to my Facebook page where you'll be able to have a laugh at what ridiculousness goes on in my house with three very small boys on a daily basis. Warning – there is often sarcasm, and usually swearing. There are also great travel reviews and some AWESOME giveaways. Feel free to join my Twins, Tantrums and Cold Coffee – Shits and Giggles Parenting Group too, where everyone shares their hilarious stories.
If you like what you see, how about you check me out on Pinterest, Instagram and Twitter too.
And if you want to work with me, feel free to give me a shout here or at helen@twinstantrumsandcoldcoffee.com and I'll get back to you.